Like GearBrain on Facebook
For many households, the kitchen is where we spend a large amount of our time. Not just for cooking, but the kitchen has become the go-to space to socialize, entertain, and in 2020 it has likely become a temporary office space too.

And, while we all know the benefits of a large fridge, spacious work counter and efficient oven, some of the home's smartest connected devices are now found in the kitchen.
Read More:
These include internet-connected ovens with apps and touchscreen controls, fridges with cameras on the inside and an Android display on the outside, robotic cleaners, and a whole host of other smart gadgets to make meal prep easier.
Here are some of our favorite connected smart kitchen devices for 2020.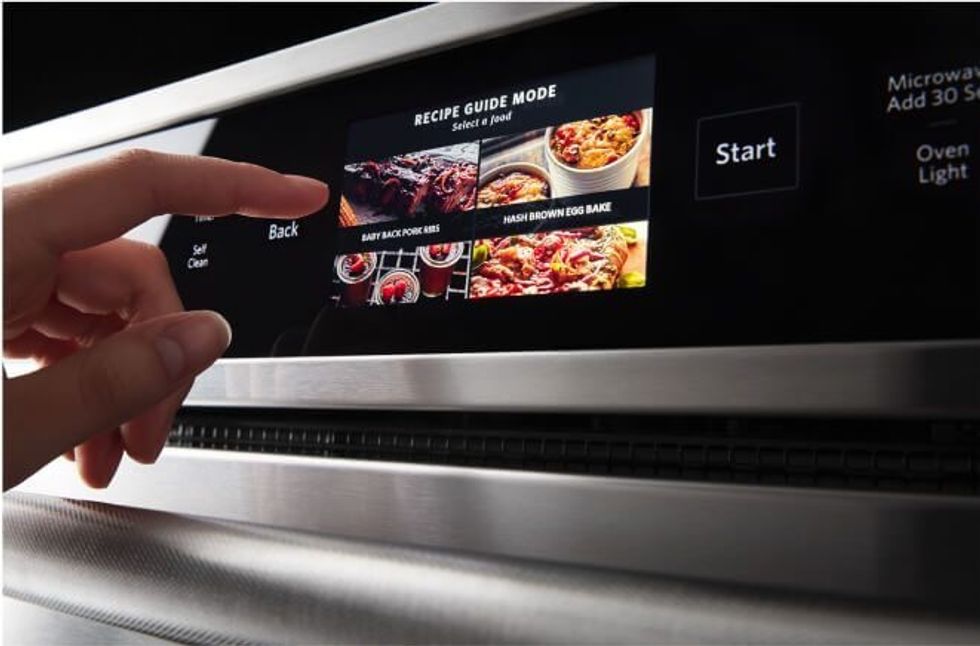 The Smart Oven+ by KitchenAir features a 4.5-inch touchscreen displayKitchenAid
Announced in 2019, this smart oven by KitchenAid connects with Alexa and Google Assistant for voice control, and also features a 4.5-inch LCD touch screen. This display acts as a miniature tablet for picking recipes, setting the temperature and telling the oven exactly what you're cooking.

There is also a smartphone app for controlling the oven from across the room, or even while you are away from home – handy for getting the oven warmed up while you walk back from the grocery store.
Away from connected home technology, the oven also features a range of powered attachments that slot inside. These turn the oven into a grill, baking stone or steamer, and each of these accessories can be controlled using the app, touch screen or voice assistant.
June Smart Countertop Convection Oven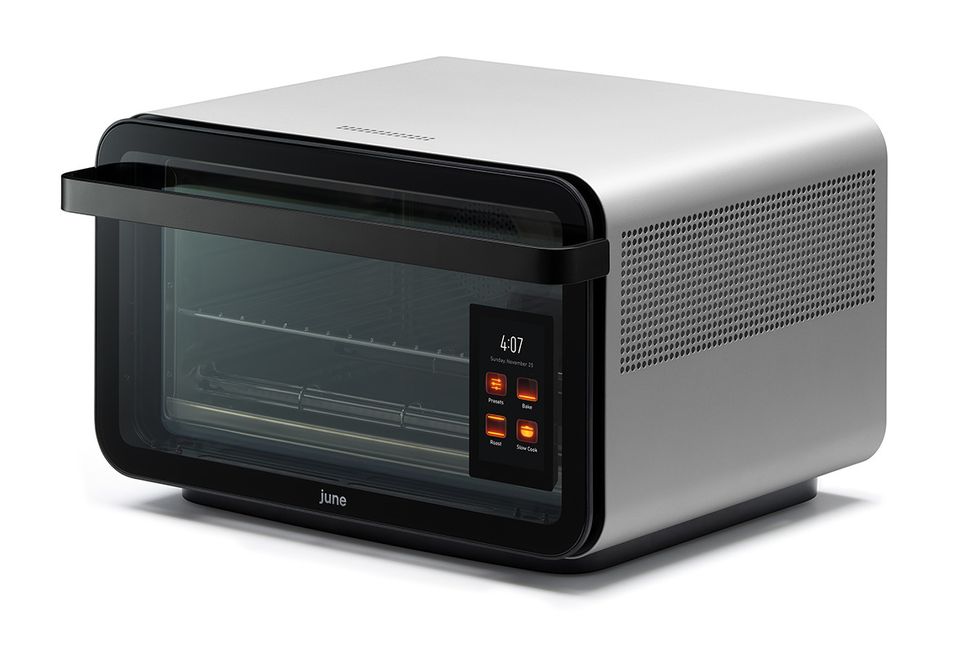 The June oven uses a camera to recognize what you are cookingJune
The June is a countertop oven that includes an integrated food thermometer to ensure your meals are cooked to perfection, and an integrated camera with artificial intelligence recognizes the type and quantity of food being cooked, automating the cooking process.

There's a 5-inch touchscreen to set the oven by telling it what's inside (and how you want it), plus live video monitoring via a smartphone app, and Alexa integration for controlling the oven with voice commands.
As well as being connected, the June Oven can replace a lot of your existing kitchen hardware. It can act as a convection oven, air fryer, dehydrator, slow cooker, broiler, toaster and warming drawer.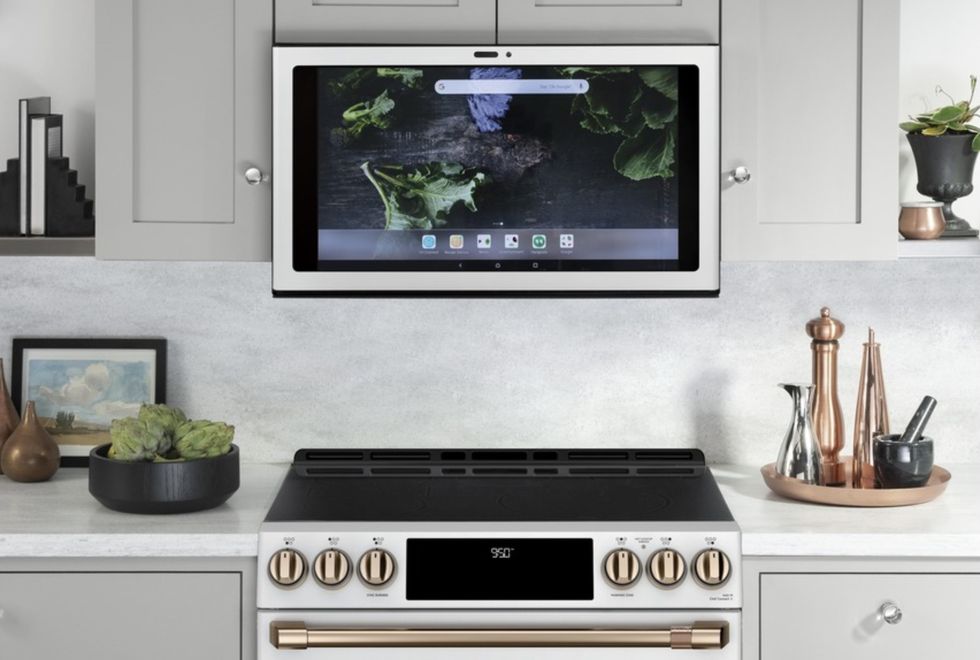 The Kitchen Hub puts a large touchscreen on the extractor hoodGE Appliances
A smart take on the conventional extraction fan, this stove hood includes a large touchscreen, two cameras (for video chats and for taking photos of your cooking), smart home integration, Philips Hue connectivity, and the Google Assistant.

Of course, the Kitchen Hub can also be used to search for and follow recipes from SideChef, and there's access to Google apps for keeping tabs on your calendar, watching content on Netflix, playing music from Spotify, and controlling your smart home devices. The extraction system has a four-speed fan control with dishwasher-safe filters, and a light for illuminating whatever you're cooking.
Samsung Family Hub Fridge Freezer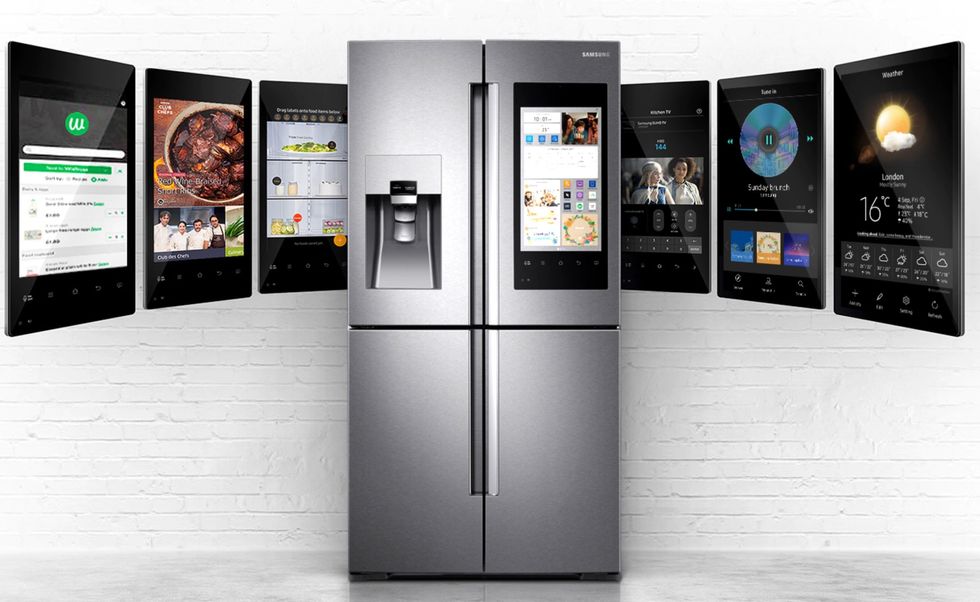 Samsung Family Hub smart fridgeSamsung
When the smart home is concerned, the fridge is no longer merely somewhere to keep fresh food chilled or frozen. Thanks to Samsung, the humble fridge has evolved into a 'family hub' with a large touch screen, huge range of applications, and even speakers for playing music while you cook.

The latest models from Samsung include the Bixby voice assistant and integration with the company's smart home platform, SmartThings. You can also check your calendar, look up recipes, and keep track of what's in your friend, what's running low, and what's about to go out of date.
A companion smartphone app lets you look inside using an embedded camera, so you can check what's in the fridge while at the store. The touchscreen can also be used to play music, and stream video content from your phone for entertainment while you cook.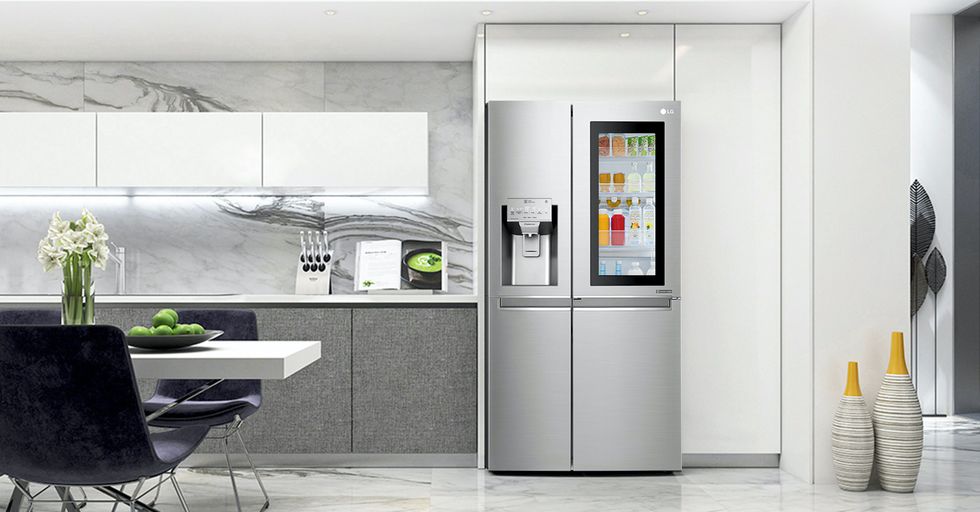 LG InstaView fridge with Alexa and Google Assistant controlLG
Meanwhile, instead of fitting touchscreens and app interfaces, LG's smart fridges use a technology called InstaView to show you what's inside without opening the door and letting cold air out. Knocking on the door twice turns the lights on and shows you what's inside.

Tapping into LG's SmartThinQ smart home platform, InstaView fridges can be controlled and adjusted with voice commands spoken to either an Amazon Alexa or Google Assistant smart speaker.
LG ThinQ kitchen range - $various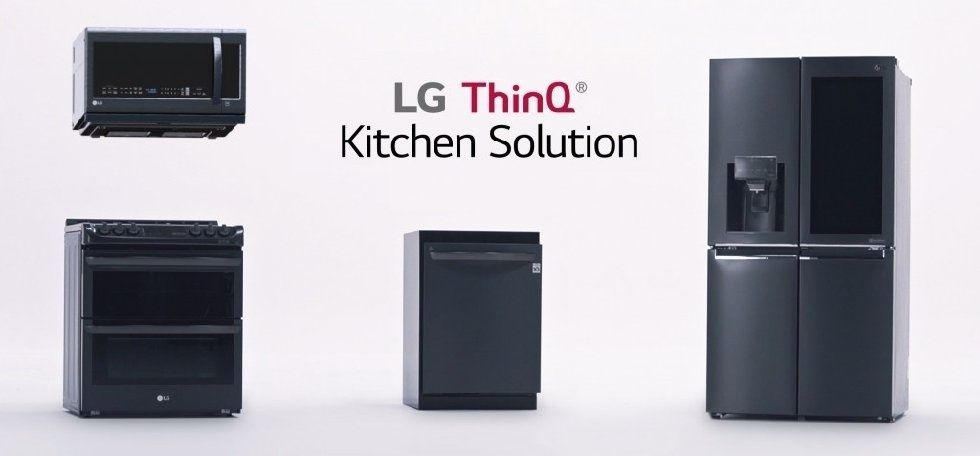 The new Thinq Range can be controlled by a single smartphone app LG
Announced at CES earlier this year, LG's new ThinQ kitchen range includes smart refrigerators, ovens, ranges and dishwashers which all tap into the same smartphone-controlled ecosystem.

The range-topping $3,000 oven can be preheated remotely with your smartphone - handy on the walk home from the subway station — and you can ask Google Assistant to switch it on and off, too. LG's $1,100 dishwasher also lets you check in on it from the ThinQ smartphone app, or by asking Google Assistant.
Philips Hue lights - from $30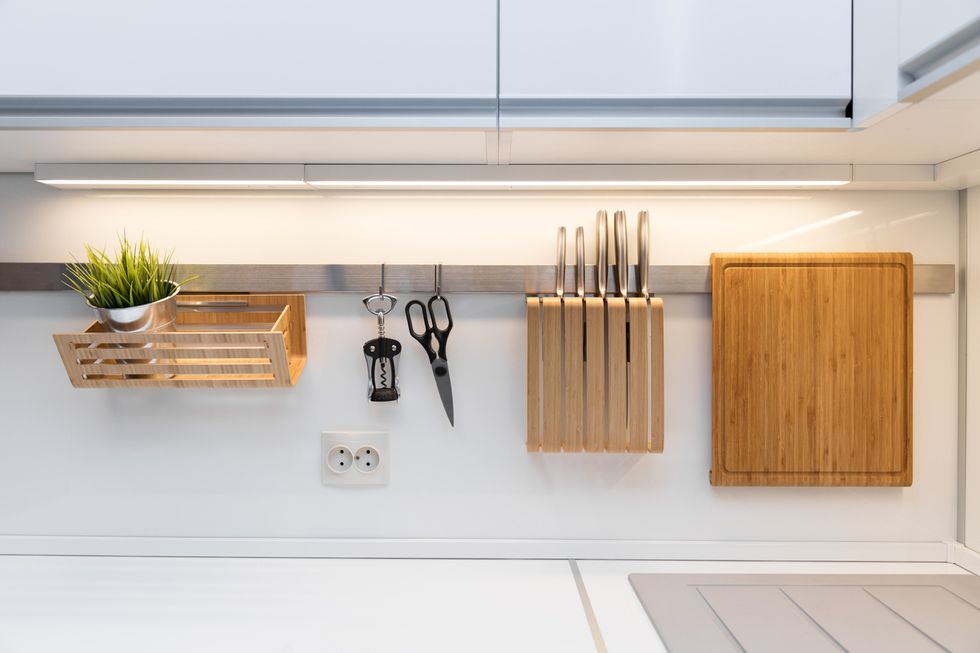 Smart lighting under cupboards can breathe new life into a kitcheniStock
Smart lighting can be installed anywhere in the home, but we think in the kitchen it can look particularly good. LED light strips fitted above and below your cupboards can project attractive pools of light onto the floor, ceiling and work surface. Pick a bright neon color to liven up a dinner party, or choose a dim, warm shade to bathe the room in a soft glow at night.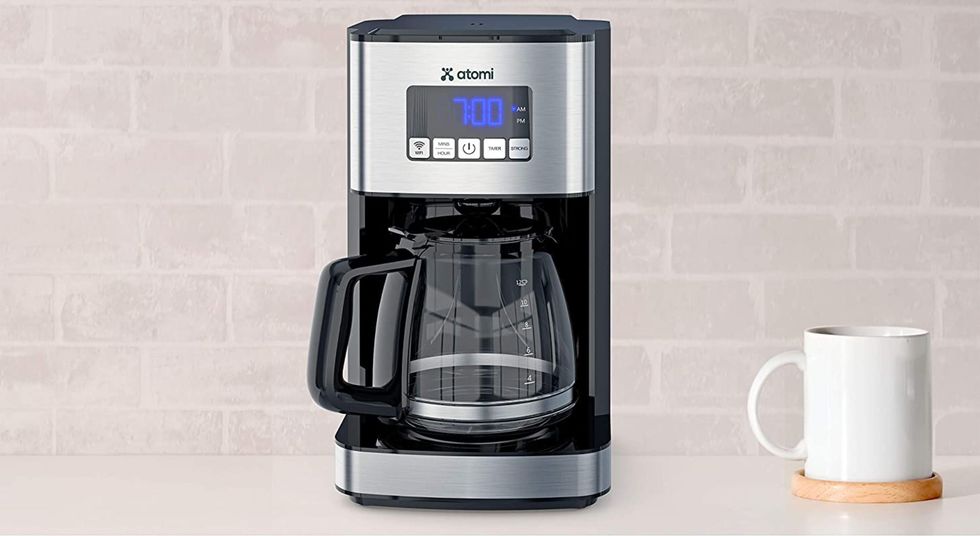 This coffee machine can be controlled with a phone app, plus Alexa and Google AssistantAtomi
No smart kitchen would be complete without an internet-connected coffee machine. This model by Atomi connects to your Wi-Fi network, then can be controlled using an iOS or Android phone app, or by speaking to Alexa or Google Assistant. Voice controls can be used to start brewing, change the brew strength, and turn the machine on or off. You can also control the machine remotely, so a brew can be started as you're walking home.

There are also conventional buttons for manual control, and you can set a schedule to have a fresh coffee made at the times that suit you – or in other words, the moment your morning alarm goes off.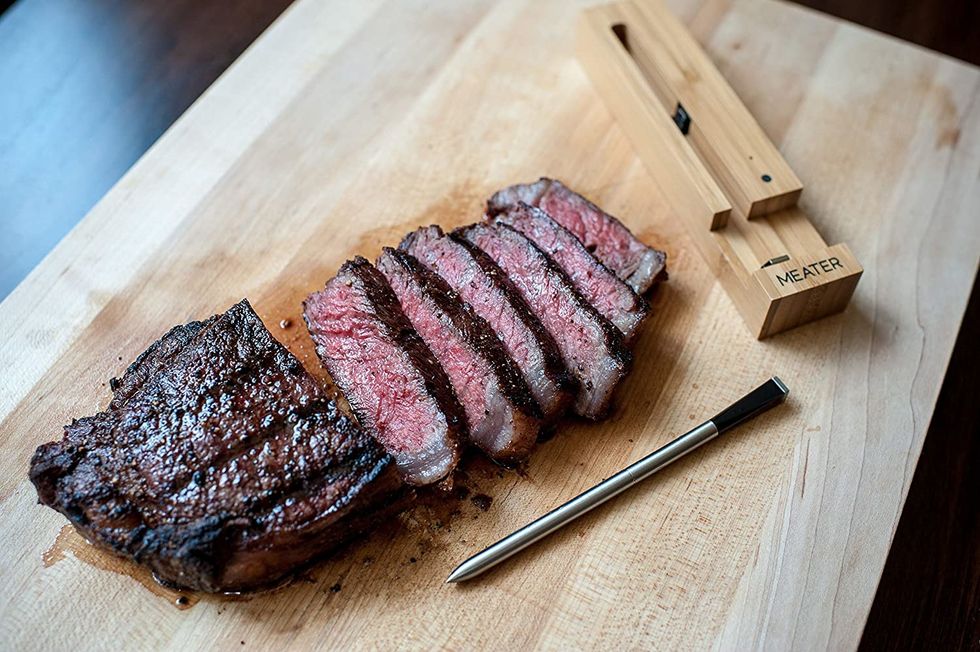 The Meater shows the temperature of your food on a phone app Meater
A regular feature of our food technology lists, the Meater is a wireless temperature probe designed to help you cook meat to perfection. Each probe has two sensors so you can take temperature readers both inside and outside the food, and that data is sent to your smartphone either over Bluetooth (up to 33 feet) or Wi-Fi (165 feet).
Braava jet M6 robotic floor mop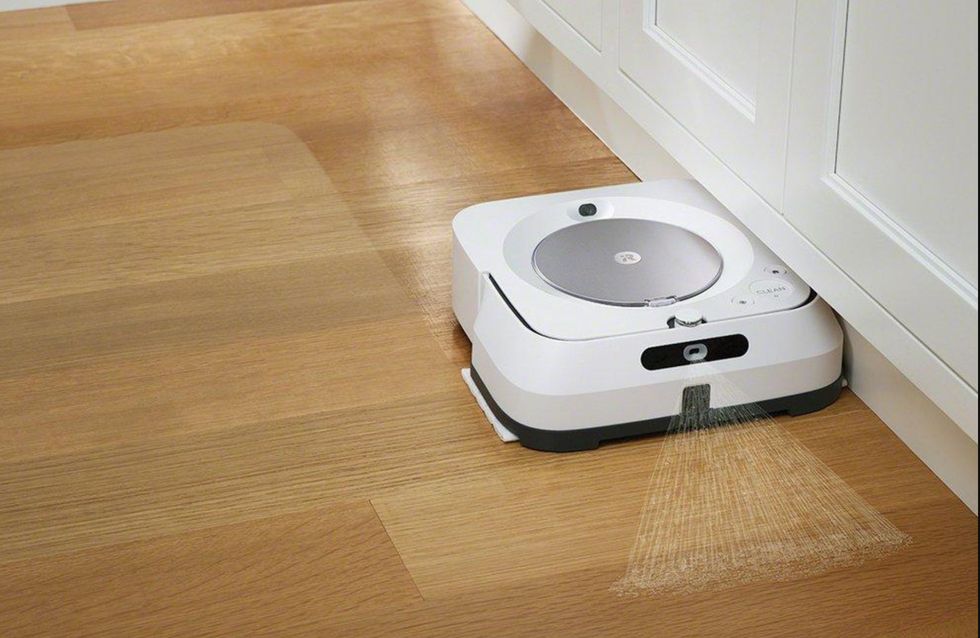 The Braava Jet M8 is a robotic kitchen floor mop and cleaneriRobot
Kitchen technology isn't just about cooking. This robotic floor cleaner by iRobot (the same company that makes Roomba vacuum cleaners) is designed to tackle grime, kitchen grease and other sticky messes dropped onto any hard floors.

Controlled via a smartphone app, the robot sprays water mixed with floor cleaner, then mops and sweeps using detachable pads to clean your floor. The robot can also be controlled by issuing voice commands to Alexa or Google Assistant, and you can set up zones for the robot to avoid, using the intelligent Smart Mapping system.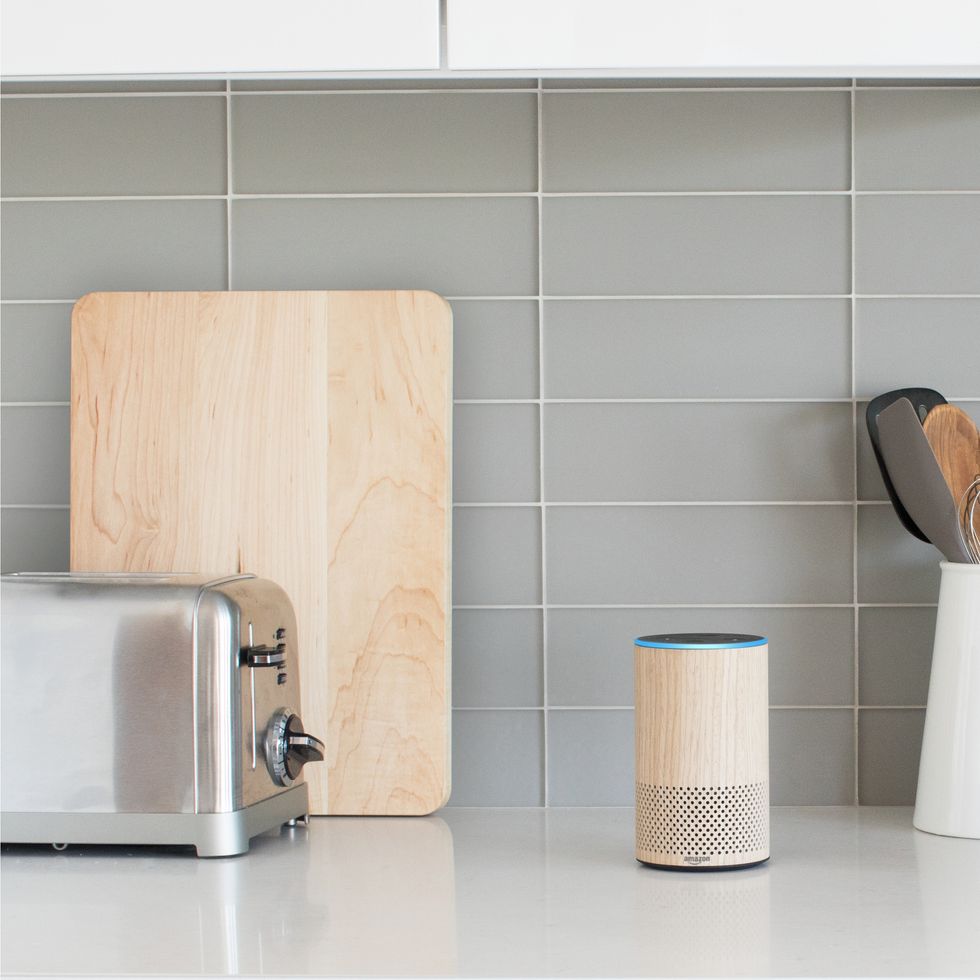 The Amazon Echo can help with recipes and timers as you cookAmazon
On a similar note, a smart speaker like the Amazon Echo can be installed in any room. But in the kitchen it does much more than just play music. You can ask Alexa for recipes and cooking instructions, set multiple timers, and broadcast to the rest of the house when dinner is ready. You can also ask the assistant to buy more kitchen essentials as they run out, and make a hands-free phone call while cooking.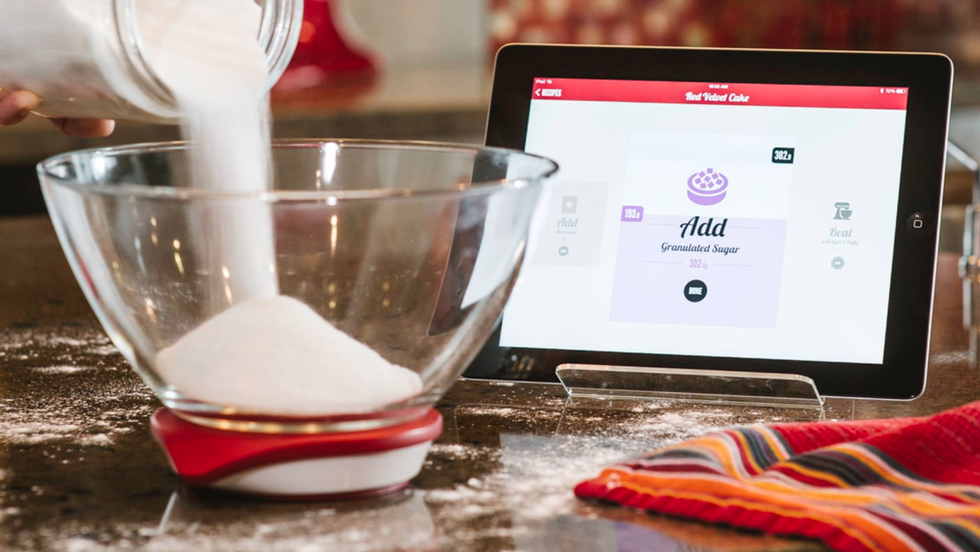 The accompanying app shows the weight and guides you through recipesDrop
Drop is a recipe app with smart scale which links to your iPhone and iPad. Place a bowl on the scale, then as you fill it with an ingredient the app shows you the weight, warns you if you over-fill, then serves up the next instruction when you have added the right amount.
The scale and app are primarily designed for baking, where the accurate measuring of ingredients is key, but the Drop app also includes recipes for savoury meals and cocktails.
Like GearBrain on Facebook