Like GearBrain on Facebook
Toyota has shown off its new fourth-generation autonomous test vehicle ahead of the CES technology show in Las Vegas.
The car, which began life as a Lexus LS hybrid sedan, features Lidar sensors and cameras on its roof and sides, and demonstrates how its computational 'brain' is smaller but more powerful than before.
Read More:
In fact, the computer is now so compact that it fits neatly against the back of the rear seats, freeing up storage space in the trunk. Just a couple of years ago, the computers needed to control an autonomous car took up the entire trunk, a mess of wires and processors making it impossible to carry any luggage.
It is quite remarkable that, for this new model, Toyota has fitted the car's brains into a module which looks almost consumer-ready, complete with Toyota branding and neat fold-open design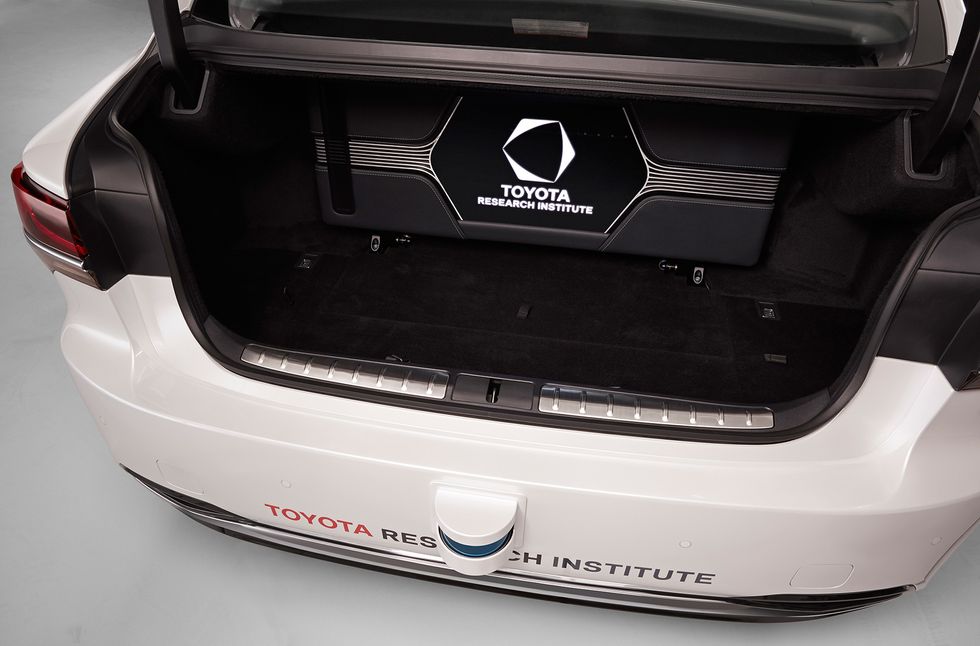 The 'brains' of the car now fit neatly behind the rear seatsToyota
Also new for this car is how the autonomous system and its computer is powered by the car's own hybrid powertrain, with a dedicated 12V battery only in place as a backup.

The car is being used by Toyota to develop two of its driving systems. The first is called Chauffeur and is designed to entirely replace the human driver, eventually taking over all tasks. The second is called Guardian and acts as a driver-assistance system, to be used while the driver remains in control.
"Our Chauffeur development is focused on full autonomy where the human is essentially removed from the equation, either completely in all environments, or within a restricted driving domain," said Ryan Eustice, senior vice president of automated driving at the Toyota Research Institution.
Meanwhile, the Guardian system is described by Eustice as "being designed to amplify human performance behind the wheel, not replace it."
The new fourth-generation test car will help accelerate the development of both systems when it joins Toyota's fleet in the spring, the Japanese automaker says.

Toyota says the car has two additional cameras compared to the third-generation test vehicle, to help improve situational awareness, plus two new imaging sensors, one facing forwards and one facing backwards. These sensors feature new chip technology with high dynamic range (HDR) imaging.
Additionally, Toyota has improved the field of view of the car's radar system, especially for the detection of objects close to the vehicle's perimeter. The roof-mounted Lidar system remains the same as before, with eight rotating scanners mapping the car's surroundings, but the unit has been designed to fit more neatly against the roof and front fenders.
From Your Site Articles
Related Articles Around the Web
Like GearBrain on Facebook