Like GearBrain on Facebook
New York's a tricky town. Locals will never admit this—but even we're known to stumble across corners of our city that we've never seen before. New vistas, secret spots, unknown places are the treasures hardened New Yorkers live to uncover. GearBrain has assembled the best of these to view from home in virtual reality and 360-degree video so if you can't make it to The City (and let's be honest, it is "The City") you can make like you have been here before. Even better—if a trip is already booked, you get a chance to get street-wise so no one can take you for an out-of-towner.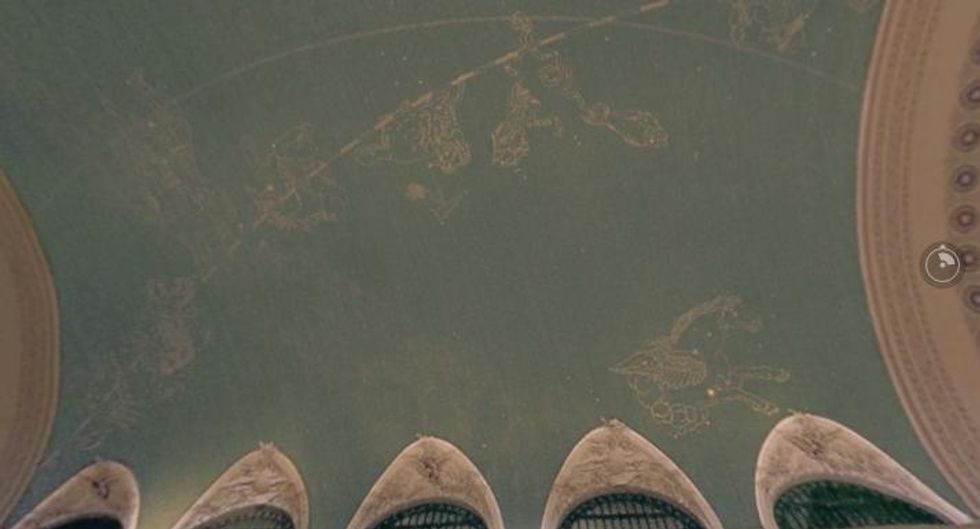 Can you name the constellations in Grand Central Station?
Grand Central Station
Let's start with one of New York's most iconic spots: Grand Central Station. From the robin's egg blue ceiling dotted with sparkling lights that note the constellations, to its majestic marble staircase and floors, Grand Central has been immortalized in movies, music videos and now a Facebook VR film, "Here and Now." Although short, the reel gives you a 360-degree view of the Main Concourse including the milk glass clock faces, the ticket booths and chandeliers.
How To: You can certainly watch the three+ minute video on Facebook and turn the imagery 360-degrees with your mouse or touch pad. But to capture the virtual reality effect, you can find the film in the Oculus Video app and view with your Gear VR headset.

New Yorkers describe their apartments as 'jewel boxes,' not small.
Live Like a New Yorker
Want to see micro living at its finest? Fantasize what it's like to live in a tiny NYC apartment, with bedrooms as small as a closet? (Yes, that sliver of light indicates a window.) YouVisit gives a 360-degree tour of a typical flat replete with a charming brick wall and subterranean space that screams city living. There's even a liquor store just across the street.
How To: Anyone can view the video, which will appear flat on your screen. The site also supports virtual reality through Oculus Rift and Google Cardboard for iOS and Android.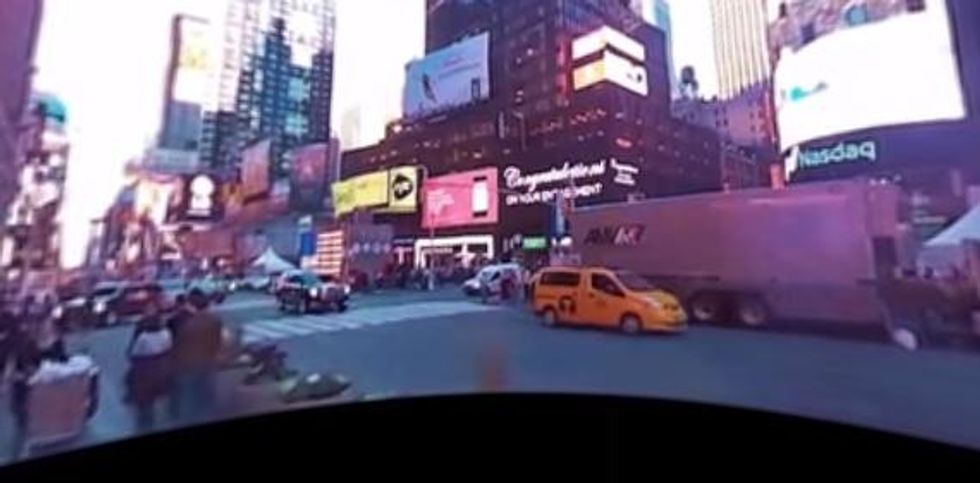 New York's Times Square is a stop on nearly every tourist's tour.
Times Square
Don't let the fact that most New Yorkers try to avoid these streets as much as they can. Times Square definitely holds the pulse for the city, and is where anyone must travel to catch a Broadway show. This 360-degree video shows the area in late afternoon—so the drama of the evening lights aren't really picked up, but you still get a solid sense of the crowds, space and energy.
How To: You can see the imagery on any browser, but for VR, view with Oculus Rift.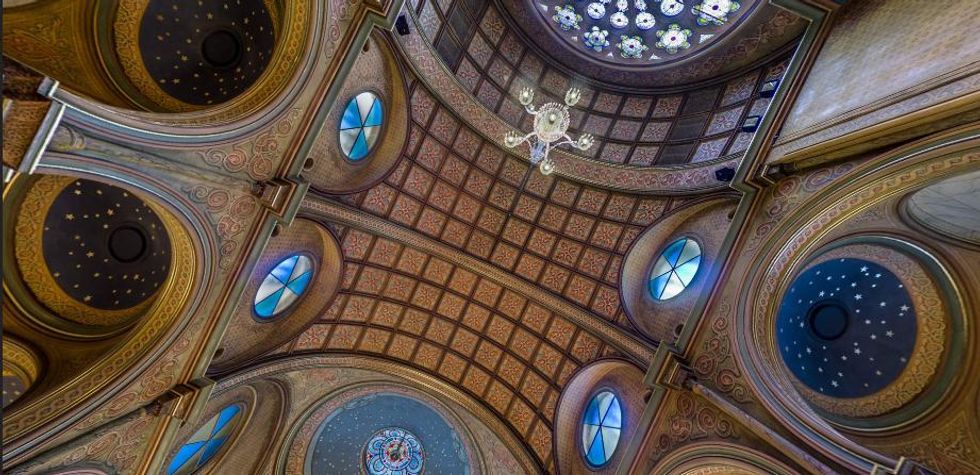 The Eldridge Street Synagogue is on the National Register of Historic Places.
Sacred Space

Eldridge Street Synagogue was built in 1887 when immigrants were flooding into Manhattan's Lower East Side. The grandeur of the space is hard to overstate, but you can see much of the gleaming wood and stained glass in 360-degrees from this VR video by Sam Rohn, who specializes in virtual reality photography. To get a better view you'd need to come in person, preferably on Egg Rolls, Egg Creams and Empanadas Festival Day each June.
How To: The site lets you view the video just by using your touch screen and mouse to turn the imagery 360-degrees.

You can't help but look up when inside the World Trade Center Transit Hub.
Subway Stop
Santiago Calatrava newest work is actually, well, one of New York's subway stations. The World Trade Center Transit Hub is a cathedral of white soaring into the sky. No matter what you think of the structure (and there are plenty of critics), the space is certainly one of the more elaborate transit stations in the world. Bloomberg Business shot a 360-degree video tour of the space.
How To: This is viewable through any mobile device and browser.

These aerial views of Manhattan are not the usual tourist fare.
Flying High
No visit to New York is complete without a glimpse of its iconic skyscrapers. This Airpano video brings you high above both the Williamsburg Bridge and the Brooklyn Bridge. Click through and you can also fly above Central Park, the Empire State Building, and many other landmarks.
How To: These are panoramic views, which are easily viewable just on your computer. They are not, however, easily navigated. But rest assured they can induce vertigo fairly quickly.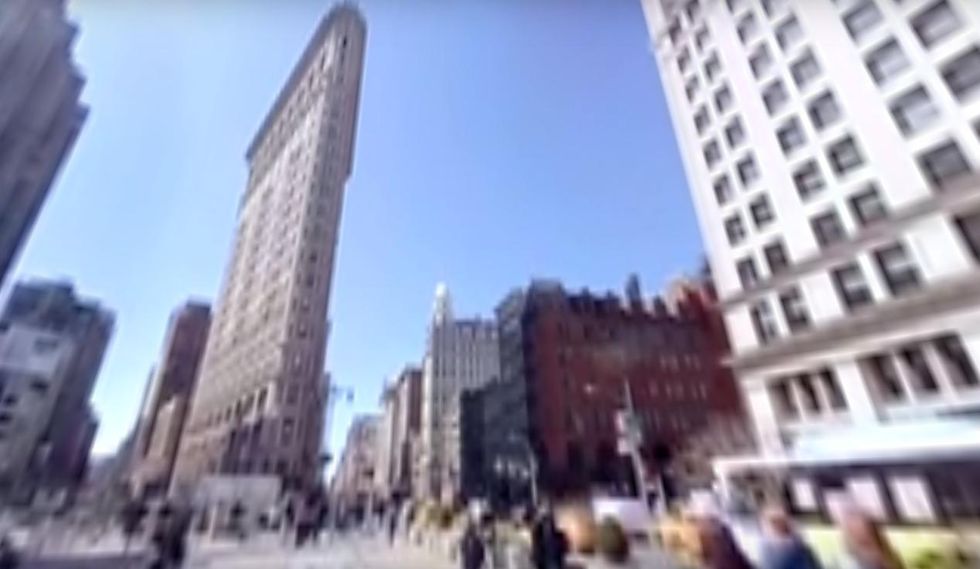 The Flatiron building during a work day rush.
Midtown Rush

While this six-minute film really showcases a recent cover for The New York Times done by French artist JR, the virtual reality video also serves up beautiful moments in the Flatiron District, including the iconic building which gave the area its name, plus Madison Square Park during the day and at sunset. The VR movie is part of the newspaper's new NYT VR app, and this is one of its first, aptly of New York.
How To: You can view the video flat (but blurry as the image above depicts) on your computer's browser. But for best results, download the NYT VR app for your Android device or iPhone, and then view in a Google Cardboard headset.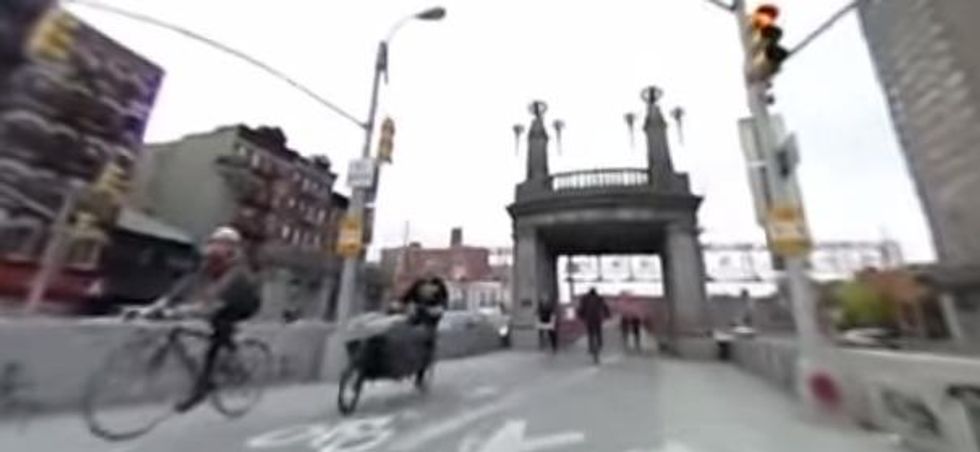 The ascent on to the Williamsburg Bridge.
Skateboard Commute

New Yorkers commute in unique ways. Very few drive. While most adopt other forms of transportation from subways to skateboards. Yes, skateboard. In this 25-minute video, Fitz Maro kits his electric skateboard with a 360-degree camera as he rides from Tribeca, through Manhattan's Chinatown, Little Italy, across the Williamsburg Bridge and into Brooklyn on a overcast November day. You'll see streets most tourists don't travel on those bus tours—and pay particular attention to the construction and ripped up pavement. (New York undone.)
How To: You can view this VR video on YouTube in flat mode, but turn the imagery around to see in all directions.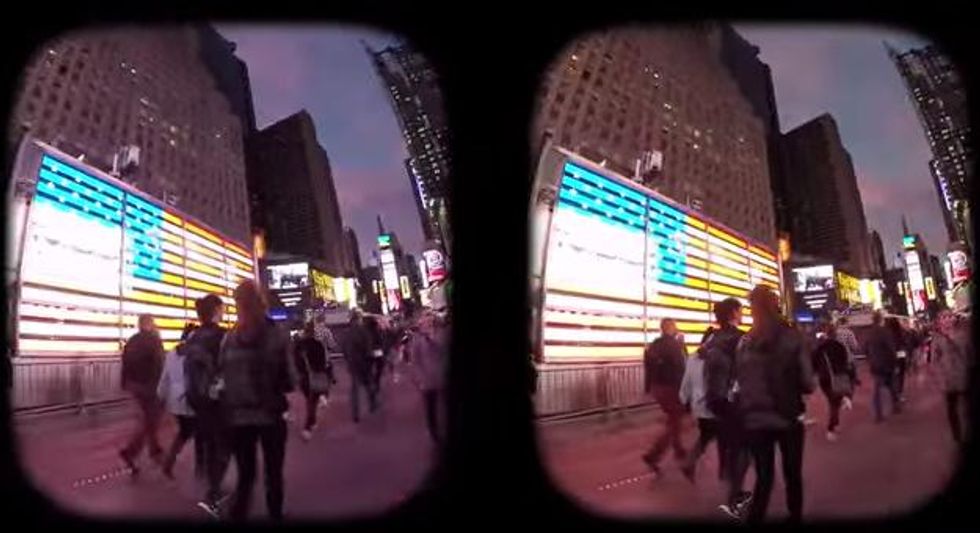 Night views of Times Square plus up close and personal with a slice of New York's pizza highlight this video.
New York Bites

Want to taste lots of different spots in the city? This YouTube video offers micro vignettes of Times Square (finally at night), ice skaters at Rockefeller Center, a ride on the subway and taxi, Magnolia Cupcakes, and of course a pizza joint. (It's New York. We're all about the pizza.) You get a small taste of multiple locations in this 14-minute video. And you can even see the plane flight home.
How To: Like most virtual reality videos on YouTube, you can view this on your browser. But you'll need a VR headset, like Google Cardboard, to see this in virtual reality.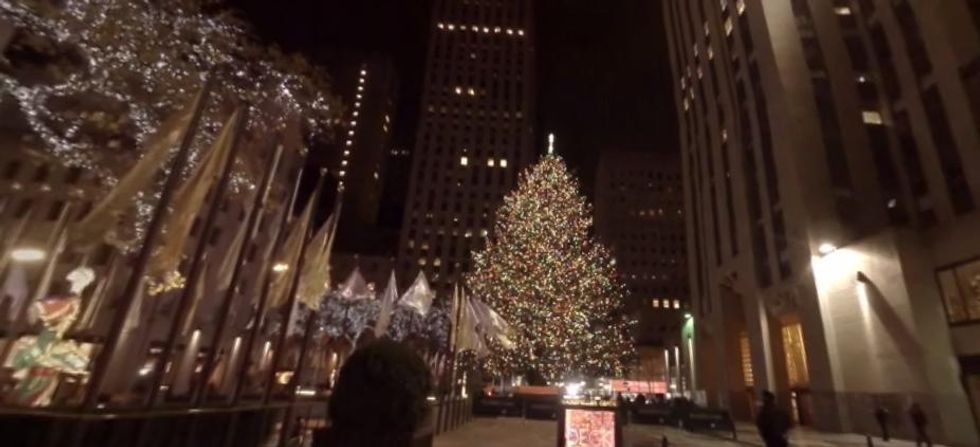 Rockefeller Center's famous tree is a must see during the holidays.
Christmas Time
Few places in the world can capture the Christmas spirit like New York City. Sure much of the celebration revolves around retail, but this VR video by Jaunt, "New York City Holiday Cheer," brings you on a snowy carriage ride near Central Park, an audience with Mr. Christmas himself, Macy's Santa Claus, ice skating in Bryant Park, the famous Rockefeller Center tree. There are also holiday windows of many of New York's famous department stores: a serious New York Christmas tradition.
How To: You can view the video in virtual reality by downloading the Jaunt app to your Android device or iPhone and then using a Google Cardboard headset. Or you can also watch through Oculus Rift.
Like GearBrain on Facebook