Like GearBrain on Facebook
Press Release:
Recently Verizon Telematics, a division of Verizon Communications made an announcement on expanding their Hum product line to include two more OBD2 devices, Hum+ and HumX. A year ago, GearBrain tested Verizon Hum and really liked the OBD2 device. We just wished it could be a 4G hotspot and they could show us where the closest gas station is when driving. (See Verizon's Hum Injects Older Cars With Some 21st Century Tech for more on our review.) We are glad to see one of the new Verizon OBD2 devices, HumX offers 4G hotspot and Verizon Hum's new mobile app provides more robust data for customers.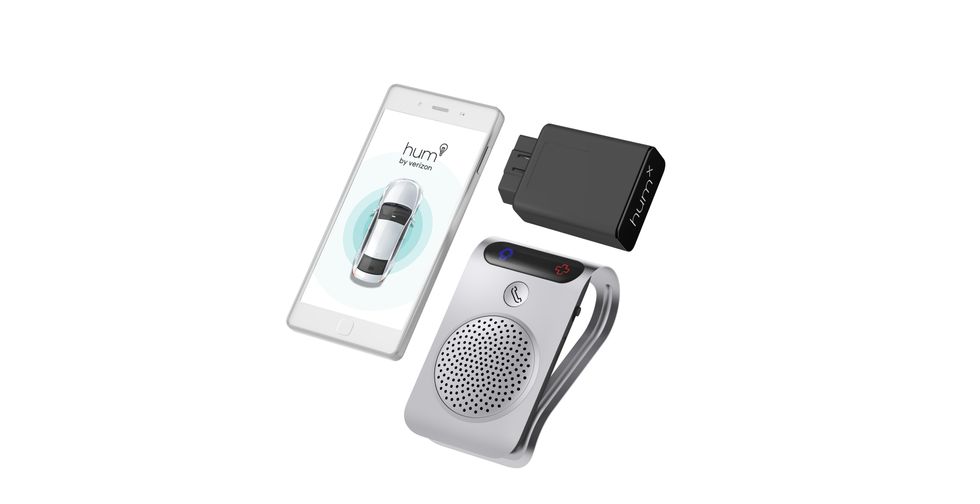 Verizon HumX
GearBrain had a chance to ride in a car recently with Verizon Telematics to see one of Verizon's new OBD2 device, HumX in action. HumX is the premium OBD2 device and comes with 4G-LTE Wi-Fi hot spot capability, premium hardware and a new mobile app. The hardware package includes a stainless-steel Bluetooth speaker which you can clip on to your car's visor. The Bluetooth speaker supports HD voice and has a LED touch icons for contacting Hum customer support. Hum's customer support includes roadside assistance, emergency assistance and our favorite, a mechanic's hotline.

The mechanic's hotline is a very nice feature, especially when you want to know why your car's engine light is on. You can call and speak to a certified car mechanic who will tell you what the codes mean in your HumX app and how to fix it and the cost to fix it. The mechanic can help you save money and give you peace of mind. There is nothing worse than going to a car mechanic and not knowing what is wrong with your vehicle. Then getting a huge bill for work you are not sure you needed.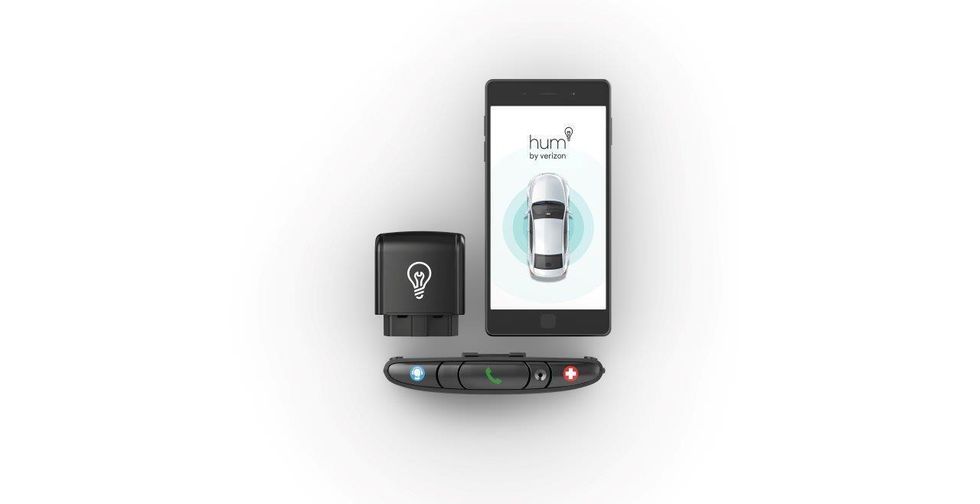 Verizon Hum+
Verizon offers three tiers of Hum. There is the standard tier which offers safety scores and navigation. Safety Score calculates driving behavior on factors such as braking, cornering, acceleration and phone handling while driving. Safety Score also provides the driver with tips about safe driving. Navigation looked very nice and provides turn-by-turn voice-guided directions, search by location name or address, and multiple route options based on estimated trip time and level of traffic congestion. Note you will get different version of the navigation. HumX, since it's a 4G hot spot, its navigation is in real time while Hum+ is slightly delayed when viewing where your car's location is currently.

The next tier up is the Hum+ which offers Safety Scores, Navigation and a core set of new features like auto health and diagnostics, driving history, boundary and speed alerts, and vehicle location. The HumX is the top tier which also offers the 4G hot spot capabilities. All three tiers will come with the new Verizon free Hum app which will allow you to access these features and upgrade if needed. The app is available from iTunes App store and Google Play. Also, it's important to note you don't have to be a Verizon customer to use any of the Hum products. Verizon customers will be able to use their shared data plan to offset hot spot, but no matter who your carrier is, you will be able to enjoy the same functionality and benefits from Hum products as Verizon customers.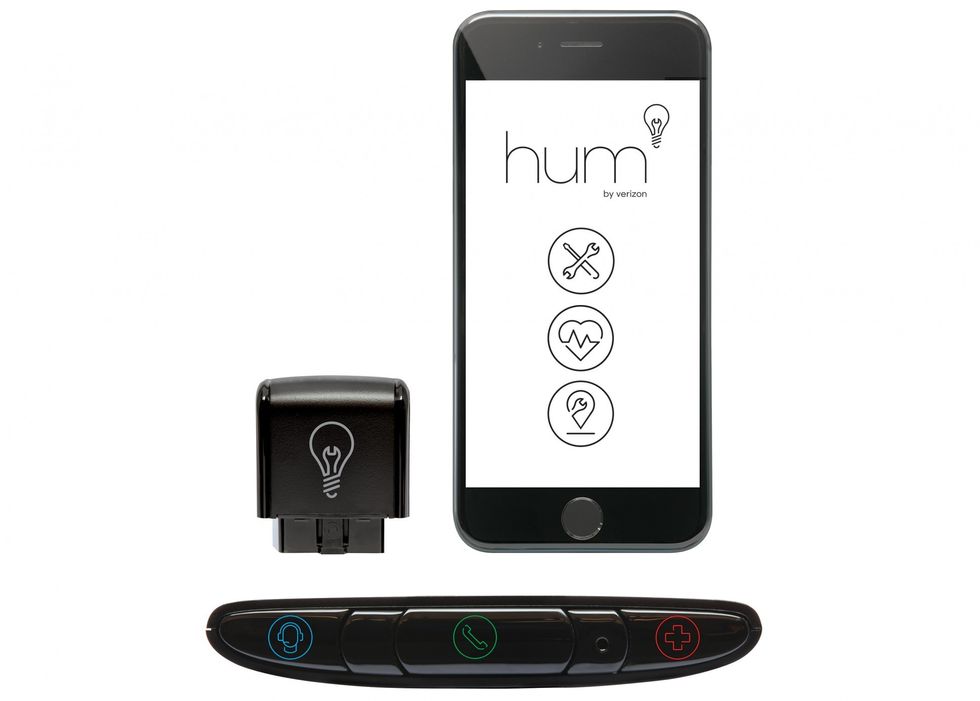 First Generation Verizon Hum
"Whether you're enjoying the premium HumX with Wi-Fi hot spot, utilizing core features with Hum+ or introducing yourself to Hum with the free app, you can now feel more connected than ever," said Michael Maddux, director of product at Verizon Telematics. "It's the ideal platform for people who want to know more about their vehicle's performance, improve their driving, or have peace of mind knowing they can reach Hum's 24/7 roadside assistance at the press of a button."

Check out GearBrain's review of the new HumX: Verizon HumX Review: First OBD2 Scanner with 4G Wi-Fi Service for more insights on how the product performs as well as pros and cons. In the interim, if you want more pricing and information, please visit a Verizon Wireless retail store or www.hum.com.
From Your Site Articles
Related Articles Around the Web
Like GearBrain on Facebook