Like GearBrain on Facebook
HTC is launching a souped-up version of its Vive virtual reality headset — the Vive Pro. Aimed at the hard-core gamer and those in the business world, the new headset beefs up resolution, offers amplified sound plus a new design for better comfort, says Vive.
Teasing the news earlier with a tweet about New Year's resolution, HTC revealed the re-designed VR machine and all the goodies inside.
To start, there are dual-OLED displays, with a resolution of 2880 x 1600. This means that users will be able to read texts while in virtual reality, says HTC. This higher resolution is a nod to the enterprise user, like carmakers, who said they wanted to be able to create more details in VR, HTC added. Two microphones have been added as well — a way to help with noise for those using Vive Pro in an arcade space, or even when playing against multiple people.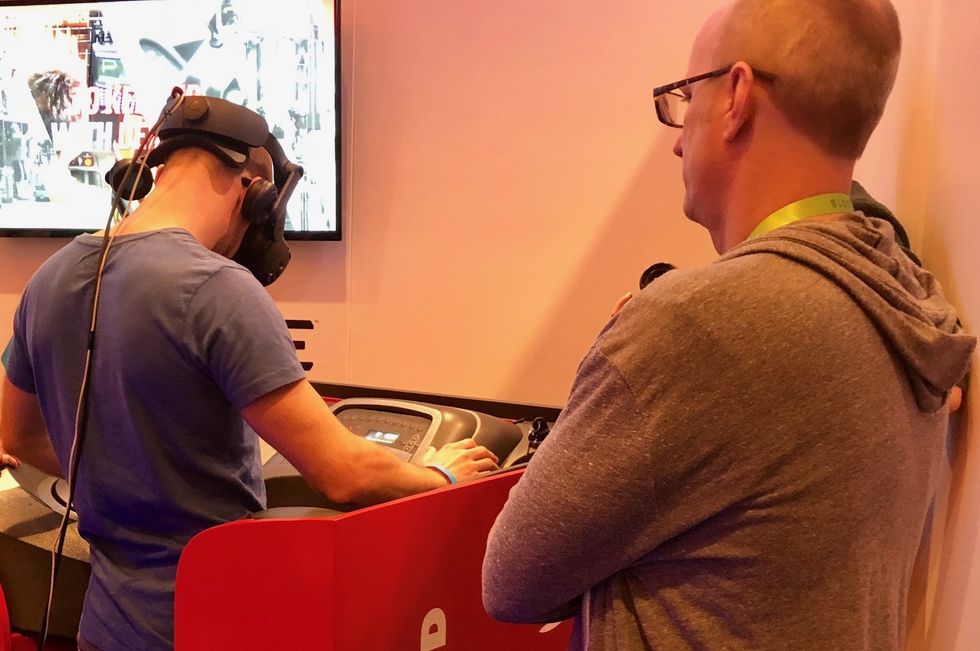 The HTC Pro sports higher-resolution, letting players read texts in VRLauren Barack
Although the overall look of Vive has not changed much, the head-strap on the Pro has also undergone a redesign, with a dial in the back that lets users adjust the fit more easily, even for who wear glasses. More weight is now shifted to the head strap as well — something sorely needed for people who spend significant time with the device.
Of more interest to those who have yet to dabble in VR? A wireless adapter HTC plans to push out sometime in the third quarter and is meant to unleash the original Vive from its wires. HTC Vive knows that no one wants to be tied to a leash while playing in VR. In fact, 96 percent of those who have yet to buy VR gear say the main reason they've held off is because of tethering, says Vive.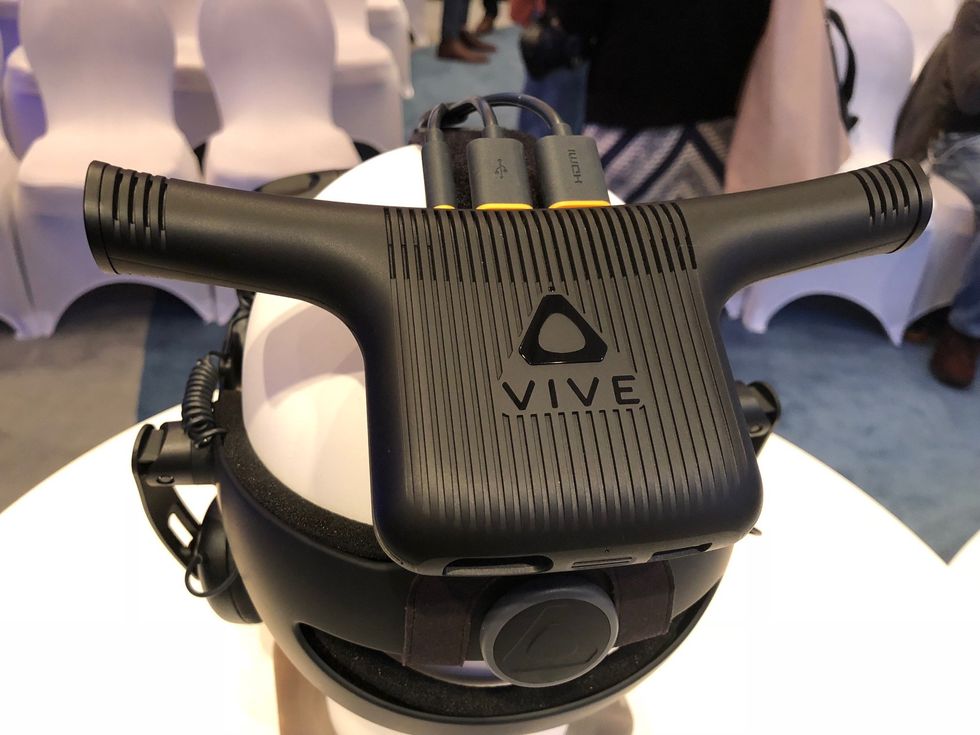 HTC Vive's new wireless adapter will allow players to experience VR untetheredLauren Barack
The new adapter looks a bit like a pair of deer antlers that lie flat on top of the Vive — antenna that deliver the content to the headset. Players will also have to wear a battery pack, which will come packaged with the adapter, says Vive.
With 36.7 million Americans expected to experience VR content at least once a month this year — a jump of 63.7% over last year says eMarketer — offering a way to untether HTC's original headset is something that could draw new interest to the field, and its device.
HTC launched a standalone VR headset late last year — the Vive Focus — following news of a new wireless headset from Oculus called the Oculus Go. Oculus is pricing its untethered headset at just $199 and plans to release the device early this year. HTC still hasn't set a price, nor release date for Focus.
The wireless adapter brings the same unleashed experienced to those who own the original HTC Vive. But HTC declined to announce pricing for the Vive Pro and its wireless adapter — nor offer a release date for the souped up VR Vive Pro.
Related Articles Around the Web
Like GearBrain on Facebook