The Waze mapping application now tells drivers how much it will cost to use toll roads on their chosen route. The new feature may seem obvious, but it isn't available on Google Maps.
Available now for Waze users in the U.S. and Canada, the new feature includes the estimated price of toll roads in the summary of a chosen route, along with the distance, how long the drive is expected to take, and your estimated time of arrival.
Read More:
The Waze app previously knew where toll roads are, and would tell if your route included them, but had no way of telling drivers how much they would have to pay. If you approach a cash-only toll booth, this can clearly be troublesome. But more keenly, while Waze often directs people along the fastest route, sometimes people may not want to pay extra to shave just a few minutes. Now they can know the price those extra minutes will cost, and decide whether to choose that route or not.
But the system isn't quite perfect, as Waze doesn't actually know how much each toll road costs. The estimate the app offers for your journey is based on prices entered by Waze users — similar to how other functions of the app work, spreading the news of traffic and diversions among users.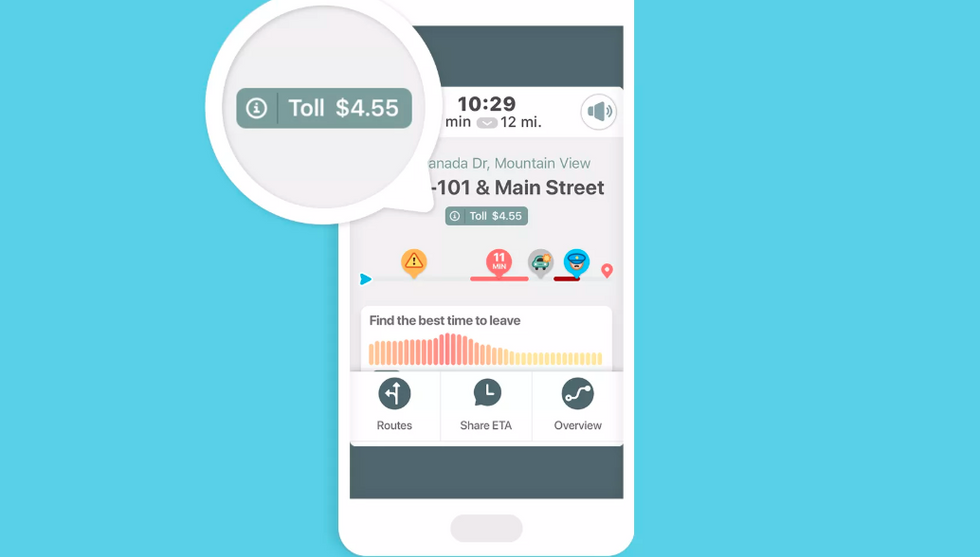 The app gives an estimate for toll road chargesWaze
Also interesting is that Waze is owned by Google, yet the Google Maps app does not offer toll road prices. Instead, it does what Waze used to do, and only warns drivers about a toll route being on their journey, without mentioning the price. Given the relationship between Google and Waze, we wouldn't be surprised to see toll road charges appear in Google Maps soon, once any initial bugs have been ironed out of Waze.

Also keeping the two companies close together was a Waze update earlier this year, which brought the Google Assistant and its 'Hey Google' wake word to Waze. We'll be interested to see how Google manages the apps going forward, and if they will become even more closely aligned.