Like GearBrain on Facebook
A challenge facing many smart home builders is powering all of their devices, whether that means remember to charge and replace batteries, or install new power outlets to accommodate numerous new products.
To alleviate this problem and make the smart home truly wireless, long-range wireless power company Wi-Charge has demonstrated how devices can be powered without cables and batteries.
Read More:
Announced and demonstrated at the CES technology show in Las Vegas this week, Wi-Charge's collaboration with Alarm.com and Allegion, provider of security solutions from brands like Schlage, shows how a smart lock and an alarm system can be powered with long-range wireless technology.

Still in the prototype stage for now, Wi-Charge's technology uses beams of invisible and harmless infrared light to power devices across an area of up to 250 square feet.
The technology works by beaming the light from a transmitter fitted to s regular power outlet; this light is then captured by receivers, which can be embedded into mobile devices, or connected to an existing charging port. Wi-Charge's technology is approved by the US FDA and also meets International safety standards.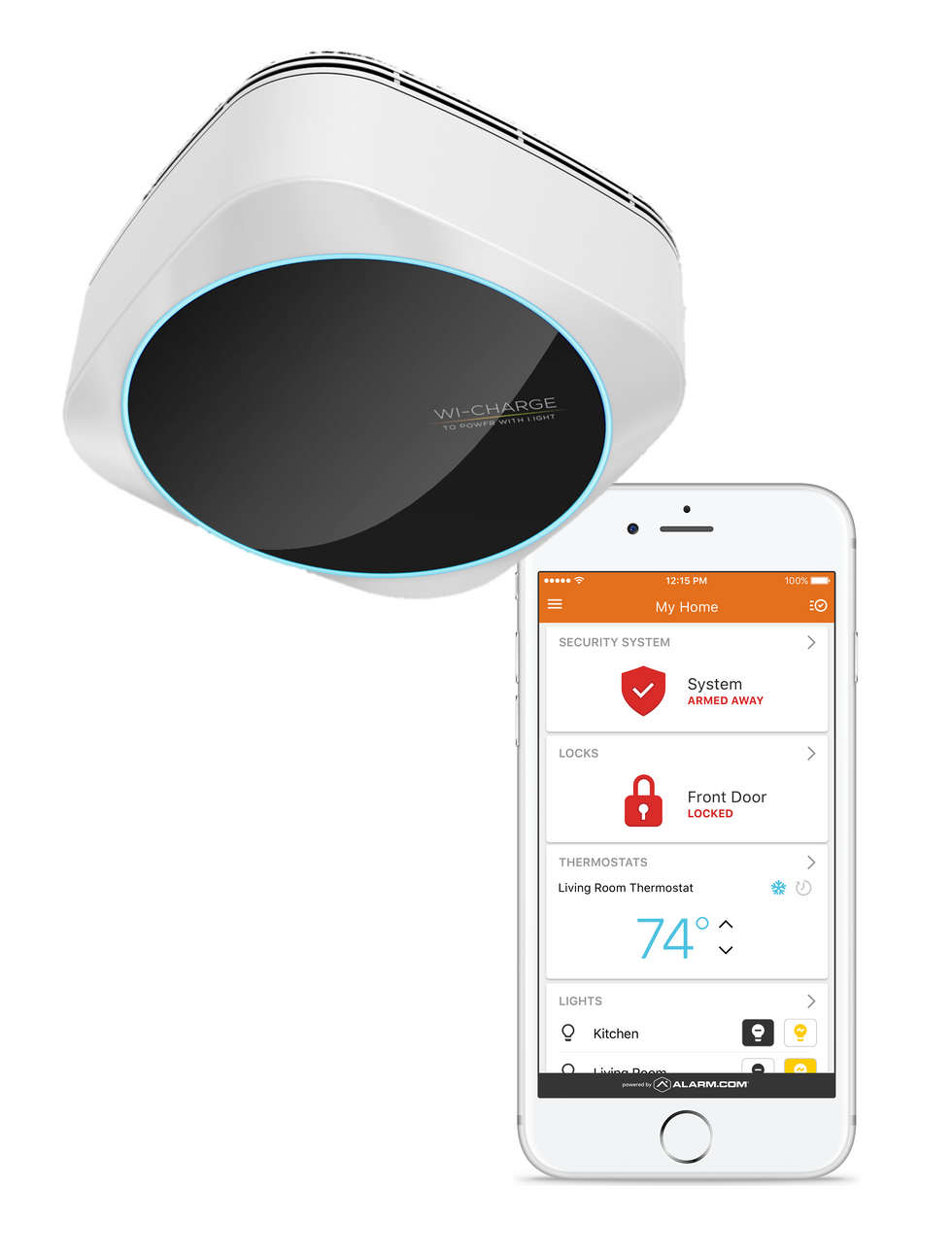 Smart home devices could soon be powered wirelessly with infrared lightWi-Charge
Used by Allegion, the wireless power technology could beam electricity to devices like smart door locks from Schlage, which would never need their batteries changing or charging. The technology could also be used to ensure critical home devices like motion sensors, sirens, security cameras and smoke alarms never run out of power.

Yuval Boger, CMO at Wi-Charge, said: "Wi-Charge is collaborating with innovators in the smart home security and automation ecosystem industries to enable the next generation of smart home devices. Untethered, wireless power will usher in a new era of devices and use cases for consumers that have previously been limited or restricted by power cables and batteries."
Steve Chazin, vice president of products at alarm.com, said: "We believe that long-range wireless power will unlock innovative new uses for the smart home and business where devices don't always have easy access to power…The demonstration with Wi-Charge and Allegion is a significant milestone for the connected device industry as a whole and can open up a world of possibilities for our service provider partners and subscribers."
From Your Site Articles
Related Articles Around the Web
Like GearBrain on Facebook