Like GearBrain on Facebook
When looking to add smart lights to your smart home, you need to first decide where you want to control the device: at the switch or light level? For switch control, you need the correct wiring inside your walls, which means a neutral wire (3rd wire) inside your electrical switch box. If your home doesn't have that, then you need to place control with the lights. There are many good smart lighting options on the market today and GearBrain has tested several. So when we offered Wiz Smart Lights to review, we decided to put them through our tests.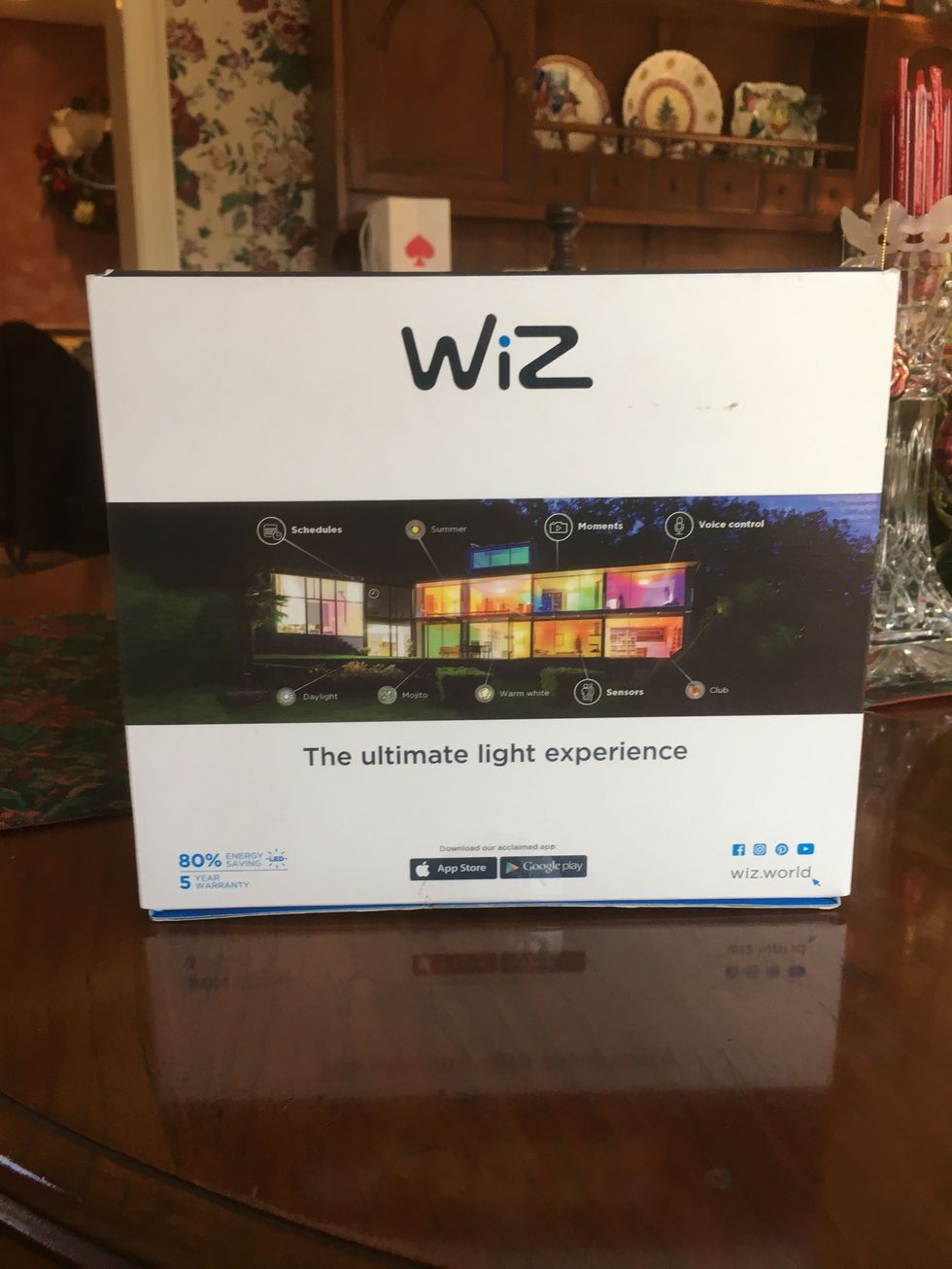 Wiz Smart Lights with Remote Control work with Wi-Fi connection.GearBrain.com
What are Wiz Smart Lights?

Wiz Smart Lights are a connected lighting system which does not need a hub, but connects to your home Wi-Fi network. The kits contain 60 W LED smart bulbs with 810 lumens brightness.
Inside the box you get 2 A-type E26 light bulbs, an infrared remote control, a set up guide, and a warranty for either five years or 2,500 hours or 50,000 on/off hours. The LED bulbs are dimmable and can last up to 18 years if you were to use them just three hours per day. They use only 12W and offer up to 64,000 shades of white and 16 million different color combinations. These smart lights can also be controlled through a variety of means: by mobile app, voice and remote control.
How Do They Work?
Installation is easy and there is no hub required but you can add the lights to a hub using IFTTT or Conrad Connect. First, you need to download the Wiz mobile app onto either your iOS or Android smartphone and follow the pairing instructions. The mobile app has good instructions and the Wiz website also offers a robust Troubleshooting section or FAQs in their Support channel.
We had some issues with the pairing. For some reason our lights were not connecting to our home Wi-Fi router. The lights require a 2.4GHz Wi-Fi connection. If you have a dual band Wi-Fi router, make sure you connect the Wiz Smart Lights to the 2.4 GHz connection. We tried connecting the lights to a 5GHz connection and it didn't work. After several attempts with a 2.4GHz connection we were able to get the lights to pair. This was one of the few issues we had when testing these smart lights.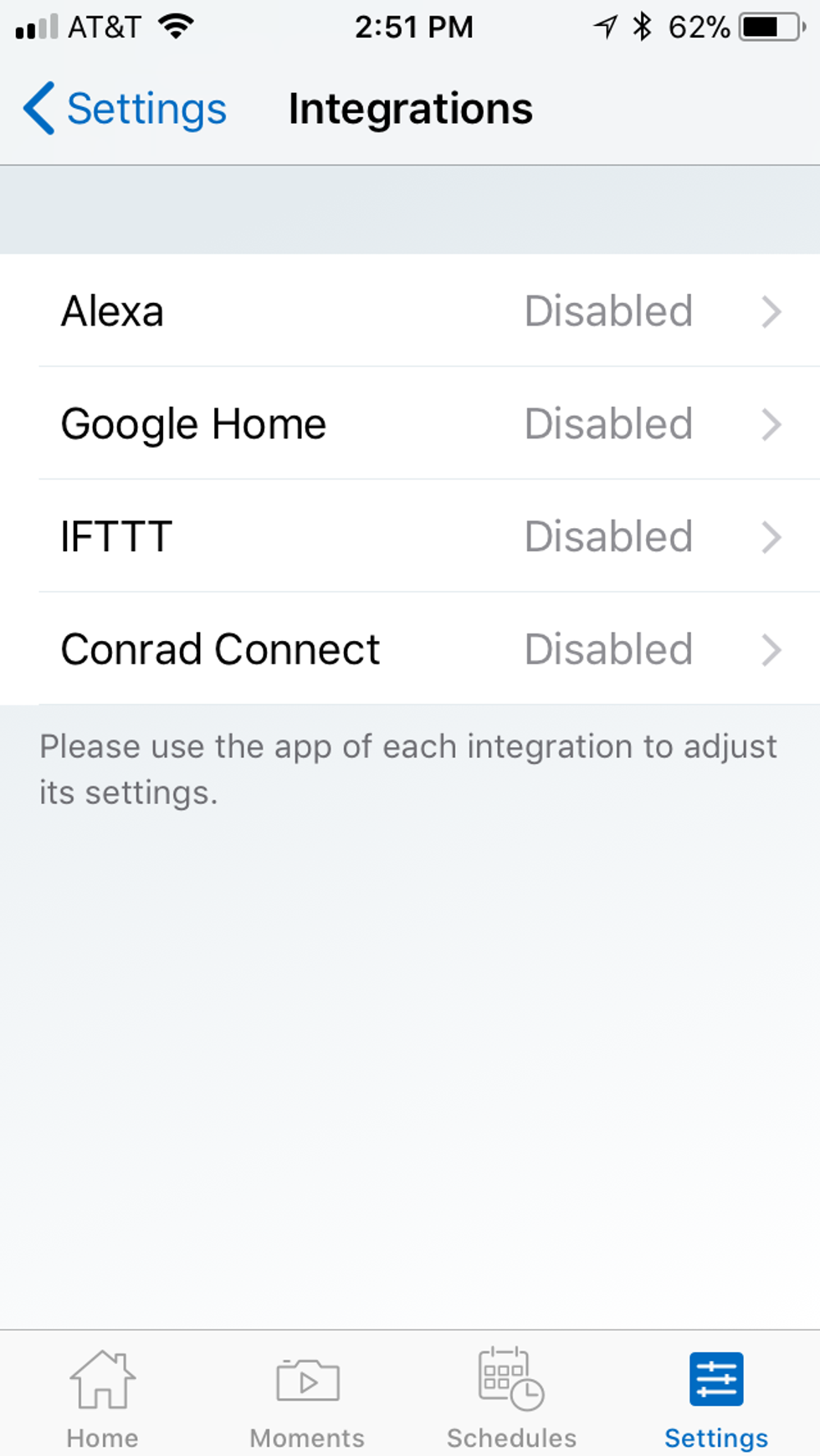 Wiz Smart Lights integrate with Google Home, Amazon Alexa, IFTTT and Conrad Connect.GearBrain.com
Compatibility
When looking to get smart lights, one thing you should look for is compatibility — you want to know what other connected devices work with the lights. This will allow you to have better control over your lights and help you create more effective scenes or automations inside your smart home. Wiz Smart Lights are Wi-Fi LED bulbs that connect to Google Home and Amazon Alexa enabled devices. You can connect directly to these devices using the Wiz app. (Also, check out GearBrain's Here's everything that works with Google Assistant and Amazon Alexa to learn more about what devices connect to either Google Home or Amazon Alexa devices.)
However, if you want to connect your Wiz lights to other connected devices, like a smart thermostat or home security system, you must use IFTTT applets or Conrad Connect projects. Using one of these applications will allow you to have your Wiz Smart Lights work with connected devices like Harmony Hub, Netatmo and Nest smart thermostats. We tested setting up the Wiz Smart Lights to work with Amazon Alexa and a Harmony Hub. We found it to be easy and pairing was simple for both devices.
On IFTTT site, you will find many Wiz applets for you to use with your Wiz Smart Lights. There are applets that will allow you to change the color of your smart lights when the humidity in the room is too high or have your lights go on when an intrusion is detected. One of my favorite was have your light turn a certain color when your favorite show is going live. Note that for all these applets you will need to make sure you have the other third-party system which helps power the applet.
Using the Wiz Smart Lights app, you will be able to setup up schedules and moments for the lights to go on or off. They also have a vacation mode, a setting that makes it seem like someone is home while you are not there. For instance, the lights might go on at various times during the day, like at lunch time or in the afternoon as well as at night. This is easy to set up via the mobile app and works effectively.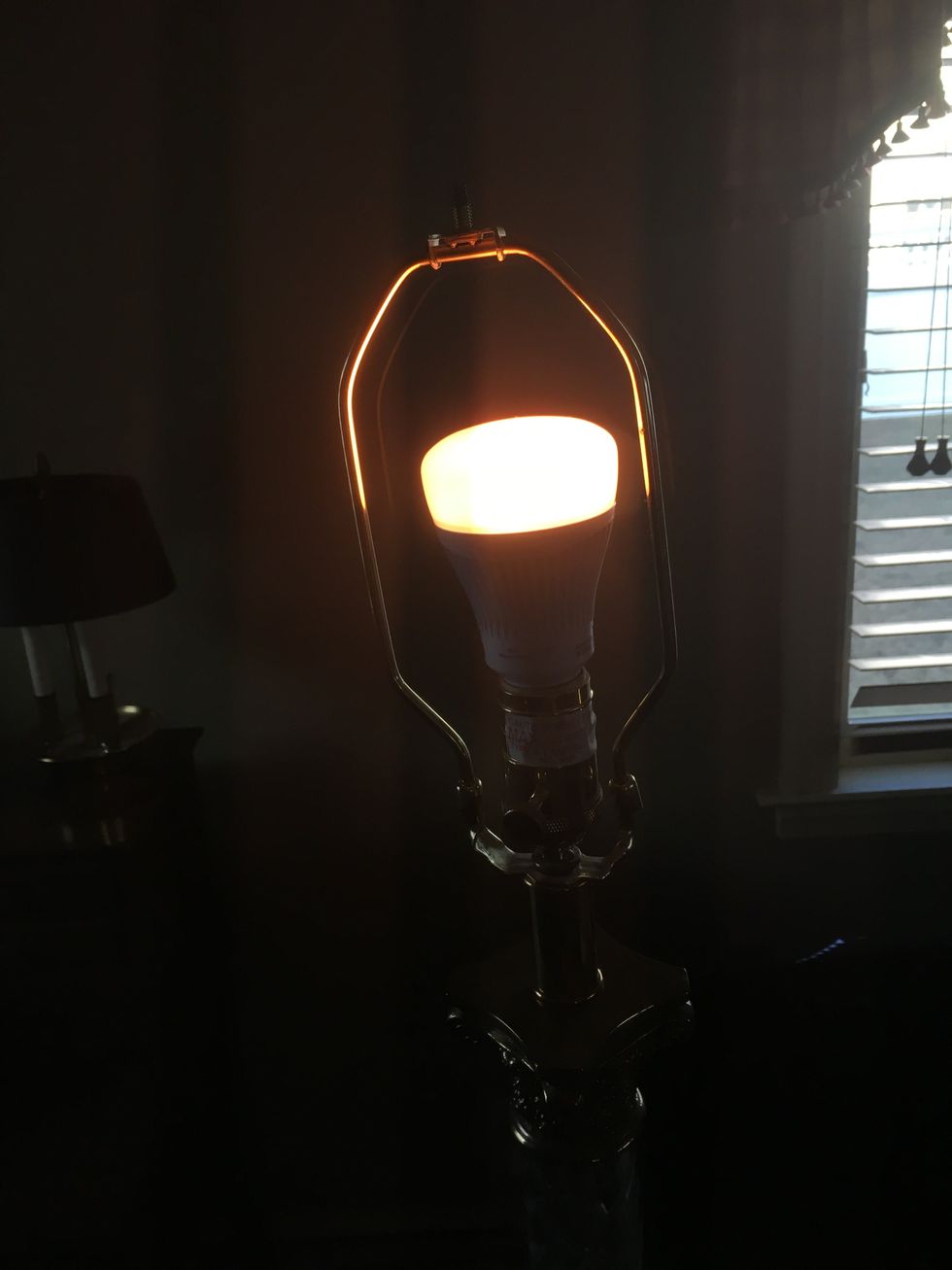 Wiz Smart Lights come with over 16 million color combinations for you to use in your smart home.GearBrain.com
What is the difference between Wiz Smart Lights and other smart LED Lights?
While testing Wiz Smart Lights, we found several differences between them and other best of breed smart lights, like Philips Hue or Lifx. One distinct difference is Wiz offers a remote control for your lights, which works off an infrared wireless signal. It has four favorite buttons which you can customize for any room that has Wiz lights through the Wiz app. For instance, we had a Wiz light in a den and another one in a bedroom. We set one mode for the two rooms, and then assigned a button for each. That's a nice feature — and you don't have to have the remote to take advantage of this feature.
Wiz offers Wizclick which makes your light switch, effectively smarter, with setup done through the mobile app. Here is how it works. First, go to your Wiz app and make sure your Wizclick power switch is enabled. Then, turn on your light with the Wiz bulb. Once on, Wiz recognizes it as the first favorite light mode. If you turn the light off and then back on a second time within 5 seconds, the second favorite mode is also recognized on the second button of the remote. If your favorite two buttons have defined light modes, these two light modes will be recognized in the room with Wiz Lights just by turning the light switch on or off. We think this is an interesting feature for the individual who doesn't mind using their light switch to turn their lights on and off.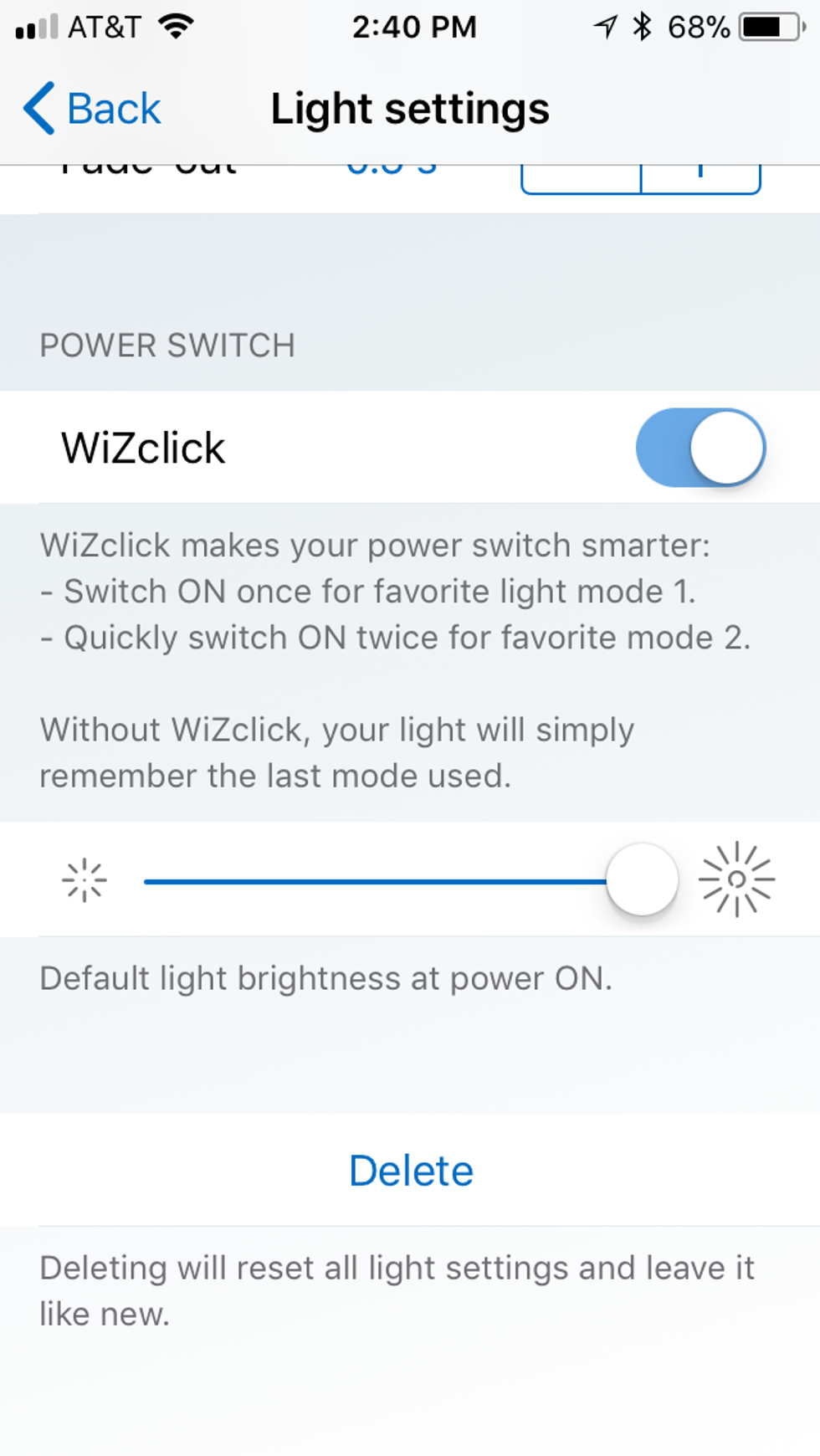 Wizclick is a nice feature on Wiz app that can turn your light switch into a smart switch.GearBrain.com
Another way Wiz smart lights differ from other smart light brands, is its flash memory. We haven't seen this in other smart lights. Each Wiz smart light has 2MB of flash memory which helps the company manage security updates and store your settings. The memory also helps Wiz pre-load dynamic lights modes as well as make sure the lights have the most up-to-date security patches to make sure the lights perform the way they are supposed to all the time.
Wiz smart lights two pack with remote control retails for $69.95 and can vary depending on the type of Wiz LED bulb. You can buy individual Wiz LED bulbs and the remote to control individuallly on Amazon.com, HomeDepot.com, BedBathandBeyond.com and with a few select Costco.com.
Summary
We like Wiz smart lights. They are a good Wi-Fi LED connected light system with a remote control, and has unique app features for today's smart home owner. We liked the Vacation Mode as well as Wizclick. You don't see many smart lights with a feature that turns your existing light switch into a smart switch. We also like the robust offerings of IFTTT applets you can use to get your Wiz smart lights to work with other connected devices in your home. But there are a few things we would like to see addressed or improved to make Wiz smart lights an effective smart home lighting system.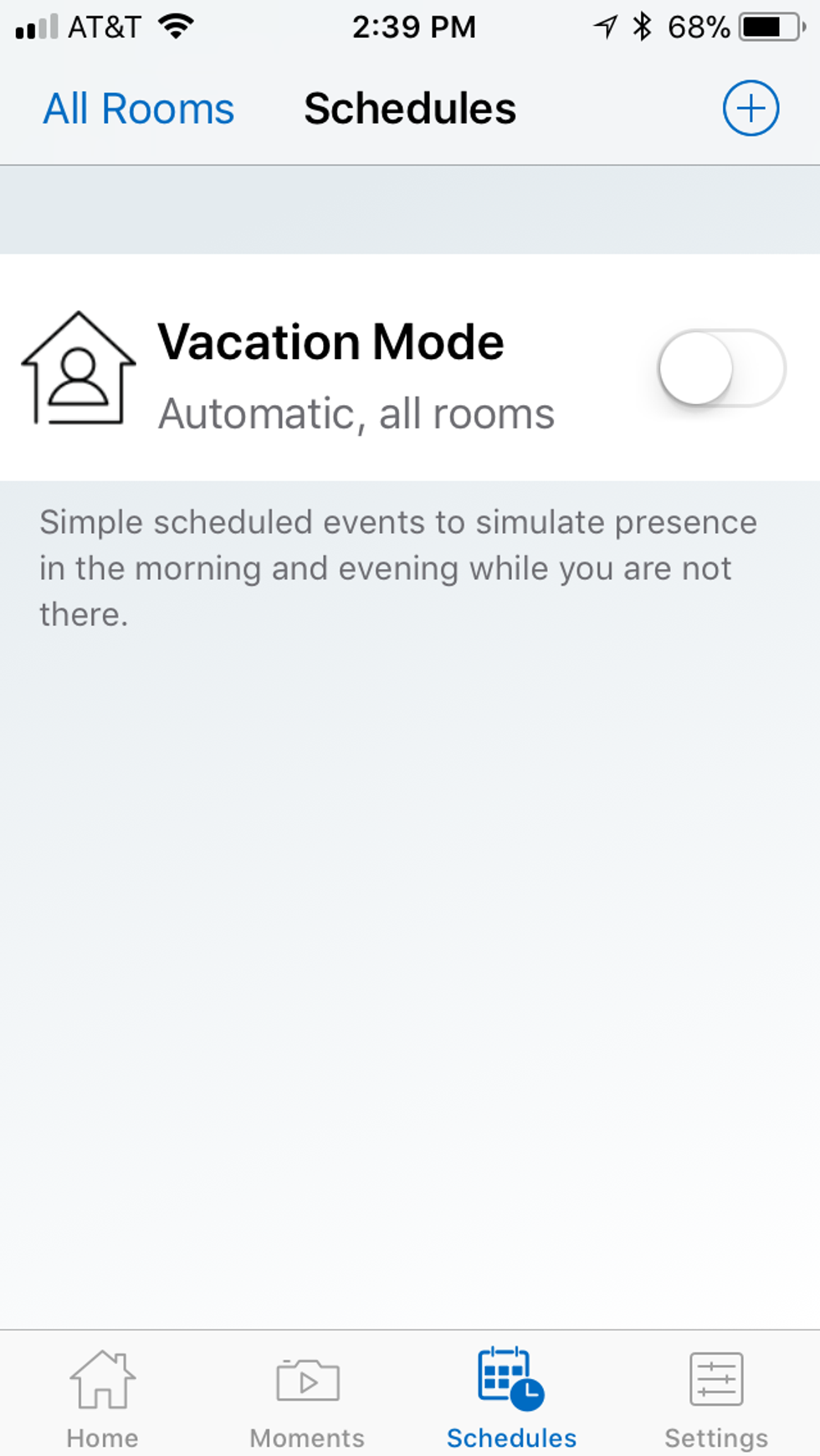 vacation mode on the Wiz app is a nice feature for smart home owners.GearBrain.com
The price of Wiz smart lights is relatively high, especially when compared to other smart lights that don't require a hub and have limited smart home system integrations.. We understand with Wiz smart lights you get 2 LED bulbs as well as a remote control. However, there are other smart LED color light bulbs which are a little bit more expensive but offer more integrations with smart home devices, home security systems. Wiz smart lights are limited to what you can do with IFTTT or Conrad Connect to integrate with smart home devices.. We would like to see Wiz Smart Lights integrated directly into best of breed home security systems, like Xfinity, ADT Home Security and Frontpoint Security.
Finally, we would like to see Wiz Smart Lights offer other types of wireless connections, like Z-Wave or Zigbee. Since there is no industry standard when it comes to wireless protocols to connect your devices, it would be great if Wiz offered a Z-wave or Zigbee smart LED Bulb to work with theses types of connected devices.
Overall, if you are looking for smart lights that integrate into your existing smart home system that is Wi-Fi controlled and you are comfortable using either IFTTT or Conrad Connect, then you should consider Wiz smart lights. But if you are on a Z-Wave or Zigbee wireless connection and want your smart lights controlled through a connected hub like Samsung SmartThings hub or Wink Hub, these are not the smart lights for your smart home.
Pros:
Good mobile app features like Vacation Mode
Compatible with Amazon Alexa and Google Assistant
Robust IFTTT applets and Conrad Connect Projects
Good construction and durable
5 year warranty
Remote control
Hub not required
Cons:
Limited smart home integrations outside of IFTTT and Conrad Connect
Price
Difficulty pairing
Not Z-Wave or Zigbee compatible
Like GearBrain on Facebook