Like GearBrain on Facebook
Wonder Workshop, no stranger to automated toys, believes its latest, Cue, will be a robot you keep around long after the tree gets stuffed into the wood chipper. A rolling device that moves faster than your hamster hunting for an escape, Cue is a $200 toy that we spent some time with this month.

Start it up
The first thing? Getting Cue out of the box. Honestly, I had to watch a video to figure this out. He is snugly in there and you're not going to want to pull hard. You'll find if you feel, that there are two plates snapped against what you'd think of his ears. It's gonna a bit of tugging but snap these off: like a peanut can top.
Then, you should be able to pull Cue out of the box and see the rest of what he comes with: two Lego adapters, which will let you customize and add Lego bricks to Cue, a USB adapter, an instruction book and some cute stickers. The quick start guide is actually printed on the front flap of Cue' box — and extremely helpful. (And another reason you want to get him out carefully.)
Start charging Cue immediately — it took us just under an hour to get him up to speed.
Next you're going to install the iOS or Android 'Cue by Wonder' app. While apps can be considered an afterthought, Cue is entirely dependent on its app. Without "speaking" to Cue through the app, directing its action or coding some tricks, the robot will stay on — but will act as if you're ignoring it.
Personality
But that's Cue's selling point: the robot comes with four different personalities, or avatars as Wonder calls them, each with a distinct attitude, voice and in different genders.
When you first launch Cue, before setting it up through the app, the robot adopts a speech and voice pattern as if it were a butler serving tea: a bit standoff-ish and decidedly British: words like "refreshment" and "dossier" pepper his speech, along with idioms like "See you on the flipside!" We suspect kids will hear this and think: Parent.
To train Cue to sense motion, you do a fist-bump with the robot, and also need to call to it so it can find your voice and roll in different directions. Both took a bit of time, and patience, to make sure we followed the instructions correctly.
Once you launch Cue you're given an opportunity to download a personality. Our test robot came with the free download, plus one extra. But to add on all four would have been an additional $4.99 each. Parents, note this before sending your child off with your device and Cue to play.
After downloading the personalities, their yours to play with — and you can toggle between them at any time. Grow bored with one, try on another one — that's a nice option.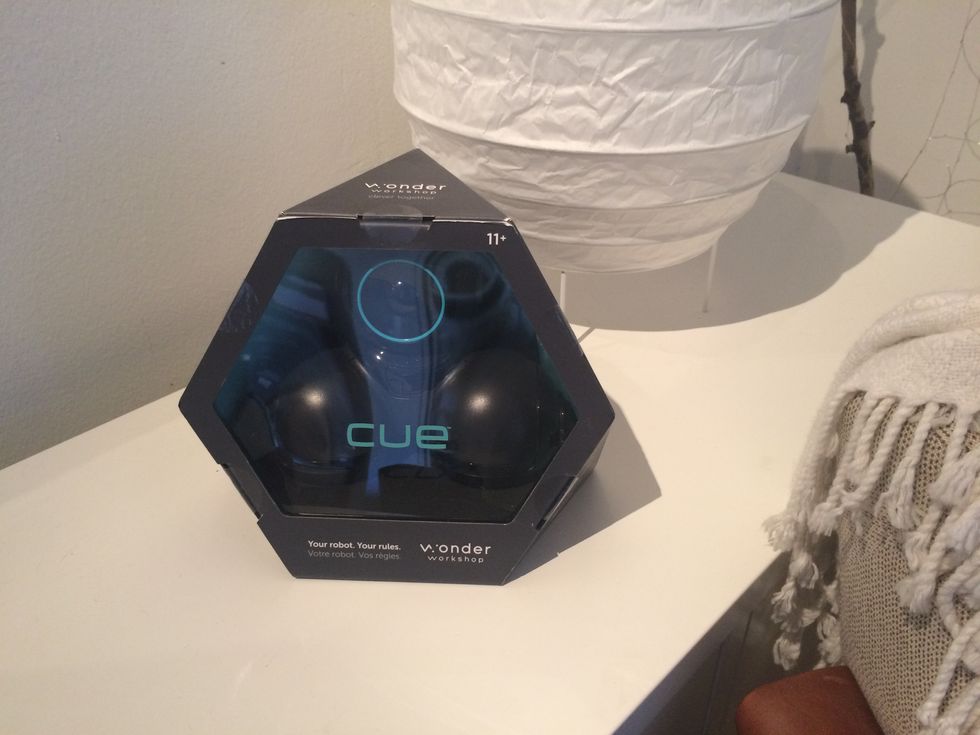 Cue comes in a box that doubles as a storage box.GearBrain
The personalities are as follows:
Smirk: This is the 13-year-old locked in his bedroom. He's bored, keeps repeating the words, "Oookay" as if what you just said is the dumbest thing he's ever heard in his life. Your older kids will love this.
Charge: This is the most Pixar sounding of the bunch, like an animated super hero. He's more than likely going to appeal to a younger child.
Pep: As his name sounds, Pep is a high energy ball of positivity. Little attitude, and a lot of can-do spirit with Pep. We liked him the best.
Zest: This is a female character who sings quite a bit. She had a whiff of My Little Pony on her, and after some strange texting popped up, we ditched her for Pep.
Playtime

Cue is designed for action: three rolling balls make up its base, with a fourth as the head. The toy is almost entirely in black, save for some blue accents. This helps the animation on its face stand out — pixelated rectangles that indicate eyes and whether it's smiling or unhappy.
To get Cue up and running, you're downloading an app to your iOS or Android smartphone, tablet or Kindle which will end up doubling as your controller for Cue. This is not a robot meant for young children: the amount of texting required to interact with Cue alone will push this into upper elementary if not middle and high school territory. In fact Cue is aimed at those 11-years-old and up.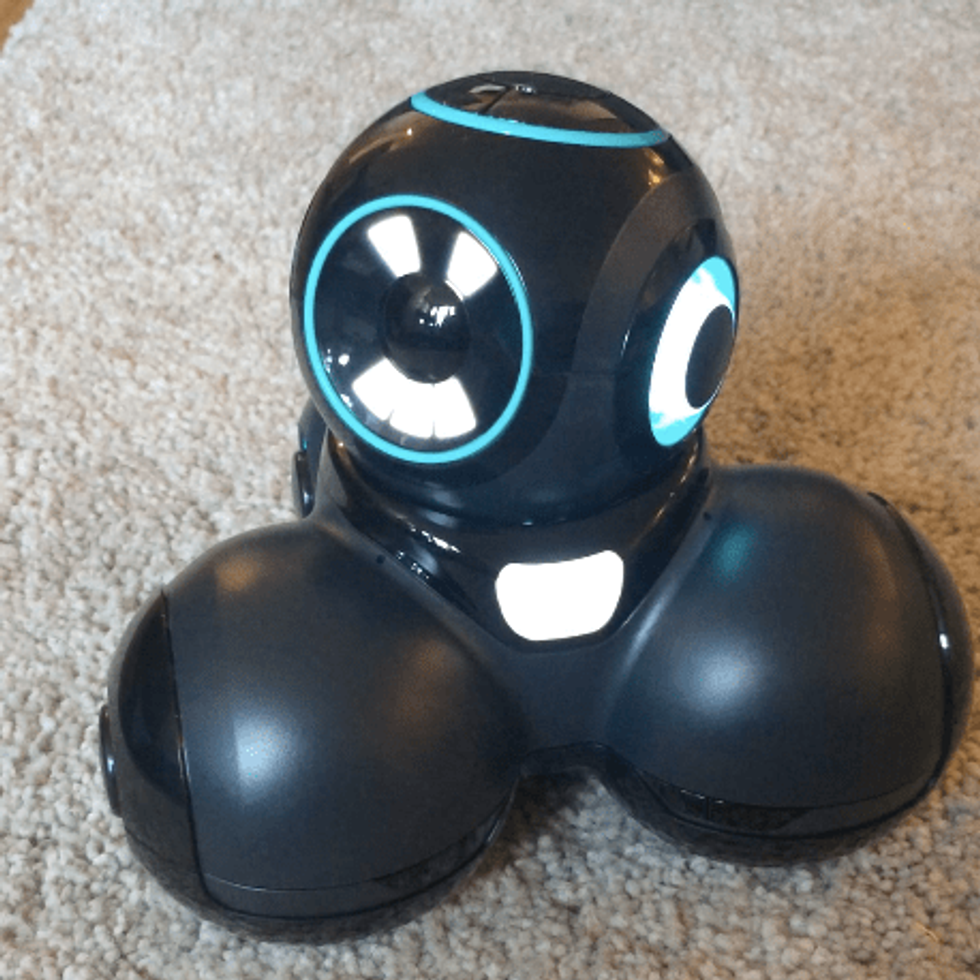 Cue did not move as well on carpeting as on bare floors.GearBrain
There are three main areas where you can play with Cue:

Control — Use this as you would a simple remote control where you can move Cue around a room and make it perform simple tricks.
Create — This is a starter coding space. You can create short tasks for Cue, the simpler the better.
Code — For those adept at using block code or Javascript, this area will feel comfortable. Kids can also learn how to use this style of coding — if they get lost, the program gives pointers on how to start. Cue is also starting to support Apple's Swift coding language.
You can also talk with Cue through chat screens — and it felt, often, that key words were sparking pre-programmed answers. That grew boring for us. For tweens, getting Cue to respond may feel thrilling. For older teens, this feature is one we suspect they're going to test to see what kind of response they can spark back.
We're not going to lie: one of favorite things to do was play with Cue and our dog — he treated the robot as he does one of the little pups he plays with on the street: that is to say he loved it. Not saying you have to treat your $200 robot as a dog toy. Just saying, we gave that option a whirl.
Moving around
Cue is a speed demon — you can control how fast or slowly you want the robot to zip around, and zip around he does. With oversized ball bearings as his base, the ability to take corners is simple. We tore Cue around on our wood floors, but found it slowed down significantly on rugs. It never fell down, didn't upend itself and didn't tip over. Your child may come to you and feel frustrated by the app — but Cue isn't going to break a leg.
For that reason, as well, you're not going to want to leave Cue turned on and on top of a table, bookshelf or any elevated platform: his chances of falling off? Extremely high.
Final thoughts
Without a doubt, robots are the 'It' toy this year — everyone wants a rolling, chatty device that can tear across floors, make snarky comments and do some tricks along the way. The problem with technology toys? Their tricks grow old, we start to anticipate their movements, and they start to gather dust in the corner.
Wonder Workshop's Cue has a chance to bypass some of that because, in part of the ability to change avatars — a new toy bubbles up, in some way, each time — but also because of the coding options.
Not every child wants to learn how to code. But for those who do, seeing their programming take fruit, quickly, helps these new skills stick. Cue does that — you get it to roll forward and nod its head, and you feel pretty good about yourself. And then, hopefully, you try your hand at something a little more complex.
A $200 toy is never going to be a stocking stuffer, and is likely the big ticket toy for a child holiday. Cue is one to consider if your child has a smartphone, tablet or Kindle (or you're comfortable lending yours) and has shown some interest in coding. For the right child — and adult — this is a toy that could take them easily past the holiday season.
Pros: Multiple programming languages supported, four distinct avatars to download, can move easily across multiple surfaces
Cons: Pricey, not for younger children, is fully dependent on app.
Like GearBrain on Facebook