Like GearBrain on Facebook
With Cortana on the Xbox, Microsoft could have stolen a march on Alexa and Google Assistant. But when it killed off the Kinect motion sensor and its integrated microphone last year, it gave away almost any reason to use the virtual assistant, too.
Now, Xbox users can only speak to Cortana when they wear a headset; fine for when you're playing with friends online, but less helpful when you want to pause a movie without reaching for the controller.
This could be about to change, however, as Microsoft is reportedly working on adding both Amazon Alexa and the Google Assistant to the Xbox One.

The news comes from a reportedly reliable source who spoke to Windows Central and provided a screenshot claiming to be from upcoming Xbox One software. The screenshot shows a new 'Digital assistants' page of the preferences menu, stating: "Use a digital assistant like Cortana, Alexa, or Google Assistant with your Xbox."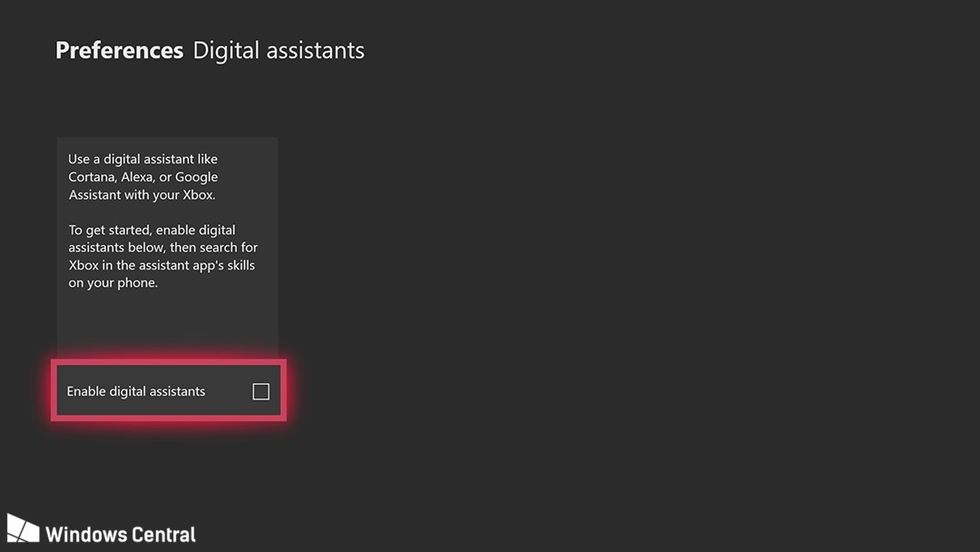 Xbox One screenshot mentions Alexa and Google AssistantWindows Central
Checking the box to enable this feature then reportedly takes the user to a page explaining how to install the Xbox skills apps for the assistants you want to use. As such, this does not mean the Xbox will gain full Alexa and Google Assistant support on its own - it doesn't have a microphone, for a start - but means you should be able to control your Xbox by speaking to a nearby Echo or Google Home speaker.

It is also likely that the Harman/Kardon Invoke, the only speaker to be powered by Cortana, will work in this way too.
We've known for a little while now that Microsoft wants to bring Alexa and Cortana closer together, but this is the first time the Google Assistant has been mentioned too.
Although the source doesn't elaborate, we can see the system being useful for when you want to quickly tell your Xbox to do something. Saying: "Alexa, tell Xbox to pause", or perhaps even: "Alexa, pause the Xbox" is quicker than reaching for the controller, switching it back on (they turn themselves off after a short time, like when watching movie), then pressing pause.
Given the sudden popularity on smart speakers and their ability to control household gadgets, Microsoft will no doubt be kicking itself for not persevering with Cortana and giving the Xbox One an integrated microphone. When the One launched in 2013, Microsoft said the Kinect sensor's mic could be used instead, but in October 2017 the company killed off the Kinect, virtually taking Cortana with it, given it can only be used when wearing a headset.
Like GearBrain on Facebook