Like GearBrain on Facebook
Google's push to make us more aware of how long we spend glued to screens has expanded to include YouTube.
Rolling out from August 27, the new 'time watched' menu shows how many hours and minutes you have spent watching YouTube today, yesterday, and over the past seven days. There is also a weekly average to show you in cold, hard numbers how long you spend on the site. The stats come from your viewing history and are totalled up across all devices which are logged into your YouTube account.
Read More:
Below the stats are four tools to help you curb how much time you spend watching YouTube videos. The first can be enabled to remind you to take a break; this can be set to trigger a reminder to close the app after a user-defined amount of time.

Next, YouTube's 'autoplay next video' feature can be switched off, helping to prevent you from falling into a black hole of content, served up on a never-ending, algorithm-fuelled loop.
The third tool for curbing your YouTube addiction is called 'scheduled digest', and when enabled you will receive just one YouTube notification per day, highlighting new content and messages from the channels you subscribe to. This way, you'll only get one distracting YouTube notification per day, instead of several.
Finally, there is a do-not-disturb tool for switching off notifications in the hours where you don't want to be disturbed, such as during the night. This ties into Android's existing do-not-disturb feature.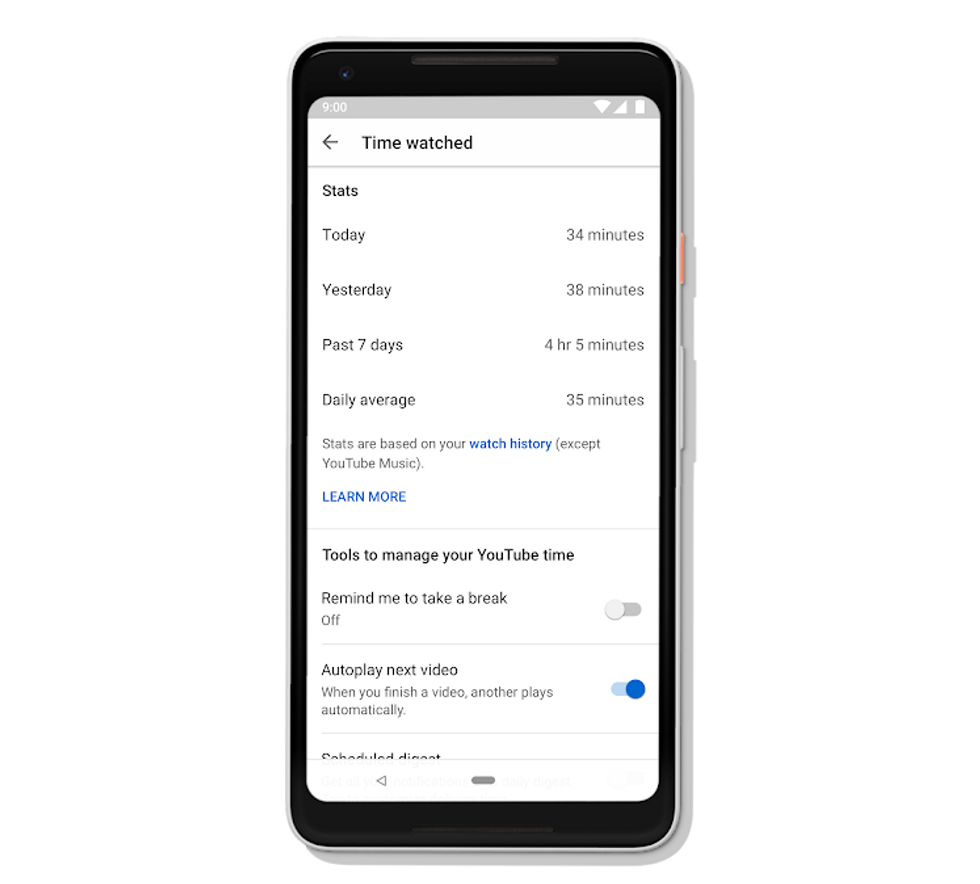 YouTube
Brian Marquardt, director of product management at YouTube, said: "Our goal is to provide a better understanding of time spent on YouTube, so you can make informed decisions about how you want YouTube to best fit into your life."
The update falls in line with Google's 'digital wellbeing' features, which are a part of Android 9.0 Pie, the new mobile operating system rolling out to smartphones over the coming weeks and months.

This focus on telling users how long they spend on using apps is a growing trend across consumer tech. Apple's has its new Screen Time feature, coming to iOS 9 in the fall, which shows how much time you spend using apps each day, and ho much times you check your phone (spoiler: way more than you realize).
There was also a recent update to Instagram to show when you have caught up with every unseen post on your news feed, saving users from idly scrolling through content they have already viewed.
Marquardt added: "We're dedicated to making sure that you have the information you need to better understand how you use YouTube and develop your own sense of digital wellbeing. We hope these tips are a good start."
Check out The GearBrain, our smart home compatibility checker to see the other compatible products that work with Google Home and Home Mini
Like GearBrain on Facebook