Sphero's founder and chief creative officer Adam Wilson (@IceMupppet) is more kid than executive, someone who loves to play with (and yes, create) toys — and his company's robots are the better for it. Adam is a hands-on inventor. After all, his fantasy device from the past is a 2013 Haas GR510 CNC Machine, a giant router that can cut with some crazy level of precision almost anything. (And yes, we had to look that up.)
As passionate as he is about tech, he's also seriously focused on the environment — and if he somehow gets plucked to run the world, you can be assured climate change is at the top of his To-Do list. (Whether that's to protect his future — or his cats — we're not entirely sure.)
Read More:
Sphero SPRK+: App-Enabled Robot Ball with Programmable Sensors + LED Lights - STEM Educational Toy for Kids - Learn Javascript, Scratch & Swift
All of this made Adam the easy choice for GearBrain to launch our new series, 13 Questions, an opportunity to get inside how the founders and leaders of some of the leading tech companies think when you strip away the jargon. Would they travel one way into space? Do they have a better way to describe the 'Internet of Things' craze? We're asking these questions, because while knowing how to link Alexa to your smart security camera is important, it's also good to know the people behind your smart speaker or that tinkered toy. Oh, and Adam? We think we found that router you requested.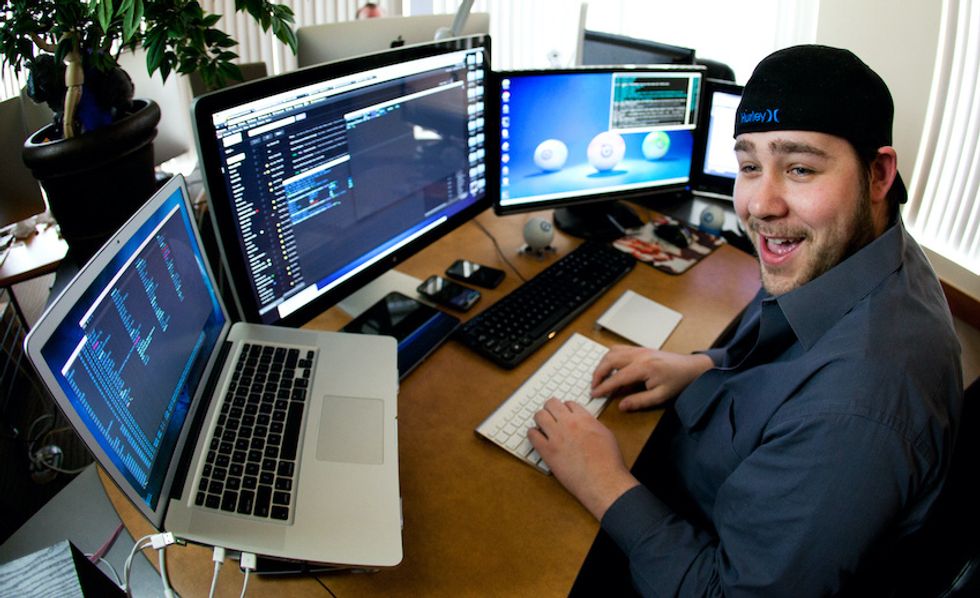 Sphero's founder Adam Wilson is passionate about video games, and his cats, but probably not in that orderSphero
Sphero's Adam Wilson and his 13 Questions:

1. I wish they'd bring back: Celebrity Death Match, and the Taco Bell Dog commercials.
2. The toy I always wanted (and why), but never got was: G.I. Joe Flagg Aircraft Carrier 1985 — it was like 6 feet long!
3. What I'd never give up? My dreams. And my cats.
4. I wish they had named the Internet of Things: Skynet
Skynet Takes Over And Becomes Self-Aware - Terminator 3: Rise Of The Machines www.youtube.com
5. Python or Ruby? (And why?): Python, but I honestly prefer Node.JS because of how many projects I have previously made on Github.
6. Tech I'm most excited to see in 2040: Actual driverless cars, all linked together.
7. The 70s or the 90s? 90's DUH!
8. Three things we did better as children than we do now are: Imagination, video games, and Xmas.
9. All smart devices should be able to: Login and securely manage my entire digital life using my unique biological characteristics.
10. Robots should always be able to help make life better but they don't need to be smart.

11. Best invention of the past 20 years? YouTube
12. The tech device I wish I could give up? My Surface Pro, literally next to me 24 hours a day.
13. Would you go into outer space even if you could never return? Of course! As long as Oscar the cat can come with, he would miss me.
Sphero Mini (Green) App-Enabled Programmable Robot Ball - STEM Educational Toy for Kids Ages 8 & Up - Drive, Game & Code with Sphero Play & Edu App