Like GearBrain on Facebook
Deep Sentinel's new home security package is going to appeal to those who have always craved a full time guard stationed at their home. Its new $399 Smart Home Surveillance System is debuting at CES 2019 in Las Vegas this week.
Amazon's founder and CEO Jeff Bezos is a key investor in Deep Sentinel, which was co-founded by real estate firm Redfin co-founder David Selinger. Amazon is hardly a stranger to the smart home world, with its Alexa-powered devices including the Amazon Echo line of speakers. The company also owns smart video doorbell maker Ring, which it purchased in February 2018.
At the core of the product are three video cameras, which Deep Sentinel has called Surveillance Guards. They have night vision, passive infrared motion sensing that see up to 35 feet, 1080 HD video recording and streaming and 130 degree field of view.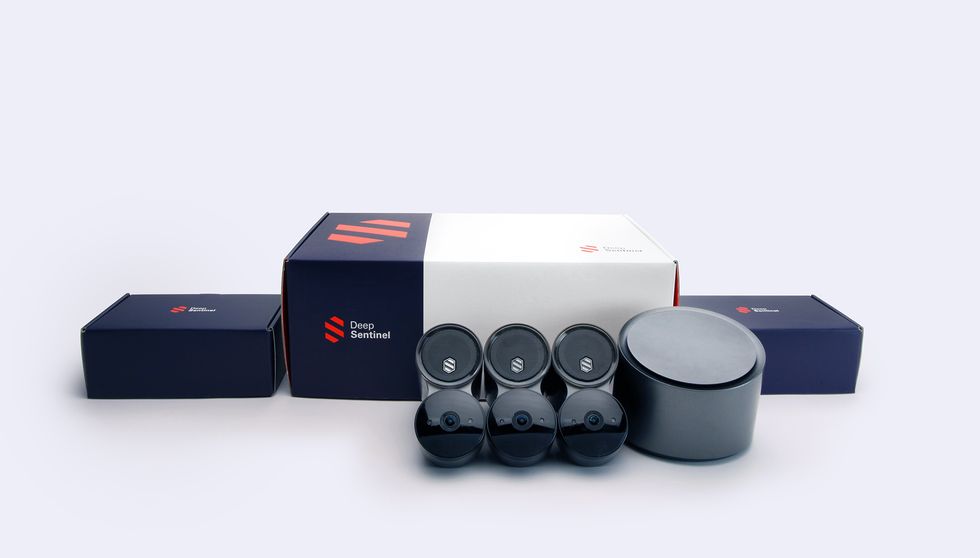 The company's Smart Home Surveillance System comes with three cameras plus a hubDeep Sentinel
The cameras are also equipped with two-way speakers and a microphone, placed around the edge of a property, and watched by the company 24 hours a day, seven days a week. Home owners can speak to Deep Sentinel, which can call for police, and also call out through the cameras to people who may be scouting a home, and shouldn't be there.

The cameras tap artificial intelligence (AI), helping them determine if motion that's detected is coming from a person, an animal or perhaps debris floating through a yard. Deep Sentinel said the AI is able to decide whether authorities really need to be called in milliseconds. These eliminate false alarms from being sent to the company, with only true potential threats then addressed by live security guards.
Everything connects via a smart hub, and all of the cameras are battery-powered, which means cables don't need to snake through a lawn or across a property.
"Our LiveSentinel surveillance team has eyes on intruders from the second they step on your front yard, making Deep Sentinel the only home security solution that includes active security guards whose job it is to shout criminals off your property," said David Selinger, CEO and co-founder, Deep Sentinel. "Equipped with cutting-edge AI technology, LiveSentinel guards jump into action to confront intruders and alert authorities when suspicious activity is detected."
In addition to buying the entire set-up, buyers must commit to a minimum of one-year of service at $49.99 a month.
How Vivint Smart Home Hub Works www.youtube.com
Like GearBrain on Facebook