Like GearBrain on Facebook
A home security system has to work — we trust these networks will not only keep our home locked and safe, but also alert us if something is awry. Ooma Butterfleye is the latest addition to the Ooma Telo Security System, a window into your home that is always on — even if a power outage hits.
We reviewed the Ooma Telo with Home Security last year, find the VOIP system performed well during our testing. Ooma Telo is the first DIY home security system GearBrain tested that came with VoIP service — but the entire system lacked a security camera. This surprised us since we believe security camera is vital to secure any home. Ooma however just launched the Ooma Butterfleye, a smart video security camera that not only works with Ooma Home Security but adds a few new twists like artifical intelligence (AI). Ooma sent us a Ooma Butterfleye to test and we immediately integrated the camera into the Ooma Telo with Home Security system.

What is Ooma Butterfleye?
Ooma Butterfleye camera is a small, square shaped HD security camera you can place either on a table top, shelf or counter. The HD security camera has several nice features that would appeal to both a home owner or someone running a small business. Butterfleye supports 24/7 live-streaming which you can access via the Butterfleye app (iOS and Android) and automatially captures five seconds of video if an event is triggered to help you see the full timeline from start to finish. These videos are uploaded and secured with bank-level AES encryption — important to have today.
You can automatically arm and disarm Ooma Home Security based on your GPS location and if there is a power outage, Butterfleye smart security camera will continue to work thanks to its built-in storage and backup battery.
Subscription Plan Needed for Certain Features

Two of Ooma Butterfleye's features are interesting — but require a subscription plan. One is facial recognition, supported by A.I., which lets you customize alerts for friends, pets — and, of course, unwanted guests. Open the Butterfleye app, select "Faces" in the menu, then click on faces you want to identify so Butterfleye can notify you when they are seen. We've seen this feature on a few new home security cameras like Lighthouse, and we think it's a good feature to have, especially if you have kids.
Ooma Butterfleye also supports two-way communication for a fee. With a speaker and microphone built in, the camera can talk to either invited — or uninvited — guests. You do need a subscription plan to activate this feature which we found awkward. Many security cameras support two-way talk without a subscription plan, including Logitech Circle and Honeywell's Lyric C2 but some do like Canary Flex.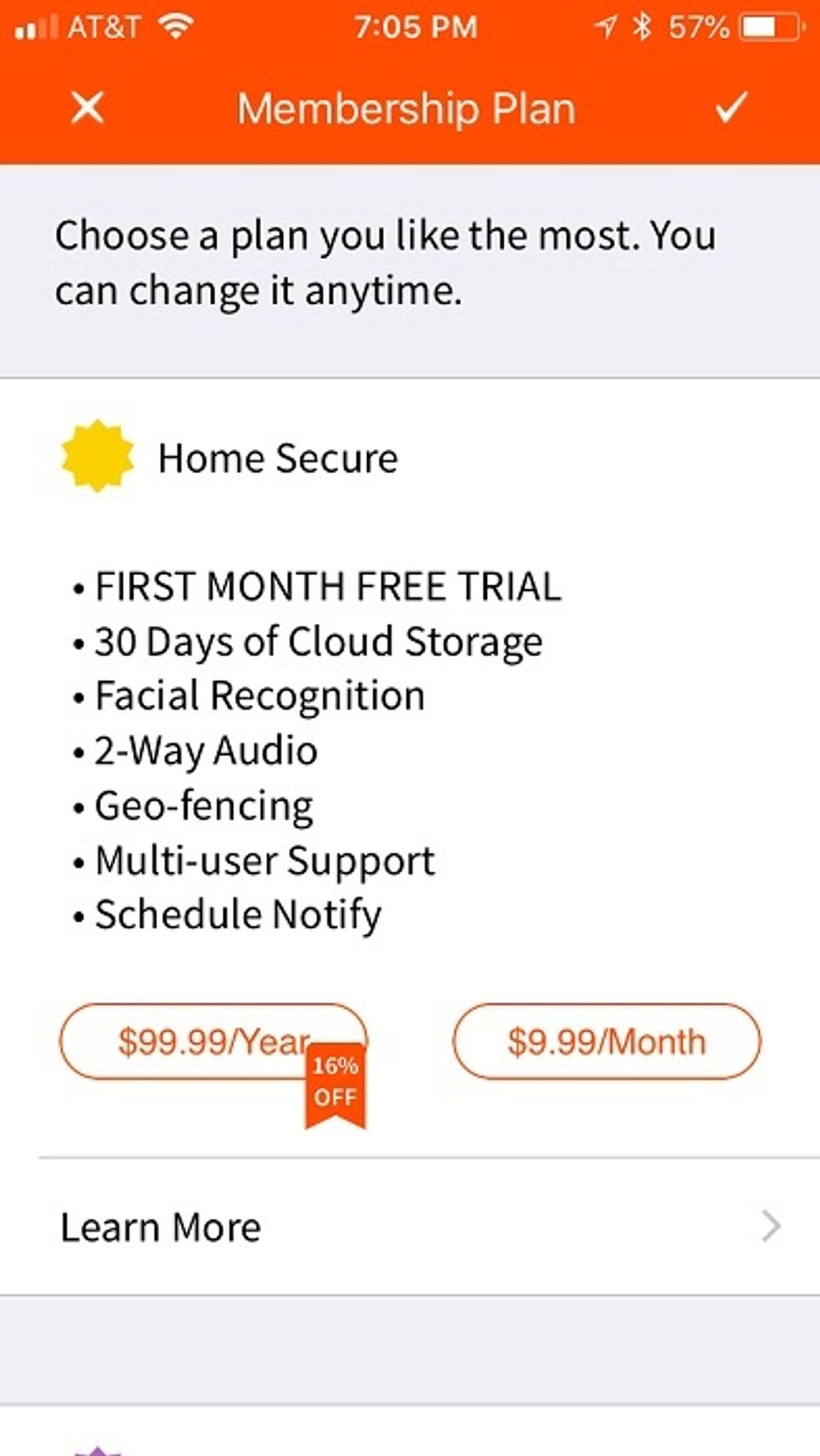 Ooma Butterfleye requires your to pick a plan during setup. There are three types of plans and one is free.GearBrain
Ooma Smart Plans

If you're open to a subscription plan, Ooma offers three type: Monitor, Home Secure and Business Secure. The Monitor plan is free, and provides a wealth of features including seven days of cloud storage, instant video capture, livestreaming, video history, instant alerts, onboard storage, and unlimited video download and storage.
Ooma's Home Secure costs $9.99 per month and includes everything in the Monitor plan plus 30 days of cloud storage, facial recognition, automatic arm/disarm, 2-way audio, scheduled notifications and a fixed fee for connecting to six cameras. If you are an Ooma Telo customer, you will soon be able to get remote 911 capabilities as well.
The Business Secure plan is the most expensive at $29.99 a month and you get everything in the Home Secure plan, plus 90 days of cloud storage, multi-site automatic arm/disarm capabilities and coming soon, business analytics. These are all good features if you have a small business.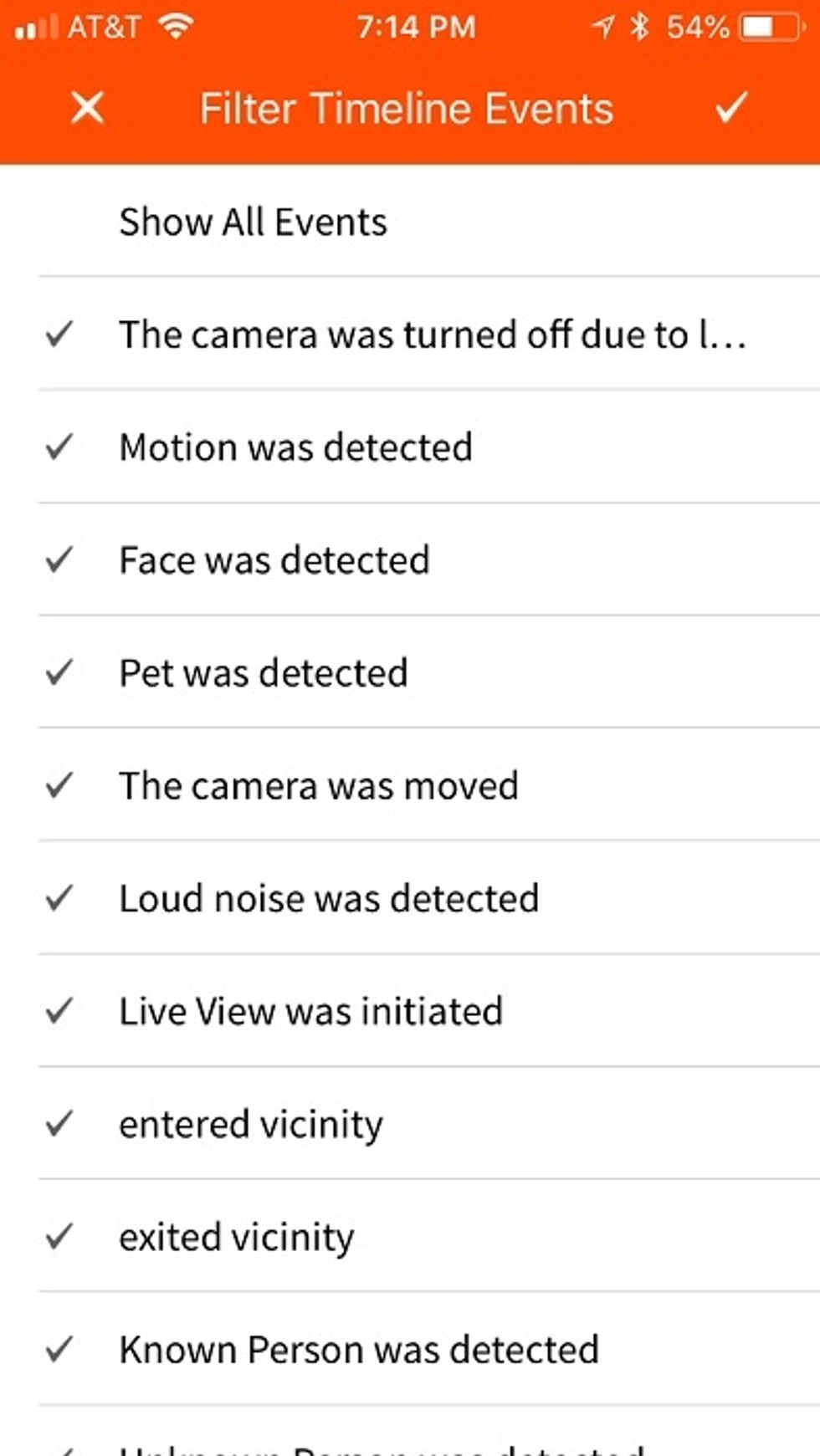 Ooma Butterfleye app allows you to control alerts.GearBrain
Alerts and Notifications in Ooma Butterfleye App

Like most good security cameras, Ooma Butterfleye app has several good features around letting you know if something is wrong. You get alerts when Butterfleye recognizes someone's face that's been tagged, as well as a pet. You also get notified when a loud noise is detected, along with any motion. You can also schedule notifications when a face, motion and loud noise is detected, turn off notifications around pets or known people, and also filter timeline events by selecting and de-selecting the items you want to filter in the app. Finally, you can turn off notifications when a camera is being moved, and filter videos from a specific day.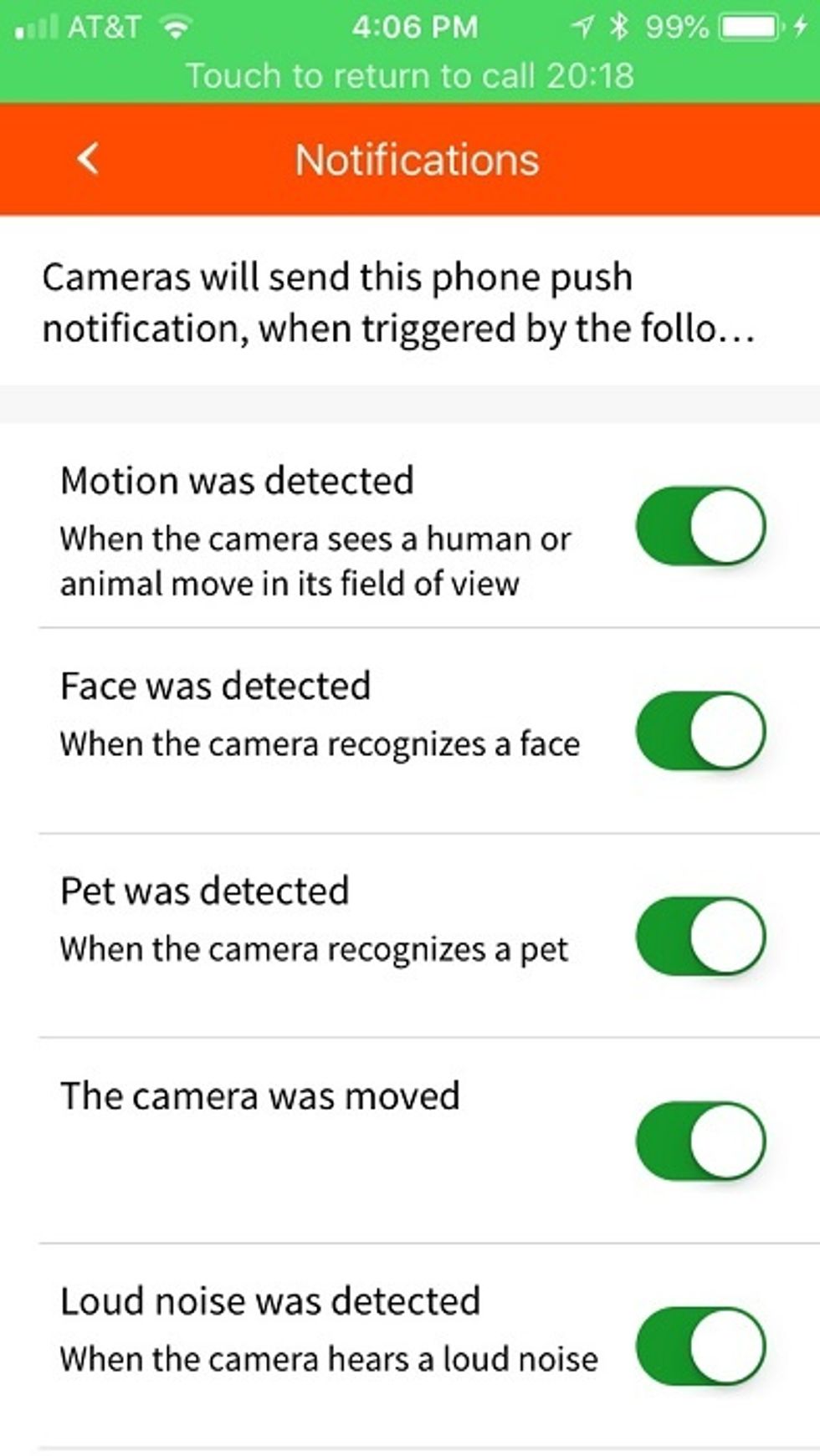 Setup Ooma Butterfleye notifications in the app.GearBrain
Butterfleye has a privacy mode, and puts the camera to sleep when you don't need it to record, or send alerts or notifications. There is also an auto privacy setting (geofencing), which turns the camera on when you travel 50 meters, or 165 feet, away with your mobile device, and turns your camera off when you come home. You do have to set it up in the Butterfleye app and not the Ooma Home Security app, and if you have more than one Butterfleye camera, you will have to set up this mode for each device.tt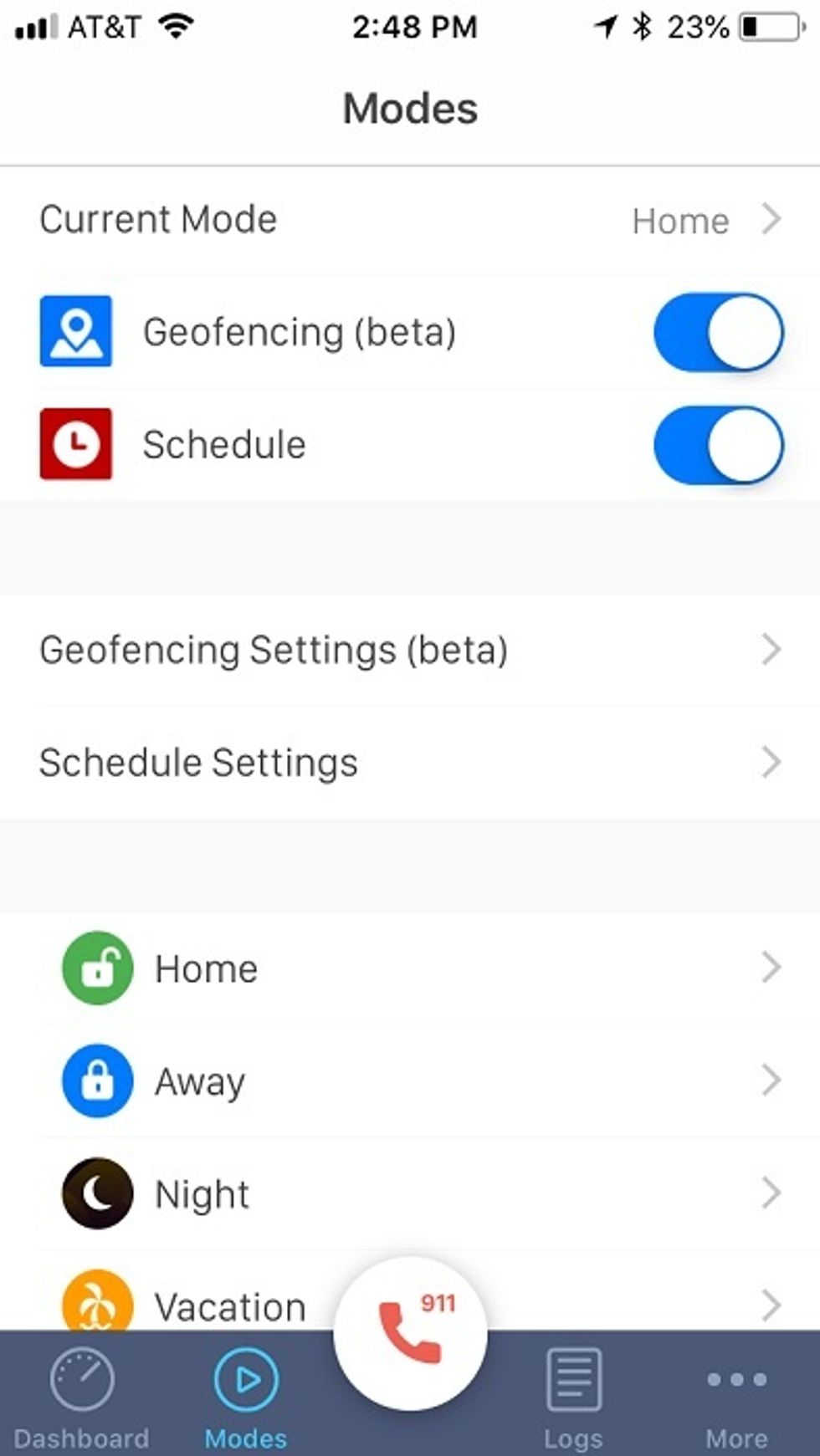 Ooma offers geofencing in their home security app.GearBrain
Testing Results

When GearBrain tests products, we do it in real life environments and not a lab, office or showroom. We do this because we want to see how products perform in real homes with realistic connectivity — the way they're used by consumers. In our test house, we connected the Ooma Butterfleye to our dual band home router via a 2.4 GHz Wi-Fi connection.
Setup was easy, especially since we already had Ooma Telo connected along with Ooma Home Security. Note, though, that if you are an Ooma Telo and Home Security customer, you'll need to use two apps. First, set up your Butterfleye camera in the Butterfleye app then sync it to your Home Security app. This was a bit difficult, but it's the only way to add a security camera to the Ooma Home Security system. If you are not an Ooma Telo or Ooma Home Security customer, you can use your Butterfleye as a standalone DIY home security camera — however you won't be able to use 911 remote calling unless you upgrade to an Ooma plan.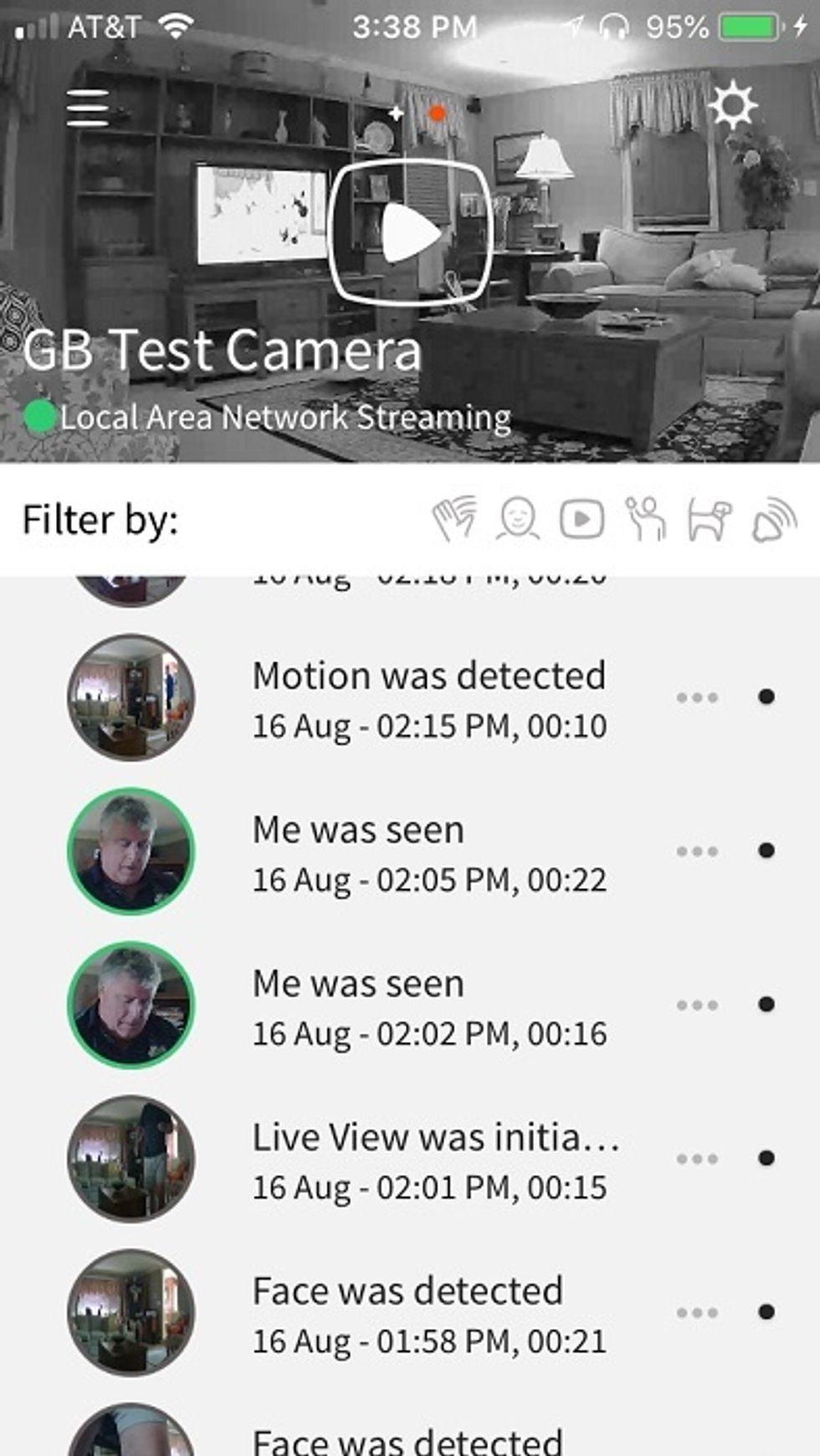 Ooma Butterfleye mobile app dashboard.GearBrain
Regarding plans, you need to upgrade if you want both facial recognition and two-way talk with your HD security camera. We set up the facial recognition and it worked nicely. However, two-way communication was not easy to work, and we found the sound not very clear. This is one area we'd like to see Ooma improve.

For two-way communication, you need to use your smartphone in landscape mode, then tap the microphone icon in the upper left-hand corner of the screen before you can speak, and make sure the microphone icon turns red. Then hold down the microphone icon to talk. This feature had issues. When we held down the icon at first, the screen noted, "Setting up audio, please wait." Then it added, "Hold down mic to send audio." This was confusing, until we made sure the microphone icon was red, then held it down to speak, and released the icon to send audio. We also had a three second delay in sound and video. This is not a seamless process as we've experienced with other DIY home security cameras that have two-way talk, and we think this feature needs improving.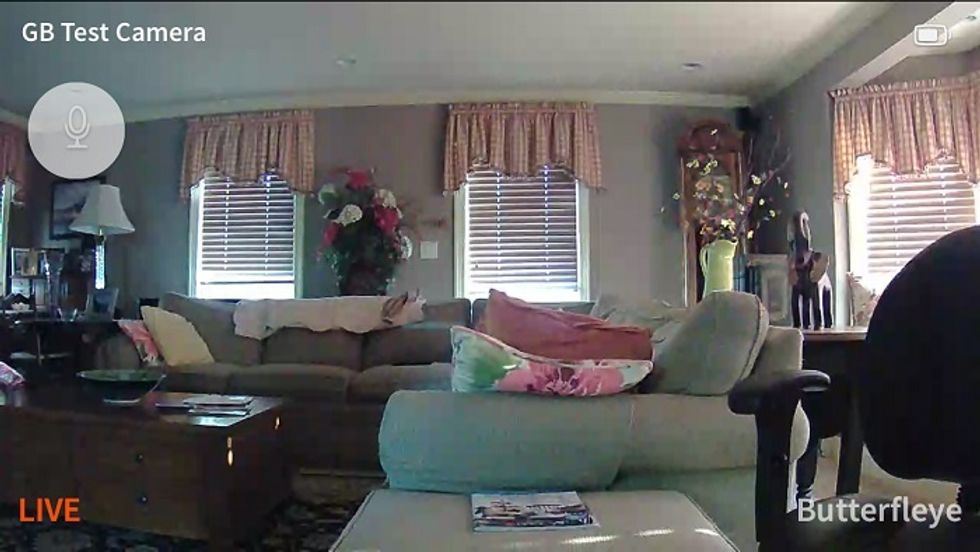 Picture of live feed from Ooma Butterfleye mobile app. It has two way communication but with a paid plan.GearBrain
A nice feature we did like was the camera's battery life which lasted about five days. A rechargeable battery allows you to put the Butterfleye camera in places that might not have an outlet nearby. The Butterfleye app did notify us to plug in the camera when it got low in power, which was good to know.
Since security cameras are always in use, you need to make sure you can view unwanted guests — or any movement — all times of the day, especially at night. Butterfleye smart security camera does not have night vision, but it does use PIR and ambient light to detect motion in the dark. According to Ooma, they use PIR because it detects people and animals even in pitch dark and can send immediate notifications. The camera lens is optimized to mimic the human eye — even with the lowest light available.

We tested the camera's live video feed at night, and were able to see images because there was some light coming from outside of our test house. Facial recognition, though, will not work if the light is too low. It needs at least normal light in order for it to recognize faces, and that's something to keep in mind when thinking of where you going to use your Butterfleye HD camera.
Cost

Ooma Butterfleye HD smart security camera costs $199.99 for 16 GB storage and $249.99 for 32 GB storage. You can buy these cameras on either the company website or Amazon. Ooma also sells three packs — $549.99 for 16GB and $599.99 for 32GB. You can also buy Ooma Smart Home Security Starter Kit with Butterfleye Camera for $299.99 but only on the company website.
Camera specs

Ooma Butterfleye is a 1080p full HD video camera with 8x digital zoom and H.265 encoding. The camera has a 120 degree field of view (FOV), noise reduction (low-light high sensitivity), a fixed focus range (2 feet to infinity), two way audio with a speaker and microphone, AC adaptor (110-240VAC, 50-60Hz), 10,400mAh built-in rechargeable battery with a battery life that varies based on settings, usage and temperature, 16GB to 32GB built-in storage and a 1/3" 3.5 megapixel full color CMOS sensor.
Ooma Butterfleye connects to your home Wi-Fi via an 802.11 b/g/n 2.4 GHz connection and supports WEP, WPA, WPA2 signals. The camera also uses Bluetooth Low Energy (BT 4.0) wireless connection, and weighs 12.5 oz (355g) and is 3.3" high (83mm) by 3.8" wide (97mm) and a depth of 1.6" (41mm). It is also UL, FCC and IC certified. The sensors in the camera can pick up sound and movement. The camera does not have night vision but uses passive infrared (PIR) and ambient light to view objects in the dark.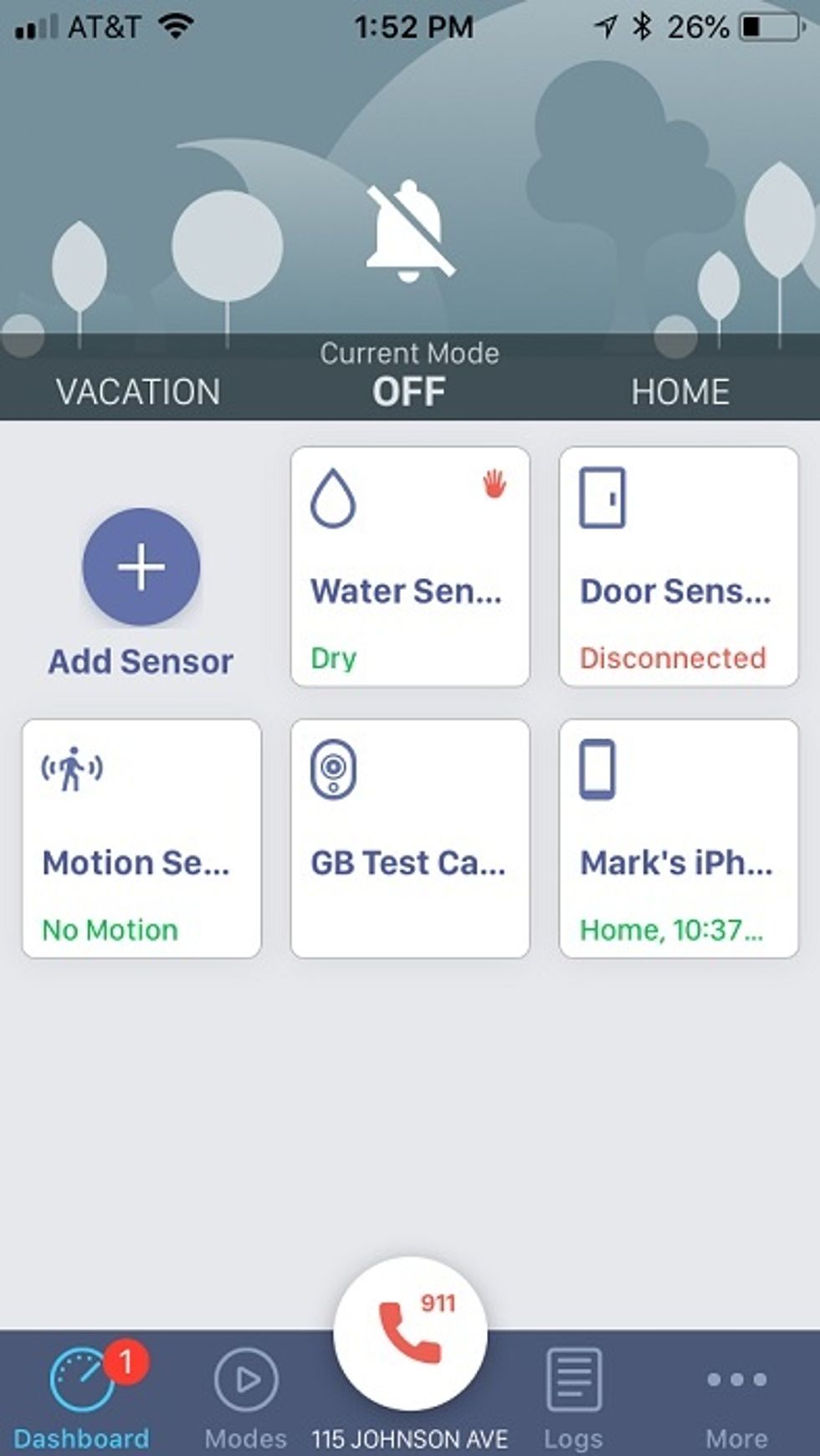 Ooma Butterfleye camera integrates with Ooma Home Security mobile app,. Above is an example of Ooma Home Security app with Ooma Butterfleye (GB Test Camera) on the dashboard. GearBrain
Summary

The price of Ooma Butterfleye is in line with what the top players in the market are charging for a 1080p HD home security camera. (Logitech Circle costs $200, Nest Cam Indoor is $199, Netgear Arlo is $199 and Canary Flex starts around $169.) The camera also offers great perks including geofencing capabilities, good video resolution (full HD 1080p), excellent 8X digital zoom and two-way communication.
Where Butterfleye camera doesn't match up is with its field of view with only 120 degrees while most of the others 130 degrees or higher. It also lacks night vision, and free two-way communication requires a subscription plan to access this feature, and one where the quality is not necessarily that good. Facial recognition works well, but other security cameras we've tested have A.I. facial recognition without requiring a monthly subscription plan, and also offer 30-day free video storage. Yes, these cameras cost more at the register, but in the long run they are cheaper than Butterfleye.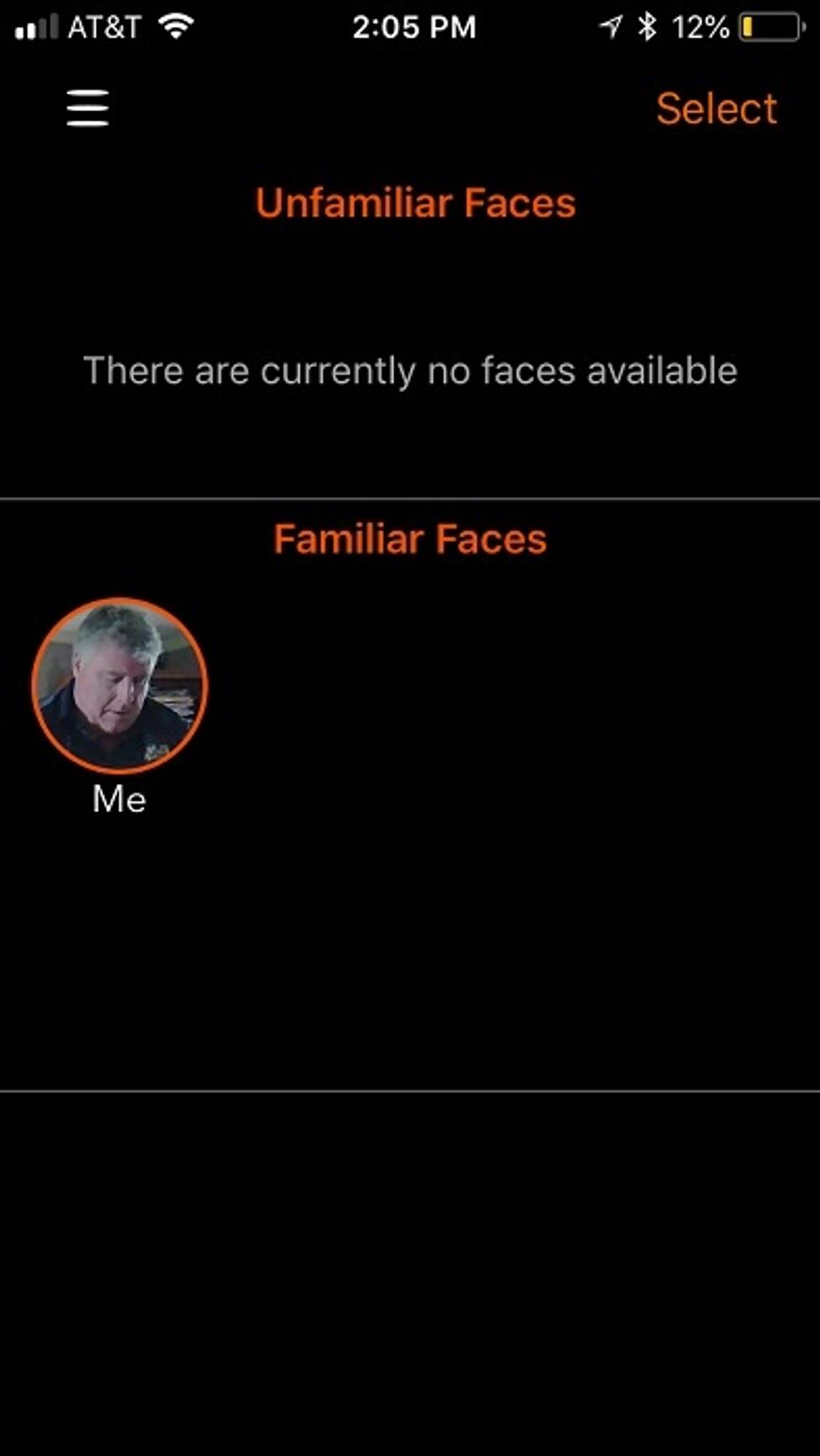 Ooma Butterfleye has facial recognition.GearBrain
Regarding smart home integrations, Ooma Butterfleye is limited. You can control or access your Butterfleye camera on an Apple Watch, which is interesting. However, Ooma Butterfleye doesn't integrate with any smart home security systems except Ooma's own. And Ooma's systems have limited smart home integrations, save for mostly IFTTT. If you want to view videos on your Google Smart Display, Google Chromecast via Google Home, Amazon Echo Show, this camera is not for you.

Who should consider buying Butterfleye Camera? If you are an Ooma customer, this is the best home security camera to add to your current system. It's not the only security camera that's compatible with Ooma Home Security, but it offers you 1080p full HD video resolution and free video storage for up to seven days which is great. Most DIY security cameras offer one to three days of free storage — and then require a plan. If you are looking for just a simple DIY home security camera with full HD video resolution, Butterfleye is a good option however, keep in mind you have to pay roughly $10 per month to get facial recognition and two-way communication which many competitors offer for free.
Like GearBrain on Facebook