Like GearBrain on Facebook
The UK's second largest airport, Gatwick, was closed to all inbound and outbound flights from the evening of December 19 until the writing of this article, on the afternoon of December 20, some 18 hours later.
The closure, which comes at one of the busiest times of year for the airport, was caused by drones being flown too close to Gatwick's runways. In the UK, drones cannot be flown with 1km of airports or above 400 feet, and since May of this year owners of drones weighing over 250g (9oz) have had to register with the UK's Civil Aviation Authority (CAA).
Read More:

An estimated 110,000 passengers were due to arrive and depart at Gatwick today, December 20, with 760 flights now expected to be cancelled. Some incoming flights were diverted to nearby airports like London Heathrow, Stansted and Luton, but these airports quickly reached capacity due to the extra inbound traffic. Some flights headed to Gatwick were diverted to as far as Glasgow, over 400 miles away.

Sussex Police said the included was not terror-related, but a "deliberate act" of disruption, and described the drones as "industrial specification." This suggests the drones are not like those commercially sold by companies like DJI and Parrot, but more akin to larger unmanned aircraft used by TV and film production companies. As such, the drone may not have any automatic geofencing software, which prevents consumer drones from flying close to airports without authorization.
1/2 Thursday 11.45: All flights remain suspended from Gatwick today, due to ongoing drone activity around the airfield. There is significant disruption, as a result of what appears to be a deliberate attempt to disrupt flights.
— Gatwick Airport LGW (@Gatwick_Airport) December 20, 2018
Drones detected
It was raining when a pair of drones were first spotted at Gatwick on December 19, suggesting they are capable of flying in poor weather — something commercial drones sold on the high street are generally not designed to do.
Armed police have been spotted at Gatwick Airport, but the authorities have currently said shooting at the drones is not an option, because of the danger posed by stray bullets.
"It is totally unacceptable to fly drones close to airports and anyone flouting the rules can face severe penalties including imprisonment, said the CAA on December 20. "Anyone operating a drone much do so responsibly and observe all relevant rules and regulations."

In the UK, pilots found guilty of flouting drone laws can receive an unlimited fine and up to five years in prison. Tests conducted by the UK's Department for Transport found that a drone weighing just 400g can smash the windshield of a helicopter, and one weighing 2kg could critically damage the windshield of an airliner.

The Guild of Air Traffic Controllers said in a statement that this level of disruption caused by drones was unprecedented, adding: "Our calls for stricter regulations and enforcement [of drone flight and ownership] have been repeatedly dismissed by regulatory bodies."
UK Drone laws are not adequate and clearly not respected by irresponsible #drone users. GATCO has been advocating for #geofencing and other counterdrone measures but business interests had higher priority than regulations and enforcement supported by appropriate technology. https://t.co/qP7VQDGims
— GATCO (@GatcoUK) December 20, 2018
The guild had said earlier in the day: "UK drone laws are not adequate and clearly not respected by irresponsible drone users. [The guild] has been advocating for geofencing and other counter-drone measures but business interests had higher priority than regulations and enforcement supported by appropriate technology."
GearBrain reached out to Gatwick Airport for a comment, but had not received a reply by the time of publication. At the time of writing the article, the airport said its runway will remain closed until at least 10pm local time, 25 hours after the incident began.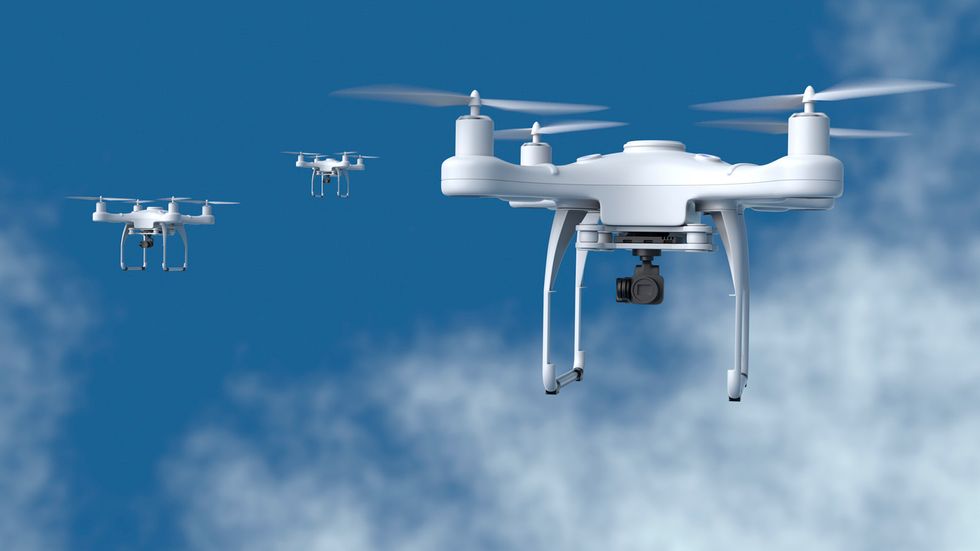 iStock
What can be done to prevent drones disrupting airports?

As the Gatwick Airport closure enters its 19th hour at the time of writing, the obvious question is, what measures can airports take to prevent disruptions from drones?
There are in fact a number of companies which specialize in the development of anti-drone measures. Some block the radio frequencies connecting the drone to its controller, downing the aircraft; others use a net to catch the drone — a crucial step if the authorities want to gather evidence.
Other systems deploy a so-called 'drone shield' which employs a number of signal disruptors to jam a drone's flight controls.
A somewhat left-field alternative has seen birds of prey like eagles used to swoop in and pluck offending drones from the sky. Dutch police have taught eagles to treat drones as prey, grab them, then carry them to a designated drop zone away from danger. However, this approach is only suited to smaller commercial drones and not larger aircraft with more powerful rotors that could injure the birds.
Earlier this year, drone detection company Dedrone announced its latest product, called the RF-300, which can not only spot the drone, but also pinpoint the location of the pilot. Such a system would help the authorities dealing with the Gatwick Airport incident as, despite a heavy police presence at the airport perimeter, they were unable to locate the drone pilot or pilots at the time of publication.

'Shooting a drone means downing an aircraft'
Speaking to GearBrain, Phil Pitsky, VP of US Federal Operations at Dedrone, said: "Widespread adoption of anti-drone tech is not the current state of affairs. There are airports doing testing, but no airports are putting them into wide scale use."
On the topic of giving airports the ability to shoot down drones, Pitsky said: "The FAA and many international aviation agencies classify a drone flying as an aircraft in flight. If you were to take it down, you have then downed an aircraft. So until the laws have caught up, there's nothing airports can do without incorporating homeland security or a federal agency to initiate the countermeasure. There are technologies being developed, including radio frequency jammers, but they are not for commercial or airport use."
The Dedrone RF-300 system can locate drones, and also determine the manufacturer, specific model, and unique ID number of the drone. This information can be used to identify the owner, as in the United States owners of most outdoor drones must register their details with the Federal Aviation Administration.
NEW - The army is "in discussions" with the police about swooping in at Gatwick to help in drones crisis.

Army is looking at kit in its armoury that could help.
— Lucy Fisher (@LOS_Fisher) December 20, 2018
Back at Gatwick, the UK's Ministry of Defense said there are "ongoing discussions with the police about any military capabilities that could be provided to assist with their operation."

DJI, the market leader for consumer drones, issued a statement to say it was willing to help Gatwick Airport. The company said: "While DJI has no independent confirmation of what has occurred or what type of drone may be involved, the company is prepared to offer technical assistance and comply with appropriate requests from law enforcement and aviation regulation officials."

Another company specializing in anti-drone technology is Blighter Surveillance Systems. The British firm was selected by the FAA back in 2016, and its technology used as a trial to protect US airports from drones.
This system can detect drones up to six miles away using radar, infrared and regular cameras, before disrupting the drone's flight by jamming its radio signals, and even forcing it to land in a safe area. The entire process takes between eight and 15 seconds, and the system can also be used to help track down the drone pilot.
In May this year, London Southend Airport tested an anti-drone system. Called Skyperion and produced by Metis Aerospace, the system uses radio waves and optical sensors to detect nearby unmanned aircraft. The test was deemed a success, but systems capable of downing wayward drones are not yet in use in the UK.

Like GearBrain on Facebook