Like GearBrain on Facebook
Amazon is understood to be planning its debut into the consumer health market, with a pair of fitness-tracking earphones.
This is the claim of CNBC, which says the new device is codenamed Puget and includes a built-in accelerometer to log distance run, calories burned and running pace, according to Amazon insiders.
Read More:
The earbuds, which are said to be priced at less than $100, will go up against other fully wireless options like the Apple AirPods and Samsung Galaxy Buds. But the former do not offer fitness tracking, which could give Amazon the edge.
Amazon is expected to fit the earphones with Alexa, its voice assistant. And while it isn't known yet if Alexa will gain some personal trainer skills, we wouldn't be at all surprised to hear the assistant reading out the user's running pace and offering words of encouragement. Alexa will also likely be used to control music playback, and offer walking directions through the earphones.
We haven't heard any news about Amazon working on its own smartwatch to work alongside the earphones, so we believe the earphones will primary work like any other - like Apple AirPods, but with Alexa instead of Siri - then log movement and fitness data, which will be stored locally then synced to a smartphone over Bluetooth. It isn't clear for now if Amazon plans to launch its own fitness tracking app, or if the company will let data captured by the earphones feed into third-party exercise apps.
Apple's AirPods have been rumored to include fitness tracking for some time now, but that is yet to come to fruition. Apple gave the earphones a minor update earlier in 2019, adding wireless charging but no fitness features. It now looks like the 2020 model will offer more in the way of health tech. If Amazon announces its earphones at a hardware launch event it has planned this week, it could give the retailer a head-start over Apple of several months - and at almost half the price.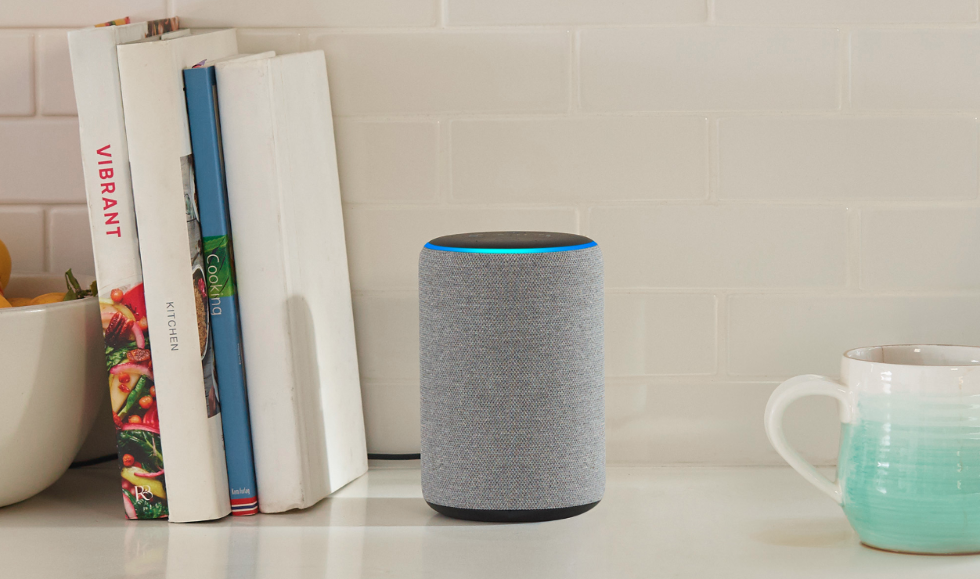 A higher-quality Echo smart speaker is expected too Amazon
By putting Alexa into the ears of its users, Amazon could offer a far more personal experience with the voice assistant. They are part of a general plan from Amazon to put Alexa everywhere, and would come a year after the company announced a microwave and kitchen wall clock with Alexa integration.

The report also claims Amazon is working on a new and improved Echo smart speaker, also with Alexa. The new speaker is described as "bulkier" than the current Echo range, with higher quality hardware.
This could see Amazon up its audio game and take on pricier speakers like the Sonos One and Apple HomePod. Until now, Amazon has offered lowered-priced audio devices in a bid to capture market share - and it's a strategy which has worked, with Amazon now owning around 70 percent of the smart speaker market.
Amazon is hosting a hardware launch event on September 25, where it is expected to announce a range of new products which work with Alexa. These new fitness earphones and pricier Echo could well make their debut at the event.
Check out The GearBrain, our smart home compatibility checker to see the other compatible products that work with Amazon Alexa enabled devices.
Introducing Echo Show 5 - Compact smart display with Alexa - Charcoal
7 Tips Everyone Needs to Know About How to Use Amazon Alexa and Google Assistant Enabled Devices www.youtube.com
Like GearBrain on Facebook