Like GearBrain on Facebook
The Withings Sleep, a non-intrusive sleep tracking mat which sits below the user's bedsheets, has been updated to detect breathing disturbances.
The new feature is available to all Withings Sleep owners via a free software update which began rolling out today, March 12.
Read More:
Often dismissed as harmless snoring, breathing disturbances during sleep can be a sign of more serious issues, like sleep apnea. Withings claims the Sleep, which costs $100, is the first non-intrusive device to track breathing disturbances during sleep, as the mat is slept on discreetly rather than worn on the wrist.
Breathing disturbances during sleep are plotted over time and displayed in the Withings Health Mate smartphone app, which also gathers data from other Withings devices, like its hybrid smartwatches and fitness trackers. A French company, Withings bought itself back from Nokia last year, after the Finnish phone maker failed to make a success of it via its now-shuttered Nokia Health division.
Withings hopes to take the new breathing disturbance data and use it to more directly warn users about potential symptoms of sleep apnea. This extra step - beyond merely presenting the data - is hoped to roll out by the end of 2019, as clearance by the FDA is required, which can take some time.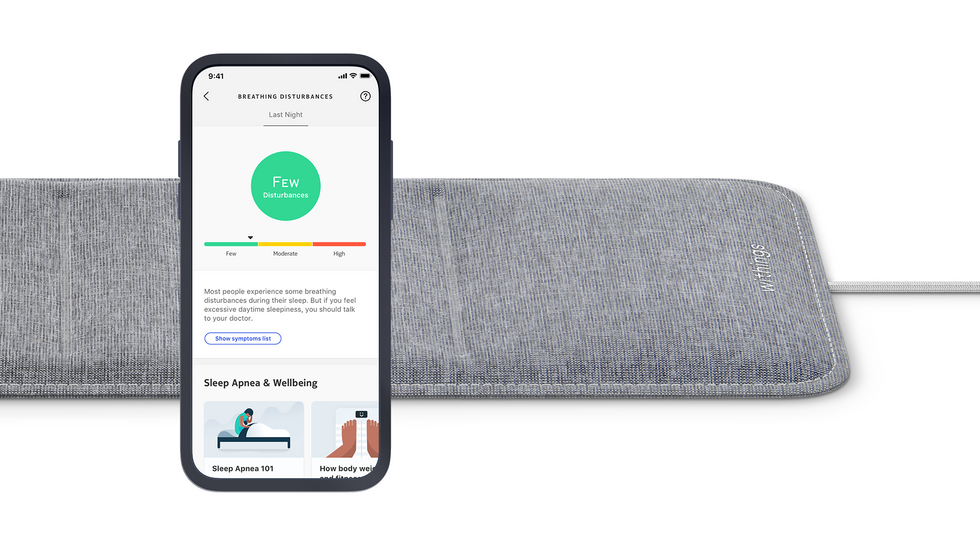 The free new feature alerts you to disturbed breathing during sleepWithings
If more frequent than occasional snoring, breathing disturbances can impair sleep and be a sign of an underlying chronic illness like sleep apnea - where breathing repeatedly stops and starts during the night - as well as cardiovascular issues and depression.

Irregular breathing at night can also be a sign of upper airway resistance syndrome (UARS), obesity hypoventilation syndrome (where people are not breathing sufficiently to oxygenate the blood), and lead to high blood pressure, chronic heart failure and atrial fibrillation. It is also associated with type two diabetes and obesity, and can increase the risk of heart attack and stroke.
Although it is yet to gain FDA certification, Withings says the new feature has been developed and tested by Dr Pierre Escourrou, a leading sleep physician at the Paris-Béclère hospital sleep lab, with polysomnography, described by the company as "the gold standard of sleep diagnosis".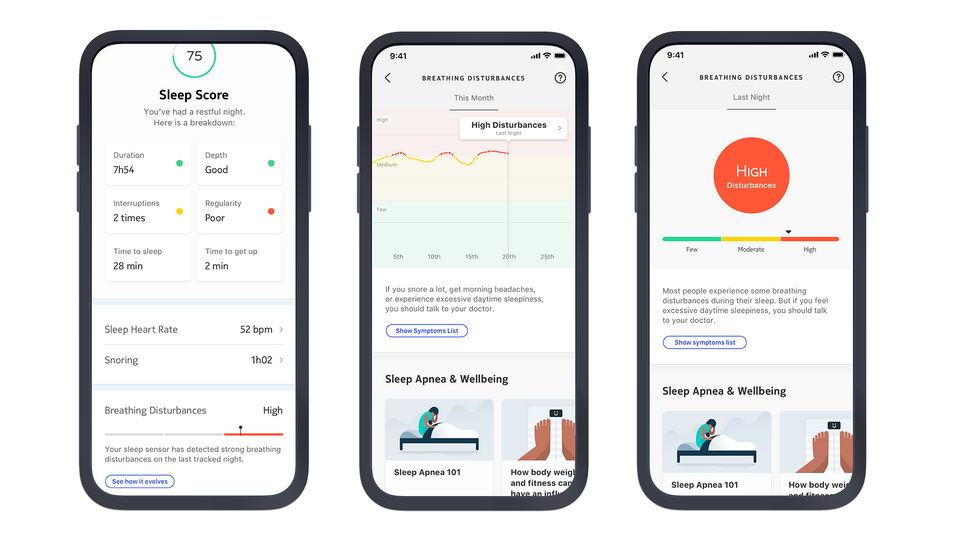 Health Mate app now includes breathing disturbances with sleep scoreWithings
Sleep apnea is a common yet largely undiagnosed condition which, according to the US National Sleep Foundation, affects 22 million Americans, but with 80 percent being unaware that they suffer from it.

It is hoped that the Withings Sleep will shine a light on this largely undiagnosed condition, as without devices like this people often have no way of knowing they suffer from sleep problems. Those who do are often then tested in a clinical environment, rather than being able to use a consumer-friendly device at home to gather sleep breathing data.
Withings president Eric Carreel said: "Despite its prevalence and serious consequences, sleep apnea goes largely undetected as current tests are confined to the clinical and sleep lab environment. By allowing people to track the intensity of breathing disturbances, we are helping them identify warning signs early."
Carreel says the update to the sleep tracker "further our mission to bring medical grade analytics into the home and is the first step towards the medical certification of sleep apnea detection which we air for by the end of this year."
Like GearBrain on Facebook