Like GearBrain on Facebook
Amazon has discontinued its Dash Buttons, the convenient one-press gadgets which made it easy to order household supplies.
As of February 28, Amazon is no longer selling any of the Dash Buttons range, but said those already bought by customers will continue to work.
Read More:
Dash Buttons were launched by Amazon back in 2015 as a way to order household supplies like toiletries, detergent and paper towels. The idea was that the Wi-Fi connected buttons are stuck close to where the product they order is needed — a detergent button could be stuck to the washing machine, for example — and would place an order when pressed.
Confirming the discontinuation to CNET, Amazon vice president Daniel Rausch described Dash Buttons as an "awesome stepping stone into the world of the connected home." In a world without Alexa, they certainly felt like a novel, useful and futuristic gadget to make your home smarter.
Rausch added: "We never imagined a future where customers had 500 buttons in their home. We imagined a future where the home was taking care of itself, including replenishing everyday items that customers would rather not worry about."
But the buttons recently become less useful when Amazon partnered with appliance makers to embed its Dash Replenishment system into products like washing machines and coffee machines, which can automatically order items when they run low.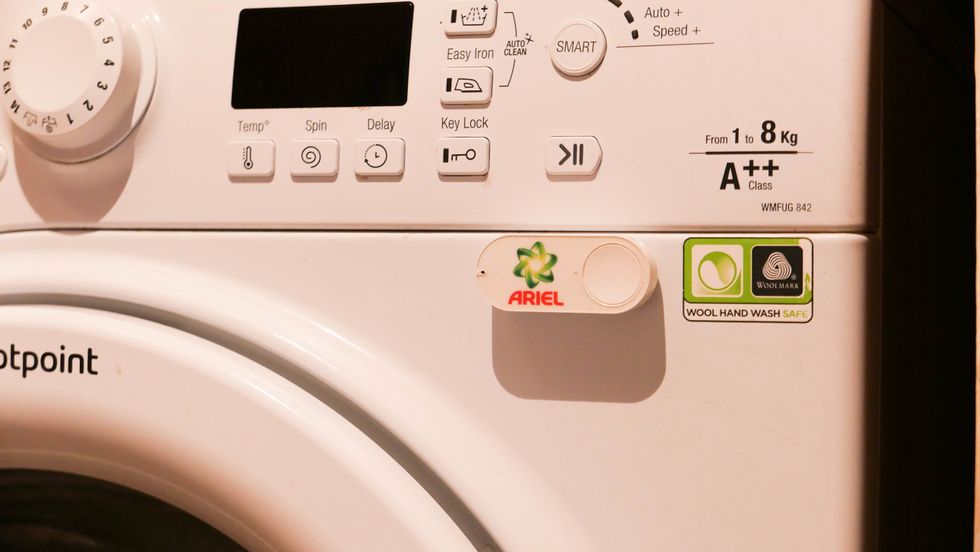 The buttons could easily be stuck to appliances like washing machinesGearBrain
Amazon also says increased use of Alexa Shopping has caused the Dash Button death knell to sound. This suggests a real acceleration in the use of Alexa Shopping, where goods can be bought from Amazon by speaking to the voice assistant.

In the summer of 2018 it was reported that just two percent of Amazon customers had ever used Alexa to shop, and of those just 10 percent did so for a second time.
Amazon said in a statement this week: "We've also seen customers increasingly using programs like Alexa Shopping, which provides a hands free shopping experience, and Subscribe & Save, which lets customers automatically receive their favorite item every month."
At its peak, the Dash Button catalogue included dozens of branded buttons for ordering products from brands like Bounty, Gillette and Tide.
Despite their demise this week, Dash Buttons should not be seen as a failure. Instead, they were a product which introduced consumers to the idea of a connected home, giving them a cheap and simple way to make old devices smarter.
From Your Site Articles
Related Articles Around the Web
Like GearBrain on Facebook