Like GearBrain on Facebook
It's less of a secret than ever that Apple is working on a pair of augmented reality smart glasses.
Now, just weeks after numerous references to the unreleased product appeared in the iPhone's new iOS 13 software, a new patent reveals more about Apple's plans.
Read More:
Made public on Thursday, October 24, the patent was filed back in March this year and describes a "head-mounted device with an adjustable opacity system".
Although written in typical patent-speak, the document describes a device like Google Glass, where a user interface is projected onto a transparent display on a head-worn device, right in front of the user's eye. But, unlike Glass and more recent smart glasses like the North Focals, Apple's plans are for the opacity of this display to be adjustable.
This would see the use of a photochromic layer on the lens, adjusting how much light passes through and into the wearer's eyes. Like reading glasses with transition lenses, this could help protect the user from bright sunlight, then go clear again once in the shade.
But it could also give the Apple glasses the option for dimming the lens based on what's displayed by the user interface. For example, a portion of the lens could be dimmed to make it easier to read a message or watch a video against a dark background.
As the patent states: "The adjustable opacity layer may block or dim light from the real-world objects to allow improved contrast when displaying computer-generated content over the real-world objects."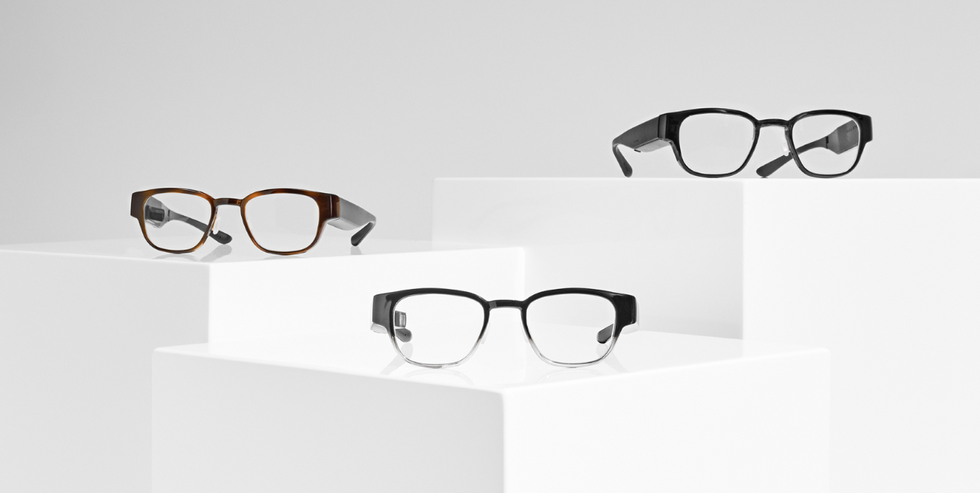 Smart glasses already on sale include the Focals by North North
Adjustable opacity is something we wished Google Glass had when it launched back in 2013. This is because, while the display was clear enough when viewed indoors, the interface almost completely disappeared when viewed in bright sunlight. Even looking out of a window would cause much of the interface to disappear, as the projector wasn't bright enough to overcome natural light and a bright background.

By dimming the lenses, Apple's product — if it ever goes on sale, of course — could perform better in such situations.
This new patent arrives off the back of a number of Apple smart glasses reports. As well as evidence of the device being discovered buried inside iOS 13 — suggesting prototypes are being tested at Apple - there have been multiple claims that the product will launch in 2020. If it does indeed launch, it would likely work closely with Apple's ARKit, a development platform for augmented reality applications that is limited to the iPhone and iPad for now.
As ever, while it is easy to get excited by patents like this, we must remind readers that companies file patents all the time, and just because a device is being worked on and patented, this doesn't mean it will ever actually go on sale. That said, it is once again interesting to see the attention Apple is paying to wearables and augmented reality.
Vuzix Blade AR Smart Glasses, with Amazon Alexa Built-in, HD Camera and Voice-Controls
Like GearBrain on Facebook