The saga of Apple and augmented reality smart glasses is quickly becoming the biggest 'will-they, won't-they' topic in consumer technology. But while analysts work the rumor mill into a frenzy, it's easy to forget that there are several smart glasses already on sale right now.
Some try to take Google's approach from Glass back in 2013, then extrapolate it into 2019. Others — like Bose and Vue — are taking a different approach.
Read More:
The bulkiness and limited feature set of most options indicates how smart glasses are still very much a work-in-progress, which is a stage of the market Apple often tries to avoid. But there's no denying that the smart watch dream is still very much alive, and parts of that dream can be bought and used today.
North Focals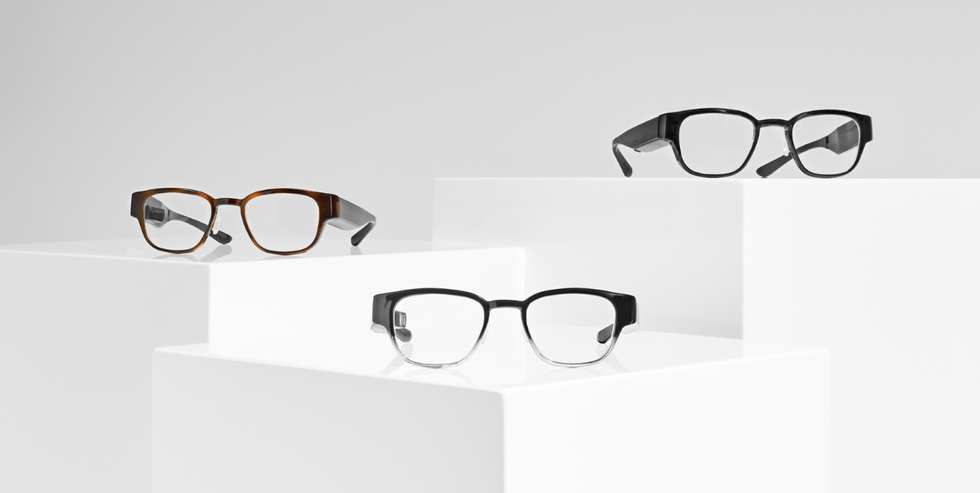 Focals smart glasses cost from $599, plus $200 for prescription lenses North
Perhaps the closest to what big players like Apple, Samsung and Huawei may have in mind, is the North Focals.

Announced in October 2018, and put on sale in early-2019, the Focals are attractive, conventional looking glasses with a tiny projector beaming a user interface against the right-hand lens.
This works like a car's head-up display, with the interface displaying incoming messages from your Bluetooth-connected smartphone, turn-by-turn walking instructions, and simplified versions of popular apps like Uber and Amazon Alexa. The latter can be used to speak to the glasses and control your smart home devices, just as you can with an Amazon Echo smart speaker.
Instead of swiping at the frame, as with Google Glass, the Focals are controlled with what North calls the Loop, a ring worn on the finger with a tiny four-direction joystick protruding slightly from its side. This is used to navigate through the glasses' simple menu system.
Each pair of Focals is custom-built to perfectly fit your face, and they cost $599, plus $200 for prescription lenses.
Vuzix Blade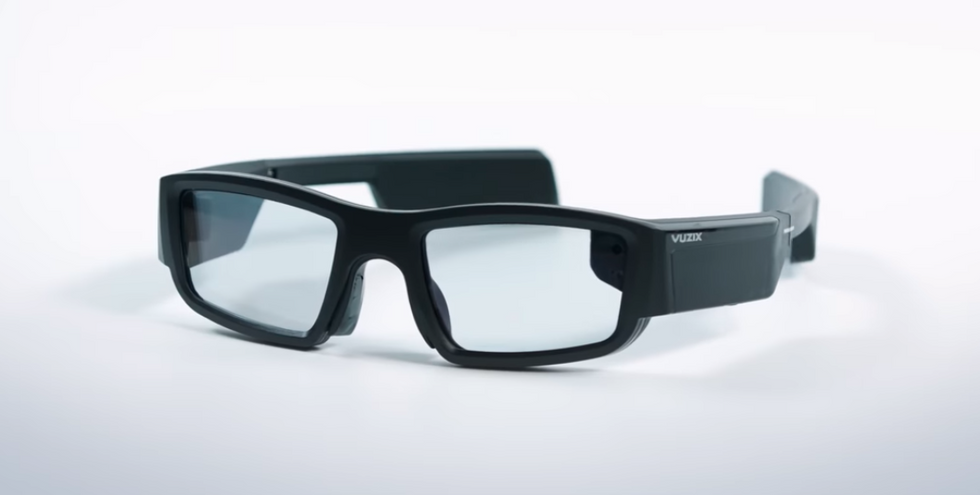 The Blade smart glasses cost $999 Vuzix
Another smart glasses option to land in early-2019 is the Vuzix Blade, which costs $999 and takes the same approach as North (and Google Glass), with a projector beaming onto the lens like a head-up display.

There is an integrated battery, a touchpad with haptic feedback for navigating around apps and menus, microphones for speaking with both Amazon Alexa and Google Assistant, a simplified Android operating system, 4GB of storage, and a forward-facing 8-megapixel camera.
Just like other smart glasses, the Vuzix Blade shows a simple notification-based interface, and performs similar tasks to a smartwatch, alerting you to messages and the like by connecting to your phone over Bluetooth (or to your router with Wi-Fi).
Everysight Raptor

The Raptor is a head-up display for cyclistsEverysight
The Raptor by Israeli startup Everysight is a pair of smart glasses designed specifically for cycling. An OLED projector puts useful ride-based information, like speed, cadence, directions and your heart rate, onto the lens. The projector also shows all the usual notifications which come through to your phone, like messages, reminders, emails and news alerts. Battery life is said to last eight hours.

The $599 Raptor is designed to be aerodynamic, fit neatly under your bike helmet, and features tinted glass to protect you from the sun. There's Bluetooth and Wi-Fi, plus an optional puck-shaped wireless controller for attaching to your handlebars and navigating through the Raptor's user interface (although voice control is offered as standard.)
There's a built-in speaker for taking phone calls and listening to music while you ride, and a 13.2-megapixel front-facing camera lets you shoot point-of-view HD video.
Bose Frames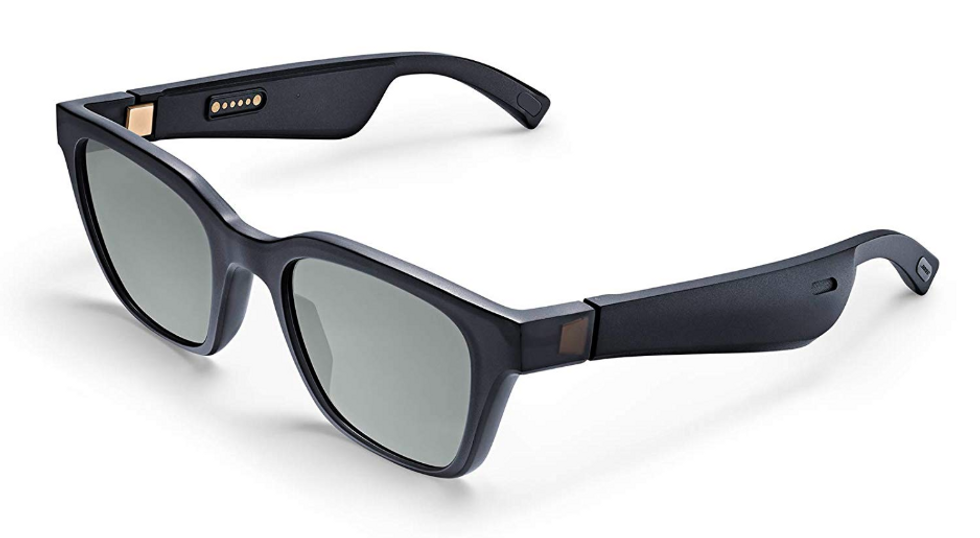 The Frames use 'audio AR' to interact with the wearerBose
While most of these companies focus on augmented reality from a visual point of view, Bose has taken a different approach. With its $200 Frames, the speaker company offers what it calls 'audio AR,' and a sound-based user interface driven by two small speakers.
Instead of projecting a user interface onto the glass, or into the wearer's eye like other smart glasses, the Frames use GPS and a nine-axis head motion sensor to work out exactly where you are and which way you are facing.
With this information, the glasses can provide context-aware audio, such as information about landmarks in front of you, or walking directions. Bose says this system can be used for "travel, learning, entertainment, gaming and more." Of course it can also be used for listening to music without conventional headphone, which can be uncomfortable when worn over sunglasses.

The Frames have Bluetooth to connect to iOS or Android, and work with the Google Assistant and Siri.
Vue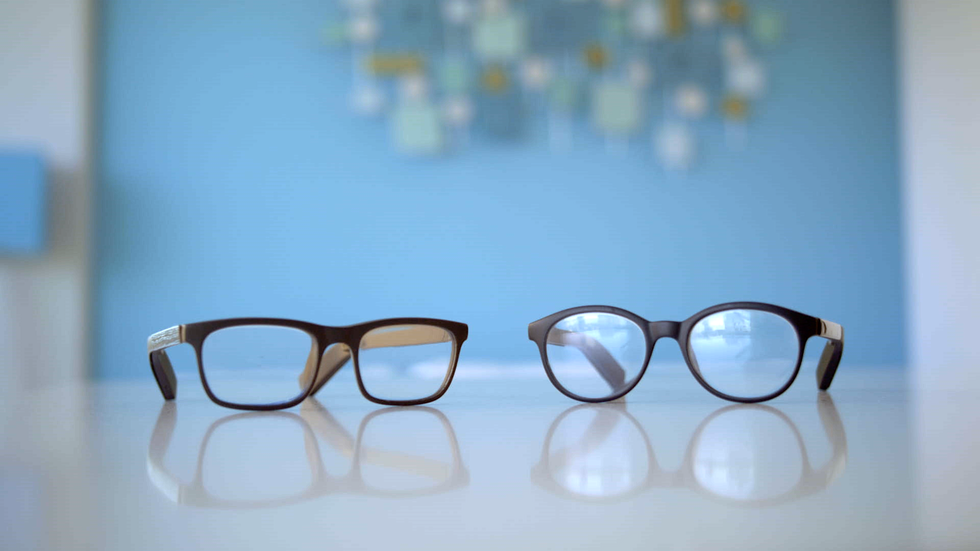 After a $2.2m Kickstarter campaign, the Vue glasses are now shippingVue
Another audio-only option is the Vue, which came to life after raising over $2.2 million in a Kickstarter crowd-funding campaign. Although the glasses were initially due to arrive back in 2017, the company is now, in July 2019, boxing up orders and shipping Vue glasses worldwide.

Instead of the small speakers of the Bose Frames, the Vue uses bone conduction (like on the Google Glass) to send sound to your ears via vibrations through the side of your head.
As well as music and phone calls, the glasses have a voice assistant which can track activity (like steps and calories burned), give walking directions, issue reminders, and deliver notifications for texts, emails and other alerts on your smartphone.
The rain- and sweat-resistant glasses are controlled by voice and a simple touch pad on the right-hand arm, and they are compatible with both iOS and Android smartphones.
Importantly, they look like regular glasses. Stripping out the projector of alternatives like the North Focals takes away functionality, but it leaves behind a wearable that looks normal, isn't bulky or heavy, and has an all-day battery life. We can see glasses like the Vue fitting into the same area of the market currently occupied by fitness trackers and smartwatches.
Vue comes in two designs, called classic and trendy, and has a wireless charging case. Prices through the online store (as opposed to KickStarter) start at $249.
Google Glass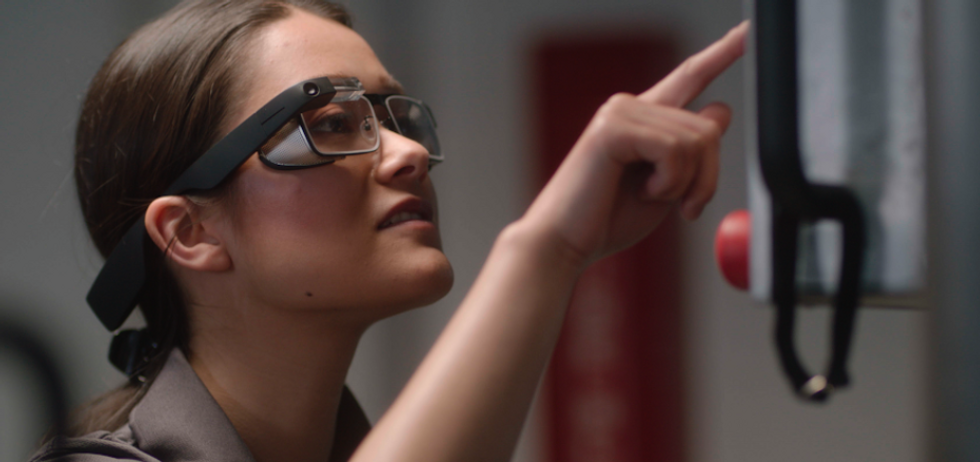 Glass has pivoted from a consumer failure to an enterprise success Google
Contrary to popular belief, Google Glass is still alive and well in 2019. It might not be the commercial success Google had hoped for, but the device is still used in industry, and a new model was launched in May 2019.

Intended primarily for enterprise use, the 2019 version of Google Glass, called Enterprise Edition 2, has a faster processor and longer battery life than its predecessor, plus faster charger via USB-C, enhanced machine learning capabilities, and new safety frames made by partner Smith Optics.
In a bid to broaden the use of Glass, Google has partnered with agriculture firm AGCO, the DHL shipping group, Sutter Health, and construction company HB Fuller. As well as at those companies, the device is often used in manufacturing facilities, where workers need hands-free access to a user interface and a camera, both provided by Glass and the Google Assistant. (Check out The GearBrain, our smart home compatibility checker to see the other compatible products that work with Google Home and Home Mini.)