Like GearBrain on Facebook
As expectations build around Apple launching augmented reality smart glasses in 2020, Samsung is working on a pair of its own.
This is according to a patent filed by the company back in February 2019 and made public earlier this week. It was first spotted by Dutch website Galaxy Club.
Read More:
Submitted in Samsung's native South Korea, the patent includes several sketches of the headset, and even a 3D render offering a good look at what the glasses might be like.
The patent's discovery comes in the same week that Bloomberg claims Apple is preparing to launch some augmented reality glasses of its own in 2020, and pick up where the failed Google Glass left off years earlier.
Samsung's patent describes a device with two projection screens (one in front of each eye), a pair of forward-facing cameras, and a design which falls somewhere between glasses and headset. According to the 3D render, the device has one continuous piece of plastic or glass on its front, with a shape similar to the recently retired Gear VR.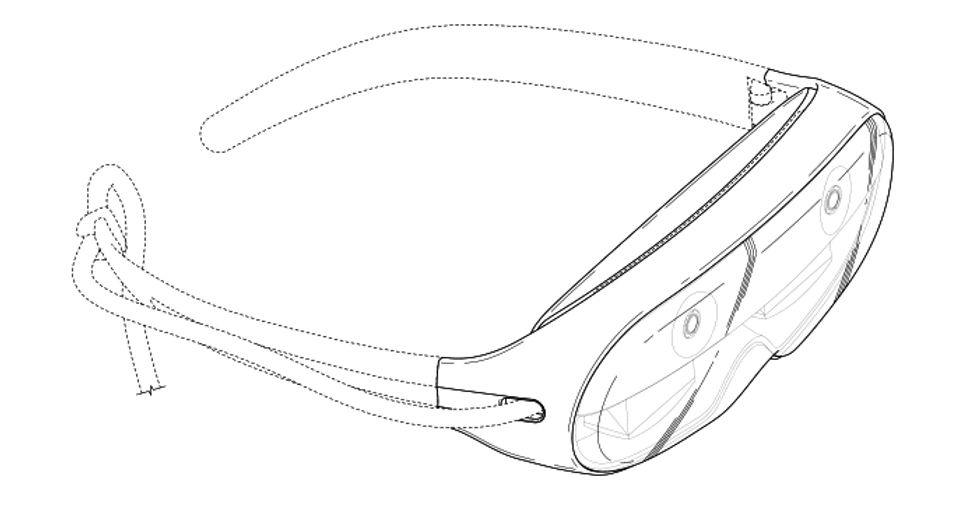 The patent includes a number of product sketchesSamsung
If the headset makes it to market, it will be Samsung's first augmented reality product, and come in the wake of the Gear VR, the smartphone-powered virtual reality headset which hasn't been updated since 2017 and no longer works with Samsung's newest phones.

Augmented reality is widely tipped to be the next big thing in consumer technology, but suffered a false start with the Google Glass back in 2013. But since then, technology has improved to the point where performance, display resolution and battery life - all areas the Glass struggled with - should be up to the job.
Vuzix Blade AR Smart Glasses, with Amazon Alexa Built-in, HD Camera and Voice-Controls
Apple boss Tim Cook has repeatedly sung the praises of AR over the past few years, and the iPhone's new iOS 13 software is full of evidence pointing towards smart glasses being Apple's next major new product.

However, and as always when it comes to patents like this, we should take this news with a pinch of salt. Technology companies - especially giants like Samsung and Apple - file patents on a regular basis and much of what they describe never sees the light of day.
But, while a product exactly like that pictured above might never go on sale, the patent does suggest that Samsung has its attention on augmented reality in a way it hasn't previously.
Star Wars: Jedi Challenges Strategic Battle www.youtube.com
From Your Site Articles
Related Articles Around the Web
Like GearBrain on Facebook