Like GearBrain on Facebook
With folding smartphones slowly working their way into the mainstream, an obvious design problem remains front-and-center - creases on the screen.
Made from flexible plastic, the inner displays of folding phones like the Samsung Galaxy Fold, Huawei Mate X and Motorola Razr suffer from a crease right across the middle. While the Razr's crease is less obvious, early adopters have shown how the hinge mechanism makes creaking and cracking noises when folded.
Read More:
However, Apple believes it has the answer. A newly published patent dated February 4 has the title "Electronic devices with flexible displays and hinges". The document describes a design of hinge where there is enough room to fold the display closed, but ensures the radius of the fold is such that creases aren't created on the screen.
The patent states: "A hinge mechanism may be used to ensure adequate separation between the first and second portions when the housing is bent. Movable flaps may be retracted when the housing is bent to create room for a bent portion of the display."
The key details here are the "adequate separation" between the two halves of the folded display, and how the housing creates enough room for the bend, without flattening the display into a creased position.
MacRumors has created a gif, embedded below, showing how the Apple folding hinge might work, and how it keeps the two halves of the screen far enough apart to prevent a crease from forming.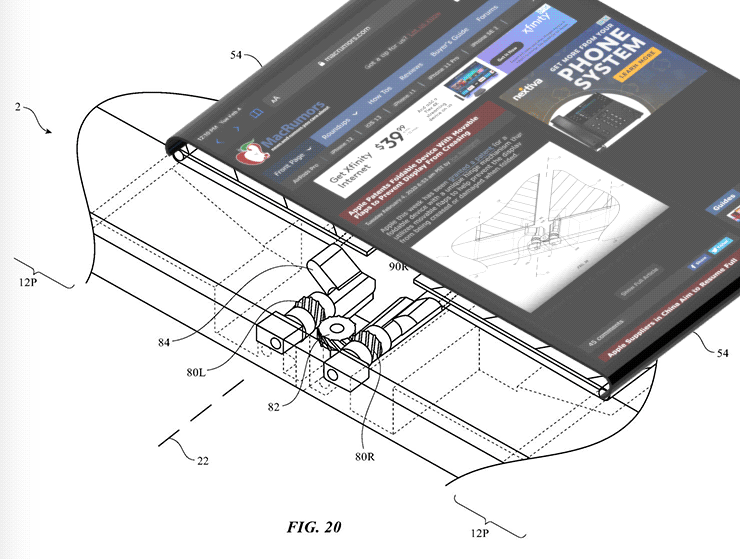 Animation shows how Apple's folding screen could workMacRumors
Although it is very unlikely that Apple will launch a folding iPhone or iPad any time soon, the company has certainly shown interest in folding screen technology. It has filed several patents in recent years outlining how the technology might work.

As ever, we should add the caveat that companies like Apple file patents on a regular basis, and the existence of these documents does not mean the product they describe will ever see the light of day, let alone go on say. Nevertheless, it is certainly interesting to see Apple exploring the concept of a folding display for future products.
Apple Watch Series 5 (GPS, 44mm) - Space Gray Aluminum Case with Black Sport Band
From Your Site Articles
Related Articles Around the Web
Like GearBrain on Facebook