Like GearBrain on Facebook
In the same week that Samsung finally revealed its first folding smartphone, the Galaxy Fold, a patent for a similar device from Apple has been discovered.
Filed with the US Patent and Trademark Office back in October 2018, the patent was published - and therefore made public - on February 14, just a few days before Samsung took the covers off its $1,980 Galaxy Fold.
Read More:
The Apple patent is for what the company calls "flexible display devices", and explains: "Electronic devices may be provided that contain multiple housing portions. The housing portions may be coupled together using hinges...Flexible displays may be mounted to the housing portions...the flexible display may bend".
The language used is typical of patent filings, which are often somewhat vague about what the finished product might actually be like.
Helpfully, the patent filing also includes several sketches of what such a folding device could look like. These show a phone-shaped device which folds in half, but the fold is widthways instead of lengthways - the opposite of how the Samsung Galaxy Fold works.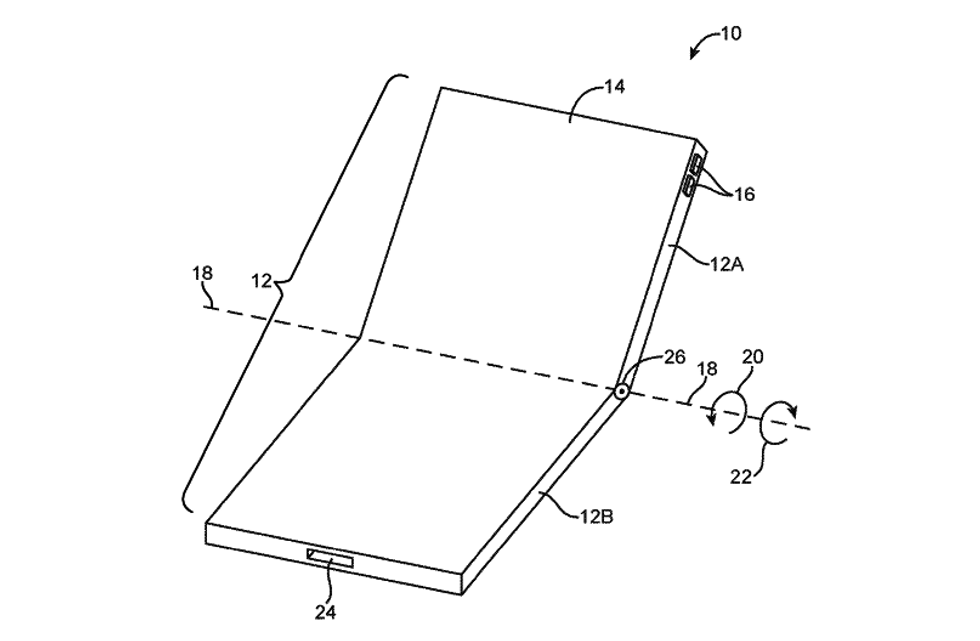 The patent shows a device which folds open like a pocket mirrorApple
Where the Galaxy Fold opens like a book, the hinge running from top to bottom, Apple's sketches show a device which opens like a pocket mirror, with the hinge running across the phone's width.

Folding smartphones are set to be a popular product category in 2019 and 2020. The Galaxy Fold goes on sale for $1,980 in April, while Huawei, Motorola and others are also planning such handsets for this year. Huawei is expected to show off a folding 5G phone at Mobile World Congress, the technology event which kicks off in Barcelona this weekend.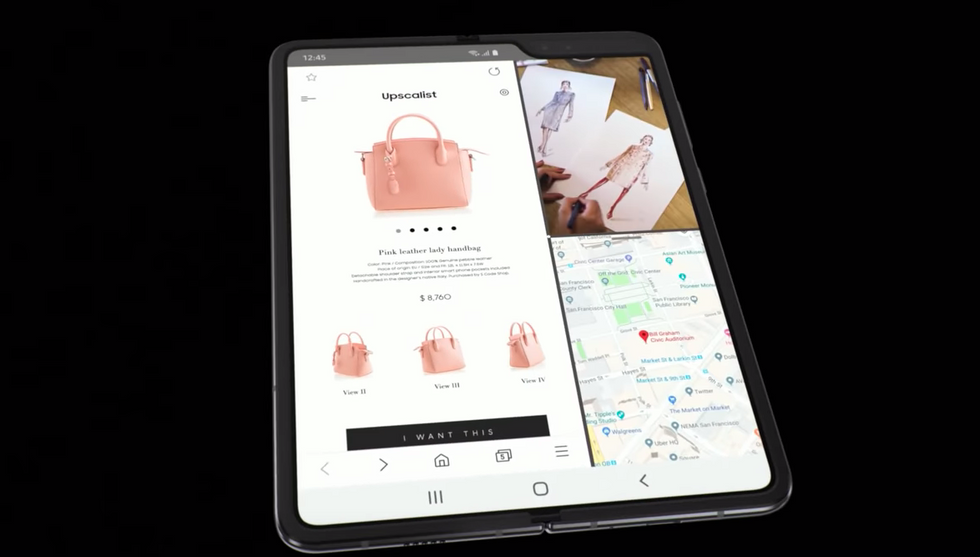 The Galaxy Fold goes on sale in April for almost $2,000Samsung
Clearly, the patent suggests Apple's development of a folding phone is the early stages, and if a folding iPhone ever arrives it will come to market some time after the Galaxy Fold. Apple is rarely first when it comes to new product categories of innovations, instead preferring to arrive later. For example, the iPod, iPhone and iPad were not the first of their kind, but quickly became the most popular and successful.

As always, it is important to note that technology companies regularly file patents for products which never become a reality. Just because this patent exists, it doesn't mean Apple will one day launch a folding smartphone - that will surely depend on the success of the Galaxy Fold and others like it over the following year.
From Your Site Articles
Related Articles Around the Web
Like GearBrain on Facebook