Like GearBrain on Facebook
Apple has announced new features for its HomeKit smart home platform and HomePod smart home speaker, on stage at its annual Worldwide Developer Conference, which kicked off on Tuesday morning, June 3.
First, the iPhone maker has finally added support for smart security cameras in its HomeKit platform, but with a different take on privacy and data protection.
Currently, most smart security cameras upload their footage to the manufacturer's server, where it is analyzed by an algorithm, then the owner is notified via a smartphone app if the footage contains anything problematic — like an unfamiliar face, or just movement in general.
Read More:
Apple's take on this system is to analyze the footage locally, within the customer's home, instead of uploading it to the cloud. HomeKit does this by drawing on the processing power of the user's HomePod smart speaker, or their iPad, or their Apple TV.
This is all done in the background, and means footage can be analyzed — and an alert sent to your iPhone — without any footage leaving your home Wi-Fi network.
Once this process is complete, the video footage is encrypted, then uploaded to the user's iCloud account, where Apple says no one — including itself — can view the video, apart from the account owner.
Also new is how Apple now gives all iCloud users 10 days of free video recording from qualifying security cameras —Arlo and Logitech are the only manufacturers named for now, with more to come. This saved footage does not count towards a user's iCloud storage limit.
If users want more than this free amount of video storage, there will be plans offering 200GB of video storage for one camera, or 2TB for up to five cameras. Apple has yet to announce pricing for these tiers.

Also announced at WWDC on Monday was HomeKit-secured Wi-Fi routers. Produced by Linksys, Eero and Spectrum initially, these routers seek to protect your wireless network by automatically fire-walling each and every smart device you install — that is, every smart home device that is HomeKit compatible, of course.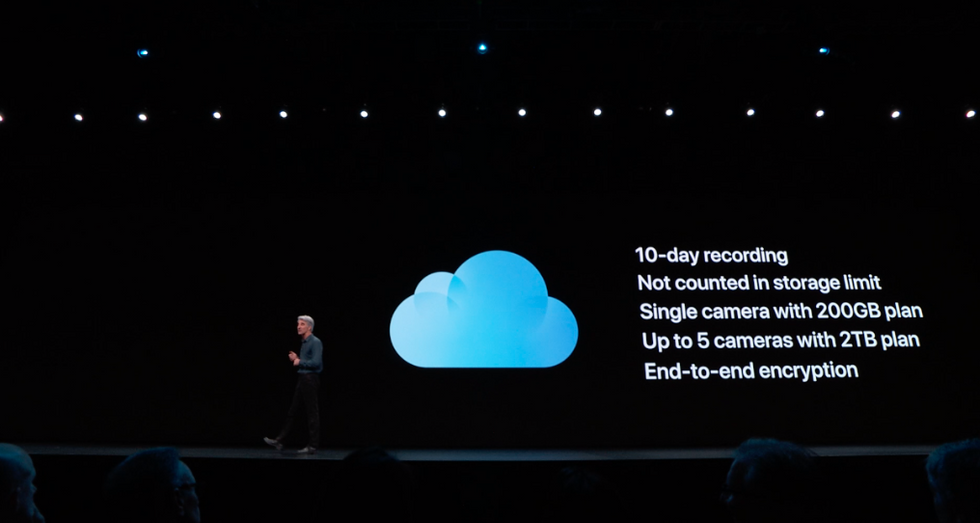 Apple offers new smart camera video storage service on iCloudApple
Apple hasn't said a huge amount about how these HomeKit routers will work, and how they will alert smart home owners to potential breaches of their network security, but it's an interesting move from Apple, and one we hope to learn more about when the routers (and security cameras) go on sale this year.

HomePod gets smarter
Another small update to come from WWDC this week was for the HomePod smart speaker. Criticized at launch for lacking features and intelligence compared to cheaper offerings from Amazon and Google, the HomePod will soon be given Hand-off.
Hand-off, Apple said at WWDC, will automatically switch audio playback from your iPhone to your HomePod and back again when you bring the two devices close together.
For example, say you are listening to music through your HomePod, but are about to leave the home. Pick up your AirPods, then briefly hold your iPhone close to the HomePod, and the music will switch from the speaker to your iPhone and AirPods.
Hold your iPhone near the HomePod again when you return home, and whatever you are listening to will jump back from AirPods to HomePod.
Finally, the HomePod will soon understand who is talking to it. This, just as the Google Assistant already does, will play and suggest music tailored to you, by recognizing your voice and already knowing what you like. Apple says this system will also work with Messages, Reminders, Notes and other Apple apps where users can ask Siri on the HomePod a question, and receive a personalized response.
We look forward to seeing how well this will work, how it is setup, and exactly what information Siri can deliver on a personalized basis. We also want to know what safeguards are in place to prevent Siri from sending a message to the wrong contact when controlled by someone else.
From Your Site Articles
Related Articles Around the Web
Like GearBrain on Facebook