Like GearBrain on Facebook
It's safe to say Apple caused quite a stir when it removed the headphone jack of the iPhone 7 in 2016.
But, as Bluetooth headphones - and not least, Apple's own AirPods - became commonplace, consumer anger soon diminished. We learnt to live without the headphone jack and its decades-old technology, and Apple included a dongle for those who couldn't let go.
Read More:
Now, renowned and often accurate Apple analysis Ming-Chi Kuo believes the company is planning to remove the iPhone's Lightning port too. This rumor on its own is nothing new, as many have suspected Apple might switch for an industry-standard USB-C port, as used by the iPad Pro, in the next year or two.
But no, Kuo believes Apple will remove the port and not replace it with anything else. This would leave the 2021 iPhone with no ports at all, forcing buyers to rely entirely on wireless chargers, and no longer have a USB connection to their computer.
This is according to Kuo's latest note written for investor and cited by 9to5Mac this week.
Despite the shock of a portless iPone, Kuo says the transition from here to there will be slow. First, Apple will release a new cut-price iPhone SE 2 based on the iPhone 8 in the first half of 2020. This, Kuo says, will be followed by four new models of iPhone in the fall, all of which equipped with 5G connectivity (and Lightning ports).
In 2021, Kuo expects Apple to launch a larger Plus version of the iPhone SE 2, as well as a new iPhone model without a Lightning port. Kuo says this will "provide the completely wireless experience," meaning it can only be charged wirelessly and cannot be connected to a computer or any other hardware at all.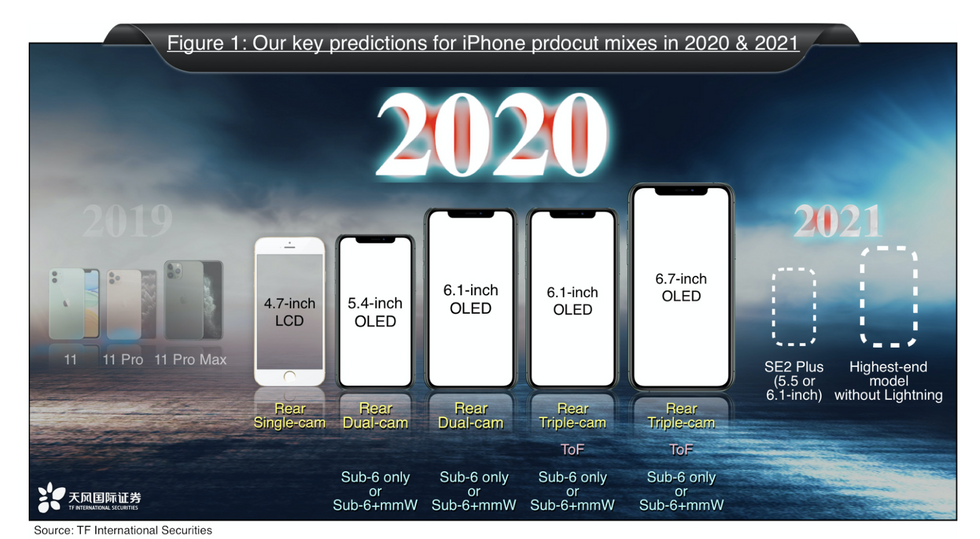 Kuo's predictions for investorsTF International Securities
Kuo says he only expects this radical design change to appear on one model of iPhone in 2021, the "highest-end model," he says. This will likely give consumers a year to acclimatize to a world without cables, before presumably the Lightning-free design is carried through to the rest of the iPhone range in 2022.

But could Apple really pull this off? For starters, we worry about battery life. Things have improved in the last couple of years, but portable battery packs are still very popular. Consumers like to carry some backup power and a cable with them, just in case. With wireless charging only, they'll have to hunt out a public wireless charger, of which there are not many at all just yet. That, or they could buy a pricey battery pack with an integrated wireless charger.
We also wonder what will happen with CarPlay, Apple's iPhone-powered car infotainment system. For the vast majority of vehicles, CarPlay only works via a USB connection with the driver's iPhone. Some cars offer wireless CarPlay (and simultaneous wireless charging), but they are in a tiny minority for now.
People don't upgrade their cars as often as they swap iPhones. Drivers wanting the latest iPhone in 2021 will be faced with the prospect of losing CarPlay until they upgrades to a vehicle that offers it wirelessly. This will also see wired CarPlay in older vehicles become worthless, especially if all iPhones from 2022 are port-free.
Apple is no stranger of moving away from technologies it feels are unnecessary - like the disc drive, Firewire, USB-A, and the headphone jack - but taking all ports away from the iPhone feels like a big step, to say the least.
From Your Site Articles
Related Articles Around the Web
Like GearBrain on Facebook