The cartoon Dick Tracy had the watch of our childhood fantasies, a working two-way working radio that could summon the yellow-coat wearing detective in an instant. Even when the Apple Watch in 2014, this feature was not included. And while smart watches in general, have long surpassed the cartoon crimefighter's watch, that feature has sort of stuck with us.
Apple actually launched Walkie-Talkie in 2018 with watchOS 5, but given how easy it is to instantly text, chat and (if we must) make a phone call, few use this tool. The company ended up shelving the feature for a short while after it was discovered people could use the app to eavesdrop on others. But with watchOS 5.3, Walkie-Talkie came back
Today, however, the feature may be not only a fun gimmick — but extremely useful as we stay in touch with family and close friends.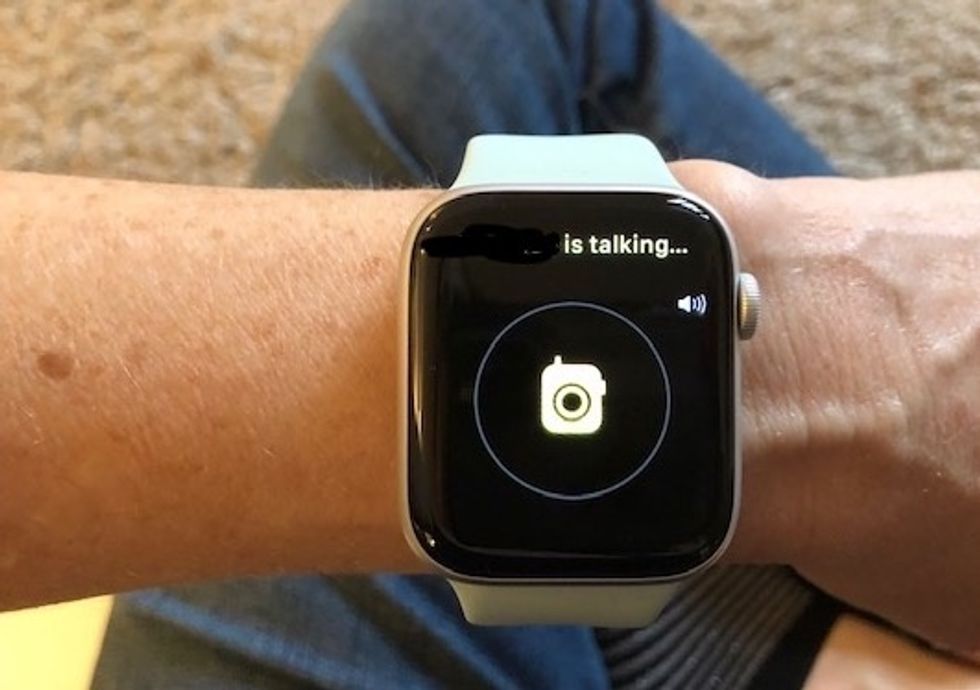 The app signals when the other person is talking, and you can't respond until they're finishedGearBrain
What is the Walkie-Talkie feature

This app lets you instantly, with a short press, talk with others who has this feature on their Apple Watch too. You need to be near Wi-Fi and your iPhone, unless you have cellular activated on your Apple Watch.
Walkie-Talkie actually works by leaving a voice message for the person — sending what you've said to someone, who then can respond by pressing the button on the watch face and leave their own audio note. This is not a phone call, you can't speak simultaneously. But you can talk immediately with someone, and it also pushes through even if the Apple Watch is on silent, making it a great emergency contact tool.
Apple Watch Series 5 (GPS, 40mm) - Space Gray Aluminum Case with Black Sport Band
How to launch Walkie-Talkie
Although the app is one of the core tools on the Apple Watch, you need to take a few steps to get it running.
Step One: You need to make sure you're running watchOS 5.3 or later and also have FaceTime too working on your iPhone.
Step Two: Second, you're going to want to open the Watch app on your iPhone, and go to the Walkie-Talkie feature. It's that bright yellow dot, which I like to think is a nod to Dick Tracy himself.
Step Three: Click on the Walkie-Talkie option, and in the next screen, you're going want to click "Allow Notification." You really only have two options here — allow or "Notifications Off." You can select "Send to Notification Center," but the whole point of using Walkie-Talkie is to get instant voice messages from people.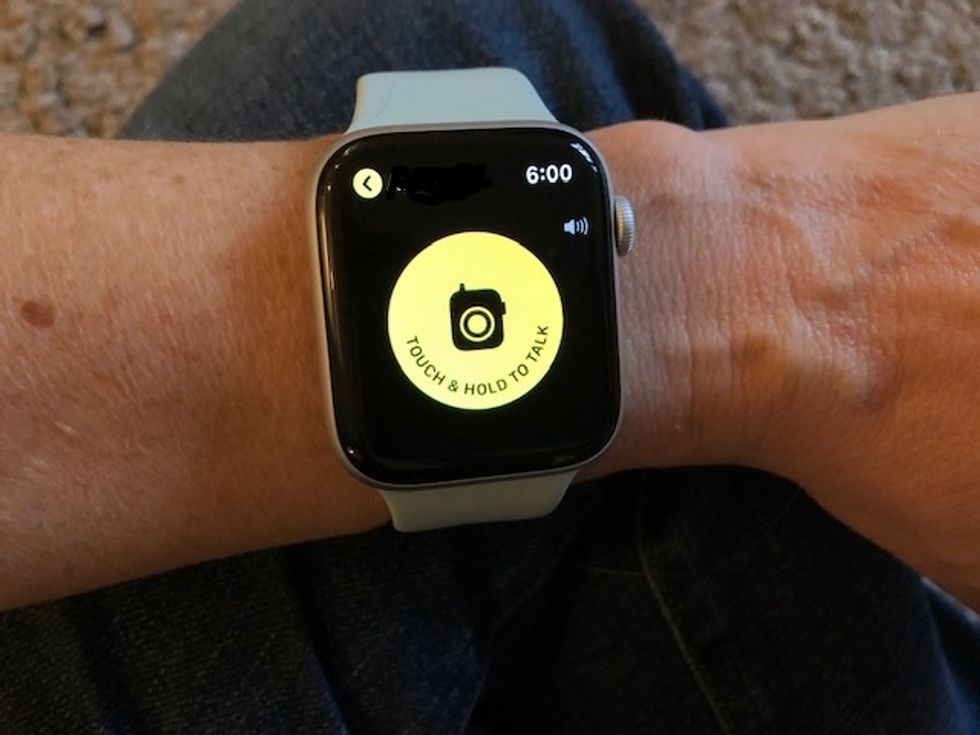 To speak using the Walkie-Talkie app, you press down on the bright yellow buttonGearBrain
However, it's crucial to know that Walkie-Talkie messages will come through — and be able to be heard by anyone — even if the sound is off on your Apple Watch. This is the plus during times like today, but a negative if you were say in a movie, at a play, or in a quiet space with people. Once you turn on Walkie-Talkie, you're going to need to remember to switch — on the phone — to "Notifications Off" until you can have your devices chattering again.

Step Four: You're going to invite people who can talk with you over the Walkie-Talkie. To add people, they need be in your contacts, and then you'll open the Walkie Talkie app on your watch, scroll to the bottom, and click on the big plus symbol, "Add Friends." Friends have to agree, however, that they want to be connected as well.
Now, be careful here. Because anyone can reach you — at any time if notifications are on — you're going to want to limit who you invite. You do not want to invite everyone. Of course not everyone has an Apple Watch. But in any event, be thoughtful of who you potentially want to have access to a feature that can chat with you at 2:51 am.
Apple Watch Series 5 (GPS, 44mm) - Space Gray Aluminum Case with Black Sport Band
Step Five: Make your first connection by clicking on a contact's name who has accepted your invitation. The app will then spin, checking availability, and if that person is available, a bright yellow button will appear in the center of the face with the phrase, "Touch & Hold to Talk."
Step Six: Once you press that button, and start speaking, you voice message is being recorded, and the person will be sent what you said.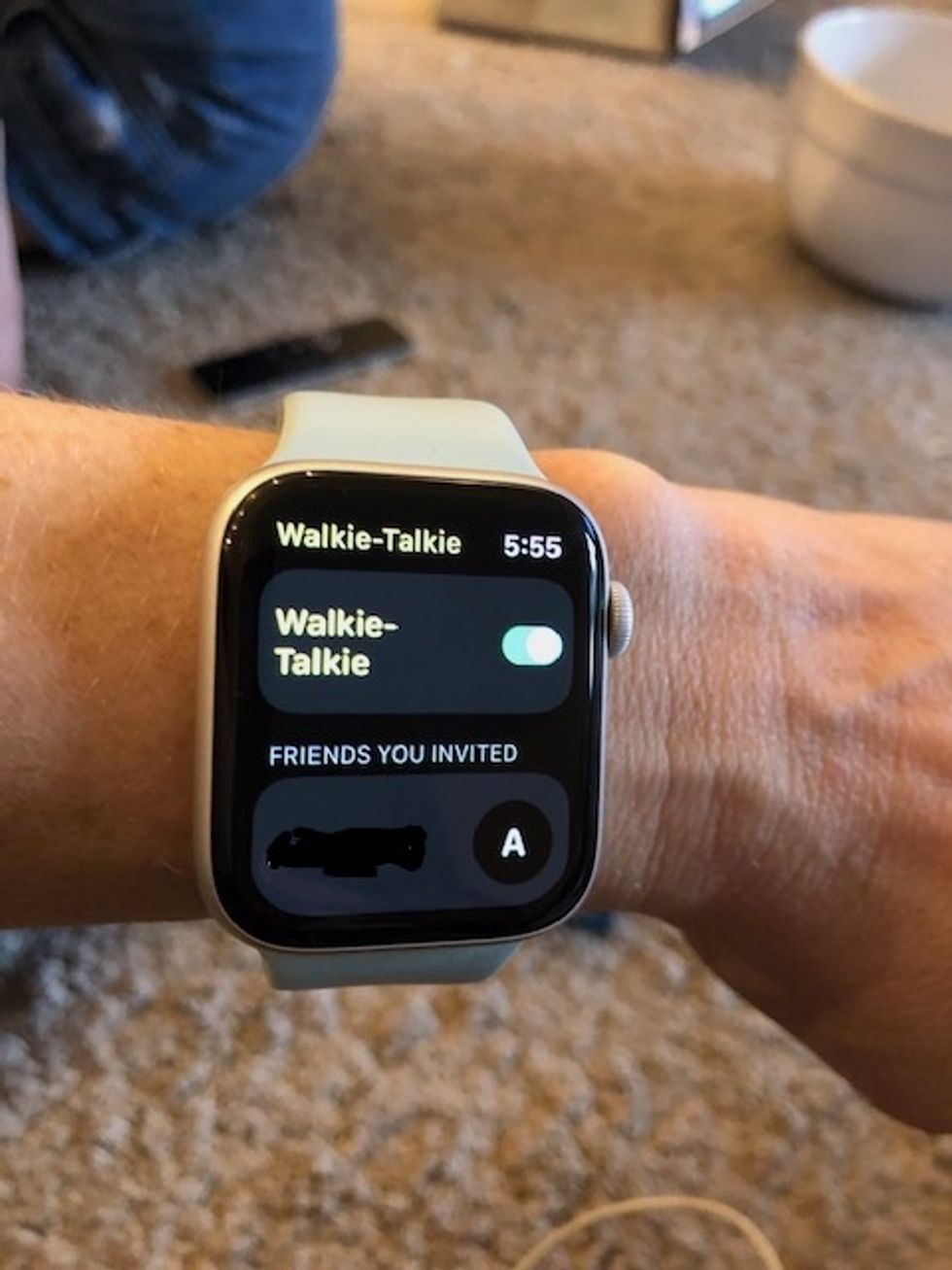 You can see who is in your contacts, that can speak through the appGearBrain
Why use Walkie-Talkie?

The feature isn't perfect for long conversations. I found after a few back and forth comments, I really just wanted to pick up the phone and talk. It's almost more like an audio text — which you can, of course leave — just faster.
While I haven't used it in this capacity, I think it's perfect for trying to reach someone in a family who may not have their sound up on their Apple Watch or iPhone. It's an instant alert — the sound pushes through — so for older family members, this could be a great way for them to contact children and others if they need help.
In today's environment, with people as isolated as they are, having as many ways to connect with people who are closest to us, but may not be physically close by, is a plus. Apple's Walkie-Talkie is one more avenue to use to stay in touch during these uncertain times.
How to Setup an Apple Watch www.youtube.com