Like GearBrain on Facebook
The new HomePod mini speaker is two years in the making, and the radical updated design belies that effort, a device Apple unveiled today in its virtual event, with nearly one million tuning in to watch online. Spherical shaped, like a Magic 8 Ball toy, the new $99 HomePod mini is covered in a mesh, acoustic-enhanced, covering, like the original HomePod, but now takes a short , 3.5-inch globe shape — the better to push out 360-degree sound, says Apple.
A small display sits on top, a screen that will visually note when Siri is actively engaged, listening or pushing out information. The bottom is flat as well for stability. But the remainder of the device is rounded, a new shape for Apple, but one that mirrors the new Amazon Echo (4th Gen) which follows a similar design with a globe shape.
The new HomePod Mini is still a speaker with sound on its mind, with a full range dynamic driver, a pair of passive radiators for optimum bass, and an acoustic wave guide for 360-degree sound experience. There's also a three-microphone array inside, plus a fourth that faces inward to help it better detect speakers talking to Siri even while music is playing.
There's also a new Apple S5 chip inside which allows the device to tap into something that the company calls computational audio — this allows the HomePod Mini to analyze audio and then tune the drivers and radiators in real time.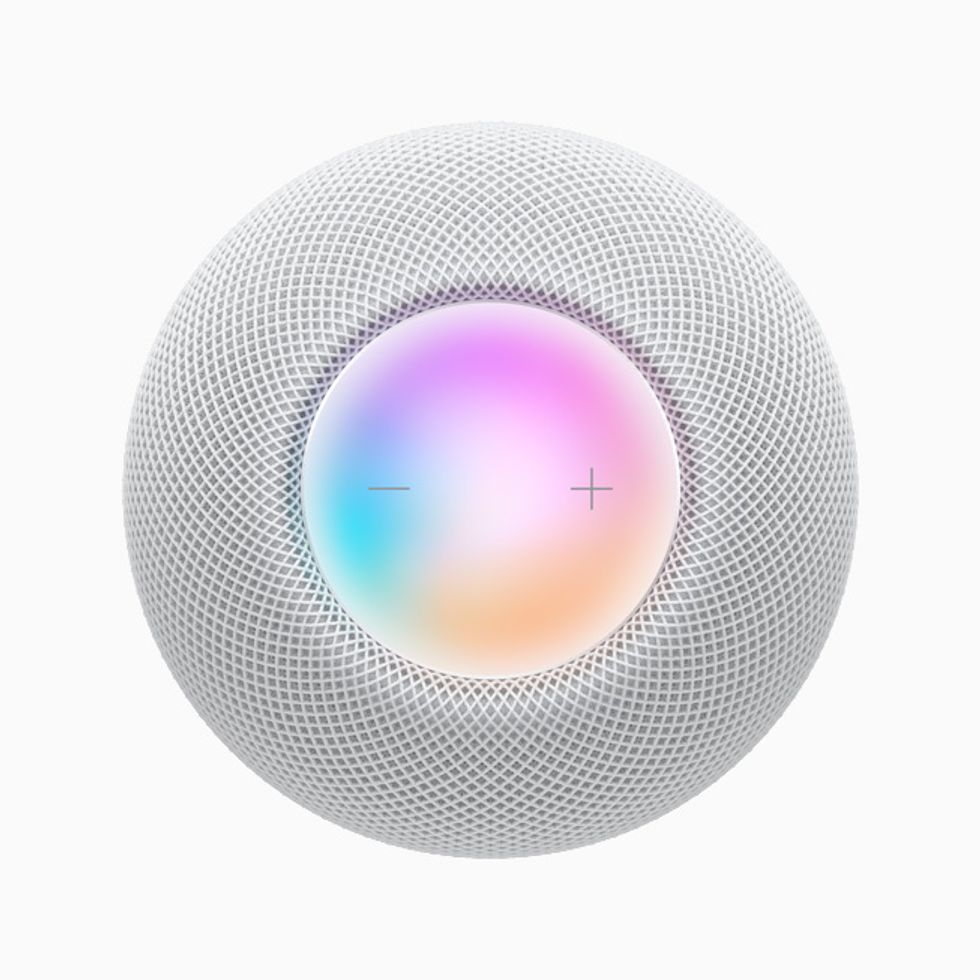 Apple HomePod Mini will show you when it's engaged at the topApple
Intelligent features

HomePod Mini also has some updated features that take advantage of embedded technology. Put two HomePod Minis in the same room, and they'll pair automatically creating an instant stereo effect.
The new device also takes advantage of Apple's Handoff experience, which means the HomePod Mini will know when the iPhone is nearby, and if it's brought close to the speaker, it will bring up additional audio and visual effects and handoff music from one device to the other. You can also use HomePod Mini to pick up phone calls, and enhance the sound from Apple TV.
There's also a new Intercom feature, which is really a catch up to what Google and Amazon offer via Google Home and Amazon Echo, so you can have Siri send a message to one or all HomePod Minis in a home. Additionally, you can have these messages sent via Intercom to personal devices — iPhone, Apple Watch, iPad, AirPods and even CarPlay — through a notification.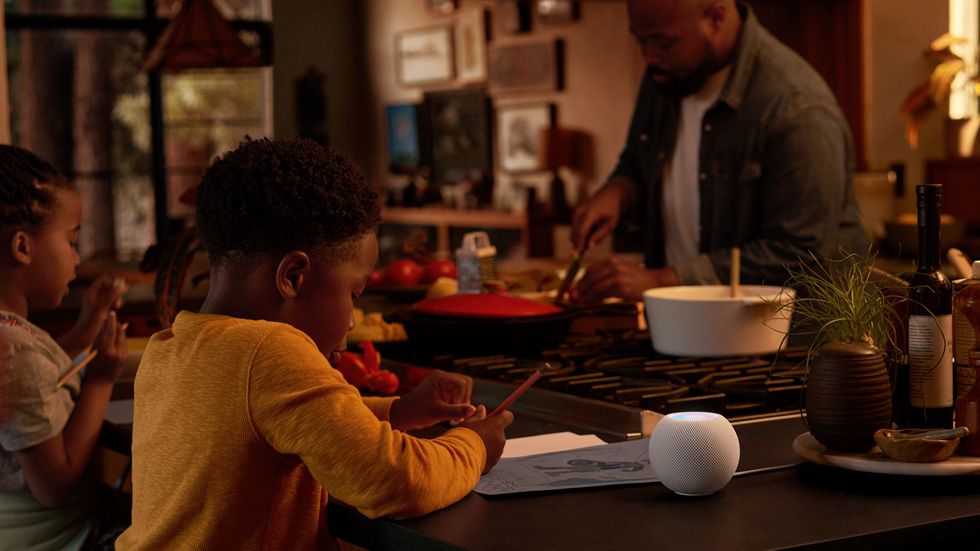 Apple is emphasizing the smart home use for the new HomePod MiniApple
Siri

This is the newest update Apple has made since launching the HomePod in 2018, a smart speaker that really emphasized sound over smart home function. While the HomePod has certainly evolved in the past two years, competitors Amazon and Google have moved rapidly into the smart speaker space, coming out with dozens of iterations where their smart assistants Alexa and Google Assistant could live respectively.
The new HomePod Mini takes advantage of Siri, which Apple noted is the first intelligent assistant. There is more integration with the iPhone, so you can check the calendar, send a message and even find your iPhone just by asking aloud. You can ask Siri for these details by just saying, "Hey Siri, what's my update?" And as Siri is able to recognize up to six voices, it can deliver personal details to each member of a household. But personal information will only come up when you iPhone is with you, an emphasis on security and privacy that Apple mentioned several times.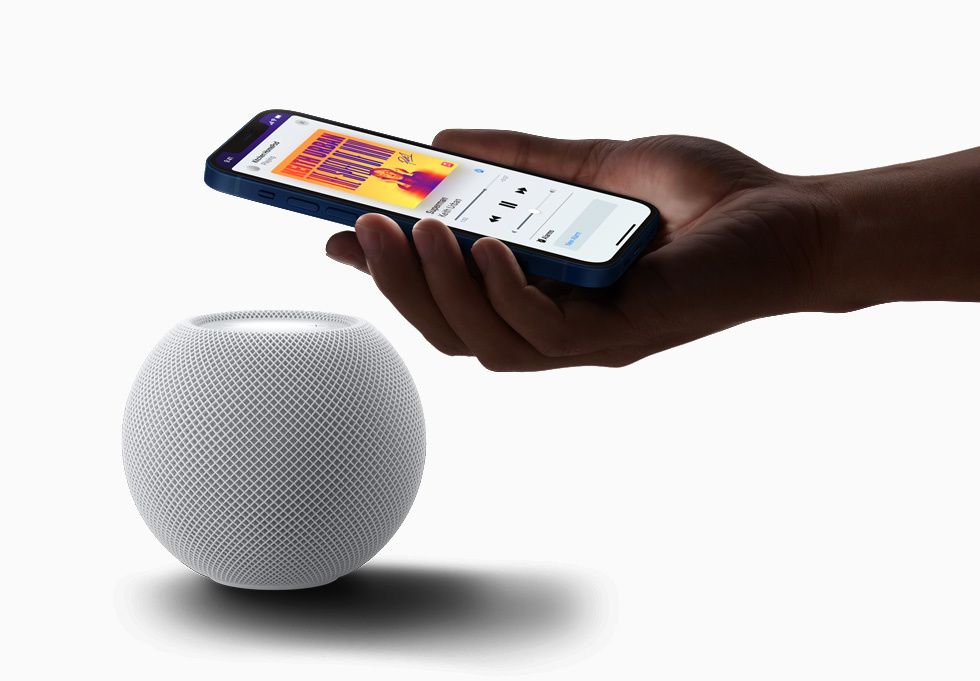 You can handoff sound from the HomePod Mini to the iPhoneApple
Smart Home

The new HomePod Mini is the smart home device that finally makes sense for Apple users — an affordable speaker that is designed for home use with less of an emphasis on sound. Yes, sound is still highlighted, but Apple seems to see this new globe-shaped speaker as a home device — with Siri at its core — rather than something that plays outstanding music. Of course music is still available, from Apple Music to iHeartRadio, TuneIn and Radio.com, with Pandora and Amazon music coming soon.
HomePod Mini will be able to link up to the Home app through the iPhone, so people will be able to control accessories via Siri and voice — as they can now — so people will be able to control HomeKit-enabled devices from lights to thermostats, all from the new speaker.

The HomePod mini will come in space gray and white, just as the original HomePod, and the speaker will be priced competitively at $99 — placing it right up against the Nest Audio and the Amazon Echo (4th Gen), both priced at $99 each.
Pre-orders for the new HomePod Mini will start on November 6, and Apple will start shopping on November 16.
From Your Site Articles
Related Articles Around the Web
Like GearBrain on Facebook