Like GearBrain on Facebook
One of the biggest features of the new iPhone 12 is not 5G connectivity, but its new MagSafe system.
Using magnets on the rear, all members of the iPhone 12 family can connect to a range of Apple and third-party accessories, like cases and credit card holders, and charge wirelessly at the same time.
Read More:
Apple's initial range of MagSafe accessories includes silicone cases, a transparent case, a leather wallet designed for a single credit card (your Apple Card, naturally), and a new magnetic charger not dissimilar to that of the Apple Watch.
Now, accessory maker Belkin has revealed its first MagSafe products. The first is an elegant three-in-one wireless charging station equipped to fill the batteries of your iPhone 12, Apple Watch and AirPods all at once.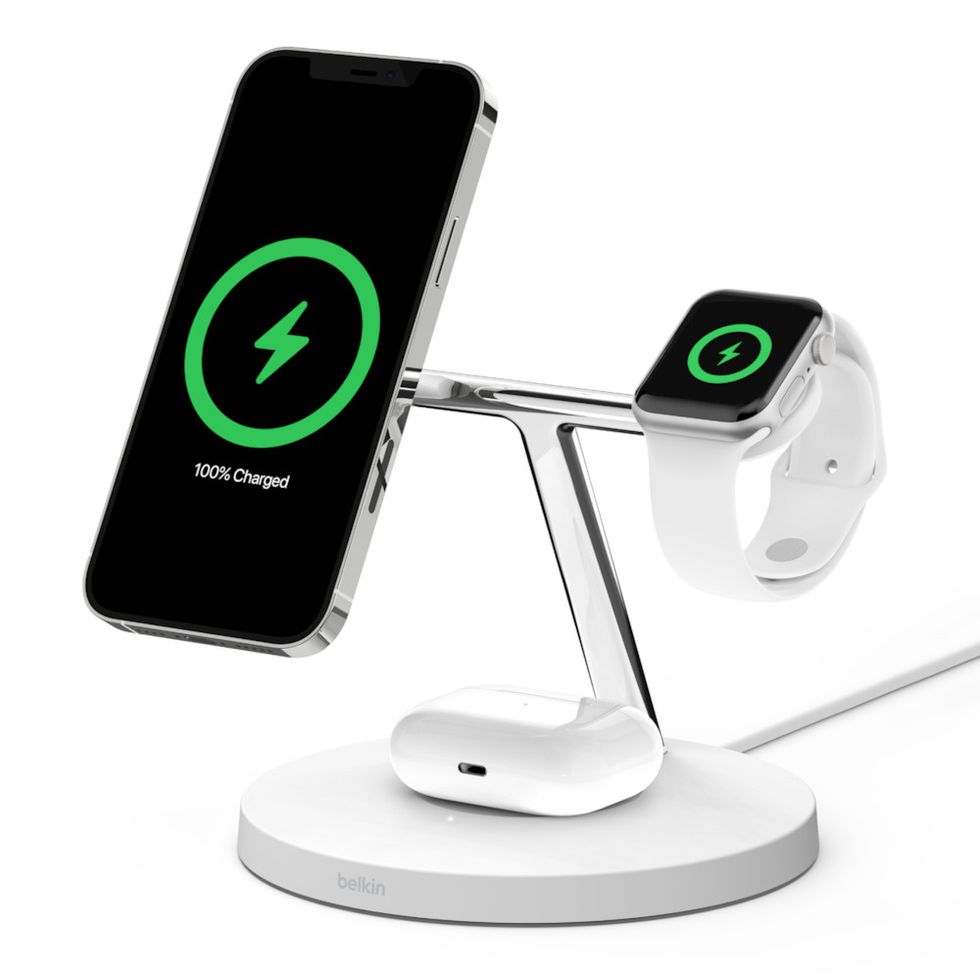 The BoostCharge Pro is priced at $150Belkin
Using three different wireless charging standards, the BoostCharge Pro MagSafe 3-in-1 Wireless Charger, to give it its full name, uses MagSafe, plus the Watch's own charging standard, and the industry-standard QI system for your AirPods. It is also worth noting that any device that has QI charging (and will physically fit) will charge from where the AirPods case is in the picture above.

We think this is a smart way of giving Apple fans a way to charge everything at once, while taking up just one wall plug and using one cable. However, it doesn't come cheap. The stainless steel Belkin BoostCharge will retail for $149.95 when it goes on sale in the winter.
Belkin's second MagSafe accessory is a magnetic car mount for the iPhone 12, called the MagSafe Car Vent Mount Pro. It clips to the air vents of your car in the usual fashion, then snaps into place when your iPhone is held against it. Again, it's a nice looking accessory with a smart stainless steel finish, but it unfortunately lacks wireless charging integration. We would love to have seen this included, it being a primary function of the new MagSafe technology.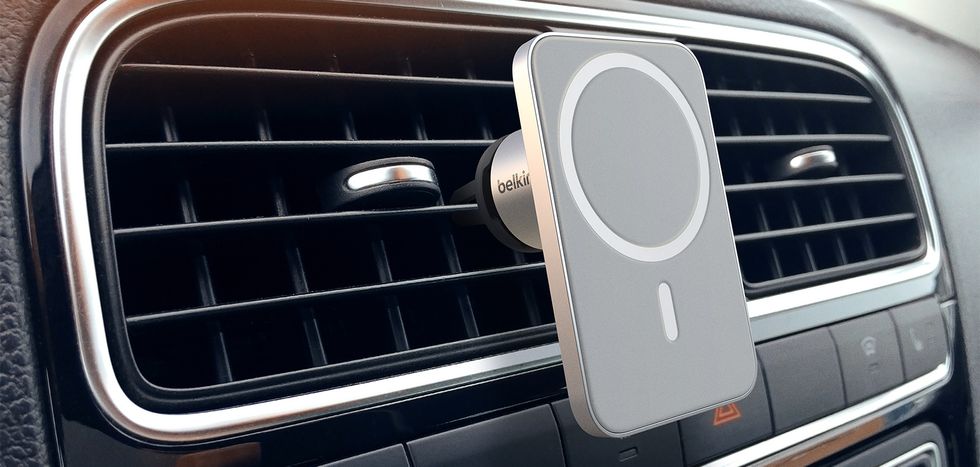 Belkin's MagSafe car mount is $40Belkin
Instead, the mount has what Belkin is calling "intuitive cable management" for keeping the iPhone's charge cable "conveniently within reach". In other words, you'll have a Lightning cable dangling from the phone and plugged into your car's USB port, if you want to keep the battery charged as you drive. The Belkin MagSafe Car Vent Mount Pro is priced at $39.95 and will also be available from some point this winter.

It isn't clear if any third-party MagSafe accessories will be available to buy when the iPhone 12 opens for pre-order tomorrow, October 15 (or when it goes on sale a week later), but case maker OtterBox says its MagSafe cases are coming soon.
Like GearBrain on Facebook