Like GearBrain on Facebook
Apple is working on a way to bring biometric security to the Watch, by having the wearable identify you by the skin on your wrist.
The technology is highlighted by a new patent which was filed by Apple in May 2018 and made public this week. The patent describes a system whereby the Watch uses an infrared thermal imaging sensor to identify a unique "skin texture pattern" for the owner.
Read More:
First reported by PatentlyApple, the patent describes how the Watch would identify its wearer with "skin texture pattern images comprising skin texture cracks associated with a first thermal pattern, and hair associated with a second thermal pattern".
The goal here is to create a way to uniquely identify a Watch owner, so that the device would only wake up, function and display personal information when strapped to their wrist. A security PIN currently serves this purpose, but as with Face ID on the iPhone and iPad, biometric security is quicker and easier to use, and there's no chance of someone discovering your PIN by watching you enter it.
Apple currently offers biometric security in the form of Touch ID and Face ID for its MacBooks, iPhones and iPads, but not on the Watch. The company has previously filed a patent for a technology where a person is identified by the unique pattern of veins under their skin.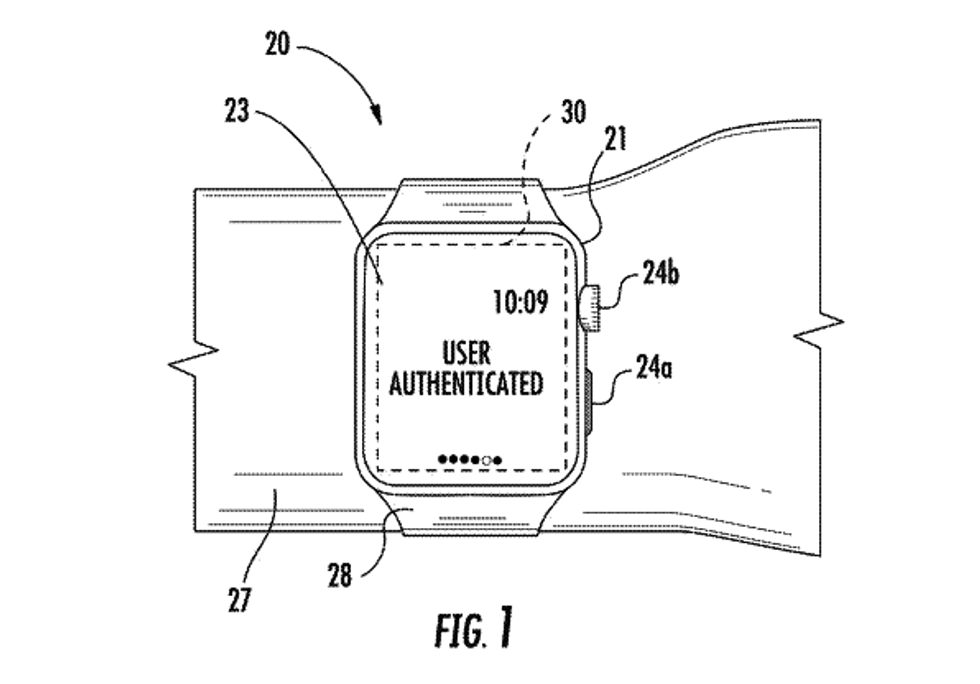 Apple / USPTO
A second new patent granted to Apple and made public this week describes straps for a wearable device which automatically tighten or loosen. The patent suggests these straps could be used by a smartwatch or other fitness-tracking wearable as a way to make sure it stays securely on the user's wrist.

The system could also slacken the strap slightly to avoid the wearable becoming uncomfortable - on a hot day, for example, or during exercise when our wrists tend to expand slightly.
The patent describes how the technology would work: "In many embodiments, a tensioner associated with a wearable electronic device can control one or more actuators that are mechanically coupled to either the housing or to a band attached to the wearable electronic device. In one example, in response to a signal to increase the tightness of the band, the tensioner can cause the actuator(s) to increase the tension within the band."
Not only does such a system aim to make wearing devices like the Apple Watch more comfortable and secure, but we can see other potential benefits. For example, a tighter fit ensures the Watch's heart rate monitor and ECG app works correctly. This desire to ensure a good fit could suggest Apple is keen to add more health-tracking features to future versions of the Watch, which would require constant contact with the skin. The company has been rumored for some time to be working on a wearable device with glucose tracking device.

Finally, a third patent unearthed this week describes a smartwatch strap which lights up to notify the wearer of things like incoming calls, messages and other notifications.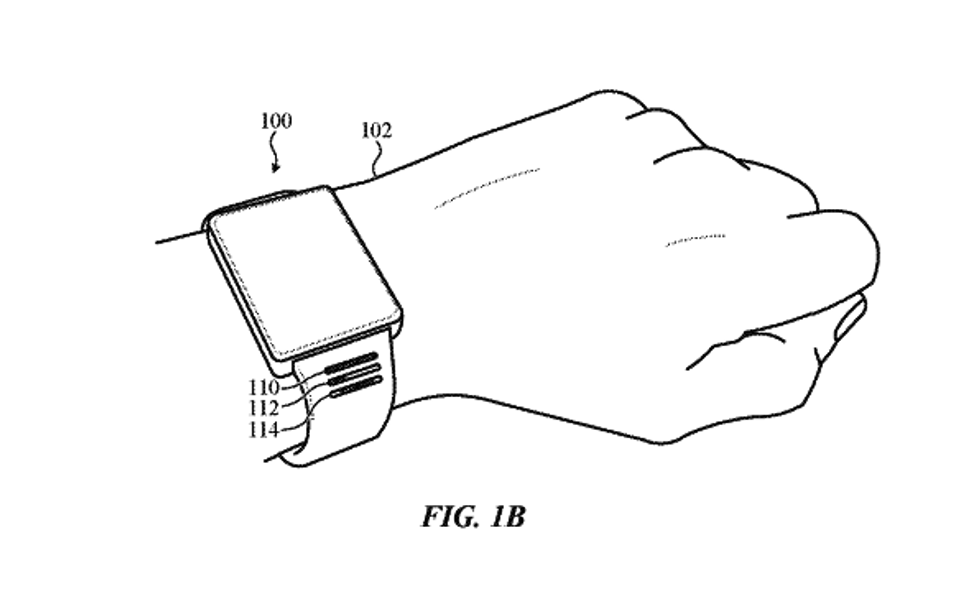 Patent shows notification system for an Apple Watch strapApple / USPTO
As always, we should note that companies often file patents for technologies which never see the light of day, and as such those outlined here should be taken with a pinch of salt. While it is perfectly plausible that a future Apple Watch could tighten itself, identify you from the hair follicles on your wrist, and light up when someone calls, these patents do not mean such features are coming any time soon.

That said, they certainly provide insight into what Apple's plans are for future wearables, and what it wants to achieve with the Watch.
Apple is expected to announce a new version of the Watch, called Series 5, at a launch event on September 10. However, this is expected to be a small upgraded with a focus on software and new versions made from titanium and ceramic, instead of any major new features.
From Your Site Articles
Related Articles Around the Web
Like GearBrain on Facebook