Like GearBrain on Facebook
Aston Martin has revealed more about its first electric car, the upcoming Rapide E, which will go up against rivals from Tesla and Jaguar towards the end of 2019.
A rear-wheel-drive luxury sedan based on the company's existing Rapide model, the Rapide E will produce over 600 horsepower from two rear-mounted electric motors, powered by a 65kWh battery.
Read More:
Aston Martin says it is aiming for a 0-60mph time of under four seconds - quicker than the petrol-powered Rapide S - and a top speed of 155mph, matching that of the fastest Teslas. Aston also claims the car will accelerate from 50 to 70mph (an indication of overtaking performance) in 1.5 seconds.
Aston Martin is working on the car alongside Williams Advanced Engineering, a division of the same company which runs the WIlliams Formula One team.

The car's range is said to be 200 miles when using the new WLTP (Worldwide Harmonized Light Vehicle Test Procedure), around 50 miles short of the nearest Tesla equivalent, the Model S 75D, which has a larger 75kWh battery pack.
Aston claims the car can recharge at a rate of 185 miles of range per hour from a regular 400v 50kWh charger, or at 310 miles per hour on an 800V outlet. That second figure is similar to what Teslas achieve when hooked up to one of the company's Superchargers.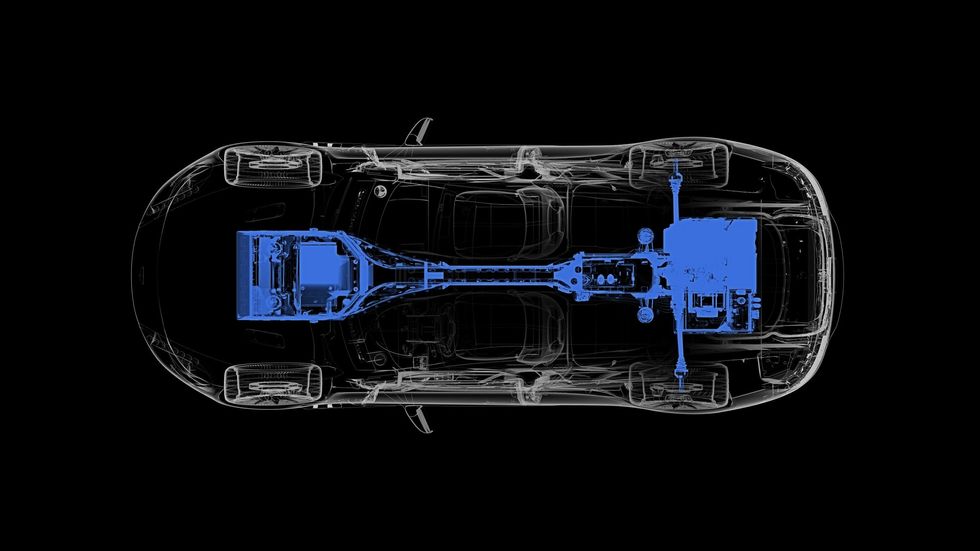 Image shows the basic layout of the Rapide E's drivetrainAston Martin
Because the Rapide E is based on the petrol-powered Rapide, this car should be seen as a halfway house as Aston Martin transitions towards electric. It is not a purpose-built electric car, so fits its battery pack under the hood where the 6.0-liter V12 engine used to be. True electric cars like Teslas and the Jaguar I-Pace fit their heavy batteries in the floor, lowering the center of gravity, improving handling and reducing packaging constraints.
As such, the Rapide E is not going to be a mass-production car for Aston Martin. Instead, just 155 examples will be produced, with deliveries commencing in the third quarter of 2019.
Although the car is being sold to the public, Aston is using the development and distribution of the Rapide E as part of its research into future electric vehicles, similar to what Mini did with its first electric car a decade earlier. The company said: "Uniquely, customers will be an extended part of the ongoing Rapide E programme, with their comments and driving experiences providing an invaluable stream of feedback that will help shape and improve future Aston Martin EVs."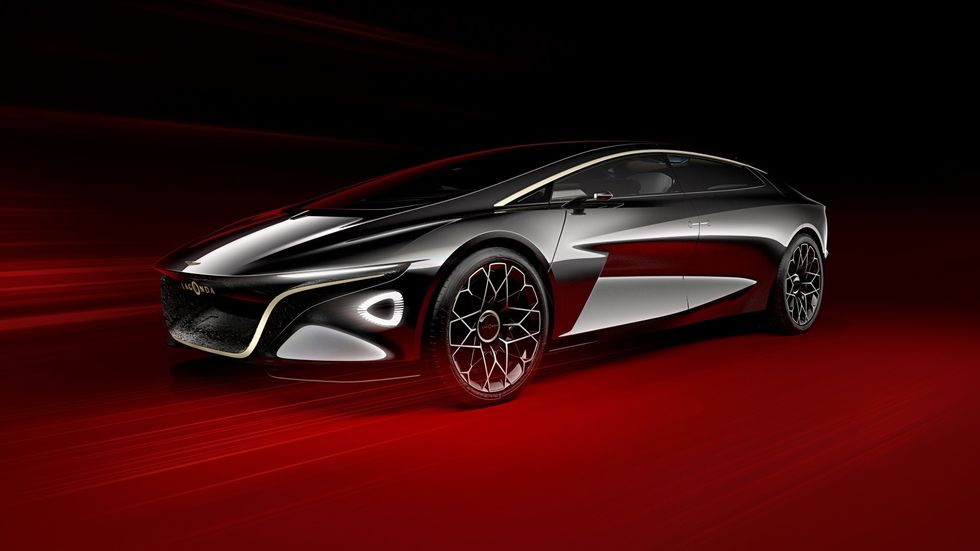 Lagonda-branded EVs are planned for 2020 onwardsAston Martin
These future EVs will include luxury electric vehicles under Aston's Lagonda brand, which will be re-launched over the next decade. The company gave its first glimpse of an electric Lagonda of the future at the Geneva Motor Show earlier this year.
Aston Martin chief executive Andy Palmer said: "Rapide E will fast-track our knowledge and help us ensure the character and high-performance capabilities of our future EV models and enhance the unique qualities found in all Aston Martins as we know them today. Rapide E will also serve as a critical step on our path to re-launching Lagonda as the world's first zero-emission luxury marque".
Like GearBrain on Facebook