Like GearBrain on Facebook
Flying cars have taken a small but important step closer to reality, as Germany lays the foundations to begin testing so-called air taxis produced by Audi and Airbus.
Chancellor Angela Merkel's government signed a letter of intent this week (June 20) with executives from Audi, part of the Volkswagen Group, and airplane manufacturer Airbus. The letter marks the first step towards testing flying vehicles in the skies above Germany.
More specifically, the vehicles will be tested in (and above) the city of Ingolstadt, home of Audi, in a bid to ease congestion on the roads below.
Read More:

Audi and Airbus revealed a prototype flying car at the Geneva Motor Show in March this year. The vehicle comprises a two-person pod which can either sit on an autonomously-driven chassis and wheels, or be lifted into the air by an equally-autonomous quadcopter drone.
Called the Pop.Up Next, the vehicle was described at Geneva as a vision of a "distant future," but one which the German government now wants to be a part of as it moves forward.
"Flying taxis aren't a vision any longer, they can take us off into a new dimension of mobility," German transport minister Andreas Scheuer said in a statement, adding: "They're a huge opportunity for companies and young startups that already develop this technology very concretely and successfully."
Flying cars were surprisingly well represented at Geneva this year, with the Audi/Airbus effort joined by the $400,000 Pal-V Liberty, for which pre-orders are now open. Porsche, a fellow member of the VW Group, also used the show to express an interest in taking to the skies.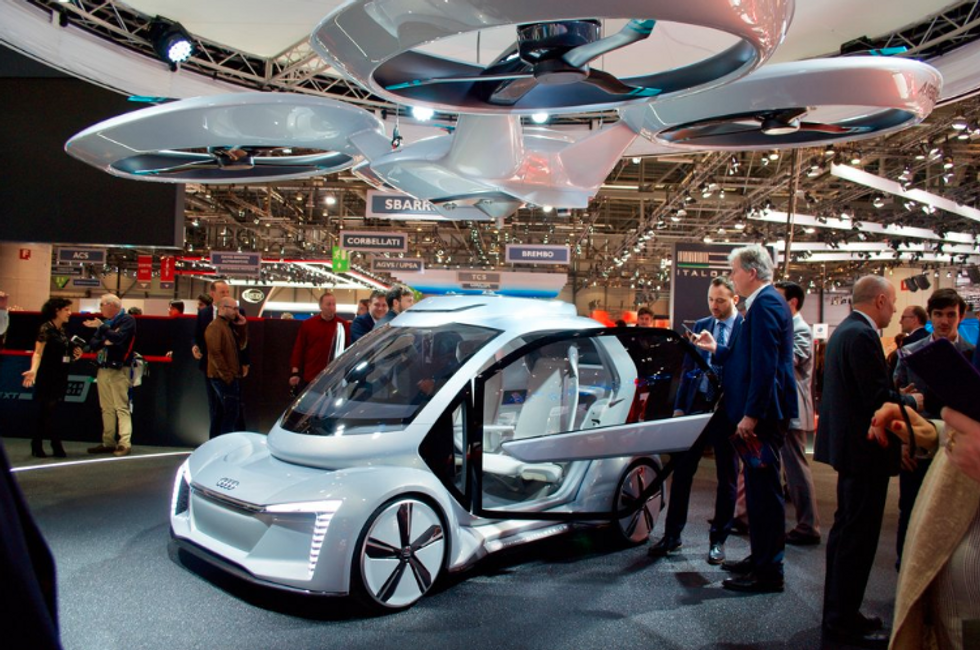 The Pop.Up Next was shown off at the 2018 Geneva Motor ShowGearBrain
Uber is also interested in the flying taxi industry, and claims its Elevate division will offer vehicles to customers within 10 years. Speaking at the firm's annual Elevate conference in January, Uber boss Dara Khosrowshahi said: "There will be people flying around Dallas, Texas. I think it's going to happen within the next 10 years."
The idea for the Audi/Airbus concept is that a lightweight, two-seat pod can be fitted to a chassis with four wheels and autonomous driving technology for regular commuting, or to a quadcopter drone for flying above the city traffic. There are no details yet on speed, altitude or range, but the very fact companies like Audi and Airbus are making such prototypes says a lot about their position on vehicles like this.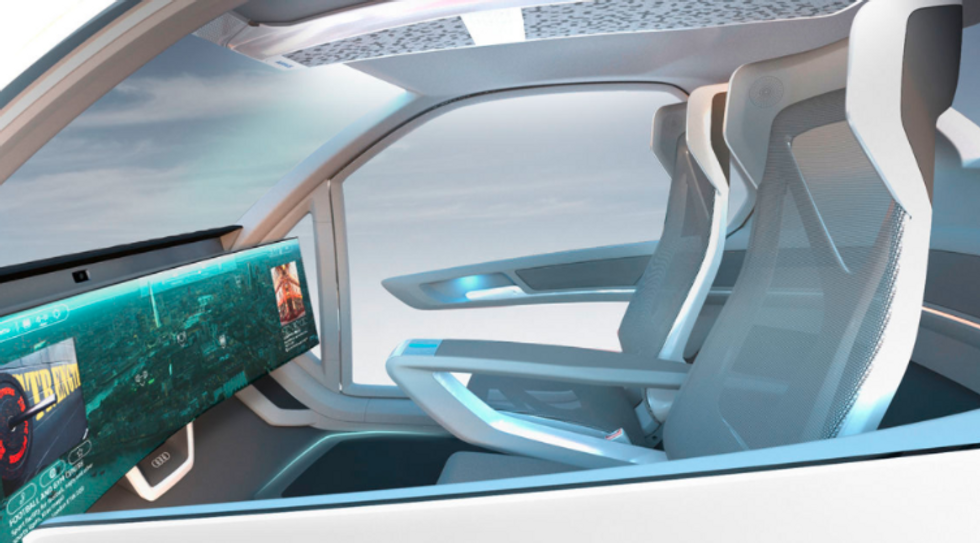 Interior of the autonomous Audi/Airbus vehicleAudi
Inside, there are no driving or flying controls at all. Instead, passengers are presented with a giant 49-inch touchscreen which stretches the entire width of the cabin. The infotainment system also includes speech and face recognition and eye-tracking.
Speaking at Geneva in March, Audi board member Dr. Bernd Martens said: "Creativity is needed where new mobility concepts for cities and people's diverse needs are concerned...Pop.Up Next is an ambitious vision that could permanently change our urban life in the future."
Like GearBrain on Facebook