Like GearBrain on Facebook
Spotify Connect can be used to send music from your smartphone, watch, tablet or computer to a wide range of other devices, like wireless speakers, sound bars, AV receivers, smart speakers and more. There's no need to plug in any cables, go through any syncing or connection process like with Bluetooth speakers, and battery-drain is nonexistent. Instead, as long as the device with the music (likely your smartphone) and the speaker or sound system you want to use are connected to the same Wi-Fi network, Spotify Connect does the rest.
Read More:
If this all sounds familiar, that's because Spotify Connect works in a very similar way to Apple AirPlay and Google Cast. Instead of streaming the music from your phone to the speaker, as with Bluetooth, these Wi-Fi-based systems tell the speaker where to get the music from, which then streams it through its own internet connection.
Most devices require a Spotify Premium subscription ($10 a month) to work with Spotify Connect, although some, like the PlayStation 4, work with Spotify's free service.
Which products work with Spotify Connect?

In short, there are far too many Spotify Connect-compatible speakers and entertainment systems to list here. Chances are, you likely already have one, or even several, in your home.
Select smart speakers and displays by Amazon, Google, Bose, Ultimate Ears, Sony, LG and Sonos are compatible, plus non-smart wireless speakers from all of those, plus Denon, Ikea, Samsung, JBL and B&O.
Many games consoles, televisions, headphones, and AV systems also work with Spotify Connect. For a full list, see this page of the Spotify website.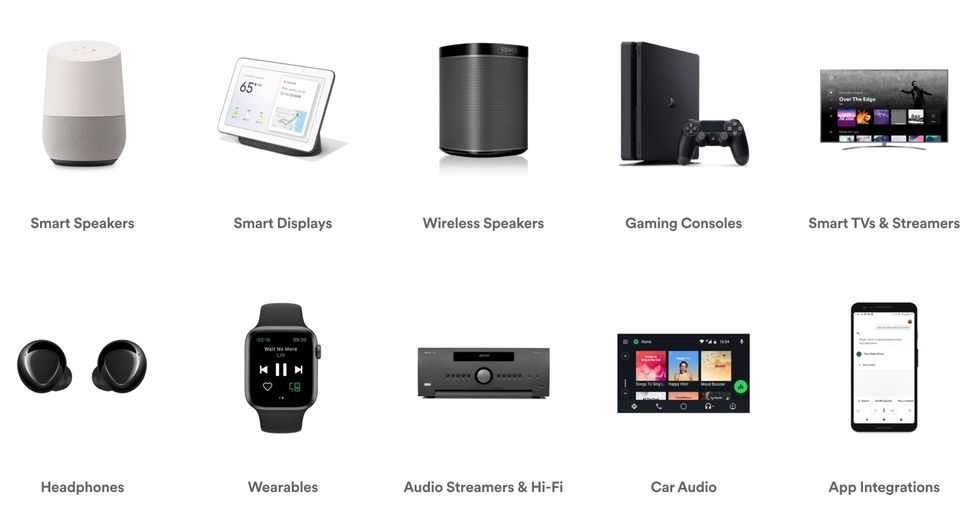 Categories of device that Spotify works withSpotify
Can Spotify Connect work on multiple speakers at once?

Yes and no. You can't send music from your smartphone to both a JBL Wi-Fi speaker and a Google Home at once, for example. But you can send music to the multiple speakers of a pre-configured group, like those created with a Sonos system.
So you can send music through Spotify to every Sonos speaker in your lounge, for example, or even every Sonos across the ground floor, if your Sonos system has such a speaker group configured. But for the most part, Spotify Connect is used to send music from one device, like a smartphone or computer, to one other, like a smart speaker or home entertainment system.
How to set up Spotify Connect

The best thing about services like Spotify Connect, Apple AirPlay and Google Chrome is how they require zero setup. So long as your phone (or computer) is on the same Wi-Fi network as a compatible speaker, you're good to go.
Simply open the Spotify app as normal, hit play on the track, album or playlist you want, then note how the message, "Devices available," appears in the now-playing bar at the foot of the screen. Tap this to expand it full-screen, and then tap on the icon in the lower-left corner that looks like a speaker next to a television.
This expands a panel showing what devices are available to play music on your Wi-Fi network. In my case, I can see a Google Home Hub smart display, a Chromecast plugged into my computer monitor, and a Sonos speaker. Tapping any of these sends the music right to them.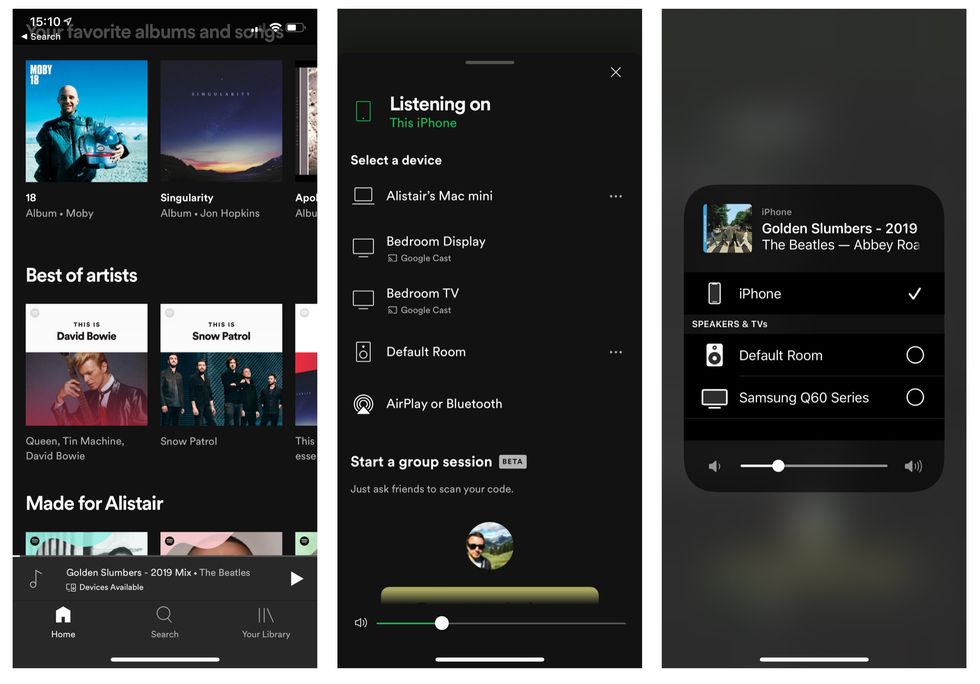 Spotify Connect and AirPlay controls on the iPhone appGearBrain
You will also note AirPlay and Bluetooth are mentioned. Tap there and a new box appears to pick from any such devices nearby. In my case, the Sonos speaker appears again, along with a television that has AirPlay but not Spotify Connect. Any Bluetooth speaker would also show up here.

Because music files aren't being sent from your smartphone to the speaker, Spotify Connect uses far less battery life than Bluetooth, which taxes your phone by streaming data to the connected speaker.
This setup also means the music is unaffected by any other audio played on your phone. So you can still watch the YouTube video you've just been sent, or even play something else entirely, on your phone without the Spotify music on your speaker being disrupted. Phone calls also work as normal.
Using Spotify Connect on multiple devices at once
Another string to Spotify Connect's bow is how easy it makes switching from one device to another. For example, if you are listening to music from Spotify on your phone, then arrive home and open Spotify on your Mac or PC, both devices will appear in each other's available devices lists.
With a tap or click, whatever you were listening to switches from one to the other, and Spotify automatically adjusts the volume of the new device to make the switch as seamless as possible. You can then use either device, smartphone or computer (or smartwatch) to control the music, so matter which the audio is actually coming from.
Sonos Move - Battery-powered Smart Speaker, Wi-Fi and Bluetooth with Alexa built-in - Black
Like GearBrain on Facebook