Like GearBrain on Facebook
Lenovo's smart home devices — from its Lenovo Smart Frame to the new Lenovo Smart Clock Gen 2 with Google Assistant and wireless charging pad— are up to 50 percent off in an early Black Friday sale that's already live on Lenovo's site.
The deals include Lenovo Smart Tab M10 FHD Plus (2nd Gen) with Google Assistant, the new Lenovo Smart Clock Gen 2 with the Google Assistant and Charging Station and the Lenovo Smart Smart Frame,. There are also price cuts on multiple smart displays, with Google Assistant inside too. These deals are live only until they sell out on the site.
Lenovo Smart Clock Gen 2 with Charging Station and Google Assistant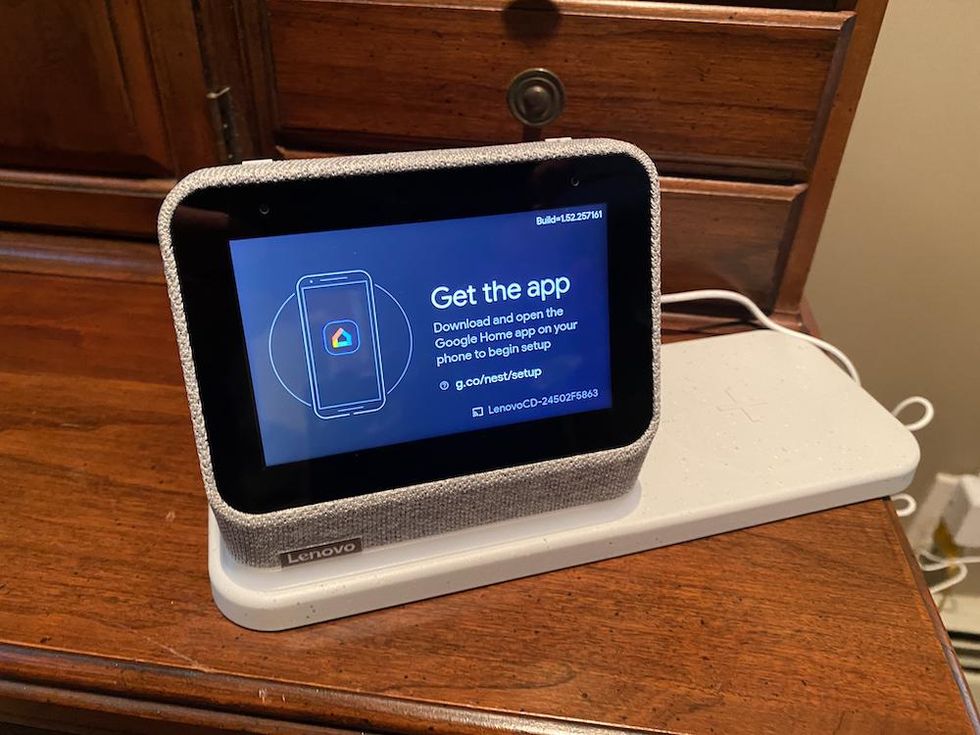 Lenovo Smart Alarm Clock Gen 2 works with Google Home app.GearBrain
The Lenovo Smart Clock Gen 2 is a follow up to Lenovo's popular Google Assistant powered smart clock, Lenovo Smart Clock Essential. This 2 Gen version still has the stripped-down retro look but comes with a wireless charging dock instead of charging ports. This makes it easy for your grandparents to easily charge their smartphones at night. The Lenovo Smart Clock 2 also has icons that are easy to read and features you'd expect in a bedside clock like setting an alarm. But this new version does have extra features like voice commands using Google Assistant, better speakers, 4-inch touch display with ambient light sensors and powerful microphone which you can muted for privacy. It retails for $89.99 when bundled with the docking station.

Lenovo Smart Frame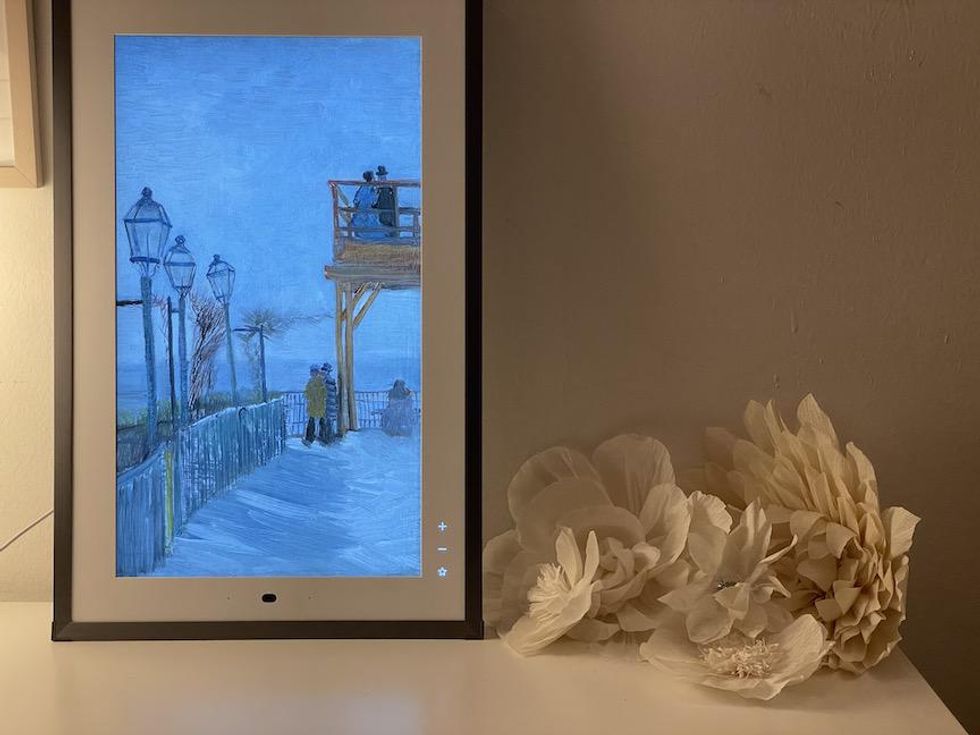 Lenovo Smart Frame is the perfect addition to any smart home wall. www.gearbrain.com
The Lenovo Smart Frame is a giant digital frame for any wall in your smart home. It's easy to setup and has a 21-inch display. If a Google users, you are going to like this smart frame. Just open a Google Photo account and you can start displaying your photos on the Lenovo Smart Frame in seconds. It costs $400, but Lenovo is running a special for Black Friday - $200 off or 50% discount.
Lenovo Smart Clock with Google Assistant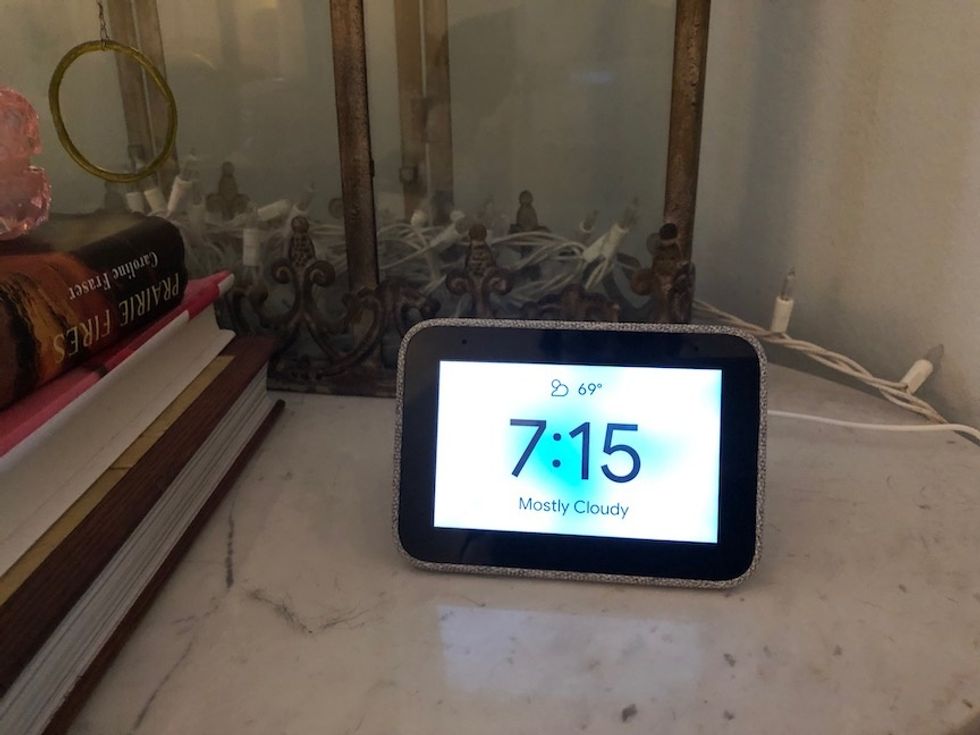 There are 10 different clock faces to choose from on the Lenovo Smart Clock, including one that displays the weather GearBrain
The Lenovo Smart Clock with Google Assistant is the original smart lock from Lenovo. It too has a 4-inch touchscreen, with a back covered in gray fabric. The clock has a speaker, multiple alarm sounds, and lets you control other smart devices from its interface. You can pull up news, weather — and even change the face of the screen. If you don't need a wireless charger next to your smart alarm clock, then this device is a good addition to your bedroom, especially at the price.

Lenovo Smart Tab M10 FHD Plus (2nd Gen) with Google Assistant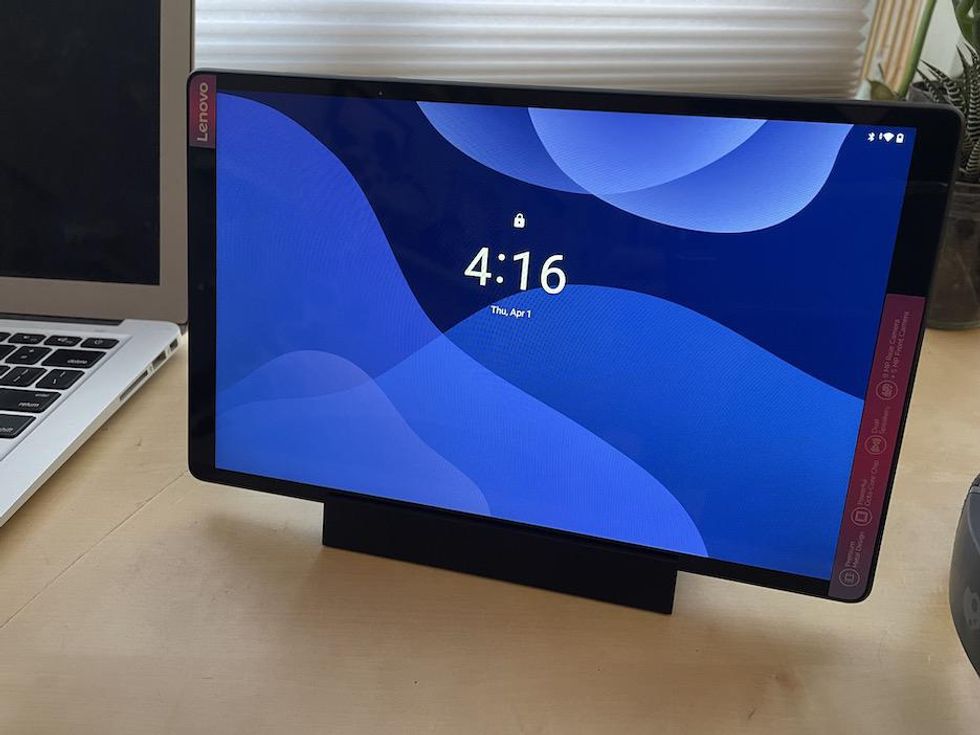 The Lenovo Smart Tab M10 HD tablet can also work as a child's entertainment device Lauren Barack
Lenovo Smart Tab M10 HD tablet is more than a tablet. It is also an Android device that has a 2.3GHz octo-core processor, 4GB RAM and 128GB of internal storage. You also get a microSD slot on the side if you feel you need more, two speakers with Dolby Atmos, two microphones, and an 3.5mm audio jack. You can charge the tablet, on its own, through a micro USB port for charging, if it's not set against the charging port on the dock. What makes this tablet unique is you can use it as tablet, a smart display and a smart home hub to control all your smart devices that are compatible with Google Assistant. Leonovo Smart Tab M10 FHD Plus (2nd Gen) with the Google Assistant costs $179.99 is now $149.99, $30 off (16%).
And if you're looking for other gift ideas that work with Google Assistant, check out GearBrain's 12 Best Google Assistant and Google Home Gift Ideas for 2021.
Check out The GearBrain, our smart home compatibility find engine to see the other compatible products that work with Google Assistant enabled devices.
How to Find Products in The GearBrain, Our Compatibility Find Engine for Smart Devices www.youtube.com
Like GearBrain on Facebook