Like GearBrain on Facebook
The Lenovo Smart Tab M10 FHD Plus with Google Assistant (2nd Gen) is a mouthful of a name, and is one of the larger tablets that work with Google' smart assistant. It works both flat and upright in the dock — which doubles as its charger— which is how we used the device during our testing. It's not exceptionally heavy in the hand, which we noticed when we used the camera. But it just felt more useful in the upright stand.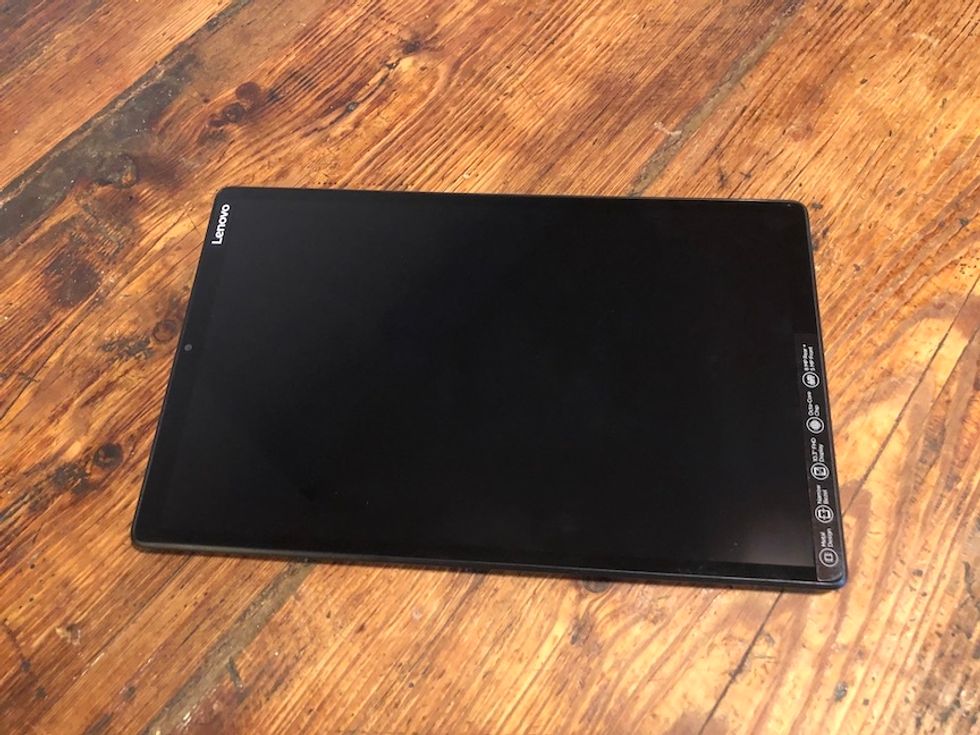 The Lenovo Smart Tab M10 works as both a tablet and a displayGearBrain
Features and details

The tablet is also an Android device that has a 2.3GHz octo-core processor, 4GB RAM and 128GB of internal storage, plus there's a microSD slot on the side if you feel you need more. You also have two speakers with Dolby Atmos, two microphones, and an 3.5mm audio jack. You can charge the tablet, on its own, through a micro USB port for charging, if it's not set against the charging port on the dock.
The 10.3-inch screen is quite big and nice, and it's FHD, full high definition, which means you're seeing a resolution of 1920 x 1080p. That's nice, especially as the Lenovo Smart Tab M10 FHD Plus with Google Assistant has a dedicated YouTube tab you can slide from the left, letting you play music, videos or live YouTube TV if you have an account.
Like with the Lenovo Smart Tab M8, the microphones are key — this is how Google Assistant will hear you, when you ask Google for assistance, and how you'll connect via video conferencing apps.
The tablet does comes with Android 9.0, which is unfortunate as there are tablets you can buy now with Android 10.0 and we couldn't update this as well.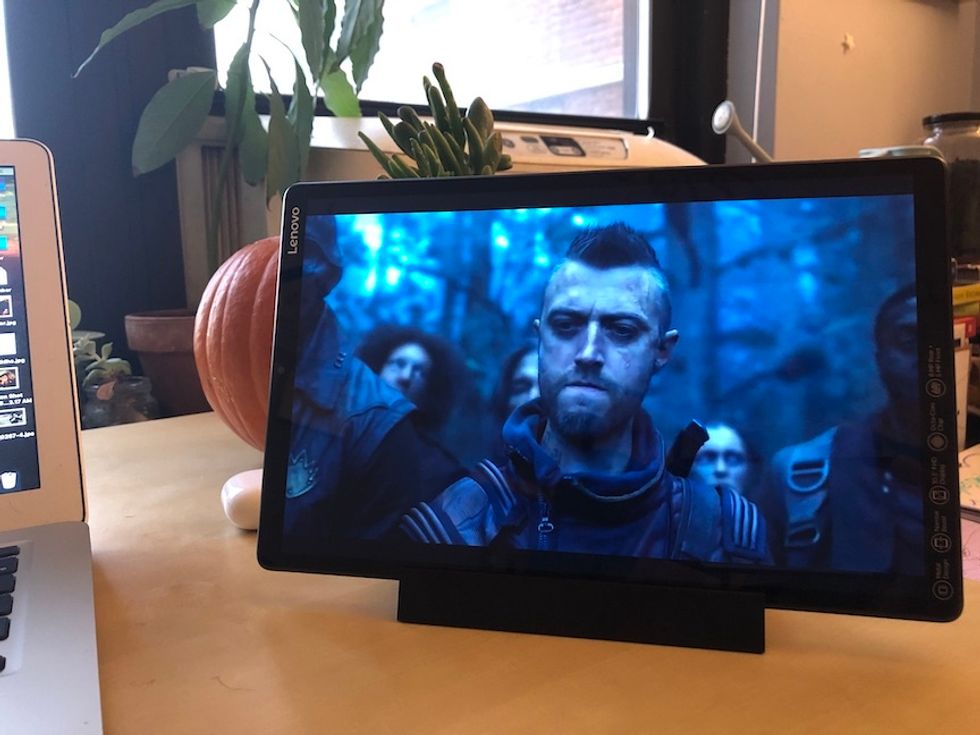 The Lenovo Smart Tab M10 has a remarkably sharp and clear FHD screenGearBrain
Performance

Sound is not going to be what you get from the new Nest Audio, for example, but it's fine if not a bit thin. For regular use in watching quick videos, short news clips and the like, the Lenovo Smart Tab M10 FHD Plus with Google Assistant is going to provide.
We did find the tablet sometimes just a bit sluggish, unresponsive to waking up even with a double tap. Google Assistant sometimes paused before responding as well.
That said the screen is top notch, with colors clear, popping from the screen. Resolution is very sharp, and the screen was very clear — a nice experience watching video on the device.
Cameras
As for cameras you have a rear, auto-focus, 8 MP camera and a 5 MP fixed focus front camera, and they're fine — certainly good enough for video calls and conferencing for work. We did find them certainly not the quality you're going to expect for a family holiday photo, and even the rear camera lacks the sharpness of a smartphone camera as well. But we don't expect anyone is buying the tablet for their photography needs, and as a Google Duo device, for example, it works well.
Do note there isn't a physical shutter here to lock the camera out if you choose, nor a way to mute Google Assistant. But, creating an always on for Google Assistant is actually a bit complicated (which we'll discuss below) and you actively need to set Google's voice assistant into listening mode, so a mute button is really not needed here.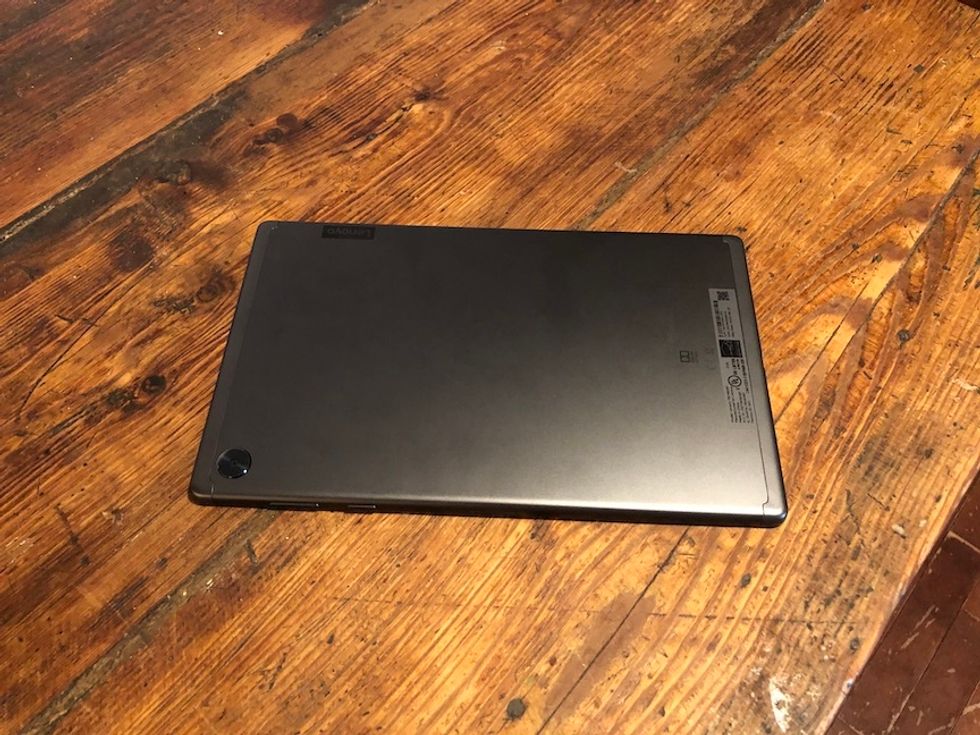 The Lenovo Smart Tab M10 has a 8 MP camera on the backGearBrain
Battery

Let's talk about charging. The 5,100 mAh battery is solid — and if you're using the Smart Tab M10 on the dock, you'll almost never have to test its staying power. Battery life, in the default mode, is also helped by a quick to dark mode. You can increase the time that screen stays on through the settings, which will task the battery more. It's also something we recommend if you're going to want to use Ambient Mode.
As we mentioned, you can charge the Smart Tab M10 through a micro USB port on the side, or just docking it into the stand. You'll not only hear a satisfying click when it's connected correctly, the tablet will also play a slight chime so you know it's stable and charging.
Size
The size of the Smart Tab M10 is right in the name. This is a 10.3-inch screen, about the same size as the Yoga Smart Tab with Google Assistant we recently reviewed, but a shade bigger. You also have a stand to contend with here, as the Yoga Smart Tab could be pitched a bit with a lean through its kickstand. The Smart Tab M10 is really more of a display.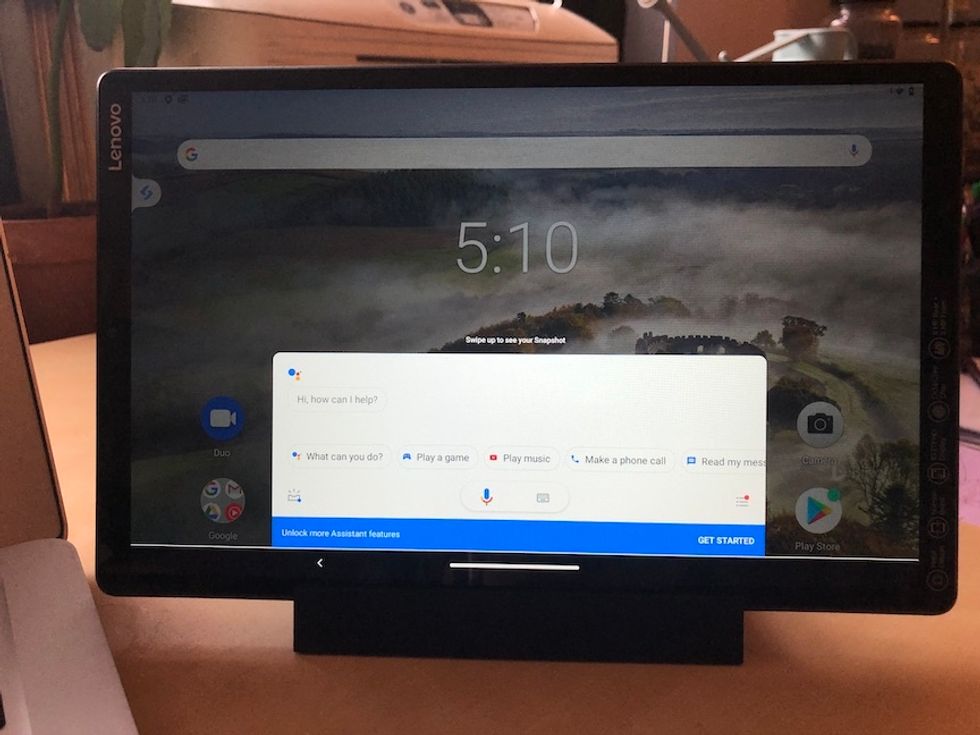 Ambient Mode can turn the Lenovo Smart Tab M10 into a smart home displayGearBrain
Google Assistant

With the Lenovo Smart Tab M10 FHD Plus with Google Assistant you're getting a tablet that uses Google Assistant as a voice operator. But one of the key features is something called Ambient Mode, which means when this setting is on under the Assistant tab, personal results will show up on the main screen when the tablet is docked. Reminders, weather for your location and such will be visible.
But to set up Ambient Mode, which is not the default setting when you first get the new Smart Tab M10, is a bit of a hurdle, enough that we outline in a separate piece how to put that feature into place. Without it, you cannot just call out to Google and ask for its help.
There are additional settings you'll want to put into use as well to truly turn the tablet into more of a smart home hub, including Double Tap to Wake and Raise to Wake, plus potentially increasing the time before the screen goes to sleep. Google Assistant cannot hear you if the Smart Tab M10 is asleep. So you're not going to be able to call out to Google from across the room and ask it the weather without the screen on.
The Smart Tab M10 also is TUV certified, which is a German certification, and means some of its design focused on helping with eye strain caused by blue light, whether that's something you're concerned about or not.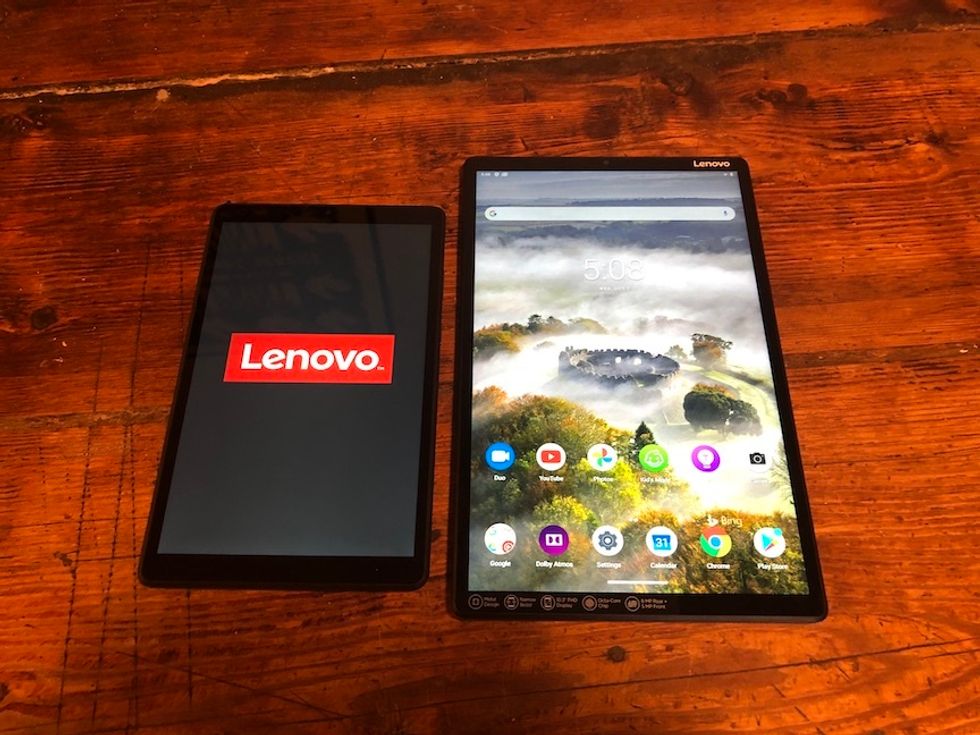 The Lenovo Smart Tab M10 (on the left) compared in size the the M8 (on the right)GearBrain
Price

The Lenovo Smart Tab M10 FHD Plus with Google Assistant (2nd Gen) is $269.99 for the 128GB version. You can pick up less expensive versions with 32GB for example, which we've seen for $169.99.
Worth buying?

The Lenovo Smart Tab M10 FHD Plus with Google Assistant (2nd Gen) is a $270 device that can work as both a tablet and smart home display. It's got a great screen, a quick tab for YouTube on the left, and all the features you'd expect from a basic tablet. It's unfortunately not upgradable to Android 10, and I did find it a bit slow in its response at times.
But the real selling point though is as a potential smart home device, by activating Ambient Mode for Google Assistant. Doing that, you have a $270 display that can double as a video conferencing tool, a smart home controller and a hub for your Google accounts. This is, of course, similar to what the Smart Tab M8 can accomplish as well, although what you're really getting here is a better, and bigger, screen, and substantially more memory, for about $170 more — which you'll have to decide if that makes it worth the upgrade or not.
For those who plan to use the Smart Tab M10 as a display, and one that not only connects to Google Assistant, but is one you'll use to watch video content or tap into for video conferencing, we think the upgrade is likely worth it.
Pros:
10.3-inch display
Screen is sharp, clear and colors pop
Integrates well with Google accounts and Google Assistant
Cons:
Cameras are average
Sometimes a bit slow in its response
Android 9
Like GearBrain on Facebook