Even in 2021 Google Assistant continues to be one of strongest voice assistants, able to serve up the weather — but also the link to controlling tons of smart products from speakers to your kitchen over. These gift ideas integrate Google's smart assistant, either because it's actually baked into the device ("Hey Google…) or because Google Assistant can link up and control these products in your smart home or office.
For anyone on your list who is a Google Assistant fan, or someone who may be intrigued about how voice assistants can make a difference in their life, these 12 (plus 1 extra!) suggestions are a great place to start this holiday season, with someone that will work with anyone's budget.
Google Nest Doorbell - $50 off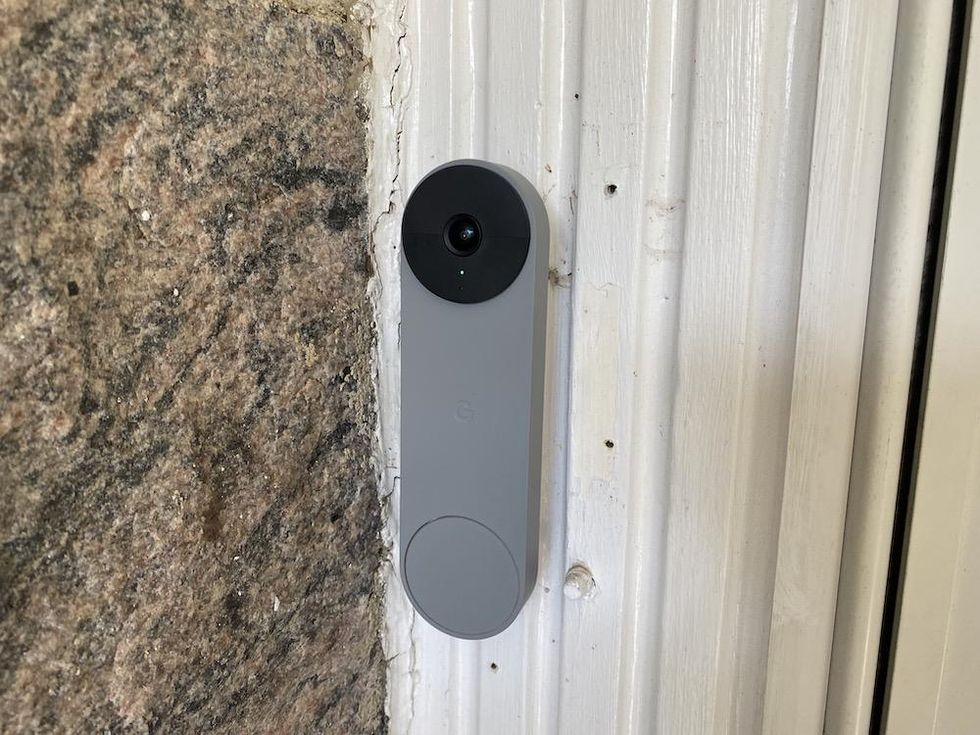 Good Nest Doorbell (Battery)GearBrain
If your Google friend has a home, a good smart video doorbell to get this year is the new Google Nest Doorbell. This new battery powered smart video doorbell comes with all the expected features you need in a video doorbell to secure your front or backdoor. It's easy to install and comes with a 1.3-megapixel color sensor, PIR (Passive Infrared) motion sensor, 6x digital zoom capabilities, a 145-degree field of view (FOV) and 3:4 aspect ratio. The 3:4 ratio is perfect since you don't have to tilt your smartphone to get a full glimpse of the person at your door. This view allows you to see the visitor from head to toe on your screen. It costs $179.99 but you can get $50 off this holiday season. This doorbell also comes in four colors (Ash, Ivy, Linen and Snow) and available on Best Buy, Walmart, ABT Electronics and other electronic outlets.
Google Nest Cam (Outdoor or indoor, battery) - $30 off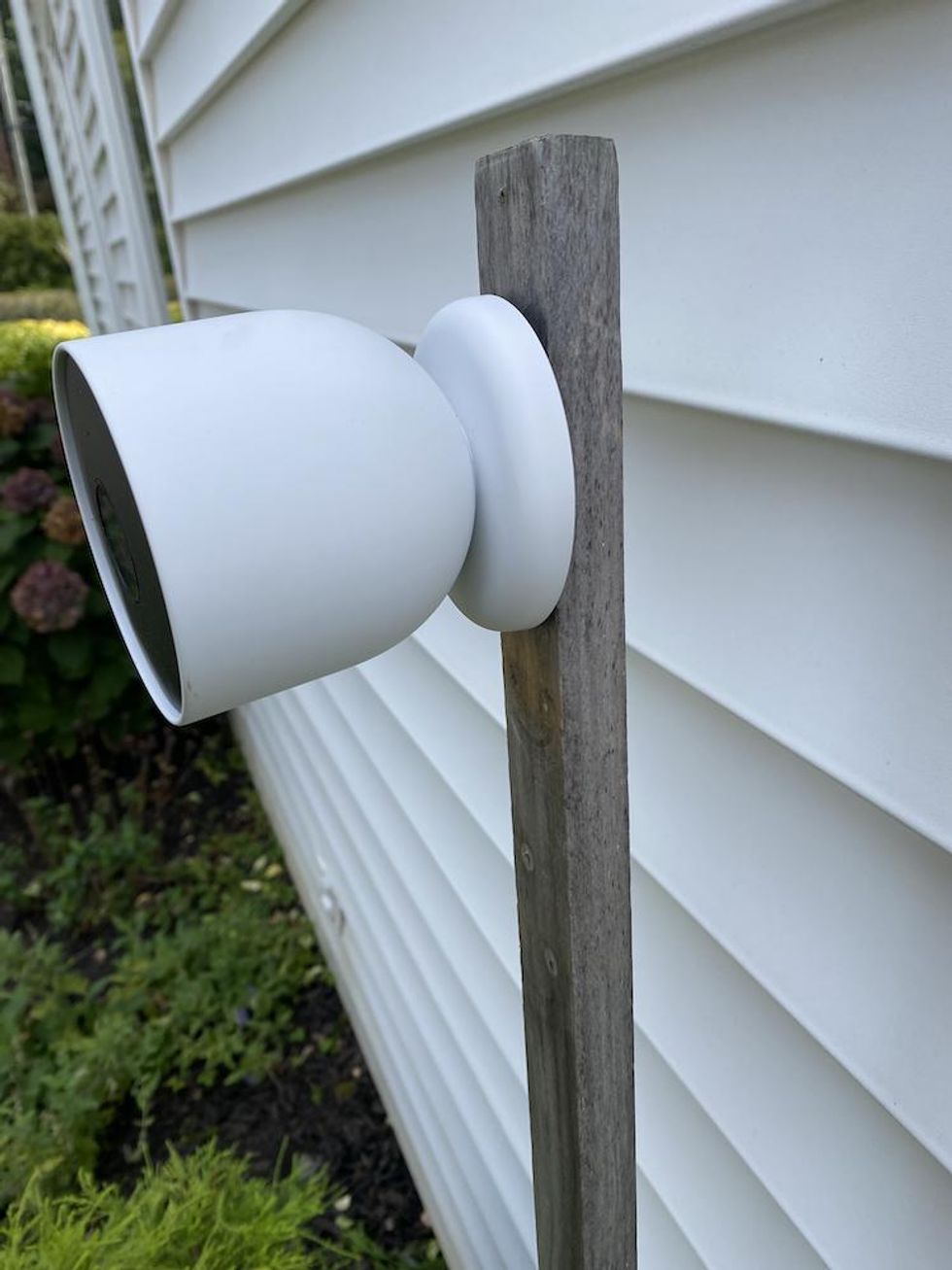 Google Nest Cam comes with strong magnetic mounting bracket. GearBrain
If you are looking for a good smart security camera, compatible with Google Assistant and can be use either inside or out, you have to checkout Google's new Nest Cam (Battery). Its a battery powered smart security camera that works on a Wi-Fi connection and has 1080p video quality, clear night vision, 130 degree field of view, two-way talk and HDR, a feature which can help you see in the bright sunlight or middle of the night. It can be used inside if needed. What makes this camera unique is its mounting capabilities. The new Nest Cam has a magnetic mounting base which can help you easily find the perfect viewing angle to point your camera for optimum viewing. The new Nest Cam costs $179.99 but for Black Friday (starts November 18th) it will be on sale for $149.99, a $30 savings.
Google Chromecast with Google TV - Get $10 off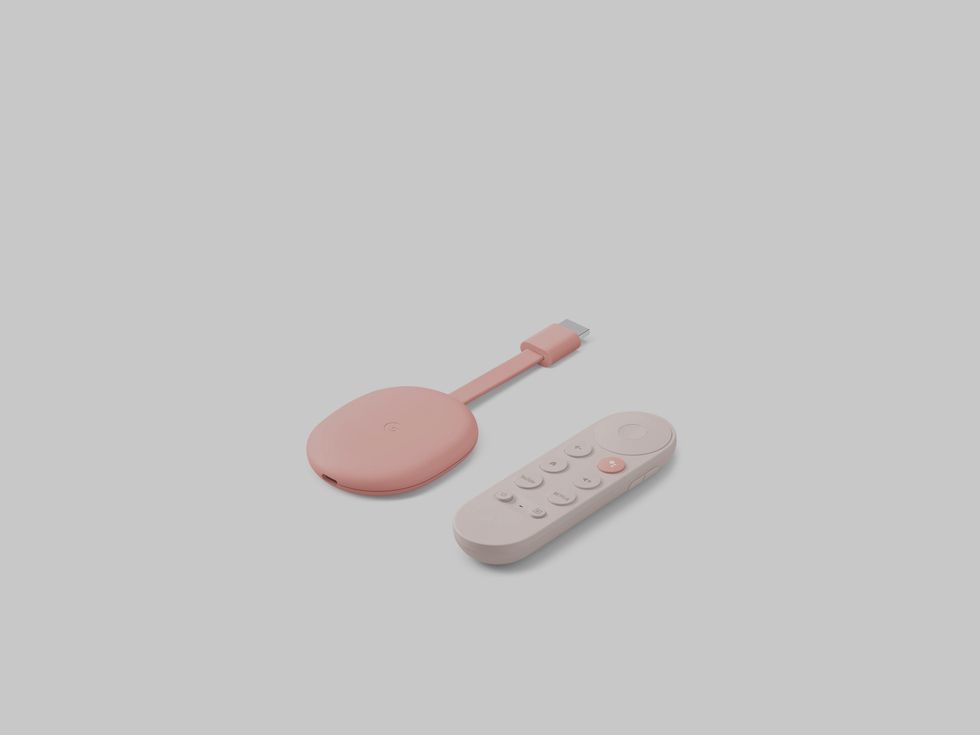 The new Google Chromecast includes a remote for the first timeGoogle
The new Chromecast with Google TV immediately connects to most streaming services, from YouTube (owned by Google), Netflix and HBO Max, to Disney+ and more. It plugs into your TV's HDMI port, and sports HDMI pass-through of Dolby audio content. It's the first entry device to show off Google TV, a new system that is designed to help organize the way you search and find content to watch.

New to Chromecast is also a remote control, with a dedicated button for Google Assistant meaning you can pull up shows and search via voice. And of course since you have access to the voice assistant you can use it to access other information, including devices you have installed in your home. The remote also has a dedicated button for YouTube and Netflix as well. The new Chromecast comes in three colors including snow, sky and sunrise, and a deep pink. It retails for $49.99 but you can get $10 off ($39.99) during Google's Black Friday sales event which has already started for 2021. It's available on Best Buy, Google Store, The Home Depot and Walmart.
Nest Audio - $40 off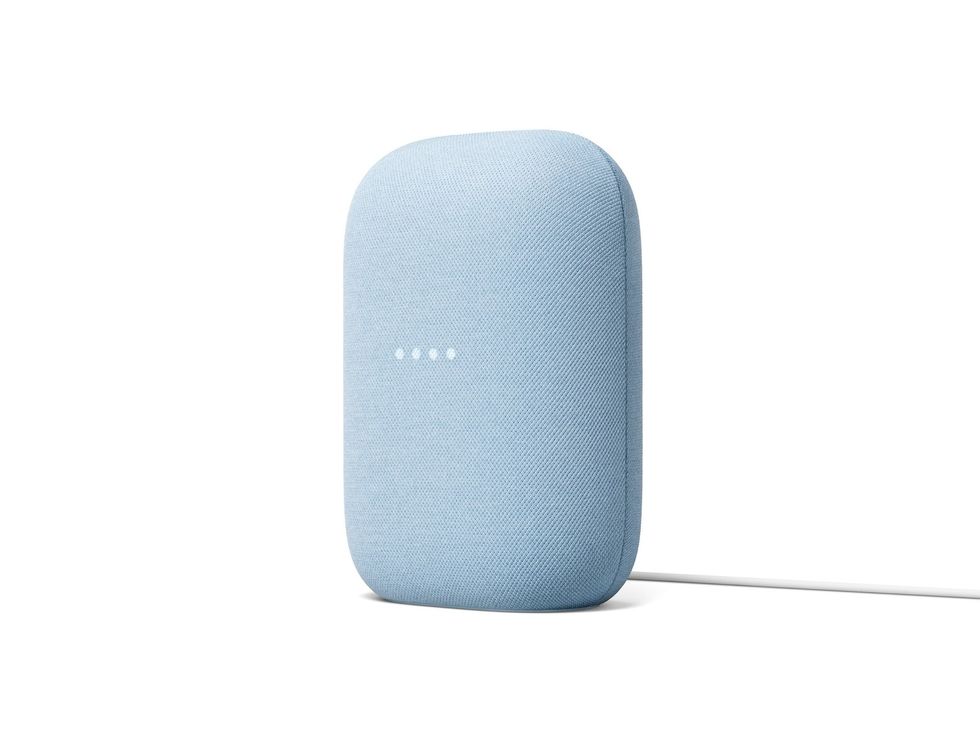 The new Nest Audio is just $99.99 and has 50 percent more bass that the original Google Home smart speakerGoogle
The Nest Audio has a squared off, oval shape, stands tall, and is covered in the muted fabric colors we've grown to expect from Google, including chalk, charcoal, a sky blue, green sage and a sand pink. The smart speaker has 50 percent more bass and 75 percent more volume than the original Google Home.

Nest Audio will also integrate into the existing Google smart home speaker system, meaning you can shift music from the Nest Audio to others in your setup just by asking, "Hey Google move the music to the living room pair," or "Hey Google, move the music to the whole home group." Of course Nest Audio will work as a smart home speaker, and connect to devices through the Google Home app and also Google Assistant.
It costs $99.99 but for the holiday shopping season, Google is taking $40 off during the holiday shopping season.
Lenovo Smart Clock Gen 2 - $30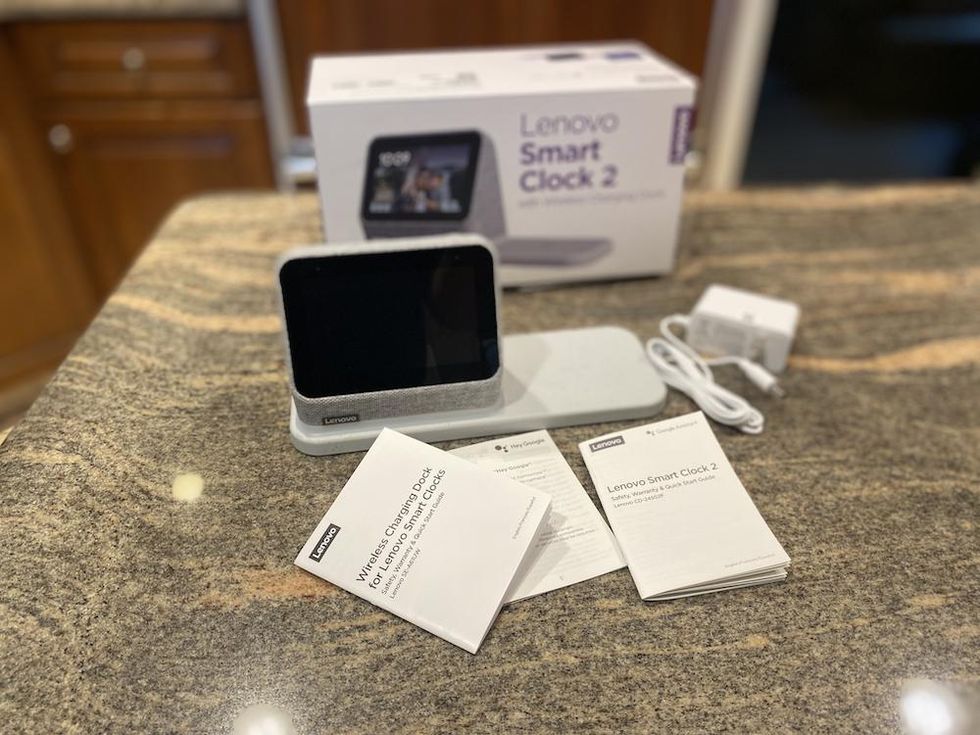 Lenovo Smart Clock with Google Assistant and docking station.GearBrain
The Lenovo Smart Clock Gen 2 is a follow up to Lenovo's popular Google Assistant powered smart clock, Lenovo Smart Clock Essential. This 2 Gen version still has the stripped-down retro look but comes with a wireless charging dock instead of charging ports. This makes it easy for your grandparents to easily charge their smartphones at night. The Lenovo Smart Clock 2 also has icons that are easy to read and features you'd expect in a bedside clock like setting an alarm. But this new version does have extra features like voice commands using Google Assistant, better speakers, 4-inch touch display with ambient light sensors and powerful microphone which you can muted for privacy. It retails for $89.99 when bundled with the docking station. It's available on Lenovo website for only $59.99 today. You can also buy it on Best Buy for $69.99 or on Walmart for only $89.
Read our review of Lenovo Smart Clock 2 with Wireless Charging Dock here.
Google Nest Hub (2nd Gen) - $50 off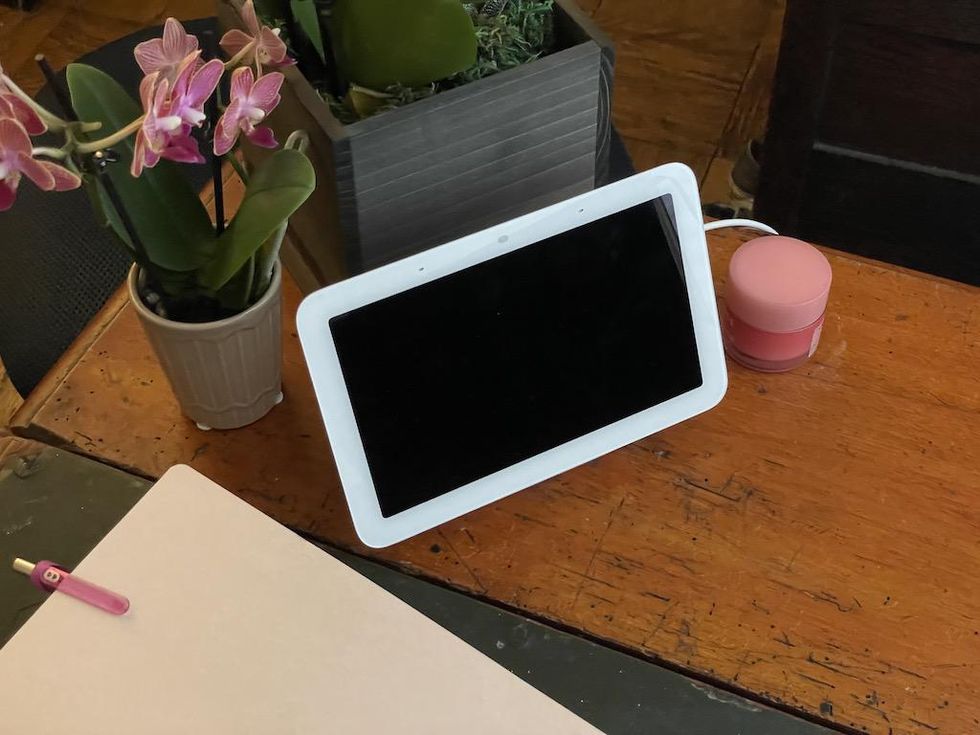 The Nest Hub 2nd Gen will bring some new features to your display including quick gestures and motion control GearBrain
Google's new smart display, Nest Hub (2nd Gen) is a solid, well designed smart display that can be an efficient personal and home manager. It comes with the new Sleeping Sensing feature to help you learn more about your sleeping habits. It tracks how long you slept as well as how well you breathe through the night. The Sleep Sensing feature is the same found in a Fitbit (which Google purchased last year.) The new Nest Hub (2nd Gen) costs only $99.99 but for Black Friday, this 2nd Gen smart speaker display will be on sale for only $49.99, $50 off. It's available on Google Store, The Home Depot and Best Buy.

Lenovo Smart Tab M8 - $30 off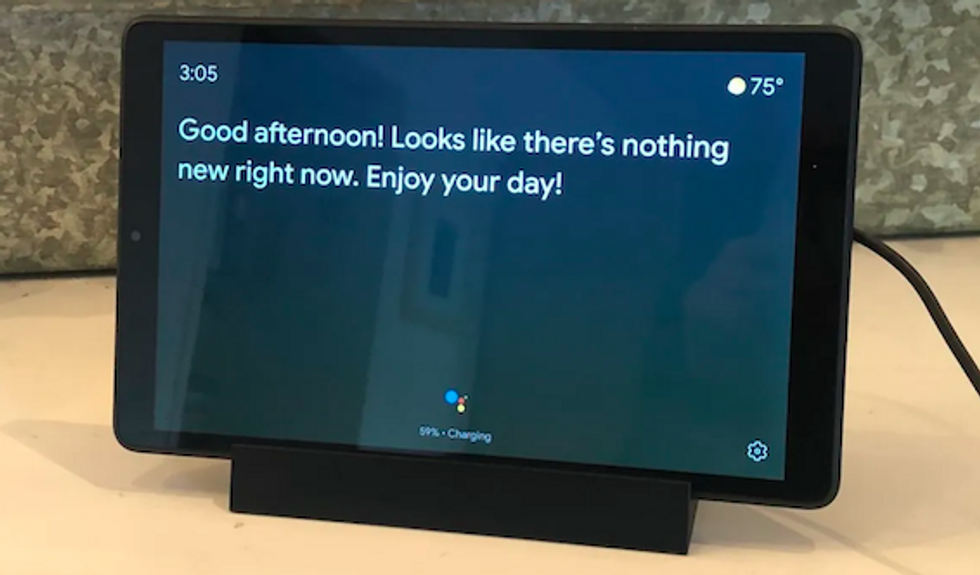 The Lenovo Smart Tab M8 is perfect for anyone who also loves watching YouTubeGearBrain
For any pal who loves YouTube, this 8-inch tablet works with Google Assistant and is so fun you may be tempted to get one for yourself. Spending as much time as we have this year online, having a second screen is a real luxury, and this gift is one you can give your best friend for just $100. Even better, the Lenovo Smart Tab M8 comes with a nice stand which means you can have it sit on table, desk or anywhere you want, like the kitchen where your pal may be whipping up a delicious holiday treat for you this year.

Google Nest Mini - 50% off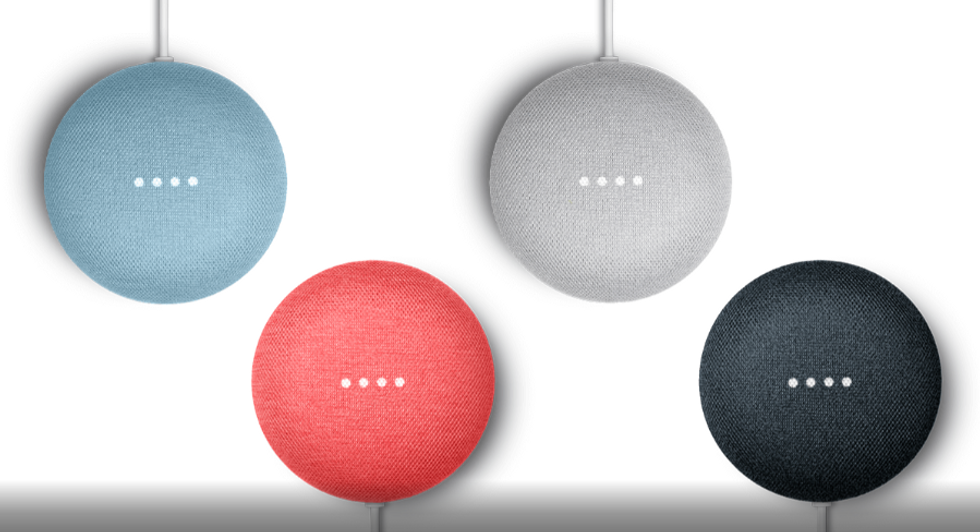 Pick up a Google Nest Mini for just $24.99,this holiday seasonGoogle
The Google Nest Mini is the perfect starting point for anyone curious about how Google Assistant can work in their life. It's small, it's extremely colorful and it's very affordable as a holiday gift. It normally costs $49 but is on sale this holiday season for only $24.99.

These small round drops are covered in fabric, in colors ranging from charcoal to sky blue and a coral pink. Four lights on the top let you know when it's listening to you, and Google Assistant can chat back or even stream content from YouTube to HBO Now.
Google Nest Mini Stands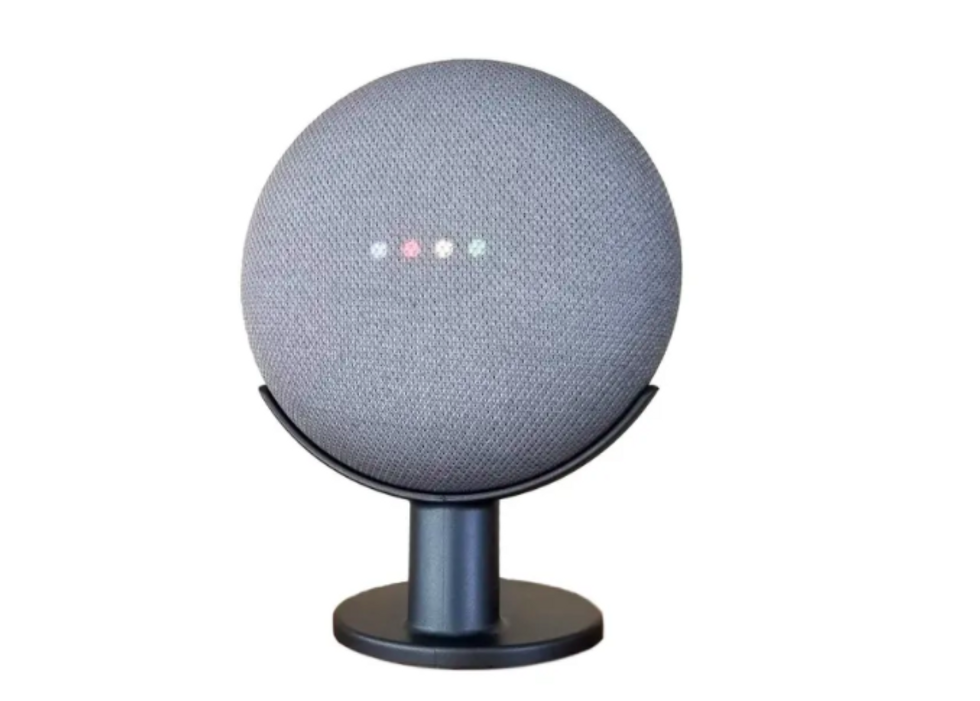 Add a cute stand for a Google Home Mini to round out your holiday giftMount Genie
Feel like splurging a bit? Consider picking up a stand for the Google Nest Mini, which can elevate (literally) this tiny speaker into a small footprint. Some Google Nest Mini Stands can be used to hand the Mini on a wall, plug directly into a socket, or stand up on a desk, like this cute Mount Genie Pedestal, which is also just $10.
Roborock S7 Robot Vacuum -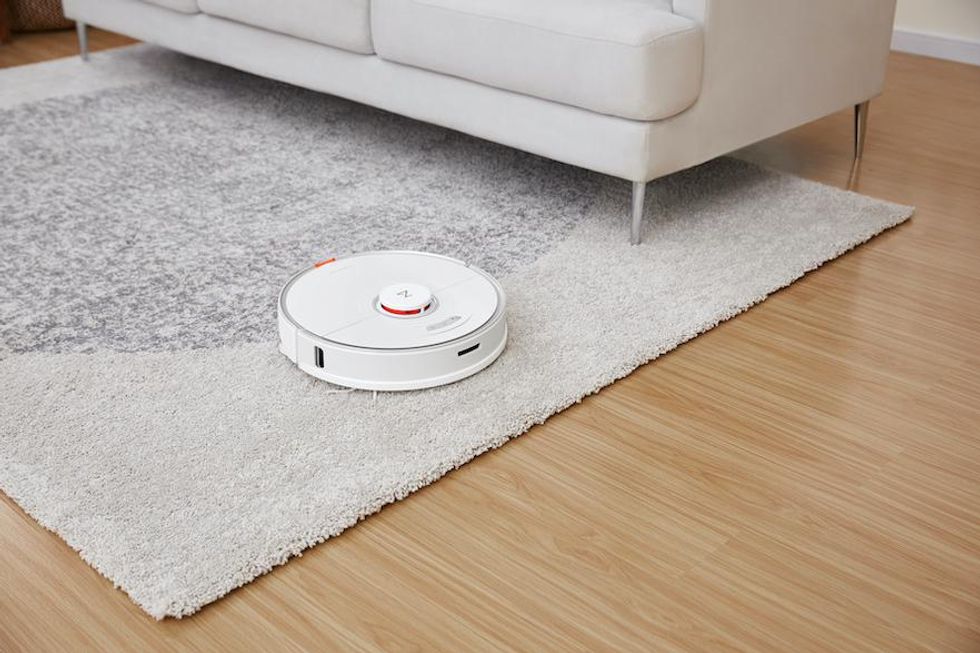 Roborock is releasing its new S7 robot mop and vacuum in March Roborock
If looking for a hybrid mop and vacuum that works with Google Assistant enabled devices and can easily pickup dirt and pet hair, the Roborock S7 is one to consider this holiday season. It's a powerful robot vacuum that can mop and vacuum your floors. It comes with a child safety lock, powerful suction and a clean design. You can easily control it with any Google Assistant smart display or speaker. It costs $650 and is available at Amazon and Walmart. (Read GearBrain's Review on Roborock S7 for more in-depth information.)
And if you want to spend a little more money on a 3-in-1 robot vacuum that can mop, vacuum and auto-empty the dust bin, you might want to check out Roborock S7+. It does all the things the Roborock S7 can do but comes with a auto-empty dock that can store up to 120 days of dirt. It costs $949..98 but is on sale during the holiday season for $759.99, 20% off or $189.99 on Amazon.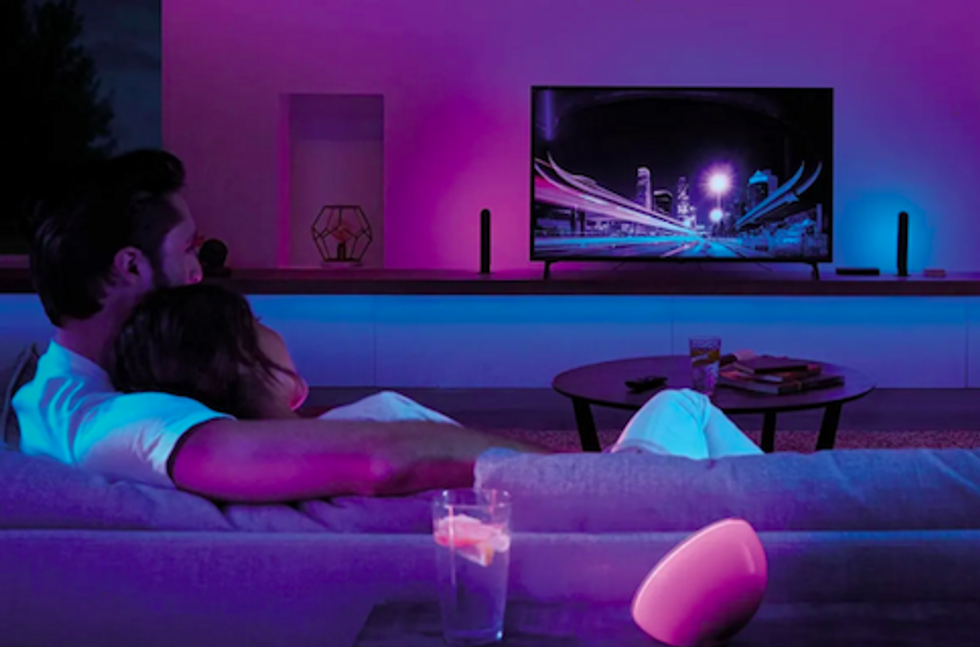 You can sync your Philips Hue lights to whatever you're watching on TV with the $230 Sync Box Signify
The $230 Philips Hue Sync Box treats people to a fun and impressive addition to their home by syncing the lights around this device to whatever is playing on their TV. You can adjust the brightness, pick from three modes (video, music and game), and select one of four intensity levels ranging from subtle to extreme.

Plus, the device can be controlled by speaking to Google Assistant, and works with anything plugged into a TV using an HDMI cable. That means video game consoles, streaming sticks, satellite boxes, Blu-ray players, and anything else where someone consumers media. And yes, it's great for gamers too.
Nest Wifi - $30 off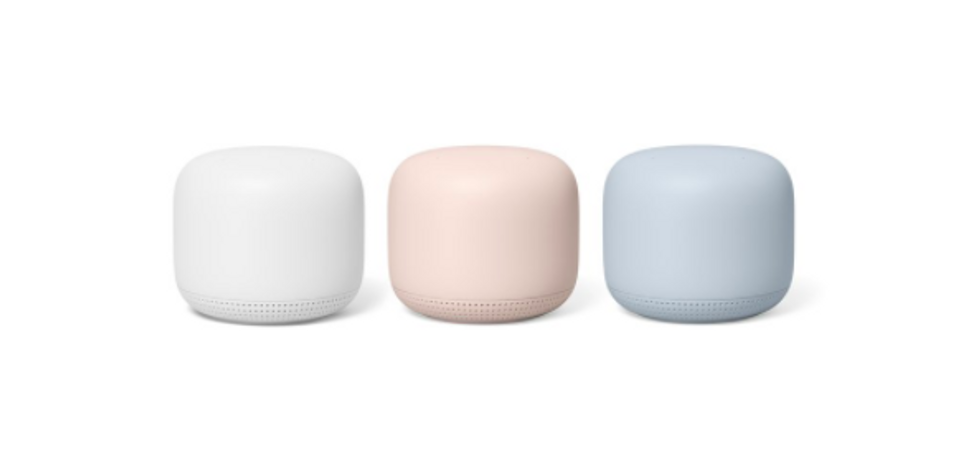 Just a single Google Nest Wifi router can cover 2200 feetGoogle
Nest Wifi is another Google product, a mesh Wi-Fi system that uses a main router, and a second mesh point to extend the range of Wi-Fi in a living space. You can pick up additional points, but the initial kit contains the main router and two points for $349, or just one single router for $169 which is designed to cover 2200 feet. These devices are marshmallow white cute, round and pudgy, and easy design-wise on the eye.

An even better perk? Your Nest Wifi also works as a Google Assistant smart speaker, like the Google Nest Mini, able to play back music from all the content providers the smaller speaker works with too.
For the holiday shopping season, you can now get $30 off Nest WiFi ($139) and $100 off Nest WiFi router and two points ($249) on Best Buy, Walmart and Google Store.
And after you've wrapped their gift, consider adding a little Getting Started with Google cheat sheet like the one we've put together for you below.

Google Assistant and Google Home Getting Started Guides:
Check out The GearBrain, our smart home compatibility find engine to see the other compatible products that work with Google Assistant enabled devices.
How to Find Products in The GearBrain, Our Compatibility Find Engine for Smart Devices www.youtube.com