Like GearBrain on Facebook
The new Lenovo Smart Clock Essential is a walk back in time, a return to simple bedside devices that divulged basic details in square, blocked-off LED numbers. They're easy to read, and deliver just enough information to get you out of bed in the morning. This new Google Assistant device of course, is the streamlined version of Lenovo's original Smart Clock — albeit minus the touchscreen display. We spent a few days seeing how the device worked, which is now available for sale online.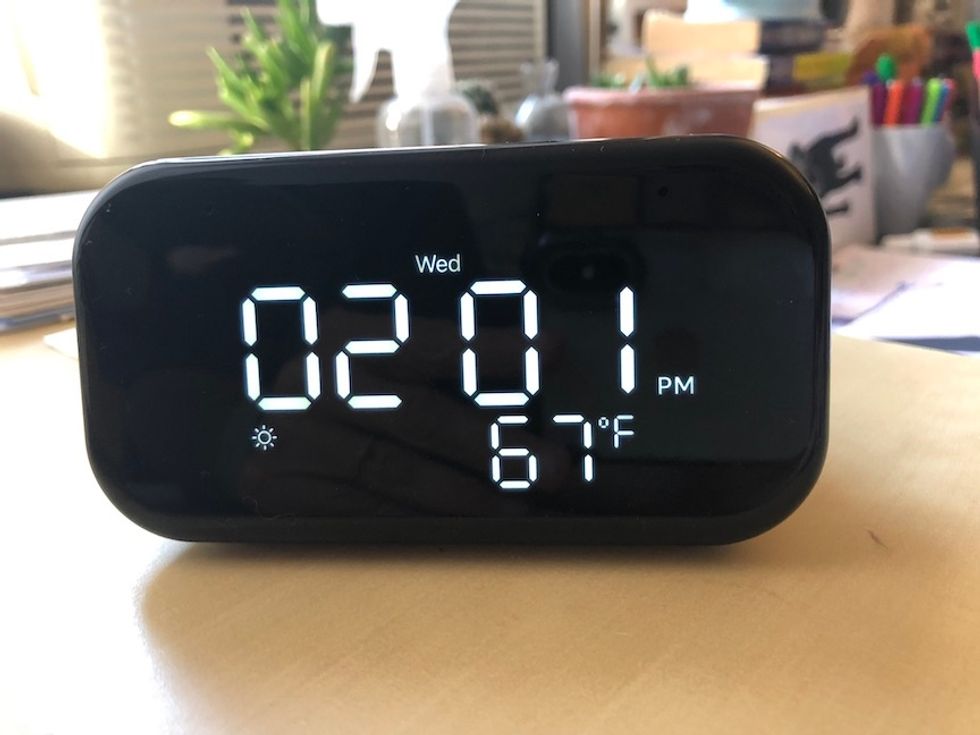 Rather than a touchscreen, the Lenovo Smart Clock Essential features LED images on its displayGearBrain
Design

The Smart Clock Essential is small and lightweight, with a back that's shaped like square funnel, covered in gray fabric. The display is not touch-enabled, but a flat, black screen with flashing LED characters that show off the time, the day of the week and the current outdoor temperature. There are also icons that show a bit of the weather, a sun for sunny, clouds with a few drops of rain, for rainy and so forth. There's a little icon that shows up if you set the alarm. Those details are personalized through your Google Home app, and connect to your Google account as well.
Because you're not getting a touchscreen, there are buttons to control some of the features including two to change the volume, one to play and pause music, and one to change the time. (Very retro.) You also have two microphones built in to the device, with a speaker in the back. I was impressed at how well those microphones worked. I placed the Smart Clock Essential next to a very (very) old and loud air conditioner, and it picked up my requests easily.
Also at the very back is a power jack, a USB connector (so you can use the clock as a charger) and a slider for privacy, which mutes the microphone making Google Assistant unable to hear you. You'll also see that as a microphone with a line across it on the display if you've activated this.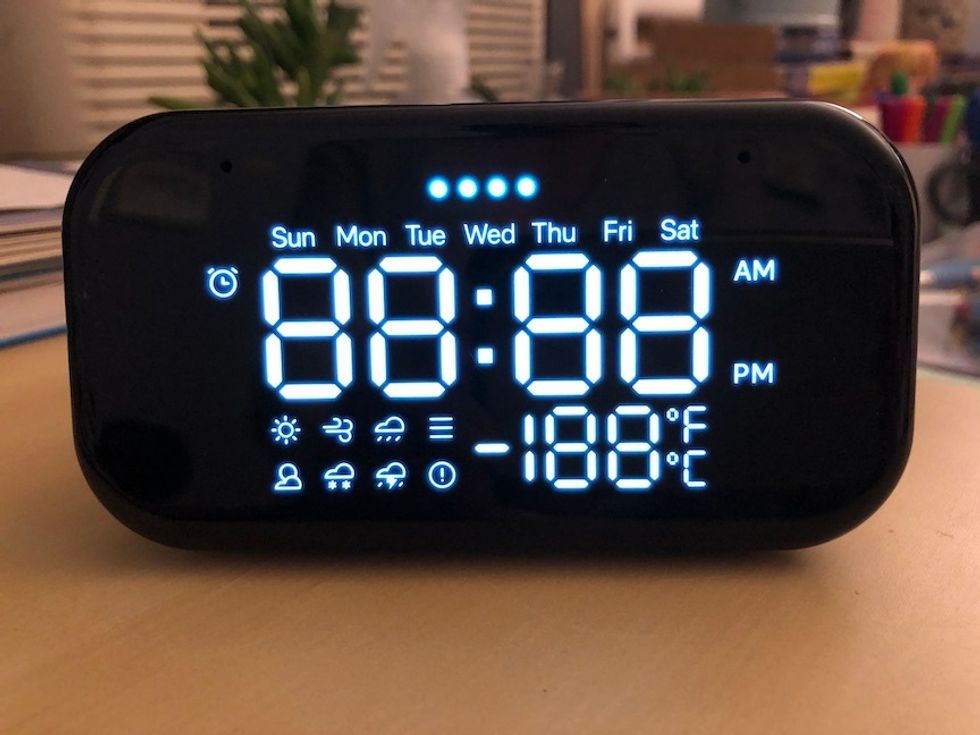 Don't throw away the manual for the Lenovo Smart Clock Essential GearBrain
Set up

The Smart Clock Essential is incredibly simple to set-up. It was alarming to see all of the LED pieces light up the minute I plug it in. But once I connected to the Google Home app, it was fine. Except, this was that one device that you need to check into the instruction manual to make sure you know how to operate it.
While the features can be set up via Google Assistant, if you want to manually use the nightlight, or set the alarm, you need to pus the various buttons on the top of the clock. And having that manual is key. So don't toss it.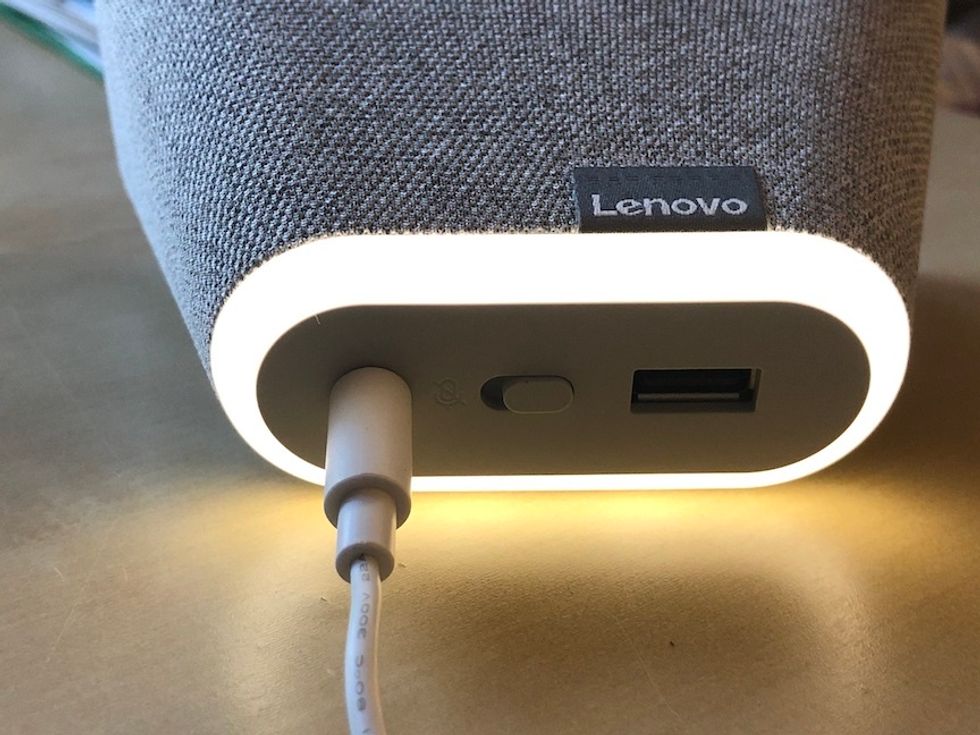 The Lenovo Smart Clock Essential has a nightlight you can turn on just by asking aloudGearBrain
Features

This is a very, simple Google Assistant device. That means you can set an alarm, turn off an alarm, snooze, and bring up various details you normally can do with any Google Assistant-enabled product. When you speak to Google Assistant, all four lights on the front light up.
You can play music on the device (default is going to be YouTube Music, of course) but this is not the speaker you want for primary music. It's flat, tinny and fuzzy. That's fine for waking you up in the morning, but frankly your computer is going to push out better sound.
Google Assistant also lets you snooze your alarm for 10 more minutes, and increase the volume of that chime as well. In fact, I found all of basic features from setting an alarm to snoozing, very easy to use on the clock.
Another one of the features for the new Smart Clock Essential is a nightlight — which you can bring up via Google Assistant or by pushing down, and holding, the volume down button. The light turns on from behind the clock, a ring around the back. And to turn it off, you press again the volume down button. Using Google Assistant of course opens up another tool, the ability to dim the brightness of that nightlight. And, conversely, you can ask Google Assistant to dim the brightness of the display itself at night to lower the light as you fall asleep.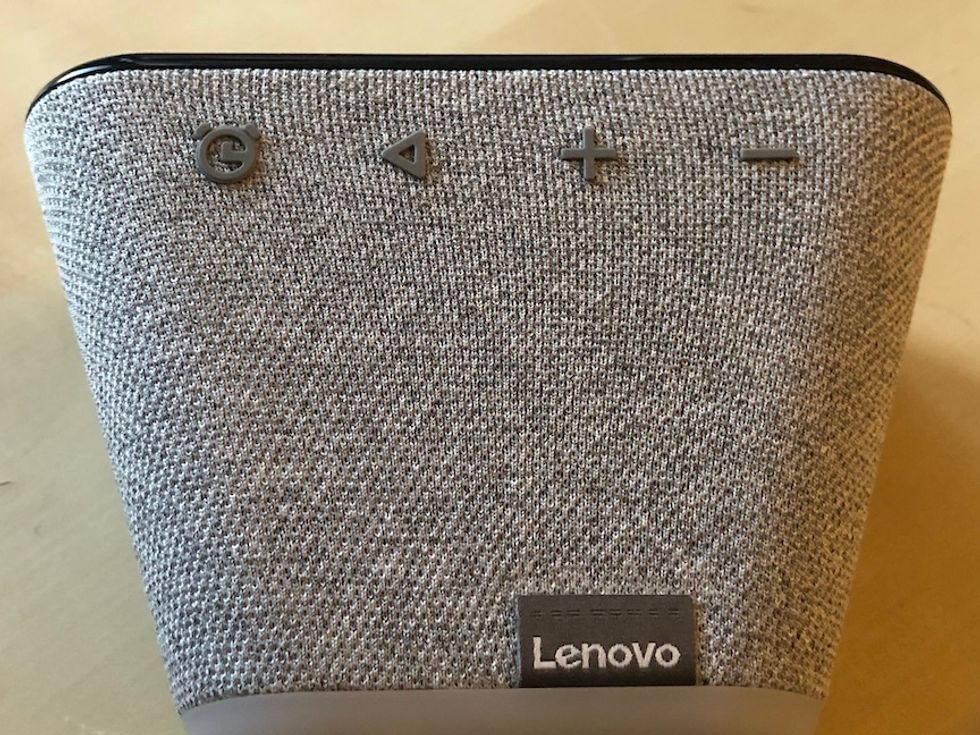 You can control the Lenovo Smart Clock Essential through buttons and voiceGearBrain
Smart Home

Because this is a Google Assistant-enabled device, the Smart Clock Essential folds quickly into your Google Home network. That means you can bring up Google Assistant to control all of your other devices connected to the Google Home app.
This, of course, is not a display, so you cannot change the wallpaper, you can't see your schedule — you can't see anything other than the LED icons and numbers. But it's a smart home link, like a Nest Mini, one that gives you another access point to Google Assistant, with a bit of alarm clock thrown in as an aside.
Cost
The Smart Clock Essential is clocking in at $49.99 — although we're seeing it already discounted to $39.99, and suspect that price point may show up again around Black Friday sale time too.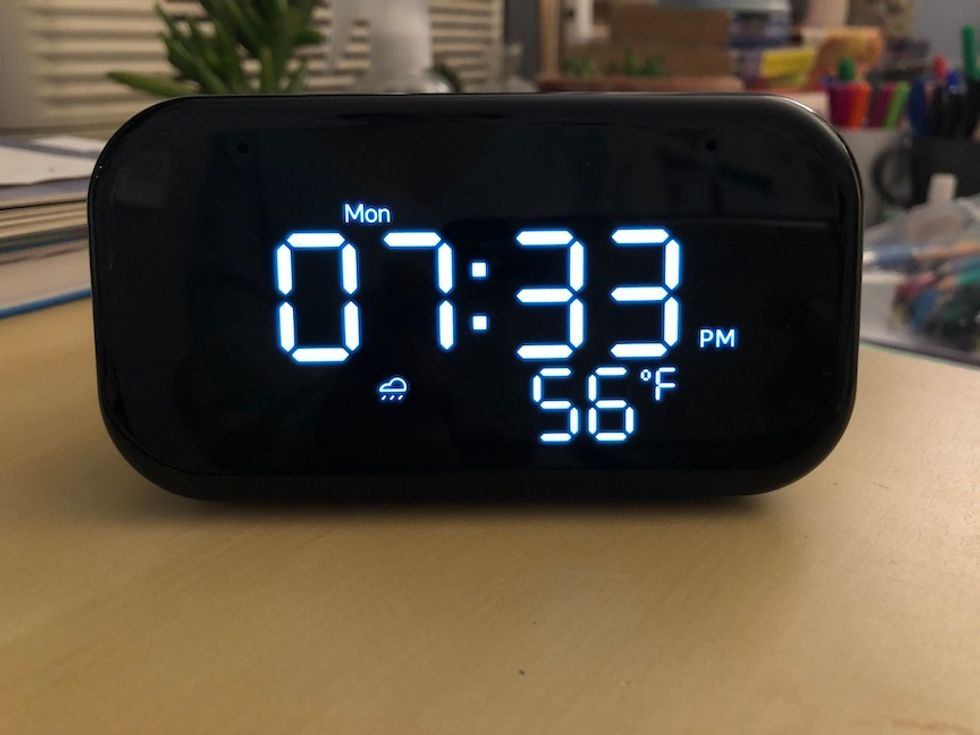 The Lenovo Smart Clock Essential is a stripped-down version of the original Smart ClockGearBrain
Summary

As a Google Assistant, stripped-down device, the Smart Clock Essential works well. You have an alarm, a clock, a USB-charger and speaker that delivers simple information plus a pipeline to Google's virtual assistant. At $49.99, it's a bit of a step up from a Nest Mini, while not quite the device as Lenovo's original Smart Clock. To be honest, the display on the first Smart Clock was actually a nice bit of real estate, one you do pay another $30 to have.
As a basic device, though, the Smart Clock Essential just works. You can certainly set an alarm on your smartphone, and access Google Assistant from that handheld as well. But if you're a dedicated Google Home user, and enjoy having Google Assistant available at your request, the Smart Clock Essential is a nice addition, a home for the virtual assistant, plus a USB charger, small speaker and nice little alarm clock too.
Pros:
Nightlight
Price
Slider to mute the microphones
Cons:
Not a great music speaker
Lacks a touchscreen, and has just an LED display
Setup leans on the paper instruction manual
Check out The GearBrain, our smart home compatibility checker to see the other compatible products that work with Google Assistant enabled devices.
Introduction of The GearBrain, The First Compatibility Find Engine for Smart Devices www.youtube.com
Like GearBrain on Facebook