Apple has rolled out its iOS 14.3 update for iPhones this week, including a new image format exclusive to the iPhone 12 Pro and 12 Pro Max.
Called ProRAW, the technology was mentioned during the iPhone 12 reveal earlier in the fall. But it wasn't finished back then, so Apple held it back until iOS 14.3 landed on December 14.
Read More:
The update also includes a fix to an SMS notification bug, plus compatibility with Apple's newly launched Fitness+ exercise subscriptions service, and the ability to work with the new AirPods Max headphones that begin shipping this week
What is ProRAW?

To answer this, we first need to explain the difference between three image formats. The first is JPEG, which you are probably familiar with. JPEG images have small file sizes but don't lose too much quality and detail when compressed.
HEIC images are what the iPhone normally uses. These have even smaller file sizes, while still retaining enough data to look good on a smartphone display, or when shared on social media.
Then we have RAW, which is a lossless and uncompressed file type. Professional photographers often shoot in RAW because the images created retain much, much more data than JPEG and HEIC images. This means they can be edited without losing detail and without causing huge amounts of noise and grain.
How much RAW images can be edited is often surprising to amateur photographers. Over-exposed, entirely white skies can be rescued, with highlights lowered and cloud detail emerging. Similarly, shadows can be lifted to expose detail previously lost in the darkness. White balance can also be adjusted to save a poorly-taken photo.
The downside is that RAW images have very large file sizes, often many times bigger than JPEGs. They often lack punch until they are edited, looking a little flat and lifeless, but containing all the data you need to modify them however you want.
And then we have Apple's new ProRAW format. This is a type of RAW file, but it includes Apple's computational photography technologies already baked into the iPhone 12 Pro and Pro Max.
These technologies include Smart HDR, Deep Fusion and noise reduction. These use artificial intelligence to analyze a scene and take the best photo possible for the circumstances, even merging together a set of images taken before and after you tap the shutter icon. The intended result is an image that looks good right away, and can be shared if you like, but also retains all of the data of a RAW image, so is ready to be edited to your heart's content. To edit, you can use software like Photoshop or Lightroom from Adobe, or Apple's own Photos app for iOS, which has been updated to handle ProRAW files on the iPhone 12 Pro and Pro Max.
How to switch on ProRAW for iPhone 12 Pro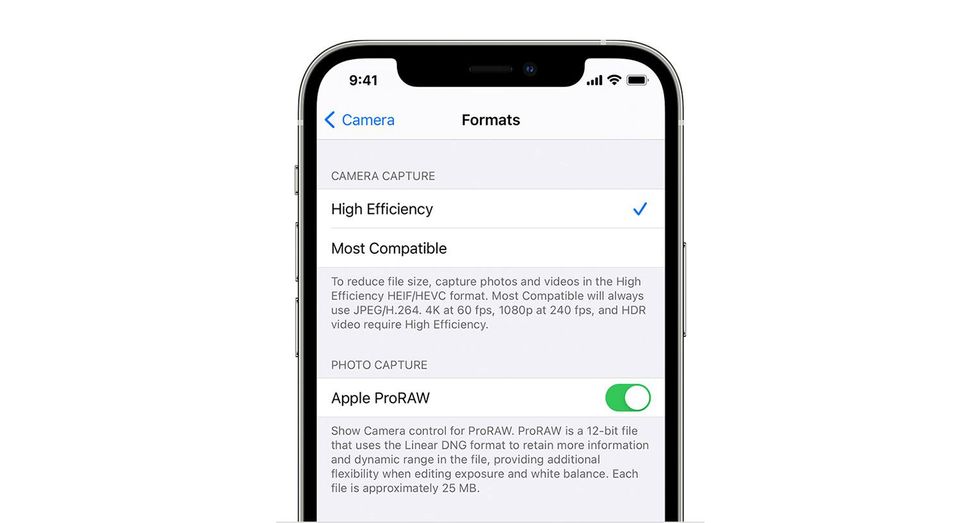 Apple ProRAW setting in iPhone settings appApple
The option to switch on ProRAW images arrives with iOS 14.3, so check you are running that first by opening the Setting app and navigating to General -> Software Update.

Once you have 14.3, go back to the Setting app and tap on Camera then Formats. Here a new toggle switch for Apple ProRAW is ready to be switched on. Below the switch you are warned that ProRAW images are approximately 25MB each, much larger than the iPhone's usual HEIC images.
These images use the Linear DNG format, so have the .DNG file extension (not .RAW, as you might have expected)
Now head to the Camera app and you will see a RAW button in the top-right corner with a line through it. Tap that to remove the line and switch ProRAW on.
Possible with bot the front and rear cameras, ProRAW photos are shot just as quickly as normal, but can be edited in much more detail using the iPhone's own Photos app. They can also be sent to a Mac using AirDrop then edited using Photoshop or Lightroom and finally exported as a JPEG or whichever file type you want.
We noticed that the images are turned into JPEGs when opened in the Photos app for Mac, having been synchronized from our iPhone using iCloud. As such, you need to either edit the photo on your iPhone, or send it to your Mac using AirDrop to retain its ProRAW credentials and edit it properly.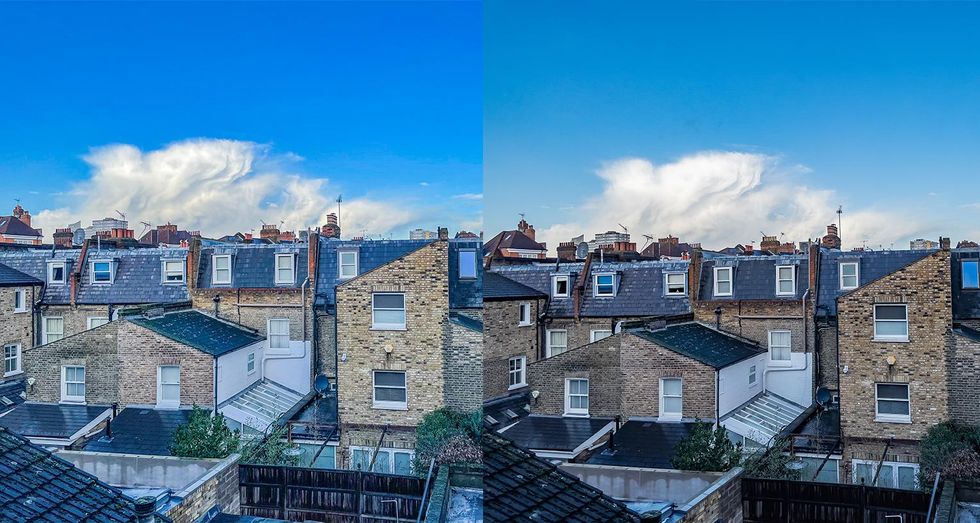 Differences when editing an HEIC image (left) and an Apple ProRAW image (right)GearBrain
ProRAW images look very similar to HEIC images in the iPhone's own Photos app. But when opened in an Adobe application they look like a RAW image, in that they are generally flat, dull and ready to be edited to look their best. This is normal for RAW images. If you want your photos to look great immediately (and take up less space) you are best sticking to regular HEIC images.

But if you want to take a photo then edit it after, such as in low light when a JPEG's lack of detail will make editing tricky, then ProRAW is your best option. That way, you will be able to lower overexposed light sources, brighten underexposed shadows, and create a far better image.
As a demonstration of the differences in editing a ProRAW image compared to an HEIC photo, we have performed exactly the same Lightroom edit on two photos taken at the same time. Sat next to each other above, the image on the left shows how an HEIC photo struggles when edited and quickly looks artificial, while the ProRAW on the right retains a far more natural look.