Like GearBrain on Facebook
Add an internet connection and an attractive smartphone app, and you can make any humdrum household appliance seem cutting-edge. This is perhaps most apparent with the humble thermostat, a device which we are rarely more than dimly aware of, but which takes on a new identity when made smarter.
These connected devices can be bought in different colors and finishes to match your decor; they have Wi-Fi, touchscreens and smartphone apps; they hook up with Alexa, Google Assistant and IFTTT; they connect to sensors scattered across the home; they communicate with other smart devices. And they can save you money.
Some readers may only be familiar with Nest, the smart home company formed by Tony Fadell, father of the iPod, and now owned by Google. But there are many alternatives. Some come from seasoned home heating companies, others are the offsprings of startups fighting for a slice of the smart home cake.
Nest Learning Thermostat - $250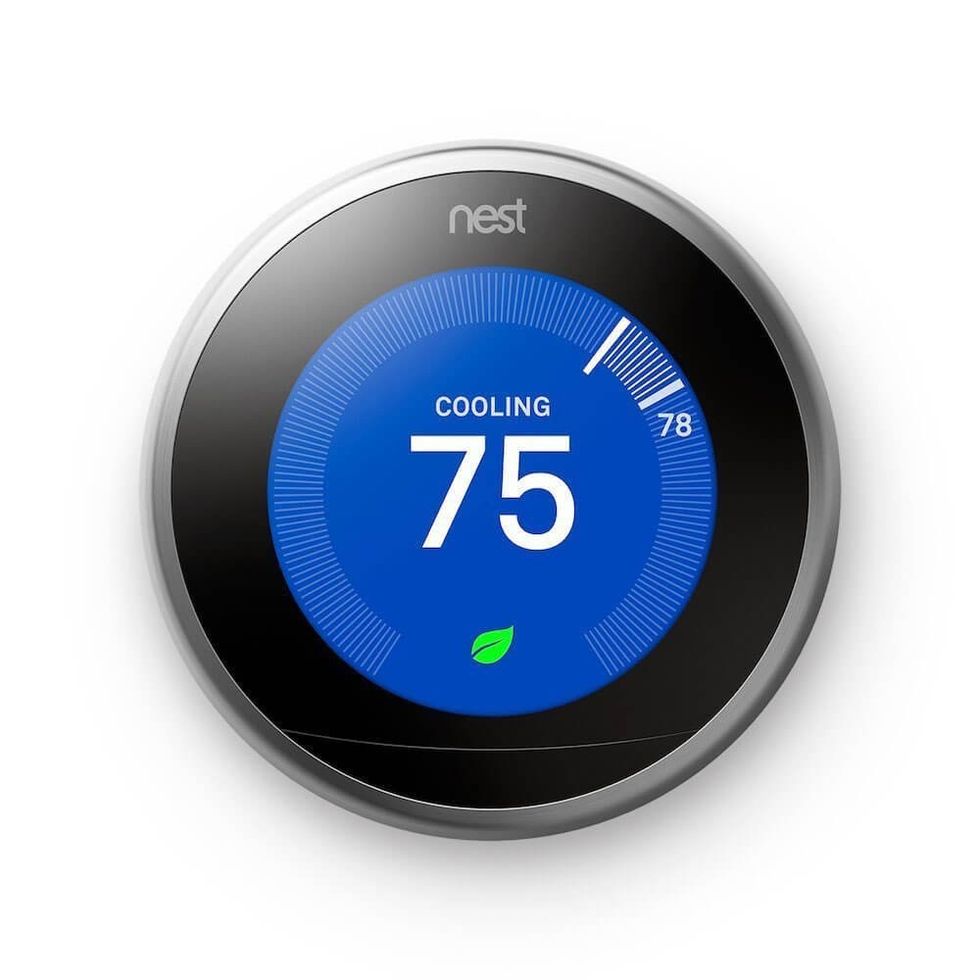 Nest
As predictable as this may seem, we're going to start with Nest. The company's Learning Thermostat is now in its third generation and is available in four different colors: stainless steel, black, white and copper.
When the Nest is first installed, you'll have to rotate it manually to turn the temperature up or down, depending on what you prefer. After a few days, the Nest will have started to learn what you like, and when. Eventually, the thermostat will manage the heating (and cooling) all on its own, turning things down when you are away, and off when on vacation. It can be controlled via your smartphone if you need to change the heating remotely, and the unit's green leaf icon always suggests the best temperature to help save you money.
New for 2018 is the $39 Nest Temperature Sensor, which helps you tell the thermostat how you like the heating in a particular room. With multiple sensors, you can put one in each room, use them to tell the Nest how you like the temperature (and when), and the thermostat will do the rest.
The Nest can be controlled with voice commands issued to Alexa or Google Assistant, and an IFTTT (If This, Then That) channel means applets can be configured to make the Nest interact with other smart devices in your home. For example, you can set the thermostat to turn the heating up when you leave the office, or automatically turn it down on sunny days.
Nest Thermostat E - $229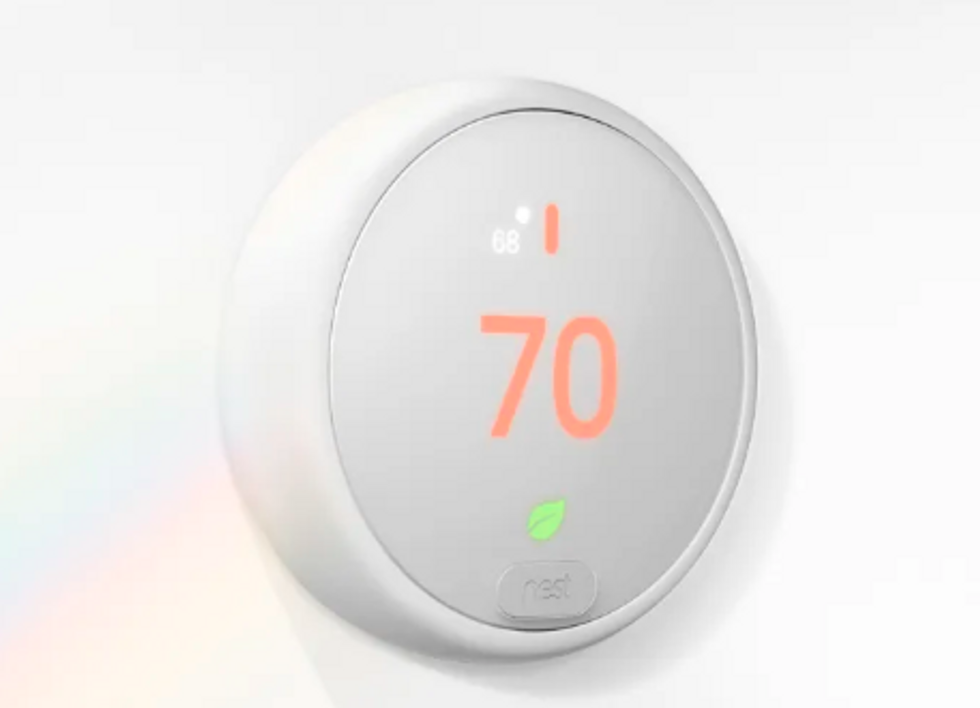 Nest
Slightly cheaper than the regular Nest, this model is only available in white and features a simpler, minimalistic display and interface. However, the Nest E still learns what you like, then turns the heating up or down to match your preferences in the cheapest, most energy-efficient way possible. The Nest E can be controlled from anywhere with the iOS or Android smartphone app, and it can also be instructed by Alexa, Google Assistant and a range of IFTTT applets.
Ecobee4 - $249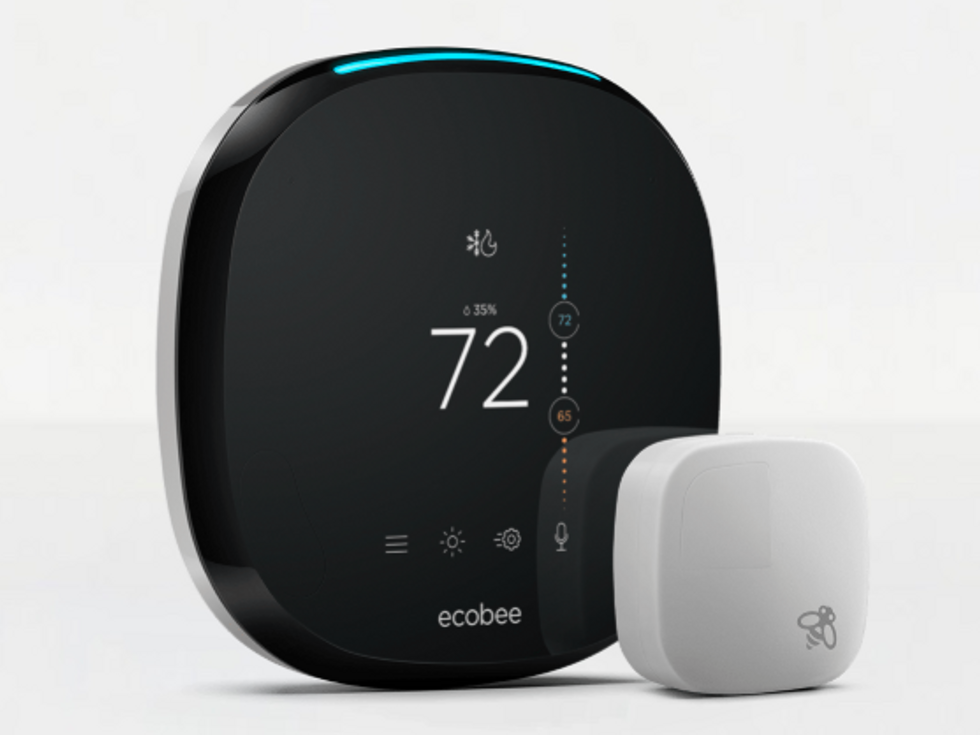 Ecobee
The Ecobee4 smart thermostat comes with a separate sensor to help get the temperature just right in your most-used space. To combat the fact that thermostats are often located where you aren't (such as the hallway), the Ecobee's sensor tells the it how warm or color it is in the rooms you actually use, like the lounge, kitchen and bedroom. That way, the thermostat will adjust the heating based on that room, not the cool hallway in which it is located. Extra sensors cost $79 for two.
While Nest thermostats only work with Alexa if you have a compatible smart speaker (like the Amazon Echo), the Ecobee4 has Alexa built in. That means this is a thermostat with a microphone and speaker, which you can talk to. The Ecobee4 can read out the news headlines and weather forecast when you ask, help with a recipe, add items to your shopping list, and play music, all with voice commands.
By adjusting the heating based on home occupancy and ambient temperature, the Ecobee4 is claimed to save up to 23 percent on your annual heating and cooling bills. Naturally, there is a smartphone app for remote control, and the Ecobee4 works with Alexa, Google Assistant, Samsung SmartThings, IFTTT and Apple HomeKit.
Honeywell Smart Wi-Fi Thermostat - $170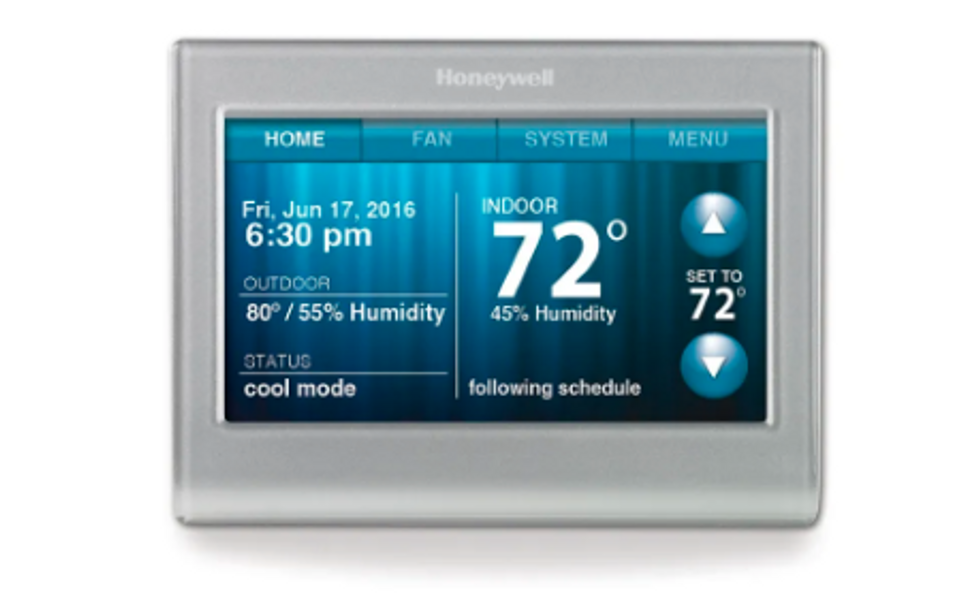 Honeywell
This thermostat by Honeywell features a large touch screen which provides more information and functionality than the simpler Nest and Ecobee options we have covered so far. If you're looking for more on-thermostat options, instead of hunting down your smartphone and opening the Nest or Ecobee app, this Honeywell could be a good option for you.
But that isn't to say this thermostat isn't smart. It connects to your Wi-Fi and there is a smartphone app for iOS and Android to control it when you're away from home (or in bed on a cold morning), and like the Nest it learns your preferences over time. The system also learns how long it takes to reach your desired temperature, so will crank up the heating earlier on a particularly cold morning.
The Honeywell can be controlled by Alexa and Google Assistant (if you have a smart speaker on the same Wi-Fi network), as well as Samsung SmartThings, Apple HomeKit and IFTTT, plus smart home hubs by Logitech, Panasonic, Wink and more.
Read the GearBrain review here
Hive Active Heating - $350 or $14.58 a month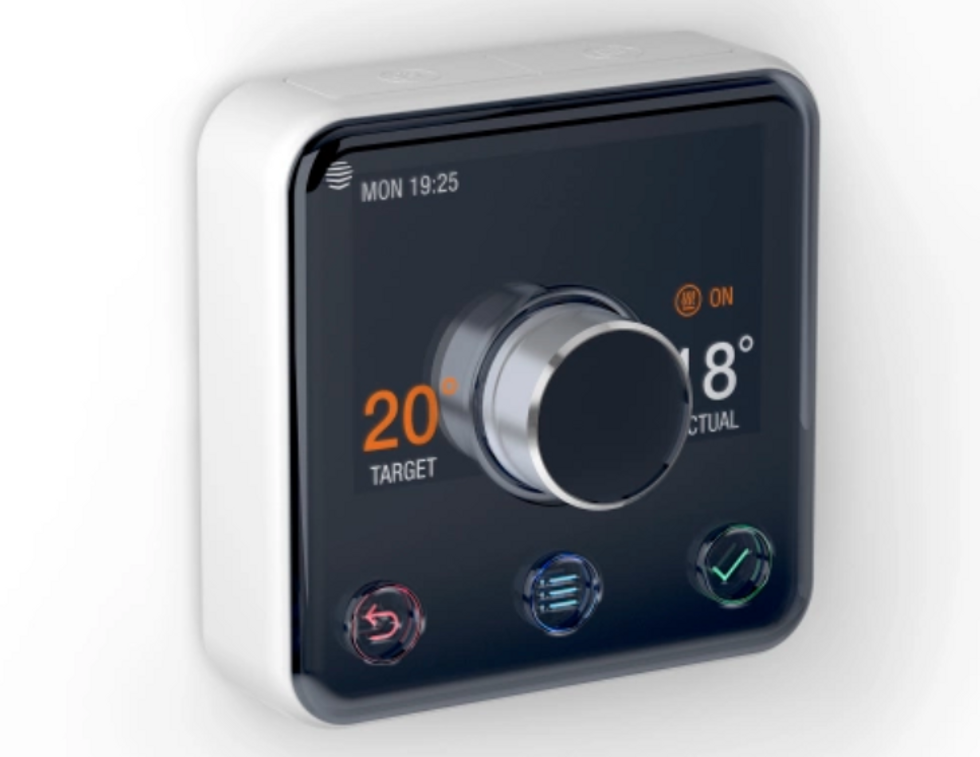 Hive
UK energy company British Gas crossed the pond in 2017 and began selling its Hive smart thermostat system. But, while it is possible to buy the thermostat (along with a bunch of connected plugs and sensors) up front, Hive can also be paid for with a monthly subscription.
For $300 up from or $14.58 a month, you get the thermostat, plus two smart lights, one motion sensor, one smart plug and one window or door sensor.
This gives your home a smart thermostat which can be controlled remotely from your phone - or Alexa, Google Assistant and IFTTT - a smart plug for controlling just about anything via the same means, a motion sensor (which could be used to automatically switch your bathroom light on at night), two connected lights, and a sensor which lets you check if a door or window is shut properly when away from home.
The Hive system works with Philips Hue, so lights from both companies work together, and extra Hive sensors, plugs and bulbs can be bought to make your entire home smarter. If you are yet to jump on the smart home bandwagon (beyond perhaps owning an Echo smart speaker) then this Hive system could be a good place to start, as it covers several bases at once.

Read the GearBrain review here
Insteon Smart Thermostat - $86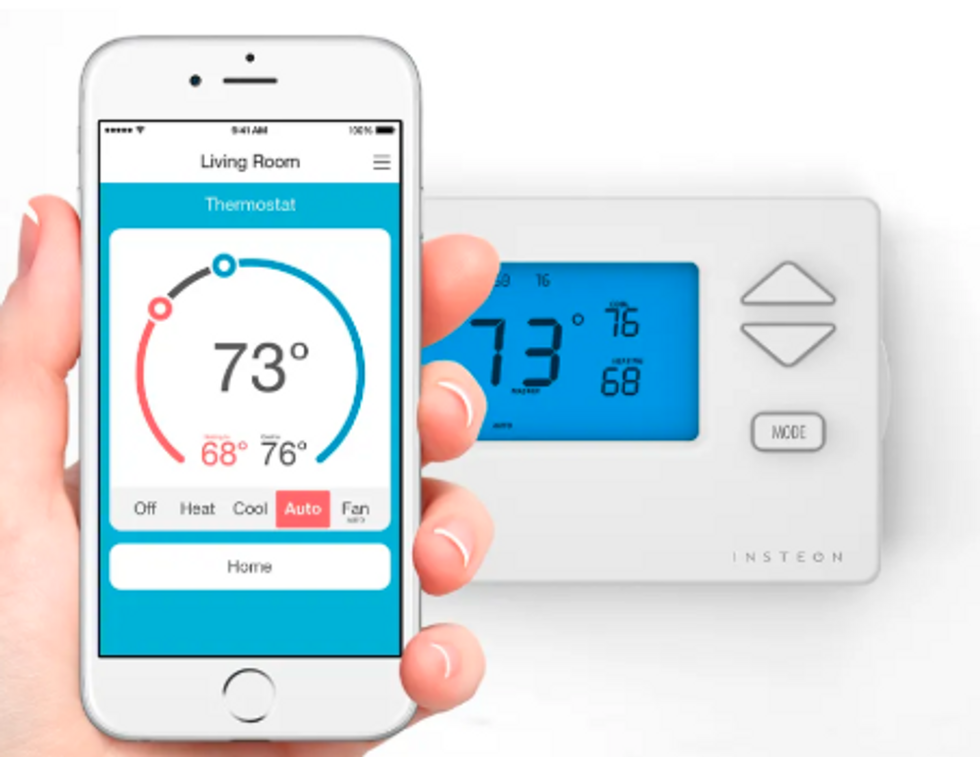 Insteon
Although this offering from Insteon looks like a regular thermostat, it hooks up wirelessly with the Insteon Hub to provide smartphone control and Amazon Alexa integration. There's also support for voice controls via Google Assistant, and an Apple Watch app puts thermostat controls on your wrist.
Insteon claims its thermostat will work with even the most complex of HVAC system, and it will integrate with other Insteon devices connected to your Hub, like switches, sensors and light bulbs.
Finally, smart home companies Tado and Netatmo both offer connected thermostats, but at the time of writing these are only available in the UK and Europe, not the US.
Check out The GearBrain, our smart home compatibility checker to see the other compatible products that work with Nest, Samsung SmartThings, Philips Hue smart lights, Insteon, Google Home and Home Mini and Amazon Alexa enabled devices.
From Your Site Articles
Related Articles Around the Web
Like GearBrain on Facebook