Like GearBrain on Facebook
One of the most comprehensive home automation kits we reviewed last year was the Insteon Connected Kit. (See our review on Insteon Connected Kit.) This kit provided all the basic connected devices (sensors, thermostat and leak detector) that you need to transform your home into a smart home.
Last updated: April 25, 2022 - Insteon is no longer in business. To learn more on what happened with Insteon and how to get your Insteon smart devices working again, visit Your Insteon Devices Not Working – GearBrain Has a Solution
This year, Insteon followed up with another great comprehensive smart home network called Insteon Starter Kit, what we think is a great for those just starting on their smart home adventures. The kit acts as a remote-control system with the help of your smartphone. Insteon sent GearBrain a kit—and we put it through our tests.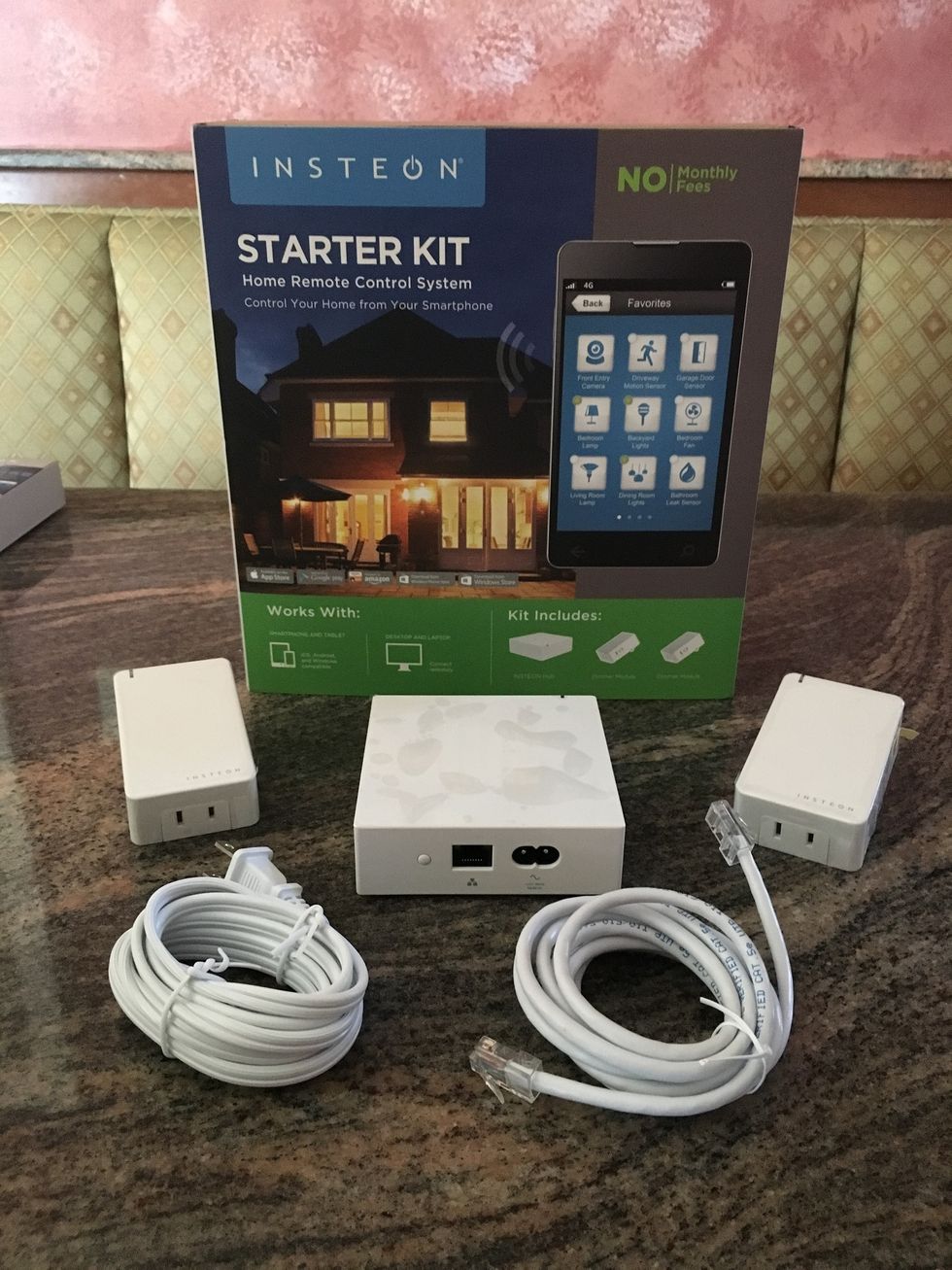 Insteon Starter Kit unboxed.GearBrain
Unboxing the Kit

Insteon Starter Kit comes with two dimmer modules and an Insteon Hub, which is the center and brains of the system. Its purpose is to connect and control all your devices and appliances, quite common with most connected hubs. However, Insteon Hub is quite different from current smart home hubs, like Samsung SmartThings, Iris by Lowe's or Wink.
Insteon's developed a unique, patented dual-mesh technology called Dual-Band Insteon which creates a mesh network inside your home, and uses both your home's power line as well as wireless radio signal (915 MHz band) to connect to all your devices. No other smart home hub offers this unique technology—the reason GearBrain considers the Insteon Hub one of the best on the market today.
Why is dual band important for today's smart homeowner? In most homes, there are areas where a weak wireless signal can make it difficult to connect your smart devices together, like smart lights or a water leak detector. Insteon's Dual-Band Technology uses your home's power line, or a wireless radio frequency, to communicate with your devices no matter how many there are in your smart home. Insteon's technology allows its signals to travel further through your smart home without interruption because it can transfer the signal across your power lines.
Wireless signals can be blocked by concrete, brick walls, steel studs and even the microwave in the kitchen. Insteon's Dual-Band technology pushes out a very strong signal to all your devices, so they run smoothly in your home. When your signal is blocked, Insteon will continue to deliver the signal across your home's power lines. None of the other smart home systems with wireless protocols, such as Zigbee, Z-Wave, Bluetooth and even Wi-Fi, offer this dual-band connectivity. They offer only radio frequency connectivity.
Insteon Wireless Open/Close Sensor for Doors & Windows, 2843-222 - Insteon Hub Required for Smarthphone Alerts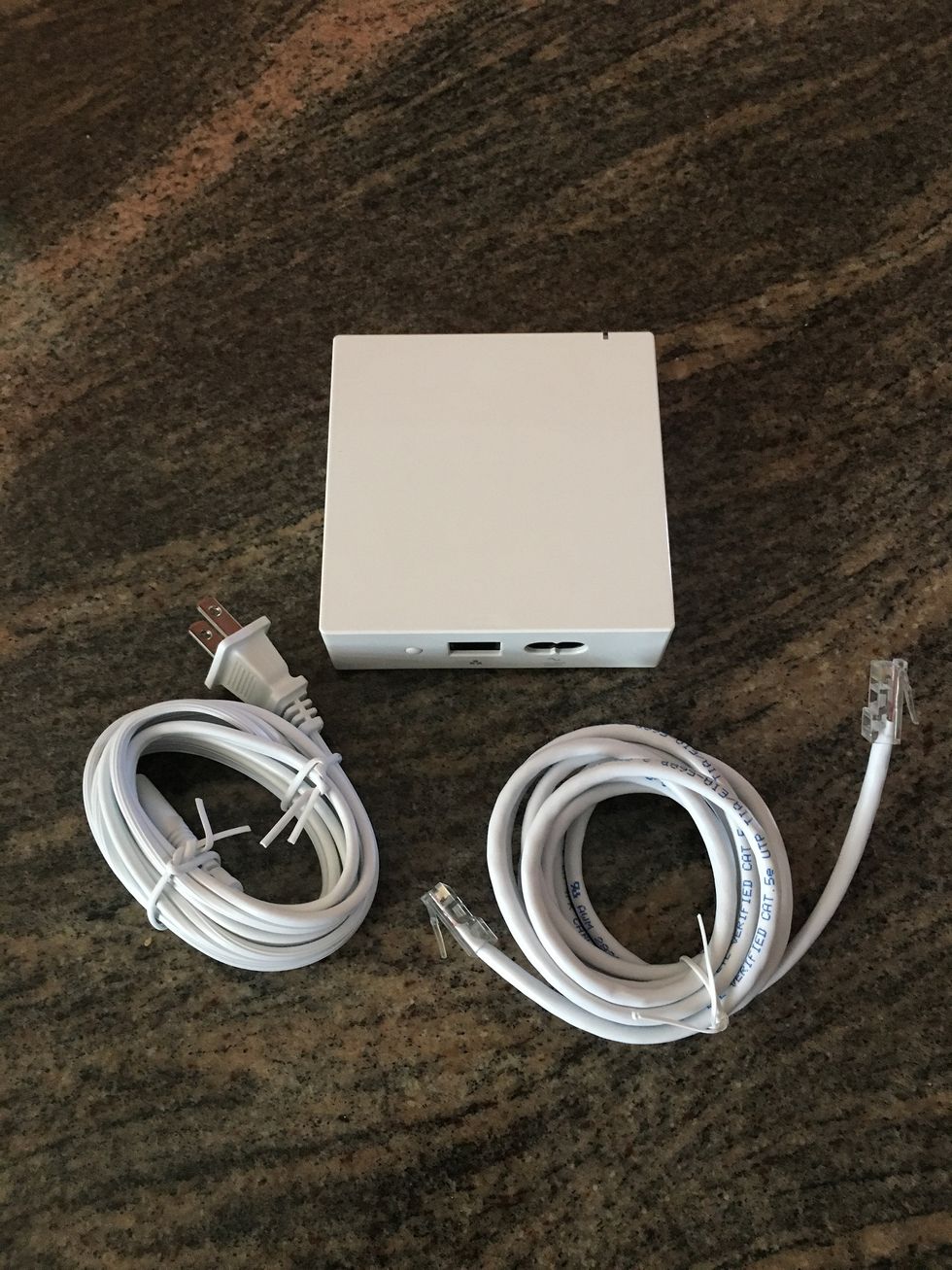 Insteon Hub comes with a power adapter and ethernet cable to connect to your home Wi-Fi router.GearBrain
Installation

Installing the Insteon Hub and its dimmers in your Starter Kit is very easy. First, we unboxed the Insteon Hub and connected the device to our Wi-Fi router. Then we downloaded the Insteon app and followed its setup instructions. Another nice feature Insteon offers is its compatibility with iOS, Android and Windows devices. Not many smart home hubs work with this many smartphone operating systems.
Insteon can be remotely controlled via smartphones, tablets, computers and laptops, and you can access the Insteon app from the iTunes App Store, Google Play and Amazon. Insteon also makes an Apple Home-Kit enabled hub. If you plan to stay within the Apple eco-system—and use Apple HomeKit as your hub—you will need to go to the "Works with Apple HomeKit" store to download the correct app.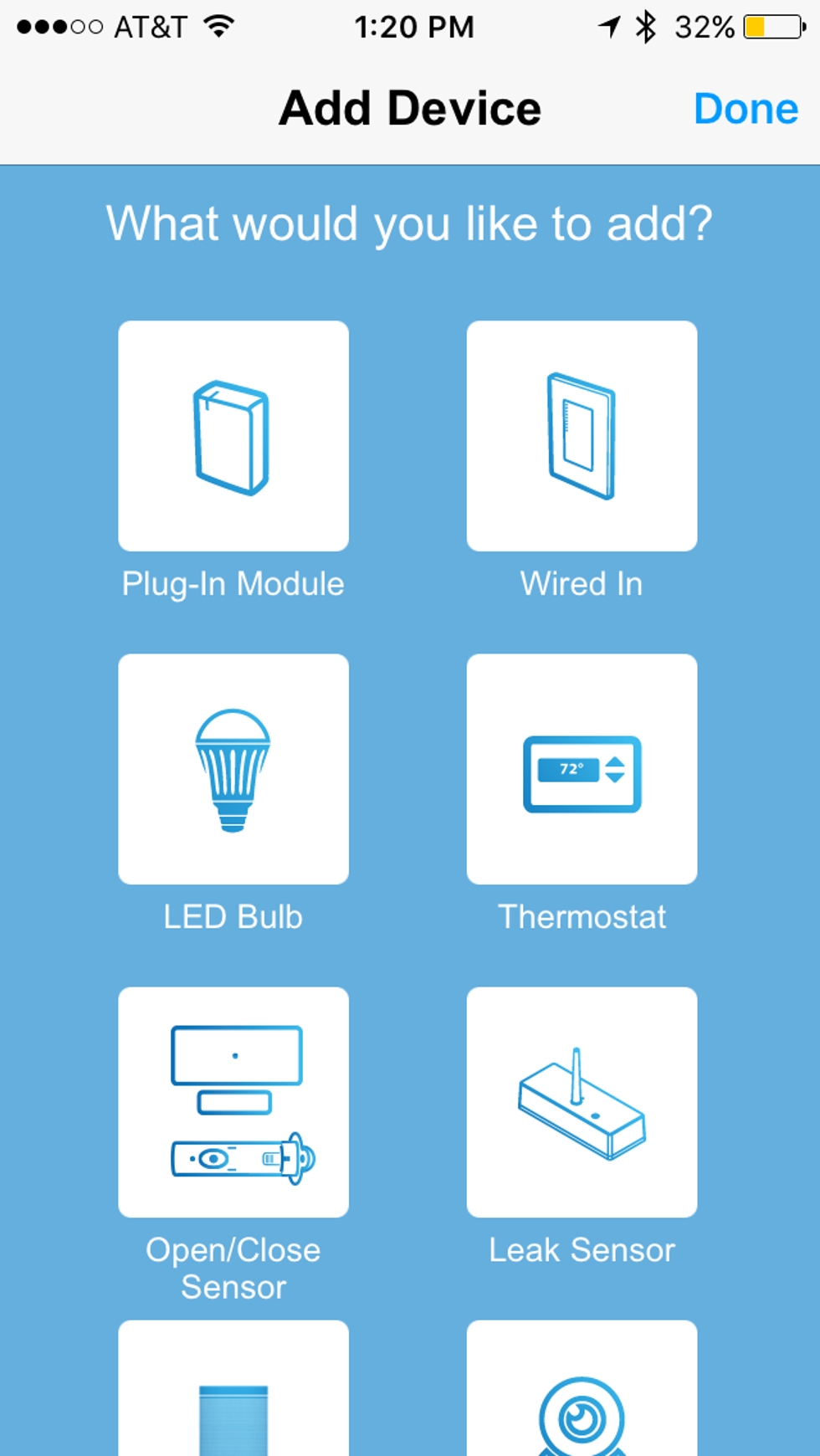 Add devices to your Insteon hub by using the free Insteon appGearBrain
Once we had our Insteon Hub connected, we started to add the two dimmer modules, which can be used on lamps, and multiple other appliances and devices you want to control through your smartphone. Insteon dimmers are very similar to other dimmer modules we have tested except these are two-pronged plugs and not the standard three-pronged. If you plan to plug in a device that has a three-pronged plug, you will need to get an adapter.

For our test, we plugged in two different lamps, one in our den and the other in a hallway, using the dimmer modules as both a dimmer and timer. Insteon's dimmer modules performed as expected and did what they were supposed to do.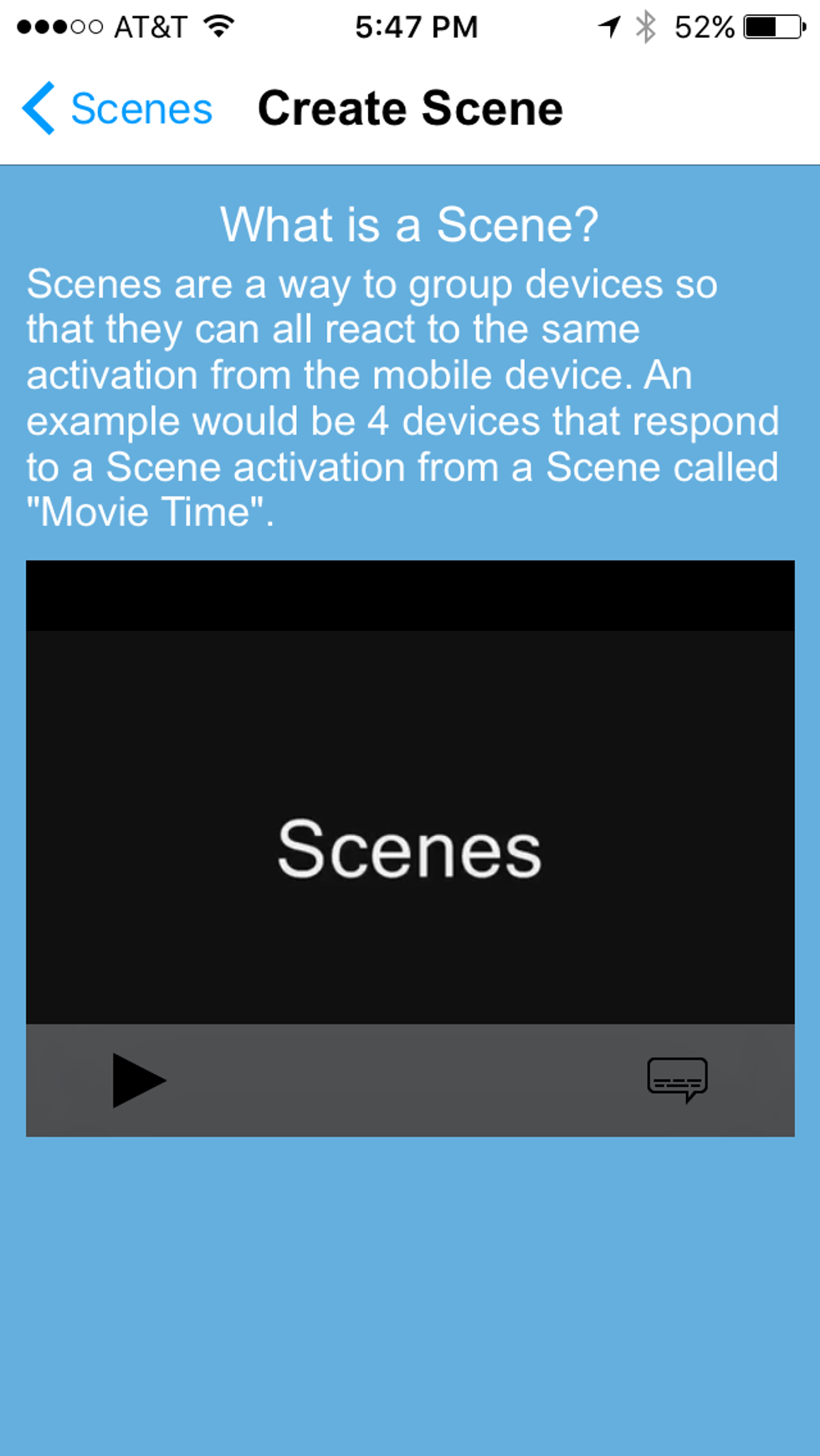 Using the Insteon app, you can create scenes with your Insteon devices.GearBrain
Scenes

Another nice feature of Insteon's Starter Kit is the ability to create scenes—pre-arranged situations you want to automate. Setting up these scenes, done in the Insteon mobile app, are not as easy as other smart home systems we've tested. Our experience was a little confusing at first, but we finally got them going. You can combine up to four dimmer modules in a scene, and we created a bunch of scenes, like "Movie Time," which dimmed all the lights in our den while we watched a movie. We also set a night scene where lights, connected to two different modules ,would go on and off at various times of day and night.
Insteon Hub is an Amazon Alexa-enabled device. You can go to the Amazon Alexa app and search the "skills" section to find an Insteon skill. We downloaded the skill and using our Amazon Echo, tested voice commands with the Insteon Starter Kit, which let us turn scenes on as well as turn devices on and off.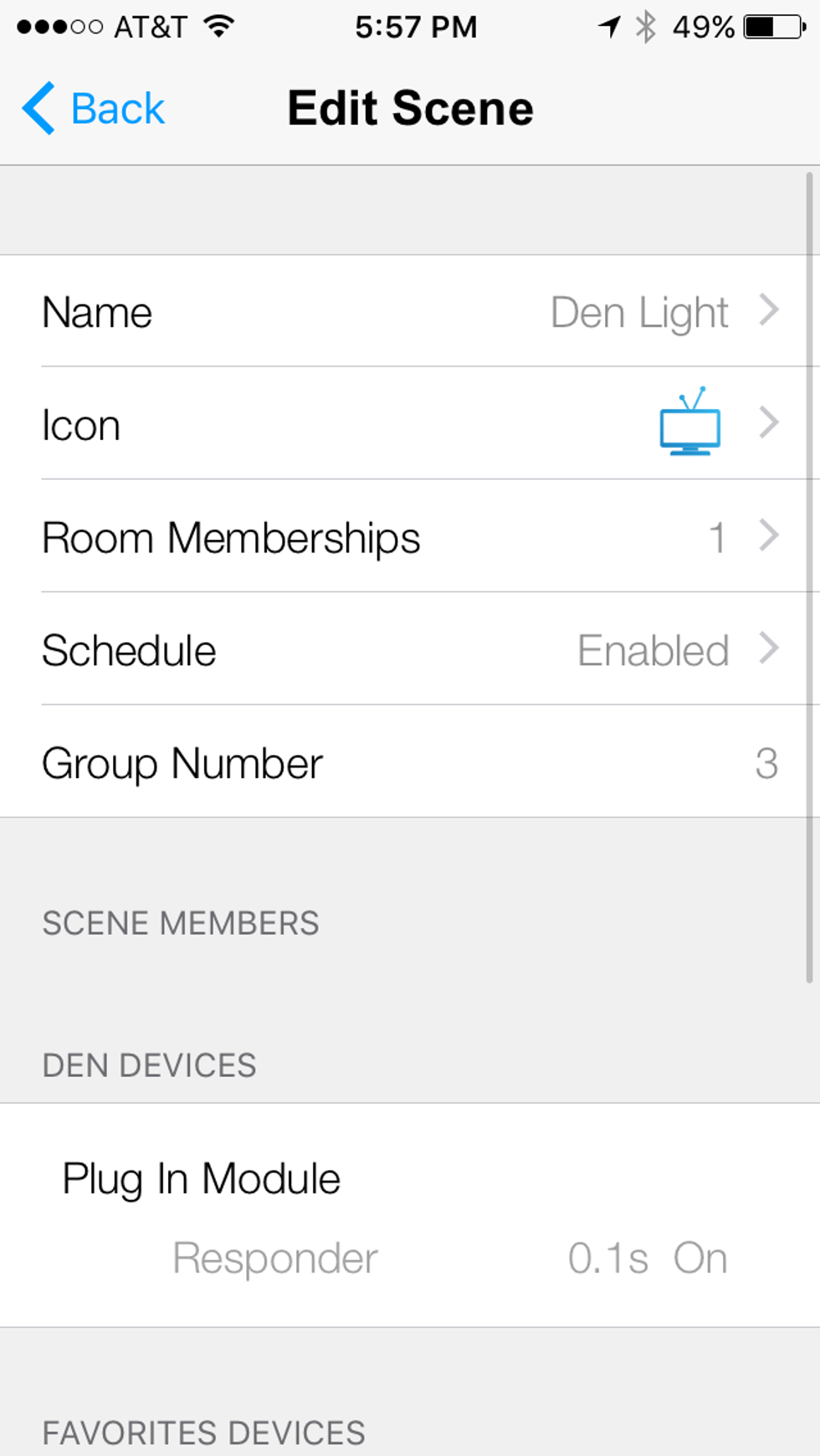 You can edit scenes in Insteon appGearBrain
Compatibility

Since Insteon is a dual-band system that acts like a mesh network, it offers an unlimited network size for smart home owners. When compared to other smart home networks using Z-Wave, Zigbee, Bluetooth or Wi-Fi, we found Insteon can connect thousands of devices to one Insteon Hub. Other systems can connect to a much more limited number of devices. For instance, Bluetooth systems can connect to about nine devices in a single connected hub system.
In addition, Insteon Hub is compatible with more than 200 products under the Insteon brand. A wide assortment of add-on Insteon modules also work without having to connect to Insteon Hub too, ranging from dimmer modules and motion sensors to Wi-Fi cameras and drapery controls. You can visit Insteon's website and see the entire list of devices. Besides Insteon's own products, its hub connects with Apple HomeKit, Amazon Echo, Logitech Harmony Remotes, Stringify and Sonos.

The Insteon Starter Kit retails for $119.99, has no monthly fees, and can be purchased on smarthome.com, which features the entire Insteon product catalog. You can also buy Insteon Starter Kit on Amazon. Click here to see full list of USA resellers of Insteon Starter Kit and other Insteon products.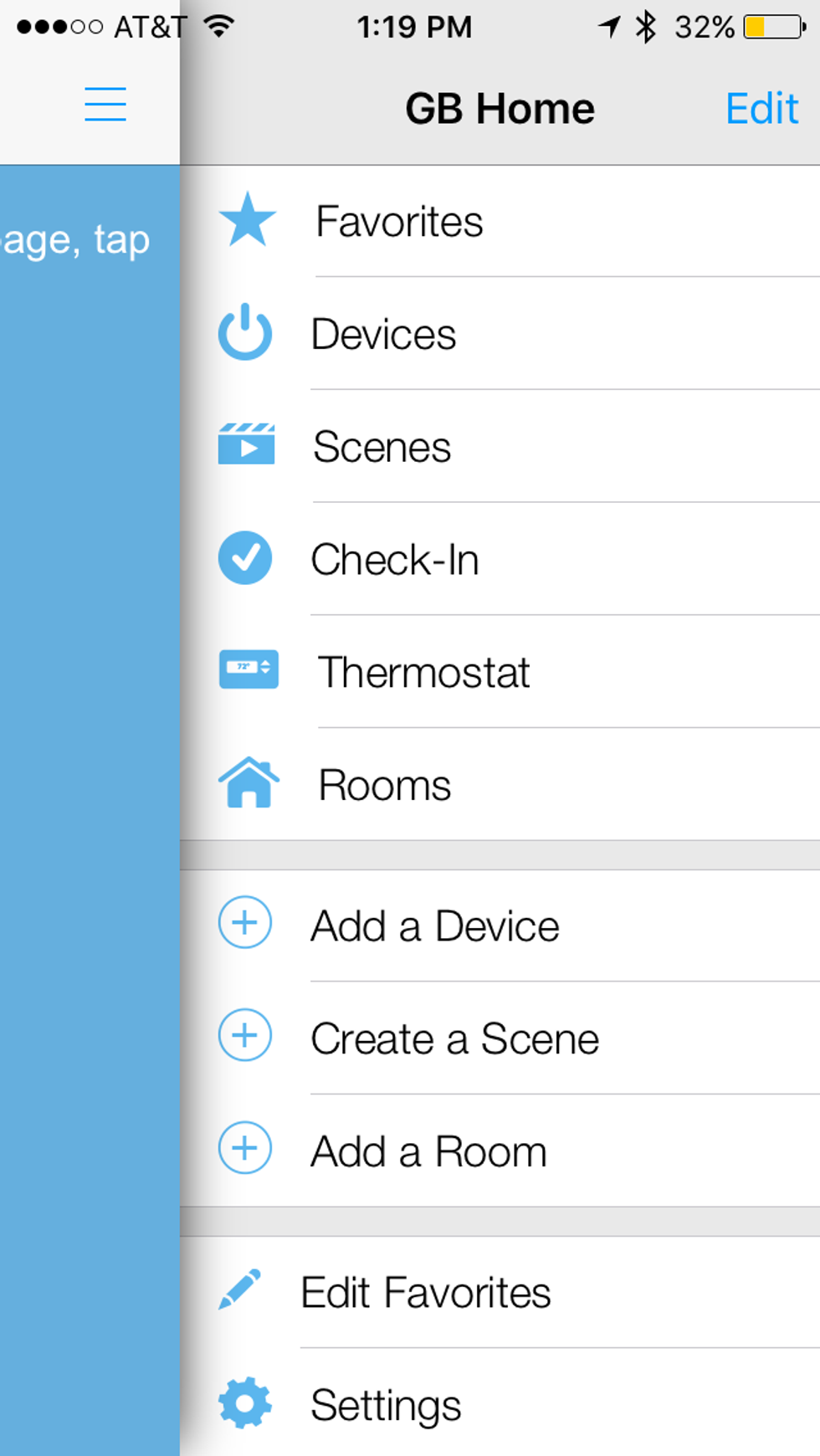 Insteon app is where you control all your Insteon devices.GearBrain
Summary

If you are looking at starting to build a smart home, we think Insteon Starter Kit will help you get off to a very good start. It's easy to set up, very affordable, and its dual-band technology helps your devices talk to each other without interruption.
GearBrain liked Insteon's Connected Kit when it came to market over a year ago, and while much has changed, its dual-band technology is still top of line in bridging many of the barriers we see —from connectivity to compatibility issues—as people begin to build their smart home. While Insteon's own eco-system is robust, we like how their products are compatible with other market leaders like Amazon Echo, Apple HomeKit and Nest thermostats. This offers today's smart home owners several choices for building the best custom solution for their own home.
When building your smart home, one of the most important decisions you'll make is what wireless protocol to use so your devices speak with each other. Bluetooth or Zigbee? Z-Wave or Wi-Fi? We recommend Insteon as it offers not only a large eco-system which works with other wireless systems, but offers a second connection to keep your devices running smoothly. Insteon Start Kit is a good first smart home product for your connected life today—and tomorrow.
Pros: Easy to setup, low cost, entry-level product, extensive product line, compatibility with other devices, dual-band connection, mesh extender, Alexa-enabled, and supports Apple HomeKit.

Cons: Creating scenes, pairing devices to hub.
If you need help installing Insteon Starter Kit or other smart home products, you can visit HomeAdvisor.com to find a local trusted professional.
Questions to ask before buying a smart home systemGearBrain
Check out The GearBrain, our smart home compatibility find engine to see the other compatible products that work with Insteon, Google Assistant and Amazon Alexa enabled devices.
From Your Site Articles
Related Articles Around the Web
Like GearBrain on Facebook