Like GearBrain on Facebook
Many smart home devices exist to make your life easier, automating processes around the house and giving you control via a phone app or even voice commands.
But many can also be used to lower your energy bills and save you money. Smart thermostats help deliver just the right amount of heating to the rooms you are actually using, while smart plugs can be switched off when the device they're attached to doesn't need to be on standby mode, and a smart garden irrigation system can lower your water bill.
Read More:
Smart lighting with long-lasting and energy-efficient LED bulbs are also included here, along with flood and leak detectors.
Here is a selection of smart home products that can save you money:
Smart Thermostat
The most obvious money-saving gadget for your smart home is the connected thermostat. These devices, like the Nest Learning Thermostat, or options from Honeywell and Ecobee, learn how you heat and cool your home, then take control in a bid to save you money. Some come with a relatively high initial cost (and installation fee) but their cost savings are claimed to be over 20 percent, so you will likely be financially better off in the long term.
Nest Learning Thermostat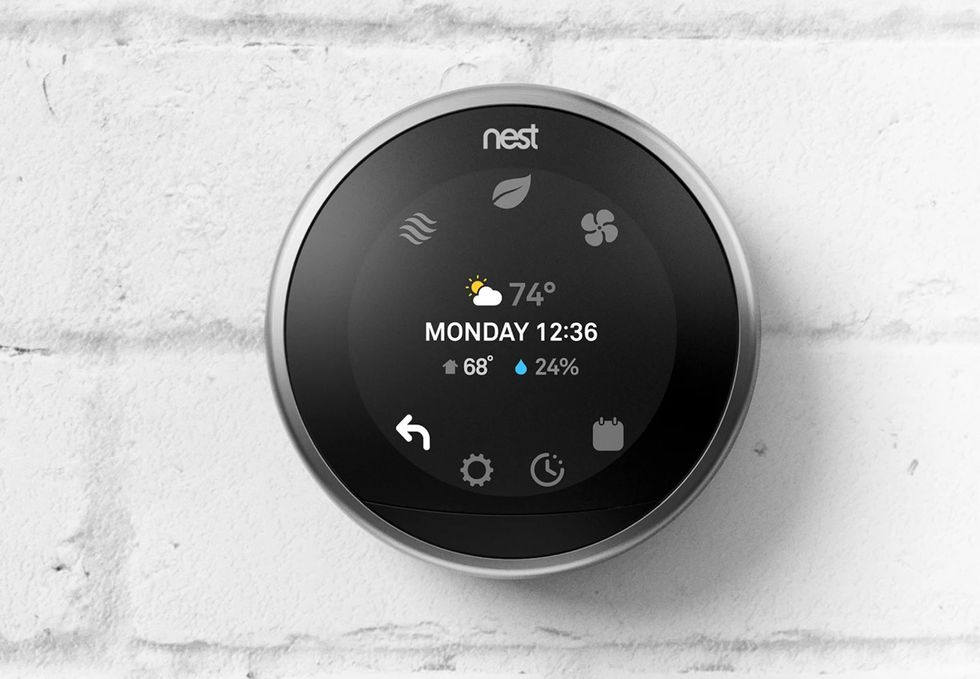 The Nest Learning Thermostat is priced at $250Google
One of the most popular smart thermostats comes from Google-owned Nest. The company's $249 Learning Thermostat does exactly that - you install it and control it manually for the first few days, and once it has learn your heating and cooling preferences it takes control in a bid to lower your energy usage, and save you money.

Available in six colors, the Nest connects to a wide range of HVAC (heating, ventilation and air conditioning) systems, comes in four colors to suit your decor, and can be operated remotely via a smartphone and tablet app. Geofencing means the thermostat will lower the heating when you leave the house, and switch off the hot water when you are on holiday.
Because Nest thermostats have an internet connection, they can adjust your heating and cooling based on the local weather forecast - so the heating won't come on during an unseasonably warm day, saving you money. Nest believes US customers can save between $131 and $145 per year on their heating bill, meaning the Nest could more than pay for itself in two years.
Nest's Temperature Sensor lets the thermostat know the temperature of each room, rather than the Nest only knowing the temperature of its location, which is often the hallway. Sensors cost $39 each, or a set of three costs $99.
Nest Thermostat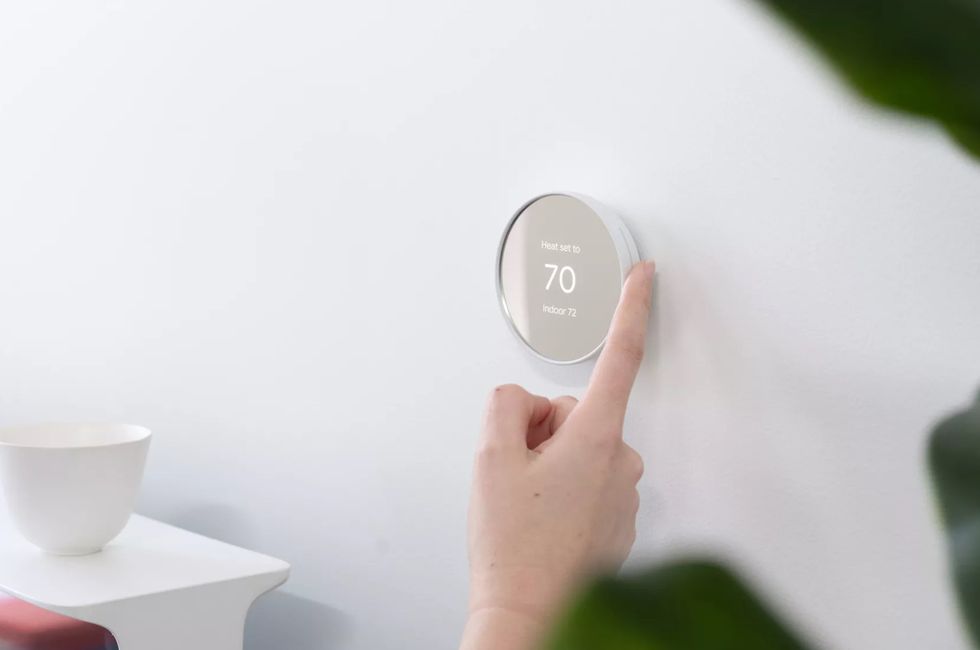 Google's new smarter and cheaper Nest Thermostat Google
Announced in October 2020, the latest member of the Nest family is a new thermostat priced at $130. Simply called the Nest Thermostat, this model replaces the Thermostat E and features a smaller, simpler and more stylish design. This is the first Nest thermostat to be set up using the Google Home app (instead of the older Nest app), and it is claimed to work with 85 percent of 24V heating and cooling systems. You can check compatibility with your system here.
Although very similar to the more expensive Nest above, the new model doesn't work with the Nest Temperature Sensor, and has a plastic housing instead of metal. It is available in four colors and has a one year warranty (half that of the Nest Learning Thermostat).
Google claims both of its Nest thermostats can save an average of 10 to 12 percent on heating bills and 15 percent on cooling bills.
Ecobee SmartThermostat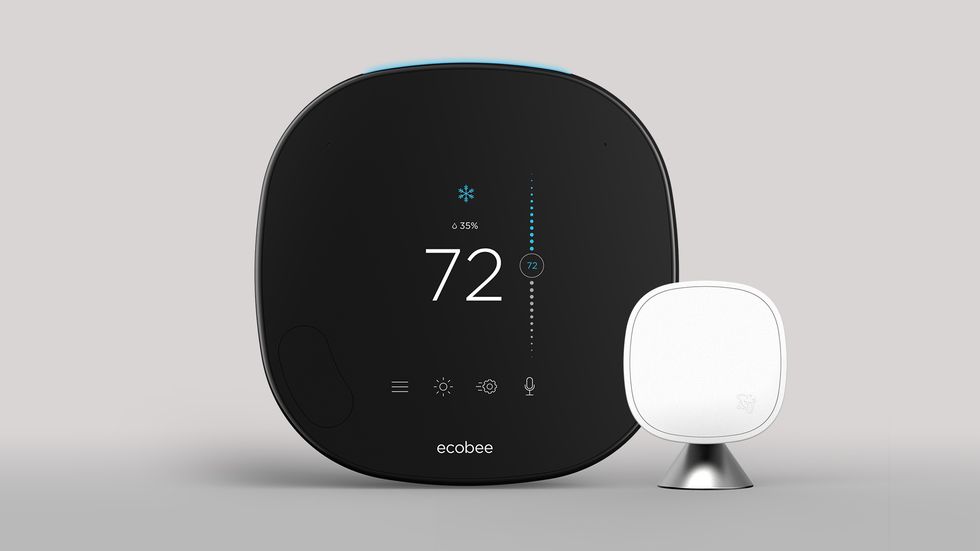 The Ecobee SmartThermostat has Alexa integrated Ecobee
Launched in 2019, the Ecobee SmartThermostat replaces the company's fourth-generation model and features integrated Alexa. This means you can ask the Amazon assistant to adjust the HVAC system whenever you're within earshot of the thermostat, but also use Alexa as normal - so you can ask it questions, add things to your to-do list, or ask it to play music, all without being anywhere near a smart speaker.
There's also Bluetooth and, for the first time in an Ecobee thermostat, Spotify Connect, so you can easily play music from any compatible speaker elsewhere in your home. Unlike some other non-Amazon devices with Alexa built in, the Ecobee SmartThermostat includes Alexa Calling, Messaging, and Drop-in.
The $249 device also works in a similar way to the Nest, adjusting your heating and cooling with help from sensors located throughout the home (you can add up to 32 of these if you have a particularly large home, and only heat the rooms that are being used at any one time).
Ecobee claims its system can reduce your annual heating and cooling costs by 23 percent.
Honeywell Home T9 Smart Thermostat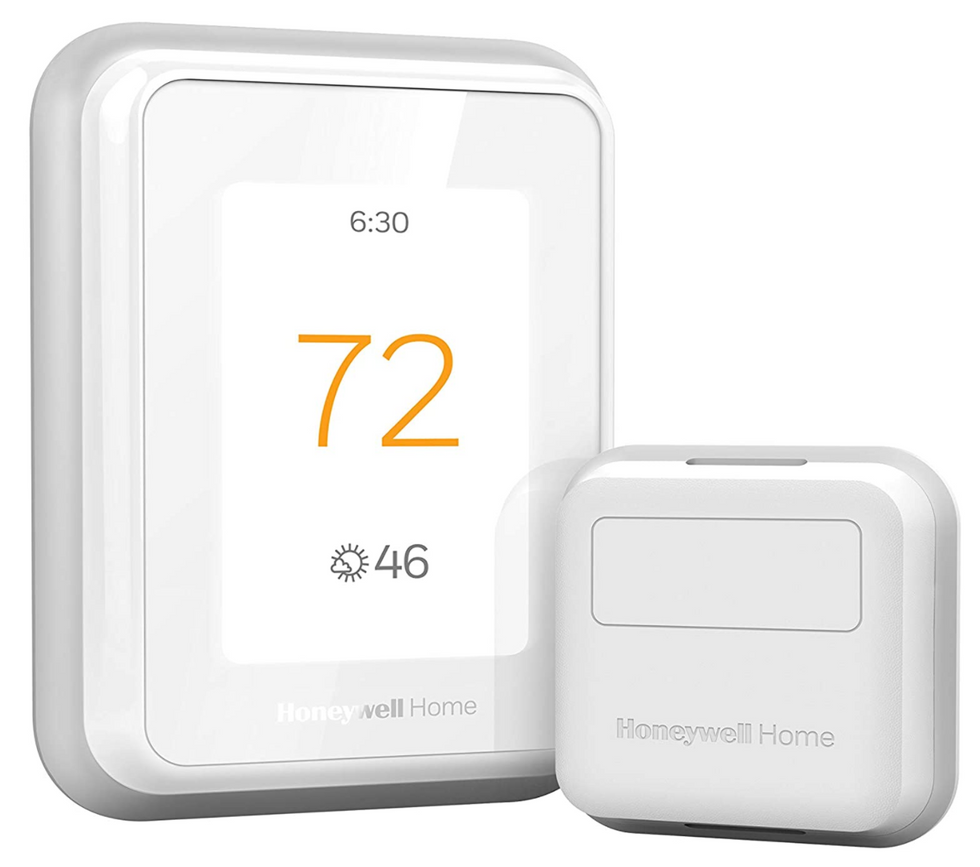 The Honeywell T9 thermostat and room sensorHoneywell
Honeywell spin-off Resideo launched its T9 Smart Thermostat in late-2019, complete with additional room sensors to help your system only heat and cool the areas of your home that are being used. What's more, the sensors understand the difference between someone passing through the room, and staying in the room, so the heating and cooling is adjusted accordingly, and energy isn't wasted heating a room that is only occupied briefly. Up to 20 of these sensors can be installed.

When GearBrain reviewed this system in late-2019 we liked the ENERGY STAR certification, 200-foot range of the room sensors, and the system's robust smart home integrations.
Read the GearBrain review here.
Smart garden sprinkler and irrigation system
Smart sprinkler systems save you money by only using the water your garden needs, when they need it. They do this by knowing what soil type is in each area of your plot, and what plants grow there. Smart sprinklers also keep an eye on the weather forecast, so will hold back on the watering when rain is falling.
Read More:
Rachio 3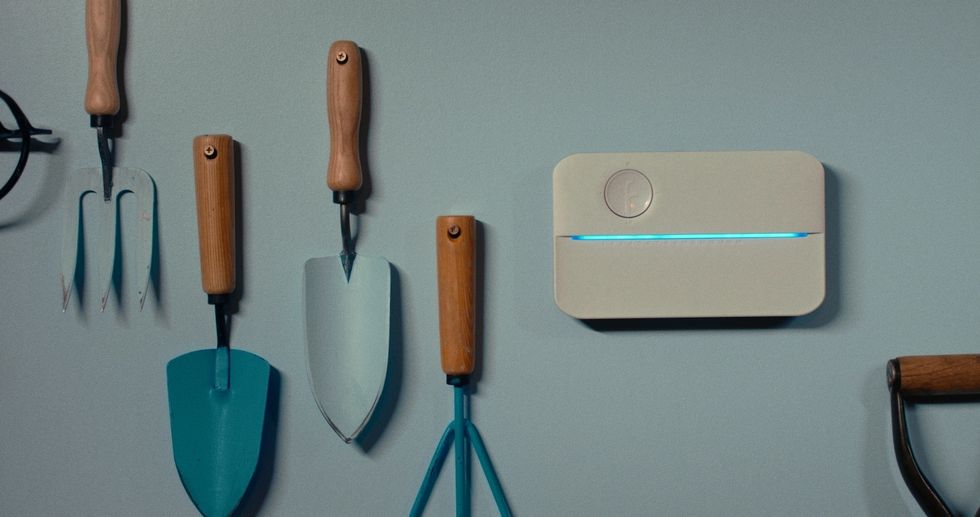 Rachio 3 smart garden sprinkler controllerRachio
The third-generation Rachio smart watering system can control water in up to 16 zones across your garden.

Rachio claims this system can pinpoint the weather to within a 36-foot radius of your home. Keeping such a close eye on the local weather means the Rachio will adjust its scheduled watering based on the forecast. That way, your garden won't be flooded, while your plants and lawn get the exact amount of water they need.
For an extra $50, the Rachio 3 can be bought with the company's water flow meter, which attaches to your pipe and alerts you to changes in flow, which could be a sign of a wallet-draining leak.
Orbit B-hyve Smart WI-Fi Sprinkler Timer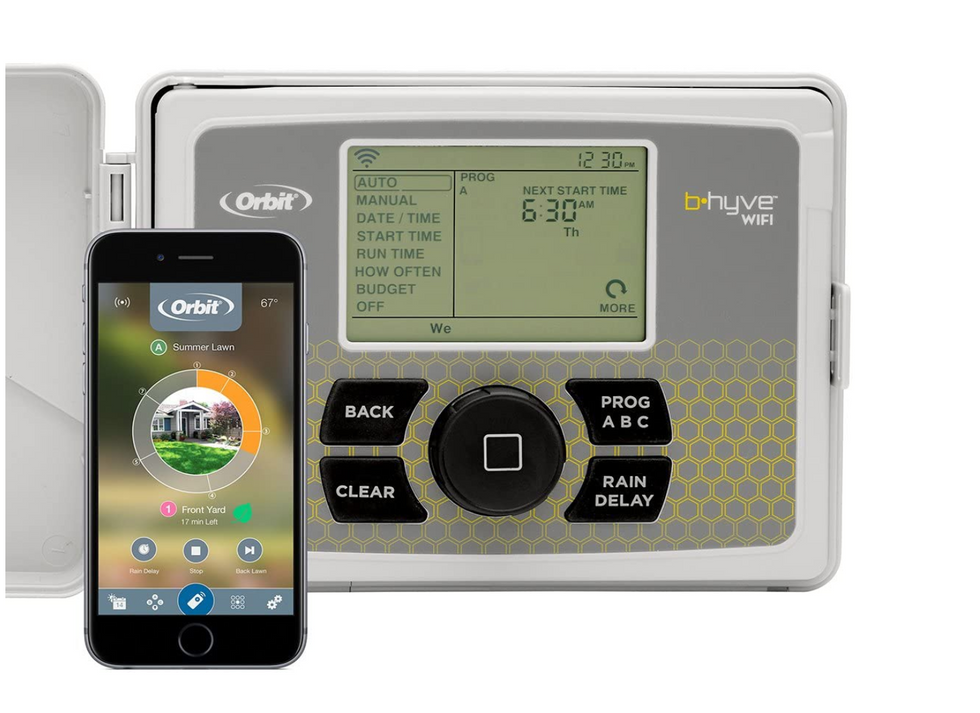 Orbit B-Hyve smart garden sprinkler systemOrbit
Similar to the Rachio, the Orbit B-hyve is a smart garden watering system with Alexa integration, a scheduling system and a smartphone app for telling the device about your plants and soil type.

The Orbit app takes into account your soil and plant types, sprinkler type and quantity, sun exposure and shade. Notifications to your smartphone let you know when watering has finished, when it has been delayed by rain, and temperatures fall below freezing.
As with the Rachio, this system takes local weather forecasts into account and will delay watering if rain is headed to your location in the coming hours.
Read the GearBrain review here
Leak detectors and water shut off systems
A smart water leak detector will serve two purposes in your home: alert you to a potentially damaging flood, and let you know if the pressure in your system suggests there is a leak somewhere, costing you money.
At their simplest, flood detectors sit on the floor and alert you when they get wet. More expensive systems constantly monitor the flow of your water system, alerting you to changes in pressure and letting you shut off the supply if a leak is detected.
Fibaro Flood Sensor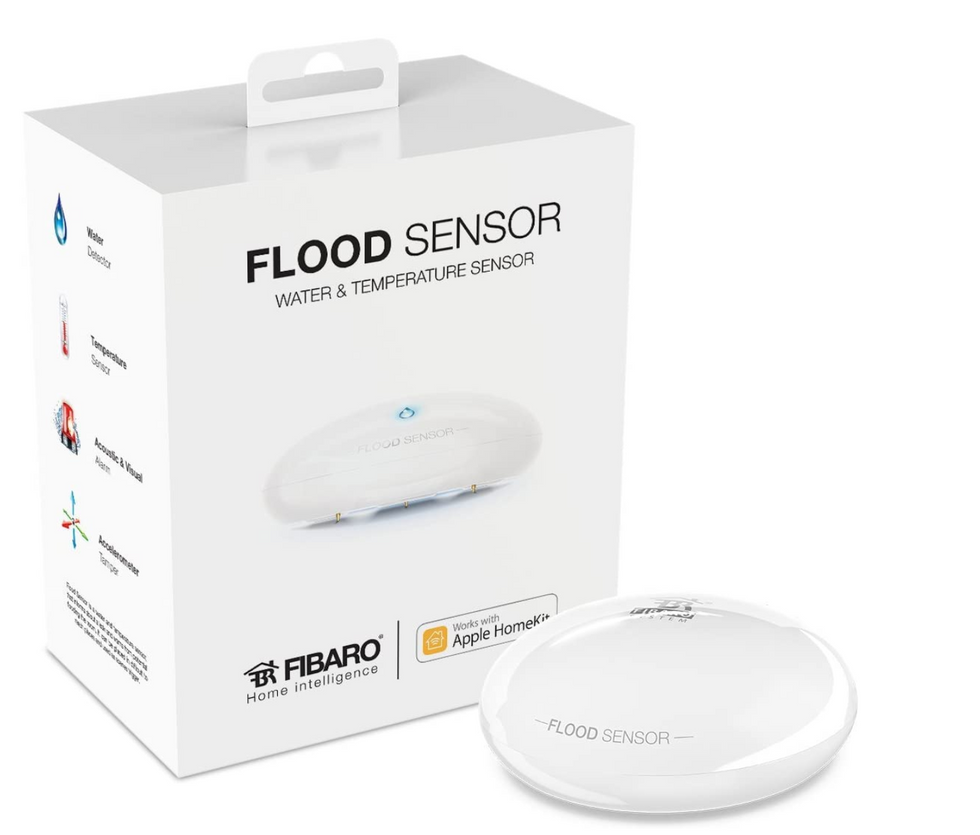 Fibaro Flood SensorFibaro
The Fibaro Flood Sensor can be placed on the floor close to wherever you think a leak may occur. This could be next to the washing machine, under the kitchen sink, or behind the toilet. As well as detecting moisture, the buoyant sensor measures ambient temperature, and will alert you if it has been moved or tampered with.

With the ability to connect to smart home systems like Alexa, Apple HomeKit, IFTTT, Google Assistant and Samsung SmartThings, you can configure the Fibaro Flood Sensor to adjust the heating based on the ambient temperature, or cut off the power to certain appliances (via smart plugs) if a leak is detected. An Apple HomeKit version, pictured above, is also available.
Read More:

Phyn Plus Smart Water Assistant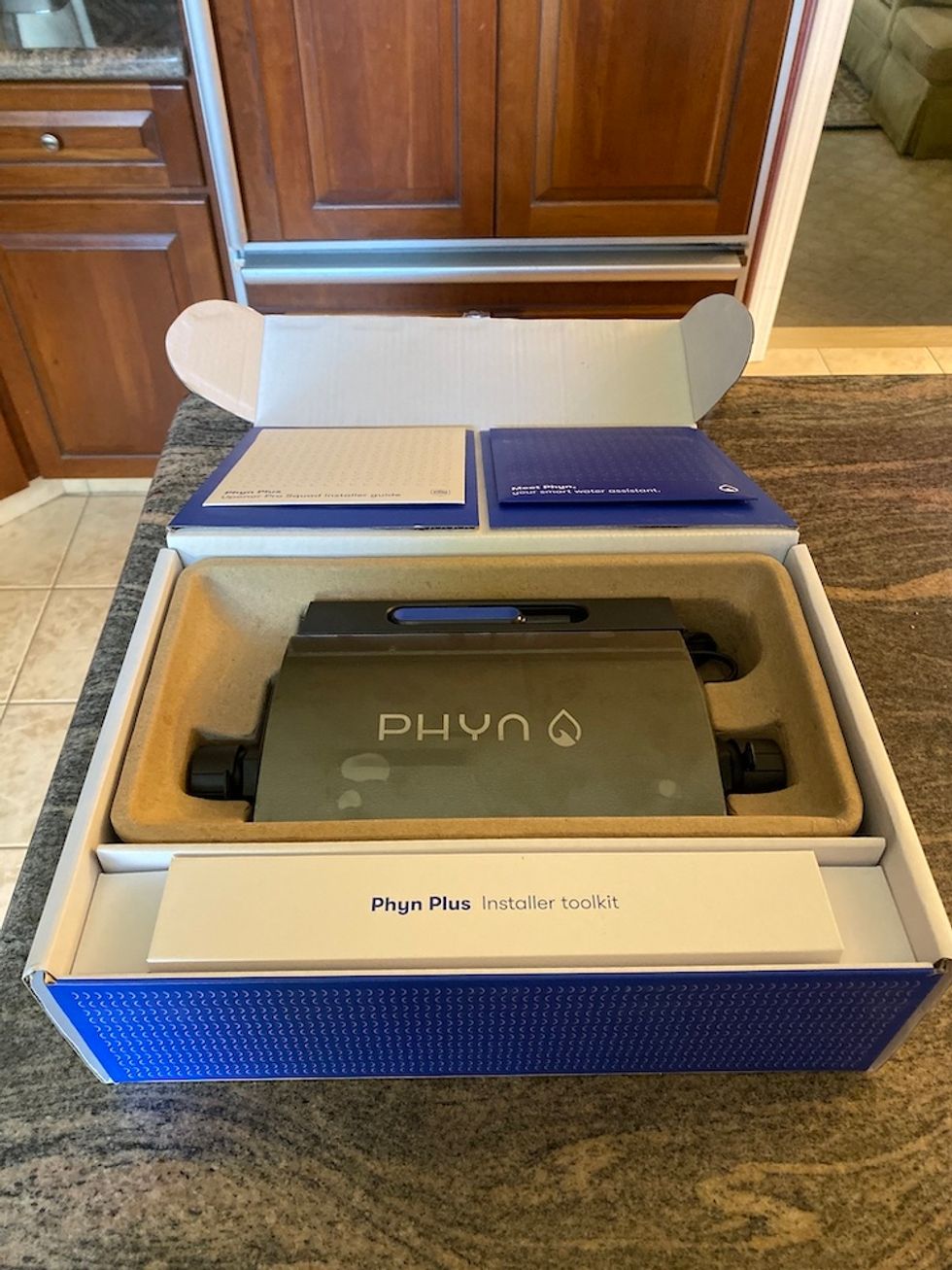 Phyn Plus water leak detector and flow monitor GearBrain
At $850, the Phyn sure is an expensive device which you may never need to actually use. But the one day you do need it, the Phyn could save you from thousands of dollars of flood repairs. Requiring professional installation, the Phyn Plus detects leaks in your plumbing by constantly monitoring the pressure of your water system (240 times per second).

Upon detecting a leak, the Phy can be configured to alert you via SMS and the companion smartphone app, then automatically shut off your property's water supply to prevent further damage and water loss.
Part of the Belkin family, Phyn also offers a smaller DIY option for $500, and the bigger Phyn XL for larger homes and commercial properties.
Smart refrigerator

A smart refrigerator can be used to prevent food waste and lower you grocery bills. This is because they have cameras installed so you can see what's inside via your smartphone - so when you're at the store you don't buy something already in the fridge at home, and risk throwing out any waste.
Samsung Family Hub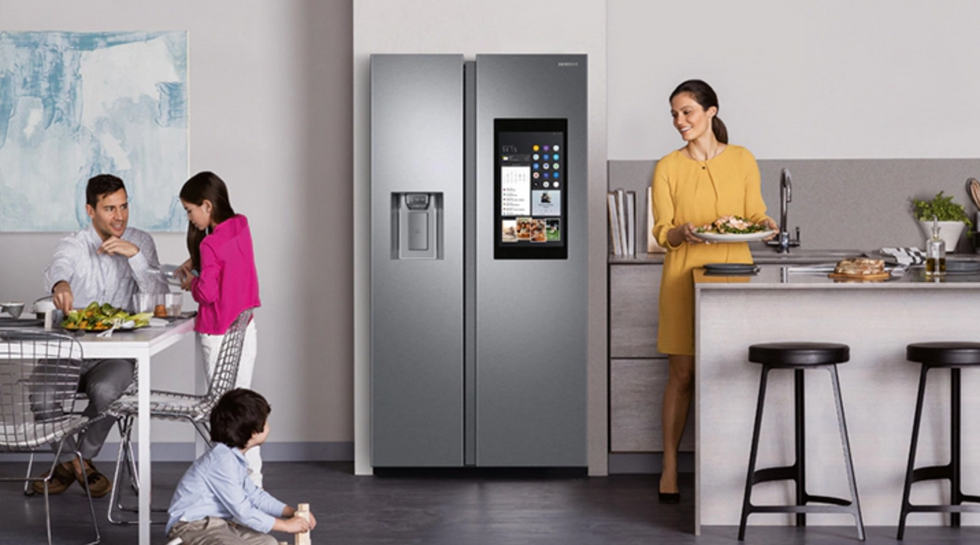 The Family Hub smart fridgeSamsung
The Family Hub has a camera inside which snaps a photo of the contents every time you close the door. This can be views on your smartphone while grocery shopping, so you know exactly what you need to buy and what's already at home.

When adding new items to the fridge or freezer, you can tell the Family Hub what the item is and its expiry date. That way, you'll know what's still fresh, and prepare meals in a way to prevent food waste and higher grocery bills.
LG Instaview smart fridge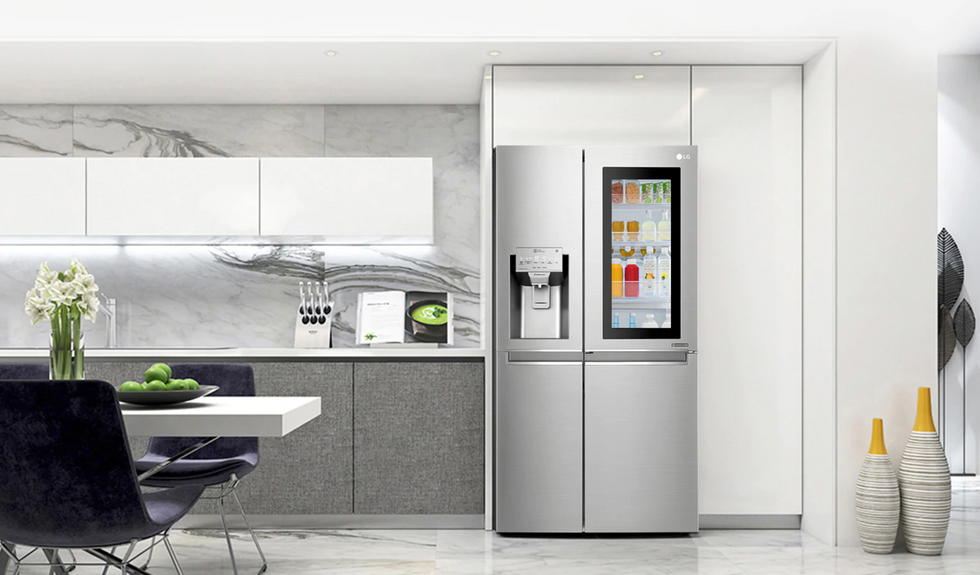 LG smart fridge features a glass door to show what's insideLG
LG also sells smart fridges, featuring the company's Instaview technology, where a knock on the glass section of the door reveals what's inside without you needing to open it and let the cold air out. This helps to lower the amount of energy required to keep your the fridge cool, and makes food last longer.
Smart lights
Smart lighting has quickly become a corner stone of the smart home. They are available from a wide range of companies and all use LED bulbs. These are far more energy efficient than older bulbs, as they waste far less energy producing heat.
Smart lighting can be set to any color, temperature and brightness; they come in a wide range of bulb types, including LED strips to fit under furniture or behind the television, and even weather-resistant outdoor lighting too.
Timers, motion detectors and geofencing features mean smart lights can lower your electricity bill by switching themselves off when you or your family forget.
Philips Hue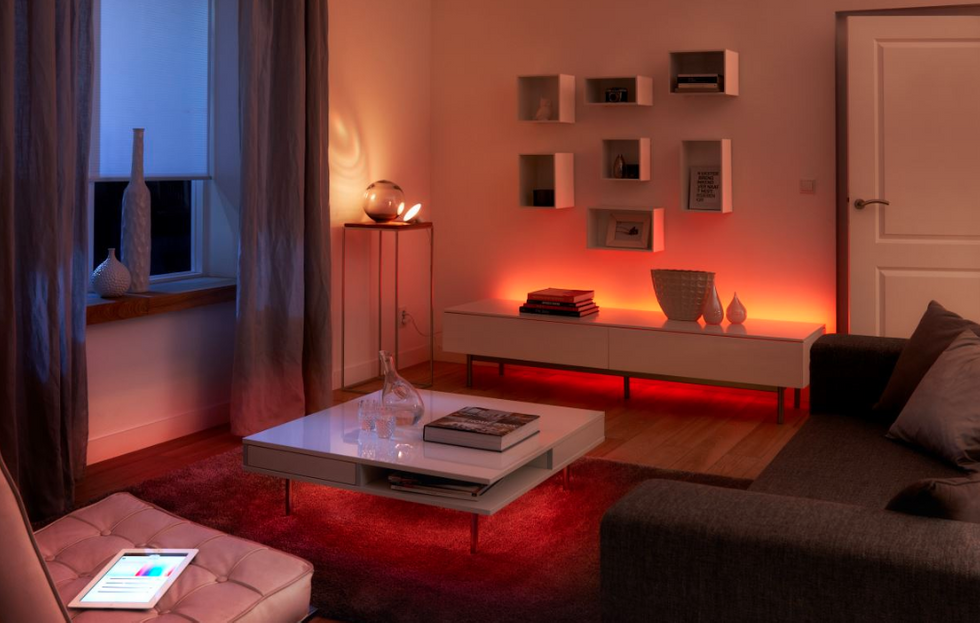 Philips Hue smart lights by Signify Philips
The simplest of Philips Hue light kits comes with bulbs and the hub, which connects to your router. Through the free Hue app you can set schedules for every Hue bulb or light strip you buy, making sure they all switch off at night, for example. The app also makes it easy to manually switch any or all lights off with a tap, and from anywhere in the world.

Add a $40 motion sensor to your Hue system and lights can be configured to switch on and off when movement is detected. Put a motion sensor in your child's bedroom, and the light will always switch off after they leave and inevitably forget to hit the switch themselves.
Similarly, geofencing can be set up with If This, Then That (IFTTT). That way, you can set some or all lights to switch off when you leave the home. No more upstairs light being left on by accident.
Read the GearBrain review here
LIFX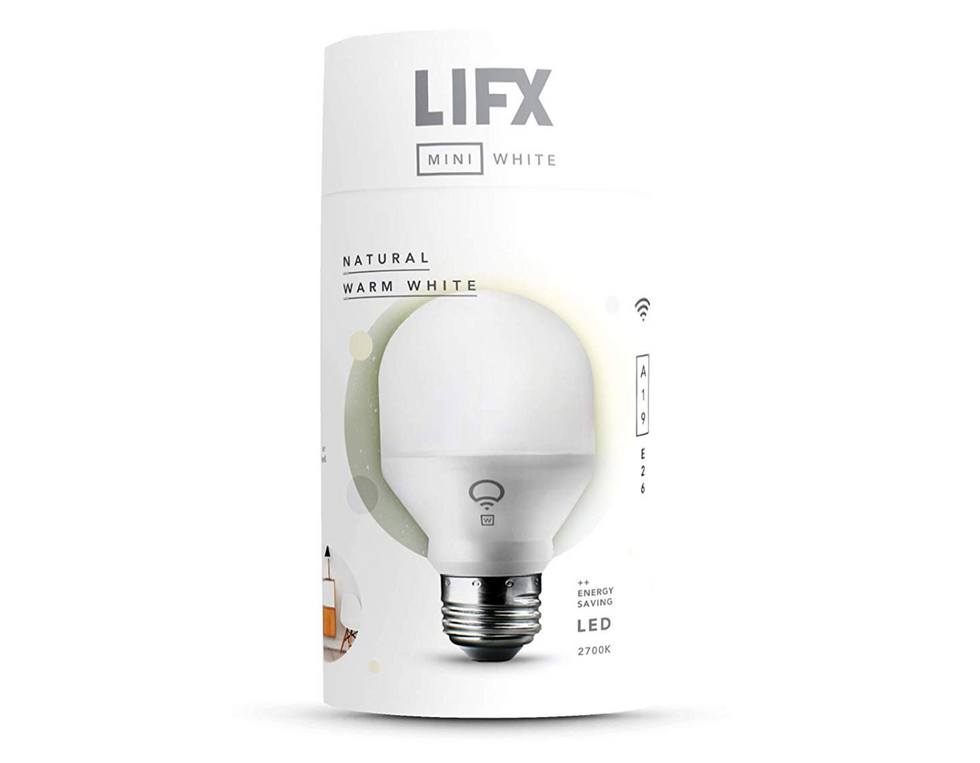 Lifx bulbs cost from around $21 Lifx
LIFX smart lights work in a similar way to Philips Hue, but are controlled directly over Wi-Fi rather than requiring their own hub. Although the company does not sell a motion sensor like Philips, an IFTTT applet like this one can be created to control the lights via a D-Link motion sensor.

Just as above, you can use this applet to have your LIFX lights switch off when you leave the room. IFTTT can also give these lights geofencing features. Some models of LIFX bulb can be set to emit invisible infrared light at night, helping any security cameras with night vision that you might have.
Smart plugs
Finally, smart plugs are quite possibly the simplest way to make your house smart - and save some money in the process. These can be used to switch off devices on a timer (every night, for example) or manually via a smartphone app, so you can make sure things are switched off wen you're away from home.
This means you can remotely make sure devices like irons and hair straighteners are switched off if you think you forgot before leaving home. For other devices you can set timers - for making sure lamps and plug-in heaters don't stay on all night, for example - or to stop your children leaving devices on standby when they could be switched off at the wall to save energy and money.
WeMo Mini Wi-Fi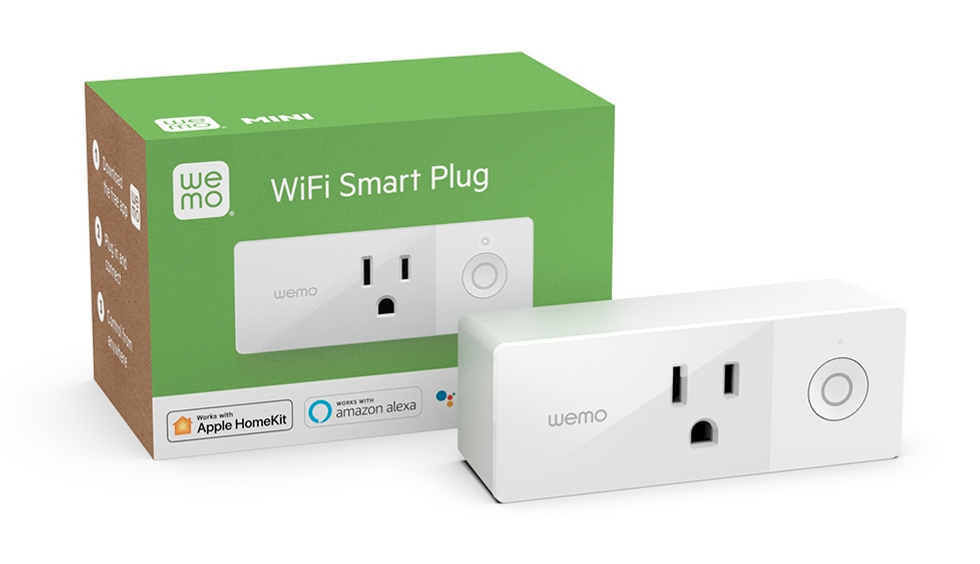 WeMo smart plug WeMo
There's no need for a connected hub like those from Samsung SmartThings and Harmony to use the WeMo Mini. Instead, the plug talks directly to your router and smartphone — or to a smart speaker like the Amazon Echo or Google Home, or even your Nest thermostat.

Read the GearBrain review here
TP-Link Kasa Smart Plug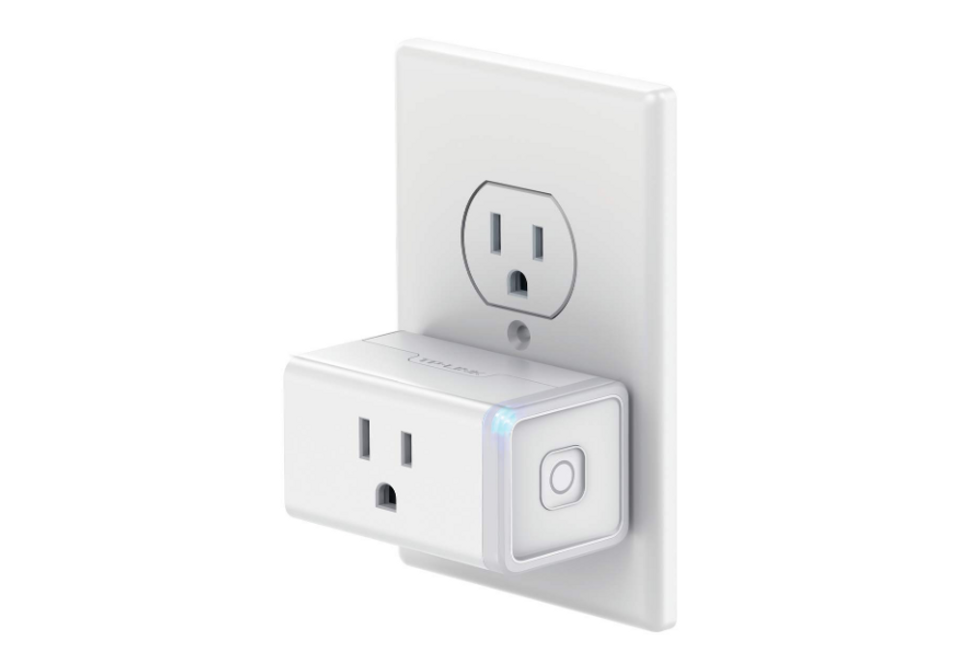 TP-Link Kasa smart plugTP-Link
TP-Link's Kasa platform includes a range of smart plugs priced from around $15 each, while a two-pack can be bought for a a little over $20.

Although you could argue the cheapest option is best, you might want to consider the Kasa ecosystem, which includes smart light bulbs, light switches, security cameras and other smart home devices. As well as being controlled by the Kasa app, these devices can also be controlled by Alexa and Google Assistant.
Read the GearBrain review here

In-wall smart plugs are also now available. These replace your regular wall outlets with a smart, internet-connected equivalent, giving you a neater and more seamless finish than cluttering your regular outlets with chunky smart plugs. Naturally, fitting these is id a bigger investment of time and money than buying a plug, and when/if the technology proves replacing and upgrading will require more effort.
That said, they offer a great look and aren't too expensive. Options from the TP-Link Kasa collection start at around $27 for a module with two individually controlled outlets, or $20 for a similar product from Lumary. Finally, there's a $27 option from Teckin which has two outlets, plus a USB-A port too.
Check out The GearBrain to see what other connected devices work with Google Home or Amazon Alexa enabled device.

How to Install Nest Smart Thermostat www.youtube.com
Like GearBrain on Facebook