Burberry's latest shopping thrill is not a new jacket, but a way to look at some of its bags and shoes through an augmented reality filter. The tool — which only works on Google search with smartphones — places the items right into a viewer's personal space, and even lets them spin the images around for a 360-degree view.
Burberry is one of the first retailers to take advantage of this new AR tool from Google, and there are just two objects currently that can be seen this way. One is the Burberry Black TB bag in black, which retails for $2390, and the other is the Arthur Check Sneaker, which is on sale on the company's site for $790.
Retailers have been toying with AR for a number of years now, giving buyers a way to see how items would look in their personal space physically. Certainly consumers are able to see objects online fairly easily, with fashion brands often putting clothing items on models to get a better sense of fit. But a view completely around an item is still something people can really only do in a store.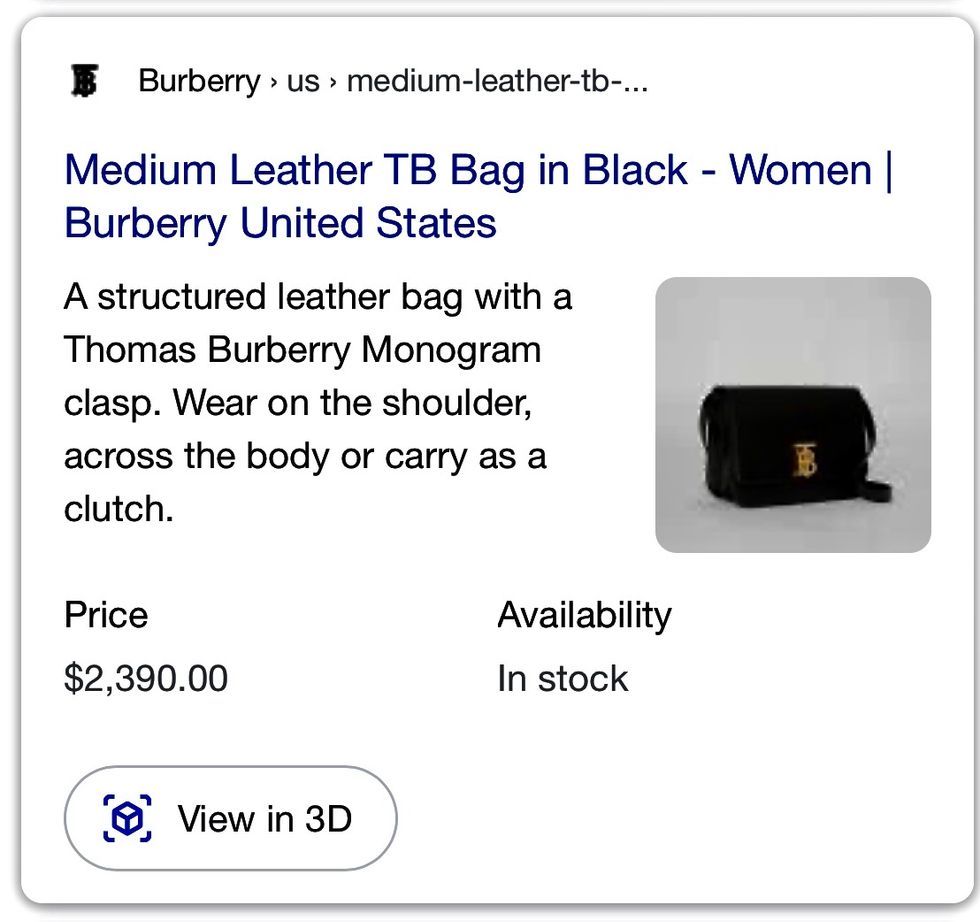 Burberry has launched a new AR view online for some of its bags and shoesGearBrain
Still, analysts have been predicting that AR would help brands attract shoppers who don't want to bother going into a physical store. And companies from Ikea's online furniture shopping to Alibaba, have been adopting AR tech in the online retail space for years. The feature typically makes use of a camera on a mobile device, like a smartphone or tablet, to overlay an object into an existing space. Other big fans of AR include Apple's CEO Tim Cook, who has been vocal about the promise of the technology.

With Burberry, the option to view the AR image is seen through a small tab at the bottom of a listing in Google Search. The listing is from Burberry's own page, and is a small icon next to the phrase, 'View in 3D." Clicking on this open someone's camera and the bag or pair of shoes are then visible on the screen. The image can be made larger, and twirled around using two screens to see all sides.
The experience is certainly fun, but it was difficult in low light to see much detail on the handbag. This buying a $2400 designer item will likely want a better view than the one through an AR lens — then again, Burberry takes returns of many items bought online for 30 days.
Burberry is rolling out the new feature globally, but it is first only available to users in the U.S. and the UK.