Here at GearBrain we have gathered up some of the must-have tech gadgets to take on your next camping trip.
Instead of recommending tents and sleeping bags, we're taking a tech-first approach. This selection includes solar-powered chargers, waterproof portable batteries, braided and non-tangle cables, and a pair of binoculars with a smartphone mount for taking photos of the wildlife you encounter.
We've also rounded up a selection of smartphone apps to tackle with you, each of which is designed to help you stay safe and get the most out of your weekend adventure.
Solar charger: $50-$75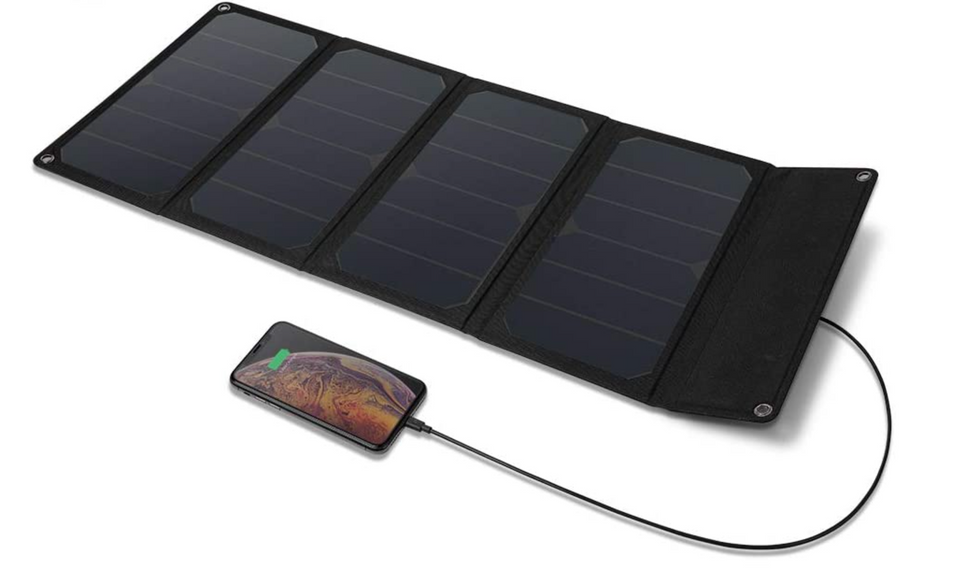 Solar chargers fold out to power up your phoneRAVPower
When it comes to buying a solar charger, there are lots of options at a range of price points. Familiar and trusted brands like RAVPower and Anker are popular here, with prices ranging from around $50 to $70.

Solar chargers tend to have a folding design, making them compact and easy to slip into your backpack, but with a large surface area when opened up and angled towards the sun.
Taking the $75 RAVPower Solar Charger as an example, it produces 28 watts of power by converting up to 23.5 percent of the sun's heat into electrical energy. In ideal conditions, this panel should provide a 50 percent charge for most phones in two or three hours. There are three USB -A ports for charging multiple devices at once.
Garmin Instinct rugged GPS watch: $200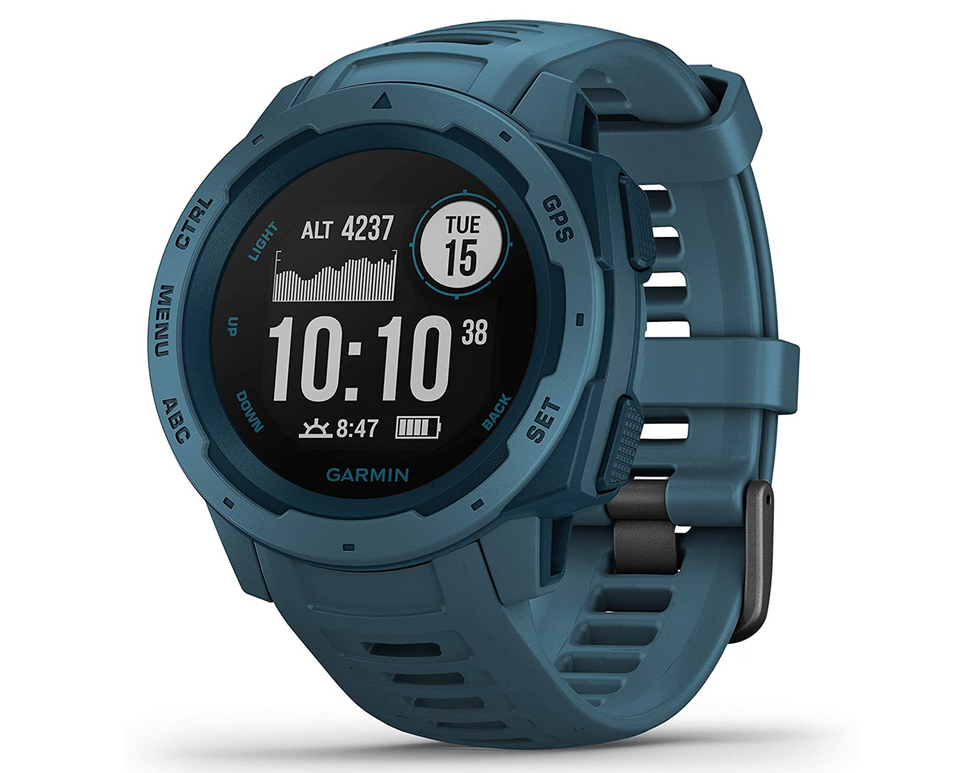 The Instinct is rugged, waterproof and has a 14-day battery lifeGarmin
We're big fans of smartwatches like the Apple Watch, but unless you attach a productive case, you might be best off with a dedicated outdoor smartwatch. The Garmin Instinct is one of the most highly-regarded, with a rugged case built to U.S. military toughness standards, the company says, water resistance to 100 meters, and three forms of GPS positioning to ensure accurate locational information.

As it doesn't have a color display, the Garmin Instinct can last for up to 14 days on a charge, or up to 16 hours with the GPS constantly working. The watch also features a three-axis compass, barometric altimeter, GPS, Glonass and Galileo positioning systems, plus a heart rate monitor and activity tracking. The watch is available in eight colors.
Braided, non-tangle USB cables: From around $9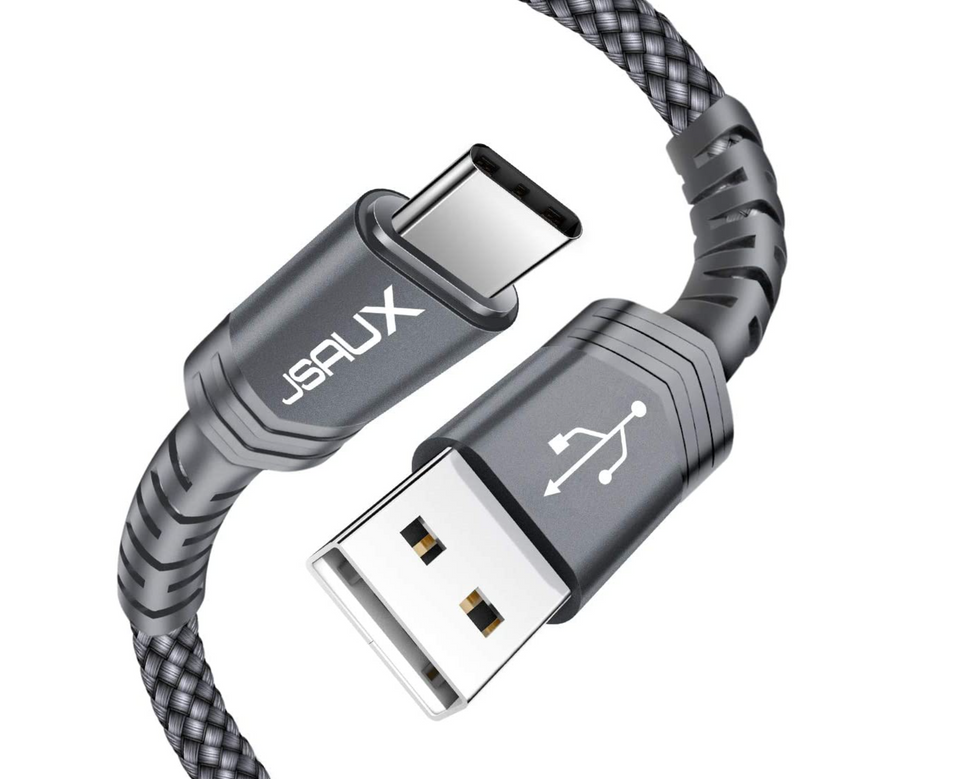 Braided cables are tougher and don't tangle up into knotsJSAUX
Braided nylon cables have a couple of benefits over the rubber ones that came with your smartphone and other devices. They are tougher and less likely to be damaged — which of course is key on a camping trip to the great outdoors — and they don't work themselves into a tangled mess.

They are also priced very well, with most USB options costing in the region of $9 to $12, depending on length.
Waterproof portable charger: $50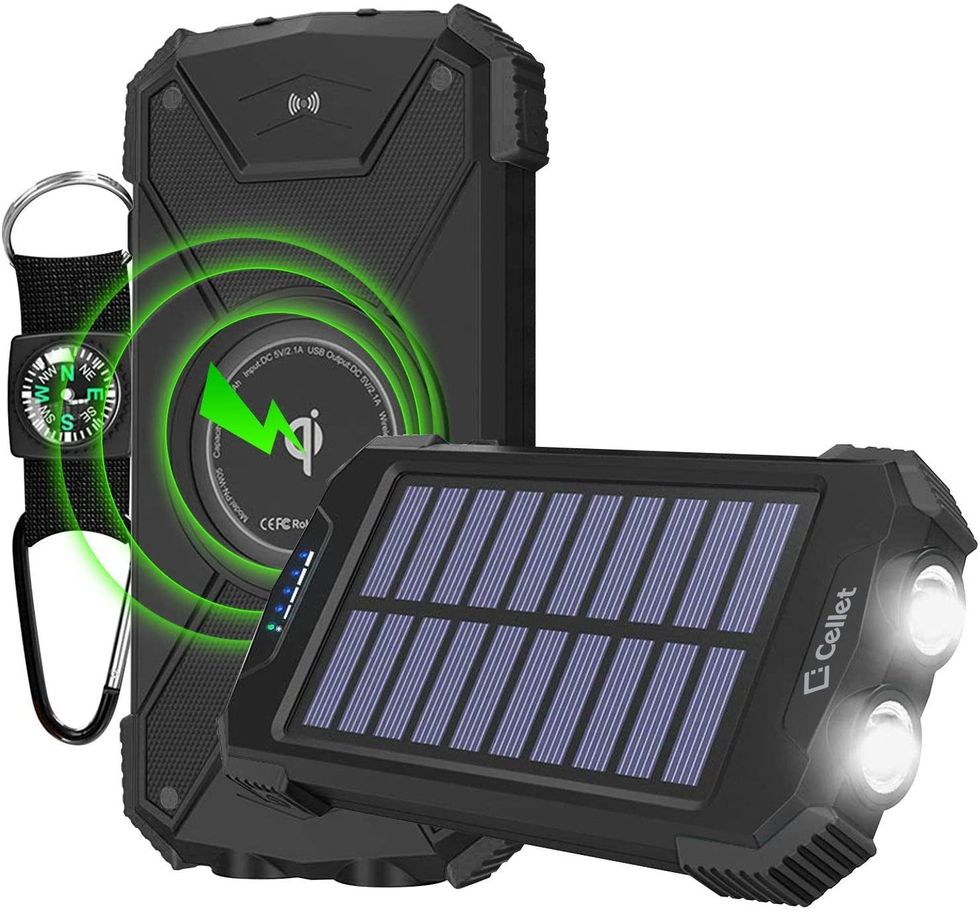 Waterproof, wireless and solar-powered, this battery does everythingCellet
We've already mentioned portable batteries (also known as power banks) in a couple of our camping guides this week, including the Best Camping Gear for Kids and Top Pet Gadgets for Camping, but here we thought we'd up the ante.

This 10,000mAh power bank by Cellet is rugged, water resistant, and includes an integrated wireless phone charger. It also has a solar panel, so can be charged up when strapped (via the integrated carabiner hook) to your backpack on a sunny hike. Finally, it has a compass on the strap and there's an integrated dual LED flashlight.
As well as the solar panel, the pack is charged using a microUSB or USB-C cable, and it sends power back out using a USB-A port, so can connect to just about anything.
Binoculars with smartphone mount: $80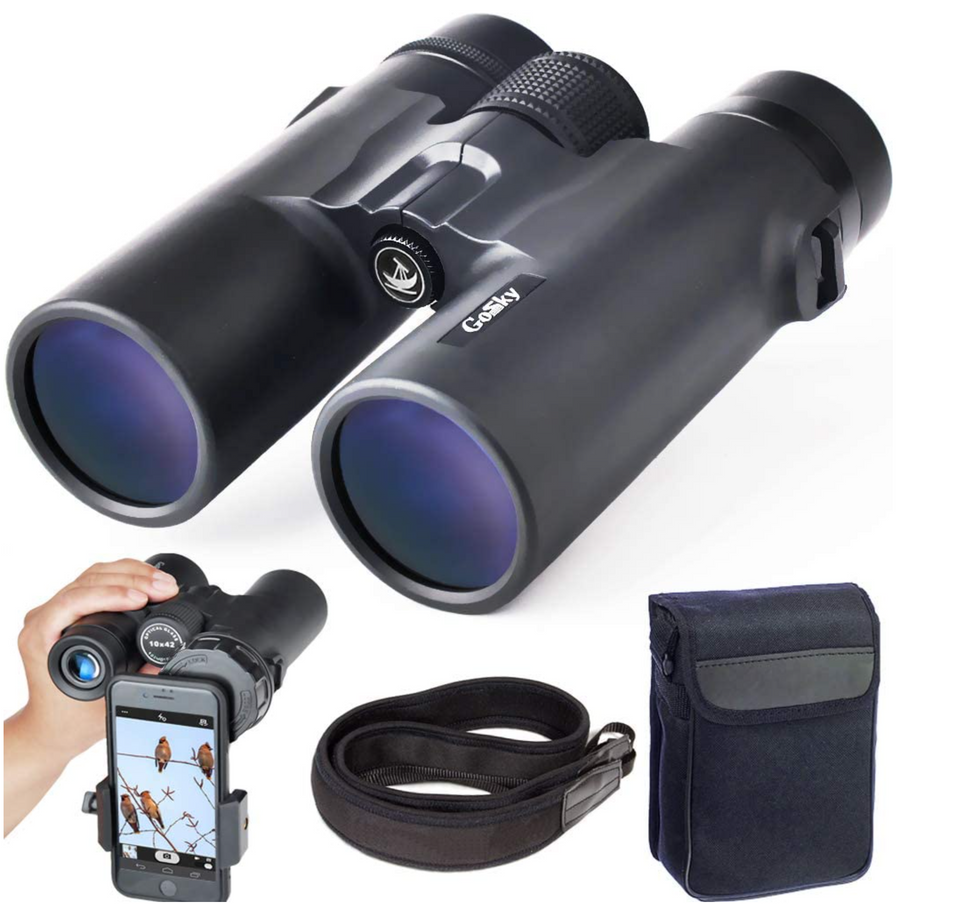 Binoculars with smartphone camera mountGosky
You might already have a pair of binoculars, but what makes these special is the included smartphone camera mount. This means you can snap photos through one of the eyepieces, then share all of the wildlife you spot on Instagram.

Away from the phone mount, these binoculars by Gosky offer 10x magnification, and come with a case lens cover, cleaning cloth and neck strap.
Victorinox Traveller Swiss Army knife: $140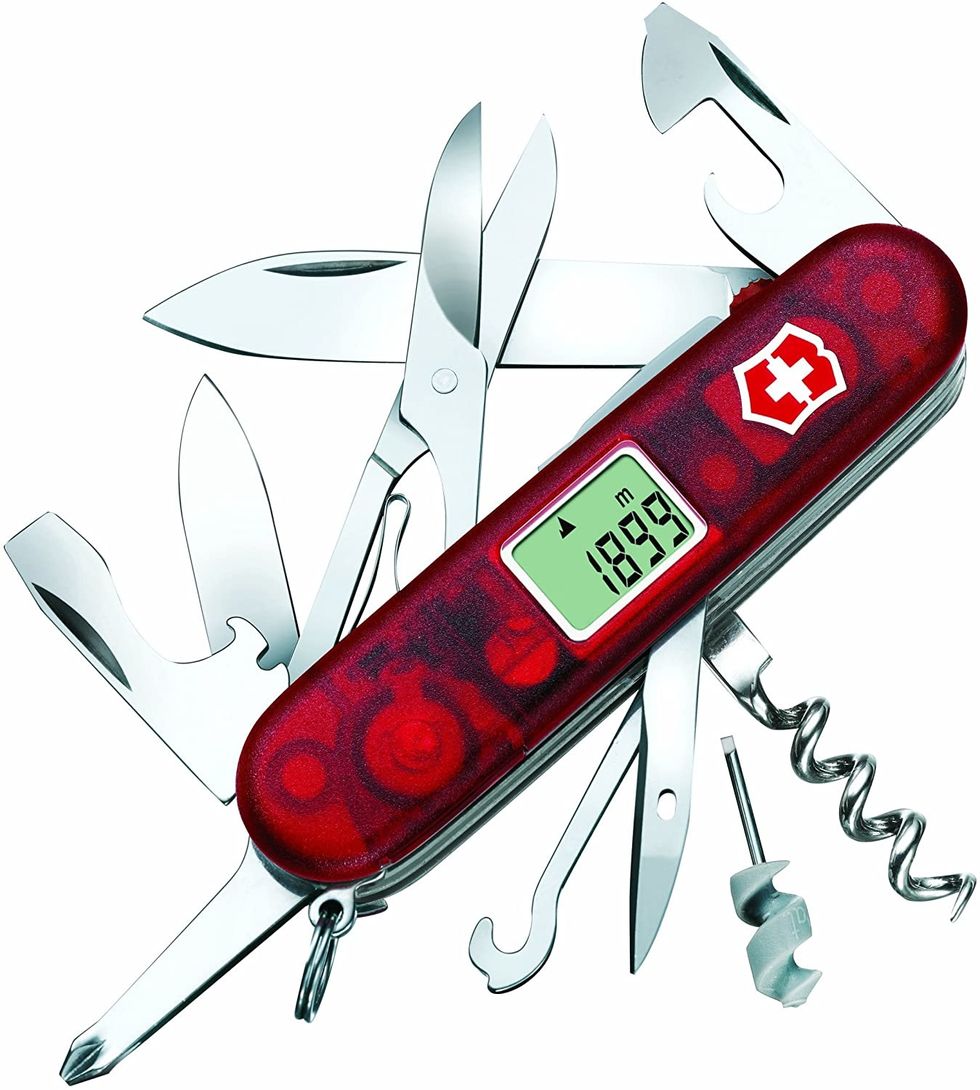 The knife includes a display for altitude, temperature, air pressure and moreVictorinox
The Victorinox Swiss Army knife is no stranger to weekend camping trips. But what makes this model special — and smarter than your average knife – is the digital display, which shows data from an internal altimeter, barometer and thermometer. It can also be used as a clock, alarm, stopwatch and countdown timer.

In all, the Traveller has 28 functions packed into its four-inch body.
Smartphone applications for your next camping trip
Now you've got the right gear, it's time to load up a handful of smartphone applications to help make the most of your weekend away.
Yonder - Free for iOS
The Yonder app is designed to help find local outdoor activities, like hiking, kayaking and climbing. The app includes geo-located photos and videos to show exactly what each activity looks like, and its database includes over 20,000 destinations spread across 25 different activities.
AllTrails - Free for iOS and Android, plus optional in-app subscription
AllTrails is an excellent app for anyone who enjoys walking, hiking and biking. It features over 100,000 hand-picked trails to follow, from all over the world. Each shows up in a detailed and interactive map, complete with stats and an elevation change graph so you know what to expect.
The maps can be downloaded and viewed offline – perfect for when your hike involves an area with no cellular coverage.
FreeRoam - Free for iOS and Android
FreeRoam is an app for finding campsites of all types. Aimed primarily at boondocking, but with paid options also included, the app can be used to search for sites close to local amenities like a grocery store, by phone signal coverage, by crowdedness, and by the type of vehicle you plan to use.
There's a social side to the app too, helping to put you in touch with other van and RV owners, and advertising local upcoming events.
SkyView Lite - Free for iOS and Android
A must-have app for anyone wanting to escape the nighttime light pollution of major cities, SkyView offers an augmented look at the night sky. Open the app, point your smartphone or tablet's camera at the night sky, and start exploring. Every planet, star and constellation is marked, along with the International Space Station, satellites and more.
Victorinox Traveller Lite Multi-Tool (Red)