Like GearBrain on Facebook
As I discovered recently with the CAT S41, tough phones designed for a specific purpose are surprisingly good. They won't win any beauty competitions when compared to the likes of the iPhone X and Samsung Galaxy S9, but where those handsets would smash at the very sight of a construction site, archaeology dig, or a tradesman's toolbox, CAT phones are designed to shrug off tough environments.
Up next, I have the $330 CAT S31. Smaller and cheaper than the S41, this is a similarly robust-looking handset, but one which trades a degree of toughness for a more pocket-friendly design.
CAT S31 review: Design
As I have just said, the S31 is more compact than the S41 and less imposing as a result. It doesn't shout quite so loudly about its ability, but still possesses an aesthetic which means business. Looking like it is already wearing a protective case, the S31 has a rubberized body designed to brush off even the most serious of knocks and drops.
CAT claims the S31 is IP68 certified - just like the S41 - and can survive being in 1.2 meters of water for 35 minutes. This means more water resistance than most smartphones, but it lags a little behind the S41, which can survive for 60 minutes in two meters of water. Both phones cover their headphone jack, micro USB port and SIM and microSD card slots with rubber seals.
Just like the S41, the S31 meets the Mil-Spec 810G military standard, meaning it can survive a fall onto concrete from 1.8 meters.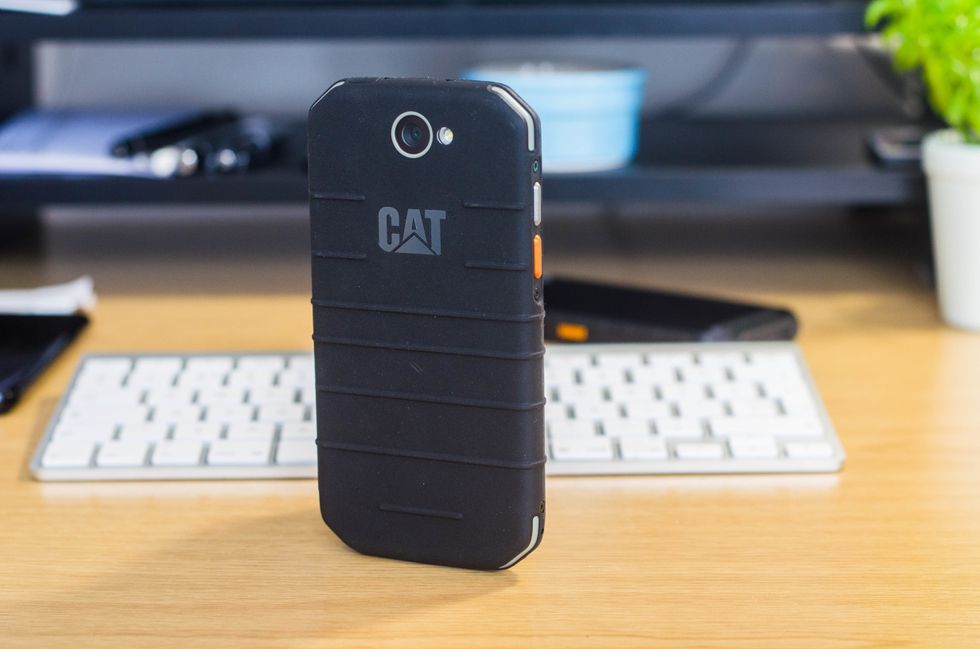 The CAT features a rugged, rubberized body built to military standardsGearBrain
Where the S41's body features hard plastic with a rubberized back, the S31 is rubber all over, making it a little softer to hold. Curved edges also attempt to make the S31 more 'normal' but in my experience this meant it was more likely to slip out of my hand. For this reason I prefer the flat edges of the larger model.
Physical keys replace Android's on-screen home, back and multitasking buttons. They feel good enough, but lack the more tactile click of those on the S41. The S31's sometimes feel a bit mushy and less precise, but are still more affirmative than a touch screen - and of course they work with dirty, wet or gloved fingers.
Speaking of buttons, the S31 has an extra one on its left side which be configured to do whatever you want. For example, you can assign a short press to answer incoming calls and a long press to operate the phone's flashlight, or open any app you have installed.
CAT S31 review: Display
The CAT S31 has a 4.7-inch display with an HD resolution of 720 x 1280. For 2018 this is a fairly low pixel count and means there is a small amount of fuzziness to Android's otherwise sharp graphical edges.
Although such a resolution would surely spark riots among smartphone fans if it was found on a new Galaxy Galaxy or iPhone, here it matters far less. Having said that, the display's blacks aren't as good as I'd like them to be, and the screen picks up a lot of fingerprints.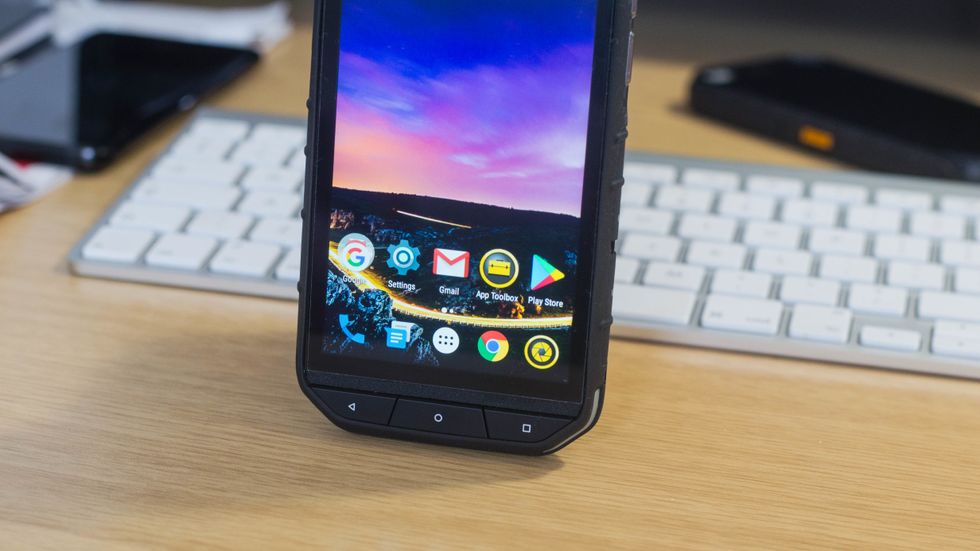 Physical buttons are welcome but not as tactile as we would likeGearBrain
The S31 is about being tough and functional first, with aesthetics of less importance. What matters more is that the display is larger enough, bright enough, and with acceptable contrast and viewing angles. It is covered by Corning Gorilla Glass 3, compared to the S41's Gorilla Glass 5, but also comes with a factory-fitted screen protector.
Adding further protection is how the S31's body creates a raised lip around the display, preventing it from coming into contact with flat surfaces when dropped screen-first.
CAT S31 review: Cameras
The S31 has an eight megapixel camera on the back and a two megapixel camera on the front. These are not great stats, and when using the S32 it shows. You're not going to shoot award-winning photography with this phone, and anyone receiving your selfies will notice their grainy texture and poor exposure.
On a regular smartphone this would be a major disappointment - even one priced the same as the $330 S31 - but it's clear that CAT, and manufacturer Bullitt, has focused on spending money elsewhere. That, and I suspect making low-volume, specialist phones like these reduces the economies of scale and prevents manufacturers from buying better components at an affordable price.
That said, the S31 is able to take acceptable photos - so if you need basic images of the construction site you work on, you'll be fine.
CAT S31 review: Software and performance
CAT has taken the sensible decision to leave Android 7.0 Nougat almost complete standard on the S31. This means no bloatware, no pointlessly duplicated apps (I'm looking at you, Samsung), and an operating system which is simple and fast. The S31 is powered by a quad-core Snapdragon 210 processor, as used by a wide range of budget smartphones from LG, Acer, Alcatel, Huawei and ZTE.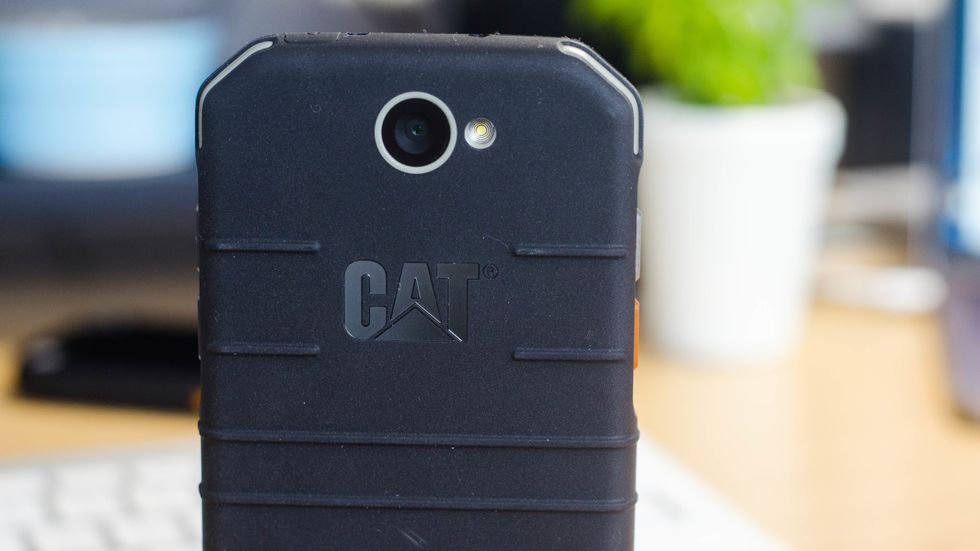 The eight megapixel rear and two megapixel front cameras are adequate but not all that impressiveGearBrain
It has 2GB of RAM, 16GB of storage and its performance is acceptable. If you use an iPhone, Samsung Galaxy or Google Pixel in your private life and have been given a CAT S31 for use at work, then you are certainly going to notice the difference. But you're unlikely to be playing intense 3D games while demolishing a building or fixing someone's boiler, so it shouldn't get in the way of what the phone is designed for.
I tried out PlayerUnknown's Battlegrounds - exactly the kind of intense, 3D, multiplayer game the S31 shouldn't have to deal with - and, sure enough, it was very slow to load then failed to work properly. The similarly demanding Real Racing 3 by EA also took a long time to load, but played surprisingly well. Simpler games like Stack load quickly and play smoothly. A large 4,000mAh battery means the occasional game session shouldn't stop the phone from surviving a full day of work.
CAT has added a few apps of its own, but these are more like shortcuts to content online and in the Google Play Store than actual applications. One, called App Toolbox, opens a page of the store full of apps a CAT smartphone owner might find useful, like spirit levels and specialist calculators.
CAT S31 review: Verdict
Like their sleeker, pricier and more desirable counterparts, tough phones come in all shapes and sizes. The CAT S31 is at the cheaper and simpler end of the scale, lacking in the performance of the more expensive S41, but almost matching it in terms of toughness.
If you need a tough phone for work - or are looking to buy them for your employees - but don't require much in the way of performance, the S31 is worth looking at. It can handle email, web browsing, photography and useful apps aimed at use in the construction site. It lets you bring smartphone functionality to hostile environments, but is unlikely to be your one-and-only handset.
S31 buyers will appreciate the rugged design, but they'll be glad to get back to their iPhone, Galaxy or Pixel when they finish work for the day. Where the CAT S41 is arguably a capable smartphone in its own right, the cheaper S31's performance limitations mean it will probably spend its nights in your toolbox or van, not on your bedside table.
Pros:
Water resistance and military-grade toughness
More compact than large CAT S41
Large battery
Cons:
Middling performance
Display has Gorilla Glass 3, not 5
Not as secure to hold as the squarer S41
From Your Site Articles
Related Articles Around the Web
Like GearBrain on Facebook