Like GearBrain on Facebook
In a world trained to lust after the polished curves, aluminum chassis and delicate glass bodies of the iPhone X and Samsung Galaxy S9, the CAT S41 stands out for being a brutalist slab of unconventional design.

Looking like it is already wearing a heavy-duty case, the S41's rubberized body, large screen bezels and physical buttons with their purposeful and reassuring click make no effort to hide this phone's mission statement. This is a device meant to accompany you to a work site, perhaps into terrain that's certainly more harsh that city streets. It might even live in a toolbox with the screwdrivers and hammers, and it will certainly spend its days getting as wet and muddy as its owner's steel-capped boots.
That's all well and good, but does the $450 CAT S41 actually work as a smartphone too?
CAT S41 review: Design
Deliberately exposed screw heads and a pattern carved into the rubber like that of truck tires, the CAT phone is designed to look as tough as it really is. I felt like a was doing it a disservice by not wearing heavy-duty gloves during my review.
Despite a 'glove mode' to help the screen work when your hands are covered, you'll want to remove them for accessing the S41's ports, which are all covered by rubber flaps. This makes using the headphone port, power socket and SIM and microSD card slots tricky, but means the S41 is water resistant to a depth of two metres for up to an hour.
Mil-Spec 810G certification — something you won't find on anything from Apple, Google or Samsung — means the S41 meets certain military-grade levels of toughness. In particular, it is designed to survive a 1.8-meter drop onto concrete, as well as being blasted by salt spray and subjected to extreme temperature changes.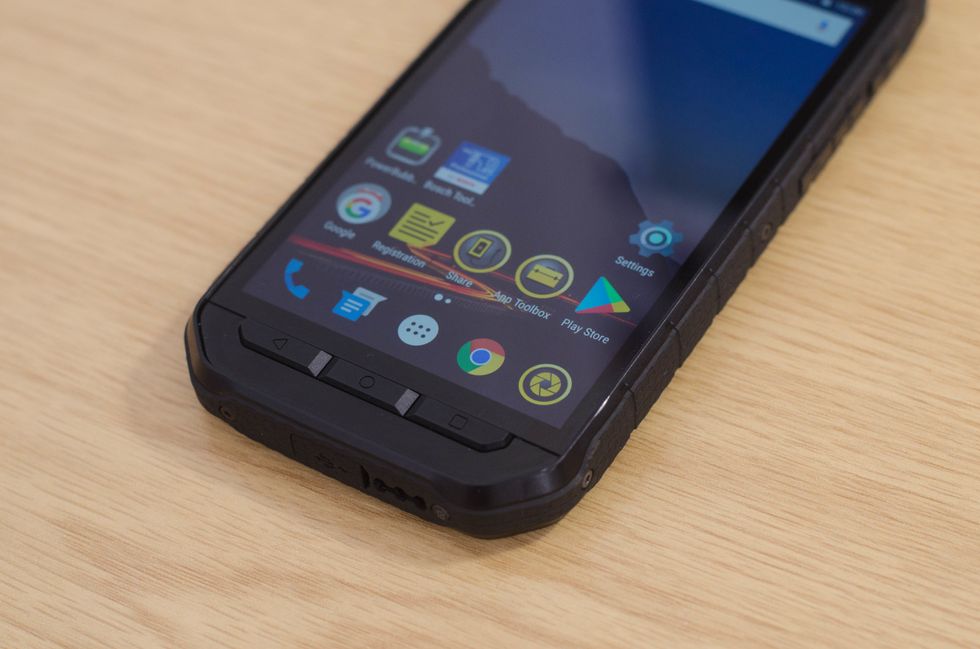 Physical buttons have a good tactile feel to themGearBrain
If you think the CAT looks similar to other tough phones on the market, it's because they are mostly made by the same company, Bullitt, which also supplies phones for JCB, Land Rover and Kodak.

The near-extinction of BlackBerry proved the success of touchscreens over physical keys, but I admit there is still something pleasing about the tactile click of a button. The S41 has physical keys for Android's three main navigation commands (home, back and multitasking), plus a pair for adjusting the volume, a power/screen lock button, and a button which can be configured to do different things.
Colored metallic orange and located on the phone's left side, this button can be set to open one app with a short press and another with a long press. As well as launching any app, the button can be set to switch on the flashlight, show notifications, open Android Pay, or answer calls — handy if you are wearing thick gloves.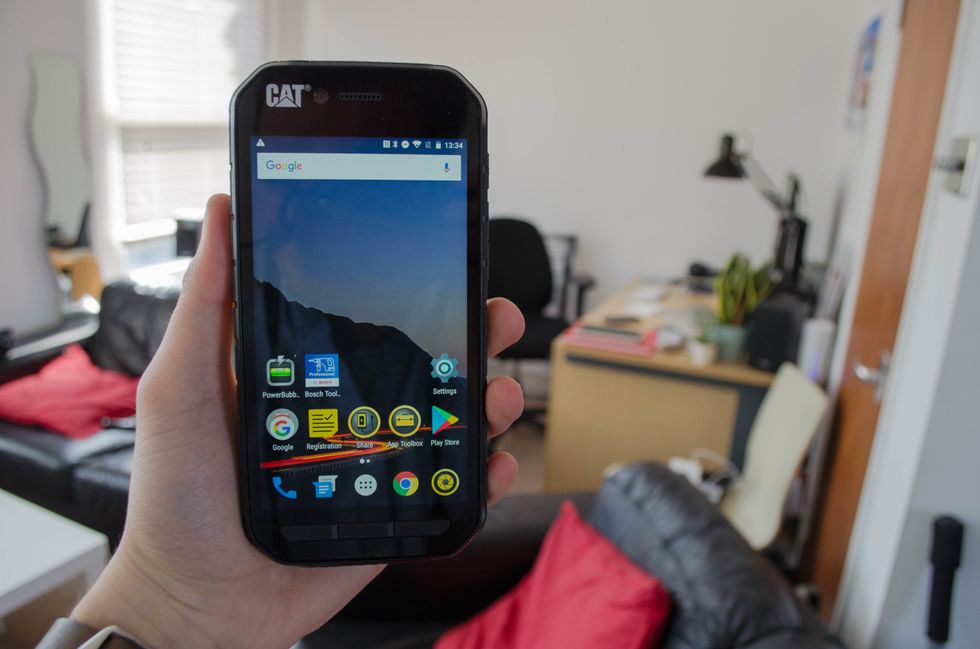 The S41 is large for a 5-inch phone, but it clearly doesn't require a caseGearBrain
CAT S41 review: Display
The S41 has a five inch display with a Full HD resolution of 1080 x 1920. In the past, I've found specialist phones like this suffer with poor quality displays, but — while it won't match the Galaxy S9 — this CAT's display is perfectly acceptable. It isn't the brightest I've ever seen, and it suffers from reflection more than I'd want from a phone likely to be used outdoors a lot, but it is responsive and viewing angles are good.
The screen is protected by Corning Gorilla Glass 5, which should help it shrug off scratches but, as any smartphone owners will tell you, glass is still glass. I wouldn't want to drop the phone in such a way that the screen hits the ground first.
Having said that, the phone helps here by featuring a raised hard plastic lip around the edge of the display, meaning it is less likely to hit the deck glass-first.
CAT S41 review: Software and performance
CAT may have been tempted to plaster the S41's operating system with its own black and yellow user interface, full of cheap-looking skeuomorphic elements. But I'm pleased to say it didn't. Instead, the S41 runs a near-stock version of Android 7.0 Nougat and it is all the better for it.
All CAT has done is change the camera icon and add four of its own apps. I say 'apps', but two are actually just links to the CAT website for registering the phone and reading troubleshooting guides. A third, called App Toolbox, opens the Google Play Store on a page full of apps a CAT phone owner might find useful. One is a spirit level, for example, and others include specialist calculators and ways of logging data gathered on the construction site.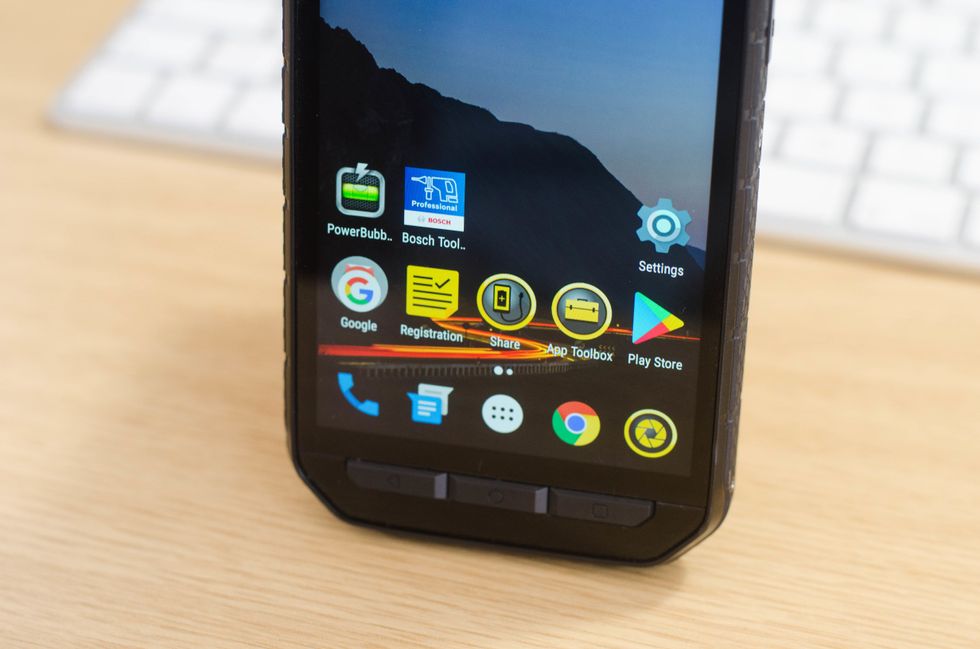 CAT's own apps include a link to useful DIY apps on the PlayStoreGearBrain
One app called Share lets you charge other devices from the S41's huge 5,000mAh battery. Hook up the included cable to both devices, open the app and the CAT will help charge your stricken smartphone.
The S41 is powered by an eight-core, 64bit Helio P20 processor with 3GB of RAM and 32GB of storage, which can be increased via the micro SD card slot. There is NFC for making purchases with Android Pay, but the phone lacks any biometrics — so don't expect a retina scanner or a fingerprint reader, because the CAT S41 doesn't have either. Gloves would make the latter awkward, but some form of facial recognition would be helpful.
While I can't imagine many CAT phone owners wanting to play games on a phone designed for the building site, there is no reason why they can't have the occasional gaming session. I installed the mobile version of Player Unknown's Battlegrounds and it worked okay, but the (admittedly intensive) game automatically ran at its lowest performance level out of three. As you might expect, a Galaxy S9 ran the game at its highest level. The game was playable, however, and stable enough to be enjoyed.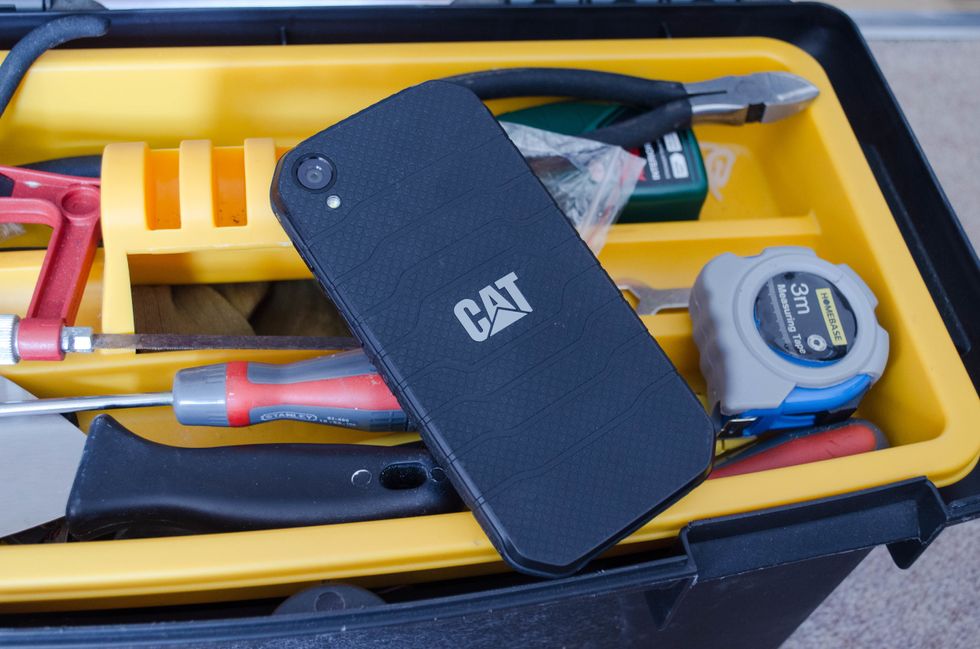 A rubberized body means the CAT phone can shrug off knocks and drops, and doesn't scratchGearBrain
CAT claims an enormous 44 days of standby time and 38 hours of talk time from the phone's 5,000mAh battery. I haven't been able to test that first claim, but given the size of the battery and limited performance of the processor, the S41 lasts comfortably longer than anything else I've tested recently, like the iPhone X, Pixel 2 XL and Samsung S9+.
CAT S41 review: Cameras
The S41's rear camera has a resolution of 13 megapixels and the front has a resolution of eight megapixels. Neither is going to set your world alight and they don't have much in the way of features, but they work fairly well. If you need to take photos as part of your work, then these cameras will get the job done with the minimum of fuss.
Unlike the Cat S60, the S41 does not have an infrared thermal imaging camera.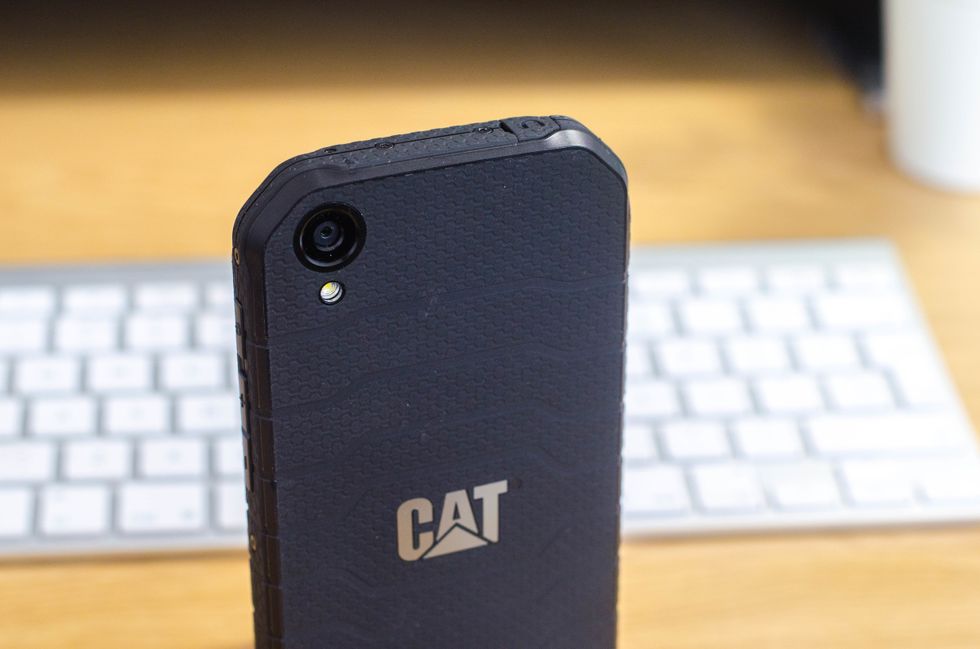 The rear 13-megapixel camera has very few features, but works wellGearBrain
CAT S41 review: Verdict
The CAT S41 won't win any beauty competitions, but that really isn't the point. From the moment you pick it up the phone is obviously tough enough to deal with almost anything you - or your job - can throw at it.
It is also practical in the way its slab-sided design makes it easy to grip with cold or gloved hands. Waterproofing is obviously important and the reassuring click of physical buttons is a welcome alternative to touch screens and their lack of feedback.
This is clearly a second phone for people who work in demanding environments and would rather leave their fragile iPhone or Samsung somewhere safe. Unlike those phones, the CAT can be dropped in muddy puddles, thrown into a tool box and generally treated badly without showing any marks. You could even wash it clean each day if you liked.
The covered ports are a pain if you need regular access to the headphone jack and microUSB connection, the cameras are basic and the processor has its limitations. But for what it was designed for, the CAT S41 does an excellent job.
Pros:
Tough
Water and drop resistant
Physical keys
Cons:
Chunky
Average cameras with no infrared
Expensive for a second phone
Like GearBrain on Facebook