New cars are smarter and more connected than ever, but it's still easy and cost-effective to smarten up your current ride, and make road trip boredom a thing of the past.
Adding an internet connection via your smartphone or a 4G portable Wi-Fi router is an easy upgrade, while devices like Bluetooth radio transmitters and the Amazon Echo Auto can make even the oldest car much smarter.
Read More:
Then there are devices that add convenience to your ride. For example, mounts for fixing an iPad to the back of the front seats in a bid to keep your children entertained on a long drive.
Here is our roundup of the top in-car tech for your 2020 summer road trip.
Amazon Echo Auto – $50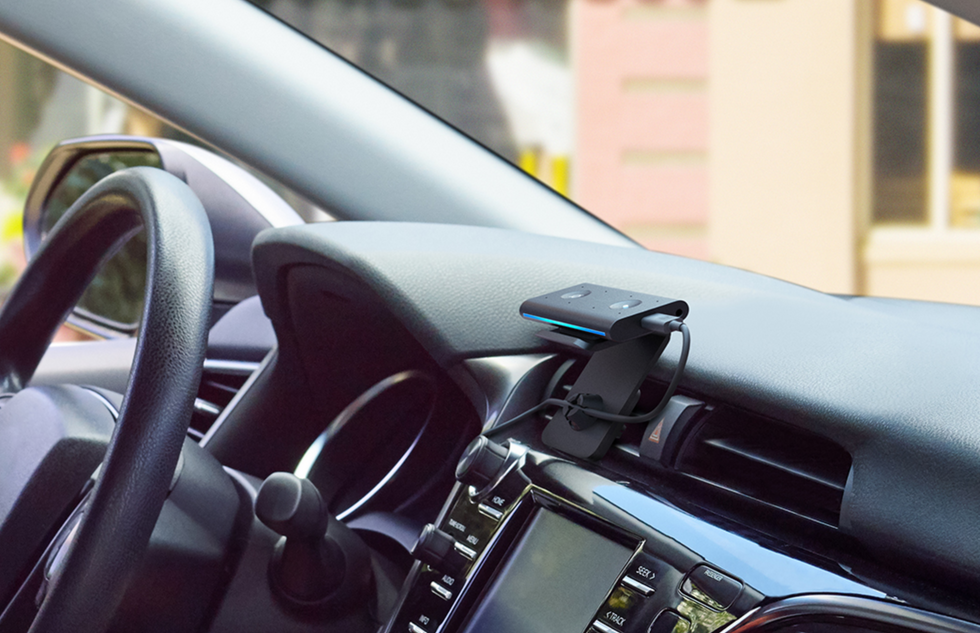 The Echo Auto brings hands-free Alexa to your carAmazon
Readers of GearBrain will likely already have Alexa in their home, ready to listen from inside smart speakers, displays, thermostats and even light switches. But using the assistant in the car is a relatively new phenomenon. Yes, you could attempt to power an Echo Dot from the 12V socket and tether it to your phone, but it's a crude compromise.

Instead, invest $50 in the Echo Auto. This compact device is designed to stick to the dashboard or clip to an air vent, then connects to your car's sound system and your smartphone, the latter giving life to Alexa via its internet connection.
Once set up, you have a hands-free Alexa experience that works exactly as it does at home, meaning voice control of music, smart home devices and much more.
Echo Dot (3rd Gen) Charcoal with Echo Auto
Apple CarPlay or Android Auto – Various prices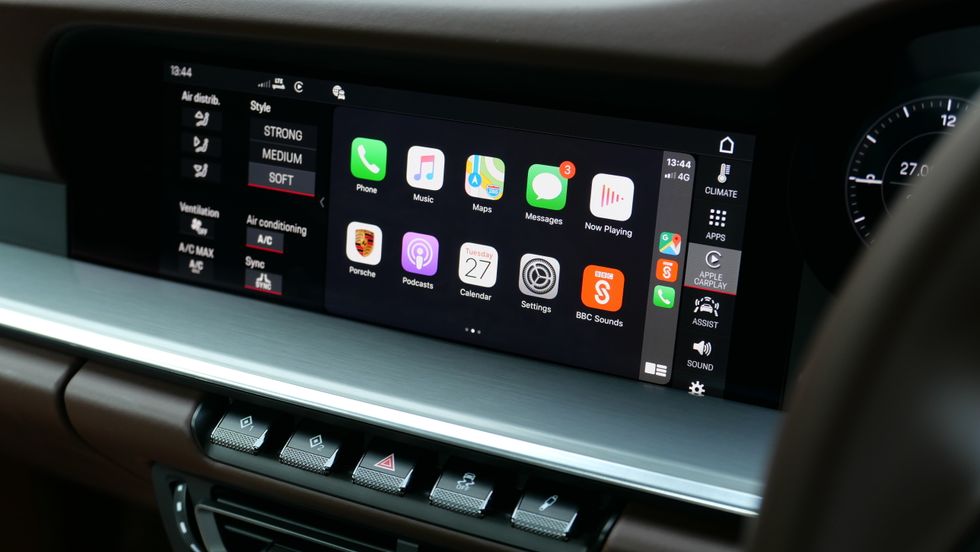 Apple CarPlay brings an iPhone interface to your car GearBrain
Arguably the biggest tech upgrade you can make to your car, the addition of Apple CarPlay and/or Android Auto will transform your infotainment system. These can either be added at the point of purchase (sometimes for free, sometimes by specifying an upgraded stereo), or by fitting a new head unit to your older vehicle.

These units come in two sizes, called Single DIN and Double DIN, with the former being half the height and the latter housing a large touchscreen.
Once set up, CarPlay and Android Auto bring a smartphone-style interface to your car, driven by your phone. Phone, messaging, music and navigation apps are all available, while your phone – connected wirelessly or by USB – stays safely out of sight.
Read More: How to upgrade your car stereo to Apple CarPlay and Android Auto
Pioneer MVH1400NEX 6.2 inches B07951J34N
Bluetooth transmitter – From around $20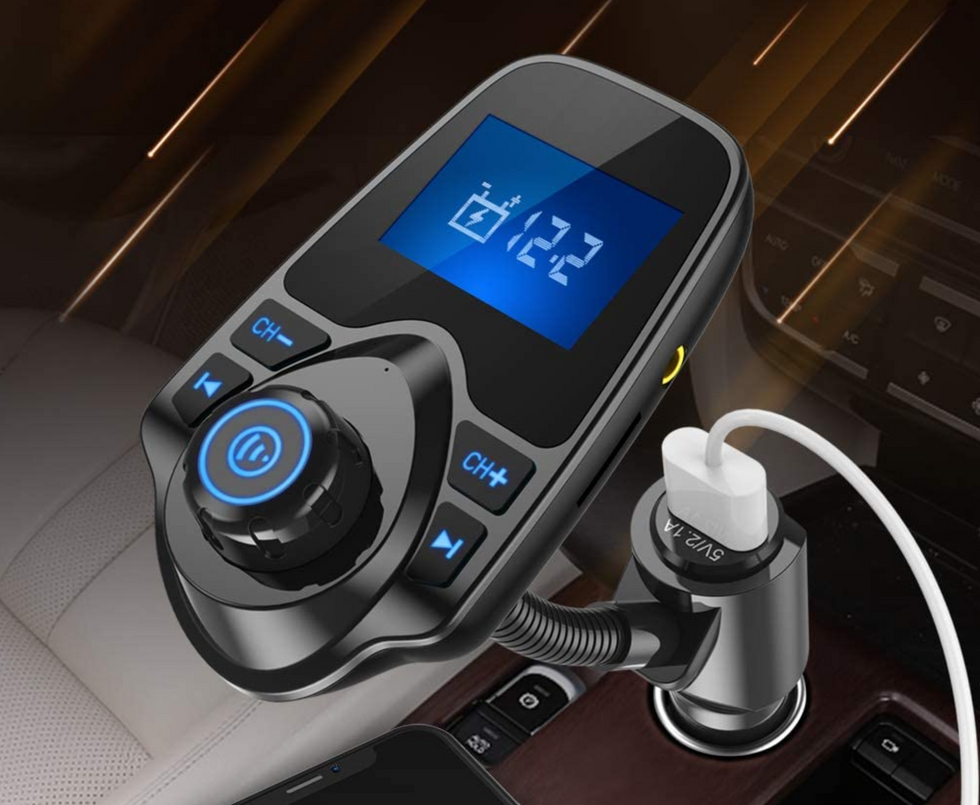 Bluetooth FM transmitters are a cost-effective way to smarten up your carNulaxy
If your car lacks Bluetooth, USB and a connection for an audio cable (or if your smartphone doesn't have a headphone jack), the Bluetooth transmitter is your new best friend.

These plug into the 12V socket (also known as the lighter socket) for power, then connect to your smartphone over Bluetooth. They then broadcast audio received from your phone over a unique FM radio frequency, displayed on their screen. Tune your car radio to that frequency and audio from your phone plays through the speakers.
Some include larger displays and buttons for media playback control (so your phone can stay safely out of reach), and some include a USB port or two for charging on the go. Most also include a microphone for making and receiving calls, too.
USB charging ports – From around $10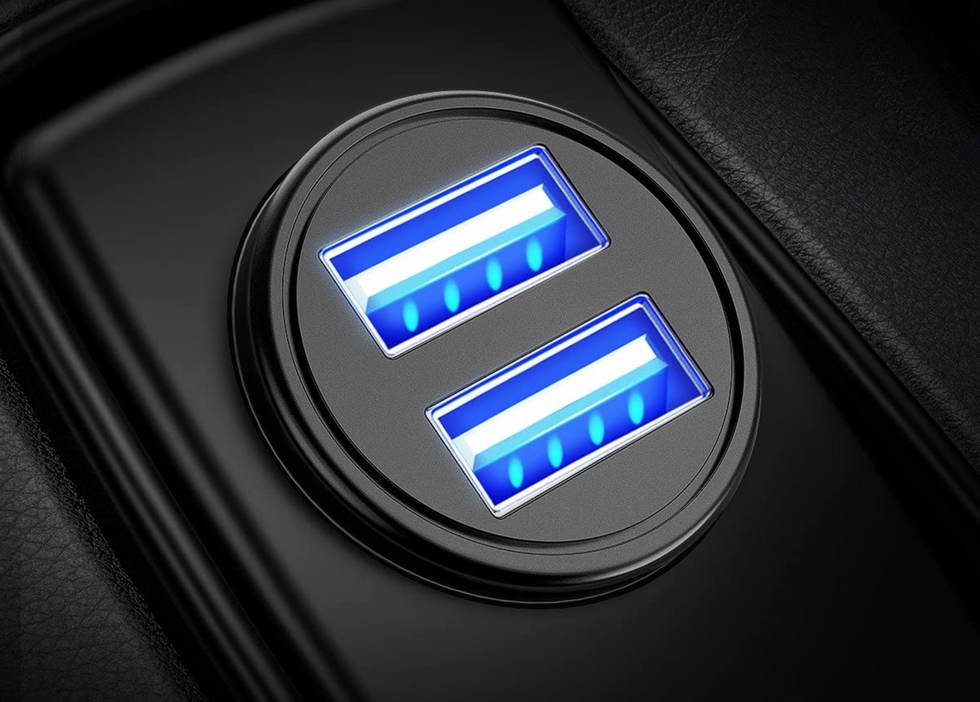 USB chargers fit neatly into the car's 12V socketAinope
If you need to charge multiple devices but your car lacks a USB port (or perhaps only has one), there are chargers available for the trusty 12V socket. Most of these have one or two USB ports, while others have four, five or even six sockets to charge a whole family's worth of smartphones and Kindles at once.

We personally like those that sit flush with the 12V socket, like the one pictured above, giving them a factory-fitted look. We also try to avoid those that have unnecessarily bright and distracting LED lights in the ports. There's a lot of choice available here, so shop around to find the one that best suits your car and your needs.
Also look out for more specialist adapters that plug into a pair of USB ports, then combine their power to provide one high-powered port. This can be helpful if the two ports are low-powered and struggle to keep your phone battery full when you have a power-sapping navigation app running at the same time.
Mobile Wi-Fi – Various prices, plus data charges apply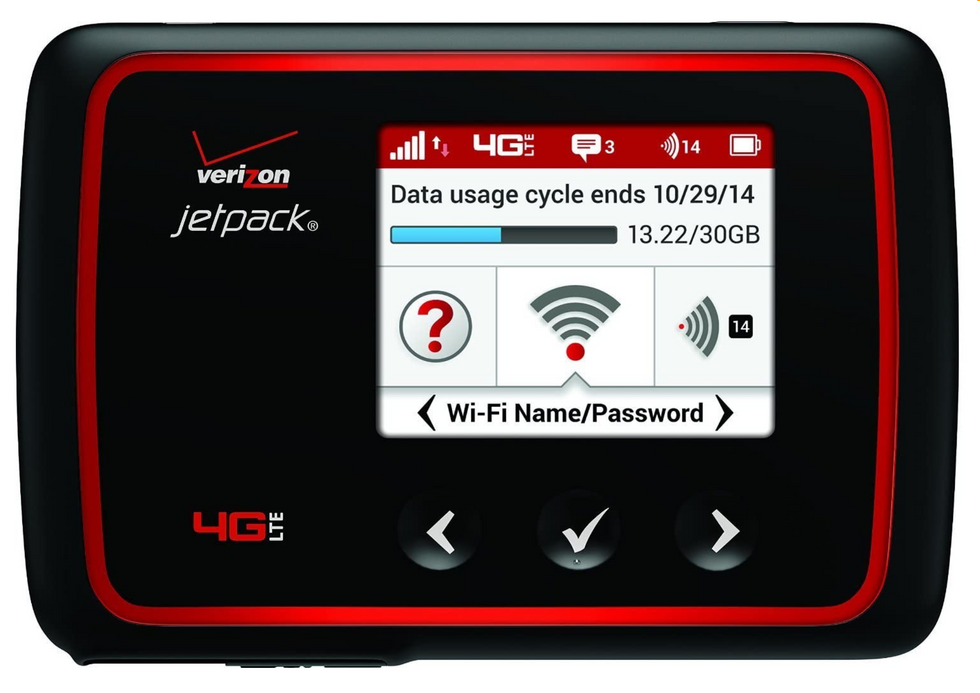 Mobile Wi-Fi routers are available for all networksVerizon
Tethering another device like a laptop or tablet to your phone's internet connection can work fine in some situations, but dedicated mobile Wi-Fi routers offer a better experience. These tend to have larger antennas for a better 4G (or even 5G) data connection, and more reliable Wi-Fi, all without draining your smartphone battery and using up your monthly data allowance.

Some will require a power supply (from either the 12V socket or a power bank while in the car) but others have integrated batteries for a truly wireless experience.
Some models also include an SD card slot, so you can share storage between devices connected to the Wi-Fi network. This makes it easy to load up an SD card with movies or other files, which can then be accessed by everyone in the car at once.
Verizon Jetpack 4G LTE Mobile Hotspot - AC791L With Accessory Port Includes JPO Car Bullet charger head (Renewed)
iPad seat back mounts – From around $25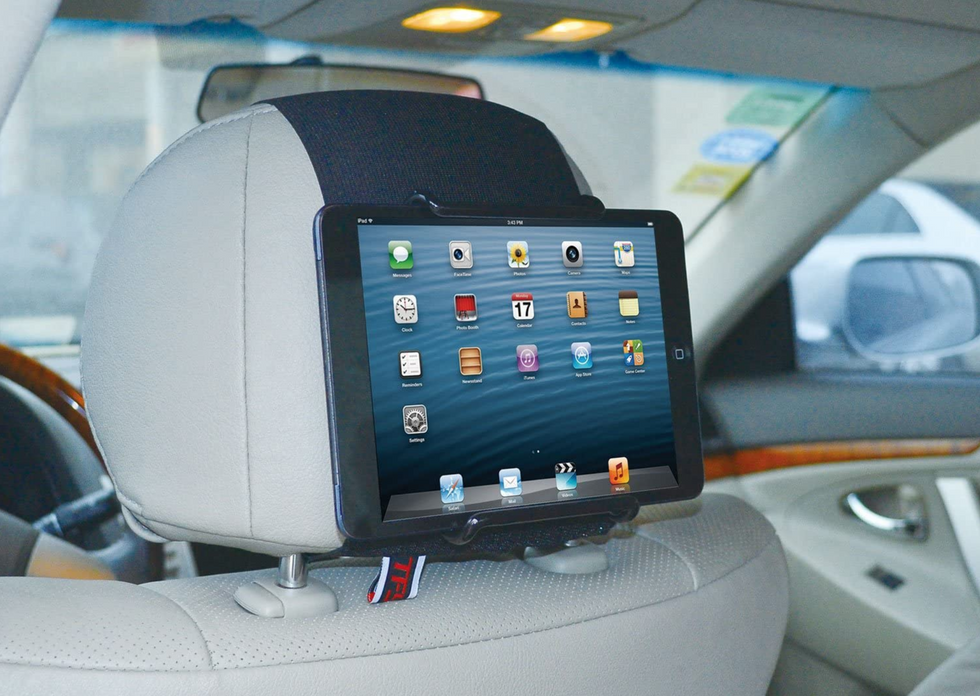 Keep the kids entertained with a headrest mount for the iPadTFY
Keeping kids entertained on long car journeys can be tricky. To help out (and give your car a luxury upgrade on a budget), iPads and other tablets can easily be fitted to the back of the front seat headrests. That way, rear passengers can watch a movie without endlessly asking if you're there yet.

These mounts come in various shapes and sizes, so make sure you do your research and check it will fit your car before buying. Other options connect to an iPad then slot into a cup holder. Pick up a pair of Bluetooth headphones, and you have yourself a first class entertainment system for rear passengers (and a bit of peace and quiet for those up front).
Remember, when mounting a tablet in your car make sure it doesn't obstruct any airbags.
Tire pressure monitor - $120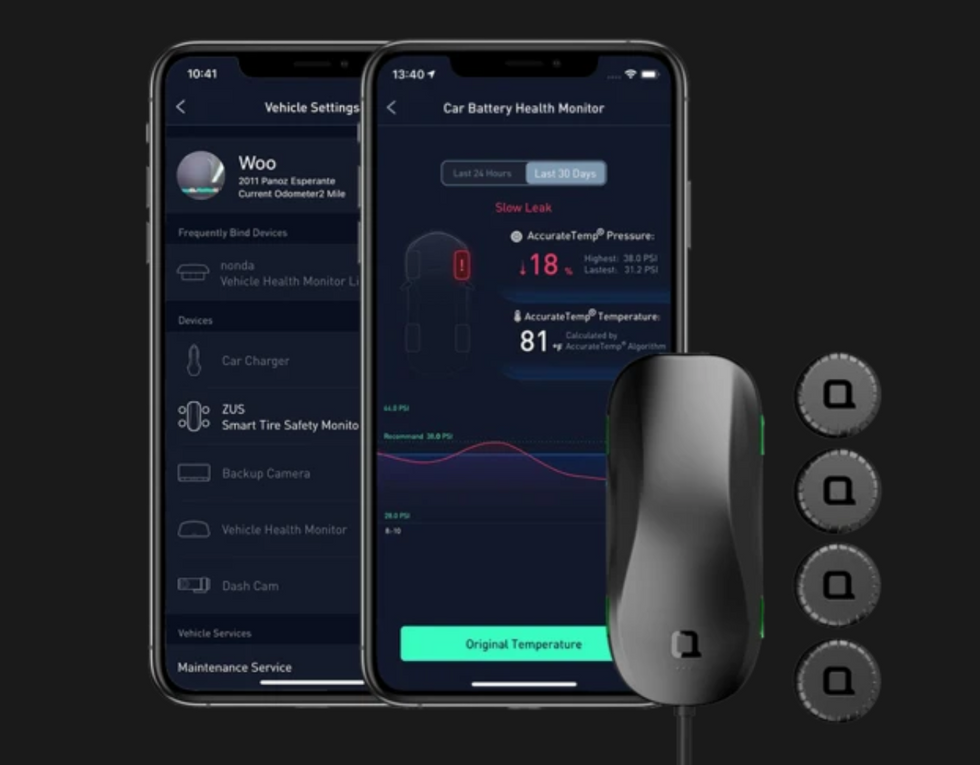 ZUS tire pressure monitor and smartphone appZUS
Modern cars are increasingly fitted with tire pressure monitor systems, alerting you to the signs of a puncture. But you can also add this technology to your older vehicle via the ZUS Smart Tire Safety Monitor. This device includes four sensors that fit to the valves of your tires, then send data to a hub, which then connects to a phone app using Bluetooth.

The app shows the current pressure of each tire and alerts you to the signs of a puncture. It also helps you keep tabs on the pressure of each tire, which if left to fall can lower your car's fuel economy.
nonda ZUS AccurateTemp Smart Tire Safety Monitor, TPMS with APP, Slow Leak Detection, Real Time Pressure & Temperature Alerts, Tire Pressure Monitoring System with 4 Upgraded External Cap Sensors
GearBrain Road Trip Gadget Guide www.youtube.com