Like GearBrain on Facebook
We already know that 5G makes the mobile internet much faster, downloading entire movies in seconds. But the technology — and especially its incredibly low latency — has much broader applications. It can even be used to help improve road safety, alerting drivers to pedestrians in their blindspots.
To this end, Samsung-owned Harman is working on a vehicle-to-pedestrian technology, where cars will know the location of up to 2,500 5G devices up to 1km (0.62 miles) away.
Read More:
With this information, which is updated in as little as 10 milliseconds and constantly fed into an algorithm, the vehicle can accurately predict the movements of pedestrians ahead, around and behind it. If a pedestrian is in the driver's blindspot, or looks like they are about to step out into the road, the system issues a warning to the driver.
Vishnu Sundaram, vice president of telematics at Harman, told GearBrain: "When all cars and phones can talk to each other, in the 2021-2022 timeframe, they can exchange beacon information which could help cars get alerted about distracted pedestrians crossing the road, or even pedestrians who may be in blind spots for approaching cars. All of these cases can be realized."
Although manufacturer names can't be revealed just yet, Sundaram says Harman already has agreements in place with vehicle manufacturers, including a luxury German brand, to install this technology into new vehicles in that same 2021 to 2022 timeframe.
Getting an alert

How the driver is alerted will be up to each manufacturer, but options Harman has experimented with include integrating the system into a car's head-up display, where the interface would show where a pedestrian is approaching from. The system is completely anonymous, with no personal data exchanged between smartphones and vehicles.
"Beason information sent [between devices and vehicles] contains the location, heading, speed," Sundaram adds. "So the phone keeps sending this beacon information and the cars have a target classification algorithm running on them."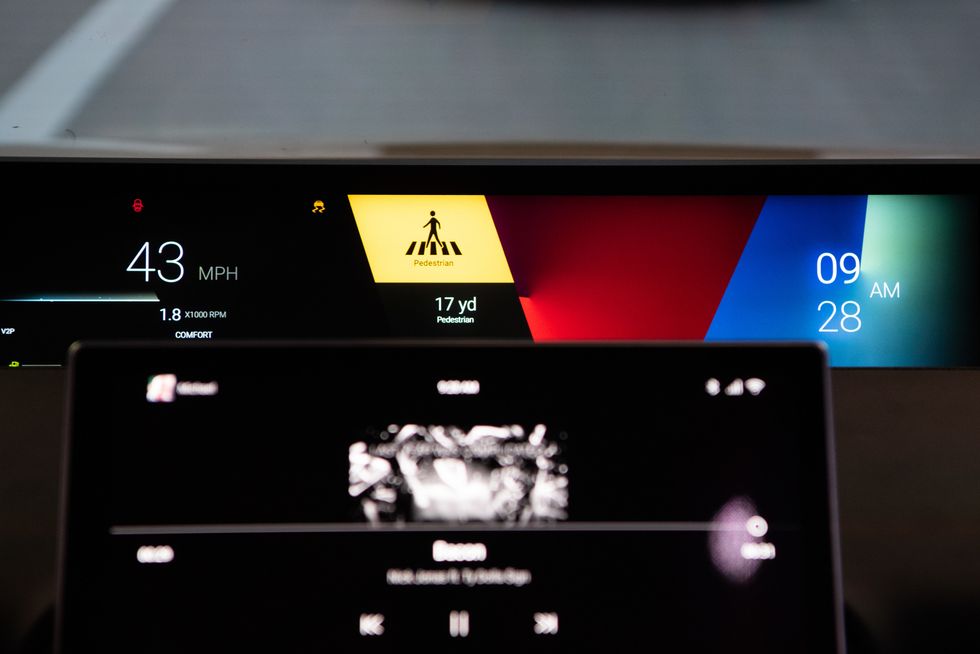 The system says precisely where the pedestrian crossing isHarman
With this algorithm, vehicles can "detect which subjects need to be scanned, then keep track of their movement and detect if the pedestrian will step in the way of the car," Sundaram explained.

As well as being a useful driver aid, Harman sees a new future where such vehicle-to-pedestrian technologies will improve crash safety ratings, helping to further drive manufacturer demand for these systems.
Sundaram mentions Europe's NCAP safety rating program. Traditionally a means of testing the physical performance of cars during collisions, NCAP tests now take software into consideration, and Harman believes a 5G-driven alerts system for telling drivers about wayward pedestrians will boost crash safety ratings, thus accelerating manufacturer adoption. Having a 5G connection also adds a form of future-proofing to new vehicles, which could gain additional 5G-driven safety systems at a later date.
Pedestrians could get heads up too
Sundaram says a natural extension of the technology would be to issue warnings to pedestrians of approaching vehicles. Although not something Harman is working on just yet, the company believes this could happen in the second half of this decade.
"We're working on the automotive part, but I'm sure once the ecosystem is established, then the consumer part will mature," Sundaram said. "Right now we are talking about smartphones, but we are also looking at devices like headphones and other wearables which could also be sending this beacon information."
When asked about concerns of draining smartphone battery life, Sundaram agreed that, yes, there will be a little more usage than normal, but Harman isn't seeing it as a deal-breaker. Instead, the company believes the beacon-sharing side of the tech can be shut down when the phone recognizes a lack of movement, or it knows the owner is indoors, or well away from any roads.
Who will get the tech first
5G's vast bandwidth and near-zero latency is the dream scenario for such a system. The technology can keep an eye on up to 2,500 devices up to 1km away, project where they might move to and alert the driver if one is likely to cross their path unexpectedly. Latency — the time it takes for information to travel from phone to vehicle — is 10 milliseconds. As for which vehicles will get the technology first, Harman cannot say precisely, but there is strong interest and movement in that direction.
"Partnerships with OEMs are solid right now and we have contracts in place with almost all of the German luxury OEMs to do a worldwide launch of this solution," said Sundaram. "We also have some customers in North America."
Harman is treating the technology as a passive safety system for now, alerting the driver but taking no action itself. But, from 2024 or 2025 onwards, the company sees the potential for the system taking control of the vehicle's emergency autonomous braking system, potentially stopping a car if a pedestrian stumbles unexpectedly into the road, before the driver has a chance to hit the brakes.
From Your Site Articles
Related Articles Around the Web
Like GearBrain on Facebook