Like GearBrain on Facebook
The simplicity of the Cubelets Curiosity Set from Modular Robotics is its selling point — much like one of its earlier products, the Discovery Set. Yes, these are simple cubes that don't smile, chirp or tell you the weather. That's what makes them ideal for children — and perfect for teaching anyone about the basics of robotics, particularly those intimidated by what that may mean. They're not inexpensive — this kit retails for $249.95, a chewy amount for anyone. But if you think of them as crayons, in that they can be used to create almost anything in the imagination, you'll probably appreciate their potential even more.
Read More:
Inside the box
The Cubelets Curiosity Set is a box of blocks — 10 to be precise, along with one Bluetooth hat, a USB-C cable to charge one of the blocks, and two brick adapters so you can neatly attach plastic bricks to the cubes. Each block is different, capable of unique skills.
Two cubes focus on sensing — one can read distance and one can read brightness in a space. Four are called Think cubes — one is a battery and one is the Bluetooth hat which links the block, or anything attached to it, to a smartphone app bringing more control to your creation. There are three Act cubes, one rotates, one is a flashlight, and two let you turn your construction into something you can drive.
GearBrain plays with the Cubelets Curiosity Set GearBrain
You'll also get a Curiosity Guide. While startup booklets are often something you can toss aside, spend some time with this one. It not only explains how each block works — there are simple and easy to follow projects that get you up and running in minutes. This is a guide worth keeping.
Wireless connection
The blocks themselves don't need to be connected to the Internet or Wi-Fi to work as designed. You just need to charge the battery block in the kit, and that may take a bit of time.
However, to expand on how the blocks can work, you'll need to connect to an app on a smartphone or tablet through Bluetooth. That's where the small piece, the Bluetooth hat, comes in — which is snapped on to the top of any of the bricks, and then connects to a mobile app. You may need to update the Bluetooth in the app and on the block once you get started — I did — and that should take about two to three minutes.
Cubelets also has its own app, and it's fast to download from the App Store and Google Play, and is simple to use. The entire set is designed for ages 4 and up — but kids may need adults to help them not only download the app, but even use it. In testing some of the elements in the app, sliding toolbars, for example, I found them not always responsive, and needing repetitive tries. Kids could get frustrated quickly if not monitored.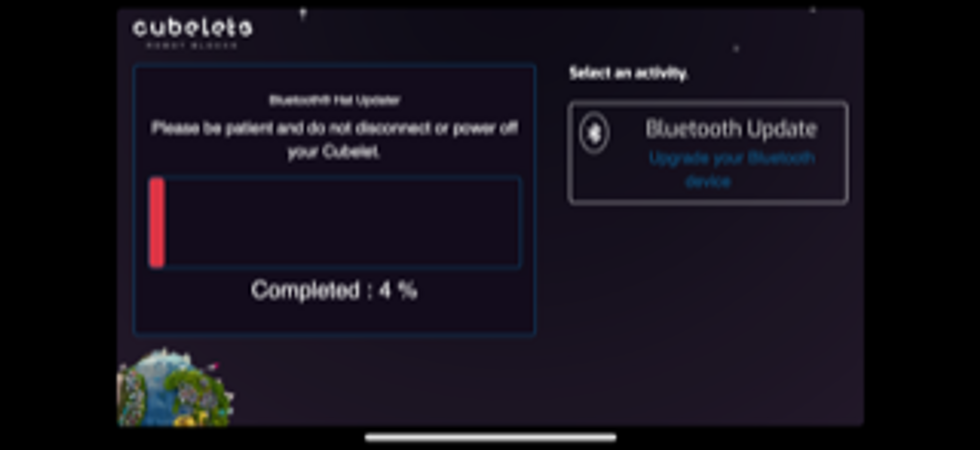 Using the Bluetooth hat, you can connect to the Cubelets app to add more control to your robotGearBrain
Getting started
With Cubelets, the only thing that needs to happen before you can start playing is charging the battery block. This piece powers all the others. After that, the entire set really can be used just like other building blocks.
The cubes do link together, the way plain wood blocks do not. They use magnets in most of them — certain sides connect, and others do not. Other pieces snap on to the blocks.
Each block is assigned a value, and changing this value is how you get the cubes to do what they're designed to do. Take the wheels. Once connected to Bluetooth, you can get them to move quickly, or slowly, change the speed and and a long train can go in a circle rather than straight.
You can build with the blocks, and not have them active, by simply not attaching the battery block — or by turning the switch on that cube to off. That's a good idea as you start to get better at building. Attaching a cube with wheels to an active battery can get wheels to start moving, or a light can start flashing.
GearBrain builds a Cubelets flashlight with the Curiosity Set GearBrain
On the flip side, having the battery in the on position, and then attaching blocks, is a great way to get young kids engaged immediately. Just be prepared if a cube is turned a certain way that light may flash right into your eyes. (Trust me.)
Many of the blocks are clearly different colors, making it fairly easy to tell them a part except for the blue and black which are very close in hue.
Fun and skillful
Parents often look for toys with an educational bend. That's great — as long as these toys are fun. Tech toys in particular can sometimes end up languishing on shelves, in closets, never played because they feel too hard to set up, or complicated to get started. The Cubelets Curiosity Set is a winner, to us, because of its simplicity. You hold them together, they link up through magnets or by simply snapping into place, you turn on the battery, and you have a robot.
A robot doesn't have to talk back, blink or in any way look like a person or an animal or anything we recognize from nature. A robot is just a machine — and with Cubelets you, or a child, can build their own. No it's not going to climb stairs, nor lock your front door. And that's just fine. Because a child who can learn how to make a machine roll across the floor, can eventually learn how to build a robot that can climb stairs, or lock the front door — or fly to another planet. That's the best kind of toy, one that is fun but also opens a door for children to what's next.
Pros:
Simplicity
Can be used to make endless robots and toys
App can extend how you use the cubes, and teaches basic programming
Cons:
Price
App can be complicated for small children
Come blocks are difficult to tell apart
From Your Site Articles
Related Articles Around the Web
Like GearBrain on Facebook