It looks like DJI is about to announce its cheapest-ever drone, as an unannounced quadcopter called the Mini SE and priced at $299 is spotted at Walmart.
DJI hasn't yet announced a drone by that name, but photos of it seemingly for sale at Walmart have been shared online, and the DJI Mini SE could be seen on the retailer's website at the time of writing.
Read More:
Although the company is yet to confirm or deny the drone, it appears to be a less expensive version of the original DJI Mavic Minu, which arrived in 2019. Given the SE name, it looks like DJI is taking a similar approach to that of Apple, whose iPhone SE combines the hardware of olders models to offer a new handset at a far lower price than the flagship.
For the Mini SE, buyers can expect to get a 2.7K resolution camera (short of the 4K of other DJI drones, but still impressive), and a lesser wireless range of 2.5 miles between drone and controller. Again, this is likely still plenty for most buyers, but means DJI can hit that lower $299 price point.
The shorter wireless range suggests the Mini SE will miss out on DJI's Ocusync technology, as used by its other products. Walmart's website suggests the Mini SE will have the same three-axis camera gimbal we are used to seeing on DJI drones, plus video recording of up to 2.7K, and automated shooting modes like Dronie, Circle, Helix and Rocket.

A product information page on Walmart states a weight for the DJI Mini SE of just 249g and a flight time of 30 minutes. These stats can also be seen on the box of the drone reportedly spotted at Walmart earlier this month.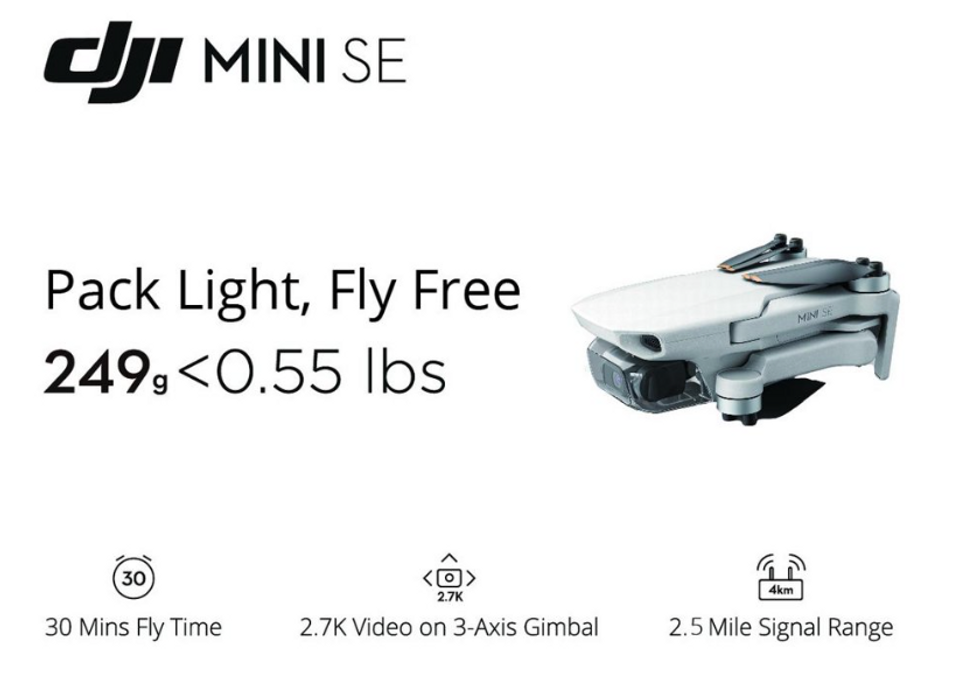 Screenshot of DJI Mini SE listing from Walmart's websiteWalmart / DJI
The website assumes the SE name stands for Special Edition. The drone has the same folding design as its relatives, meaning its arms can be folded up to create a surprisingly compact form factor when not flying.

Images also suggest how the drone will ship with a new controller, so even if the new quadcopter is in fact a rebranded Mavic Mini, the updated controller and lower price could well be worth it for many consumers looking to purchase their first drone.