Everything about the new DJI RoboMaster S1 screams play to me — from the gimbaled moving turret, to the laser beam shooting, to the mecanum wheels and sensors that allow this robot to stop, squeal and halt in a half second. This robot is fast, moves easily, and teaches coding to boot. It's a giant lure for children and adults alike, even as its $500 price tag will be a big stumbling block for most.
While we expect — as DJI has done with its drones — that there will be lower priced models, and even those more expensive, coming eventually, this price is going to be the main hesitation for parents and even schools. In terms of a coding toy, play thing and educational tool, however, DJI has hit a home run.
We spent a week or two playing with the robot indoors and outside, and putting (most of it) together by ourselves, putting it through some different terrain to see how it would hold.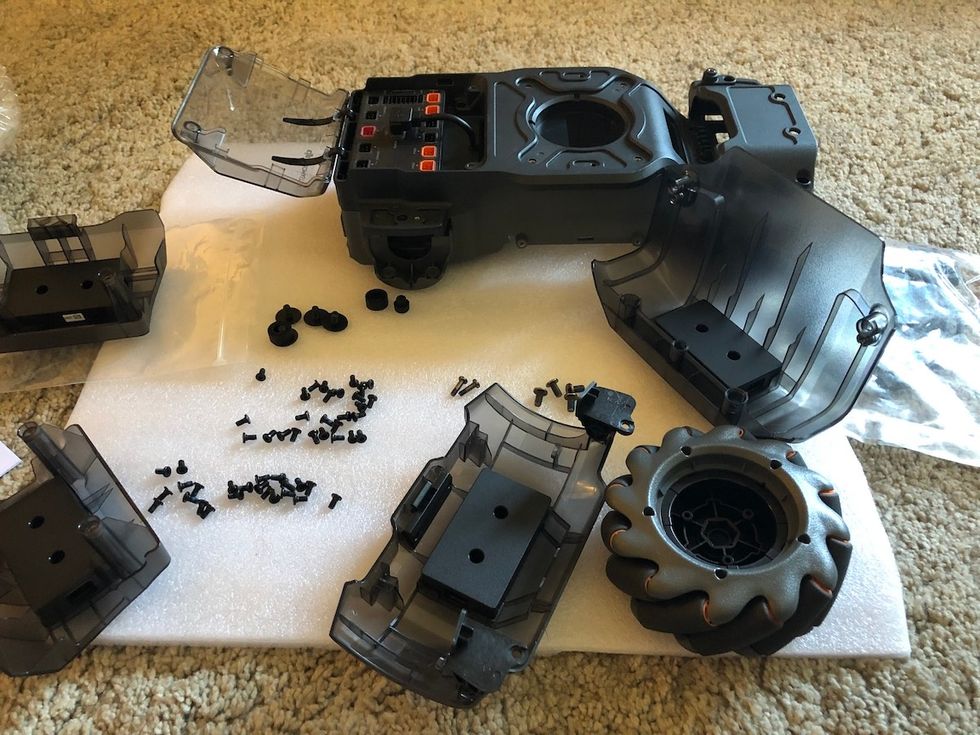 Putting the entire RoboMaster S1 together took about two hoursGearBrain
What's inside the box

DJI's RoboMaster S1 comes in parts — a lot of parts — with a guidebook and video to put the entire thing together. DJI didn't send me the robot as such: I had certain pieces already attached, like those omni-directional mecanum wheels, when my kit arrived. (No comment on whether the company trusted this tech reporter to put together her own robot.)
I had enough pieces that I still spent a good couple of hours putting the RoboMaster S1 together. You're going to want to watch the video at the same time you use the instruction manual. And pro tip: Cast or screen the video from your smartphone to a TV, as this screen is larger and won't go dark from screen saver mode. Trust me, you'll want to see some steps in more detail.
I'm a giant fan of tech toys that children can put together themselves, or at least see the inside workings of how the toy operates and runs. This is key to kids getting the hands-on learning they need to understand technology: If they can't see — and honestly, feel — how pieces look, are installed together, fit and communicate, then tech remains a mystery.
While it's nice to have technology act as our magic in the 21st Century, you still need to know the elements to brew the potion, and have to understand how to move your hand to cast the spell. Bluntly: Would you rather be a wizard — or a Muggle?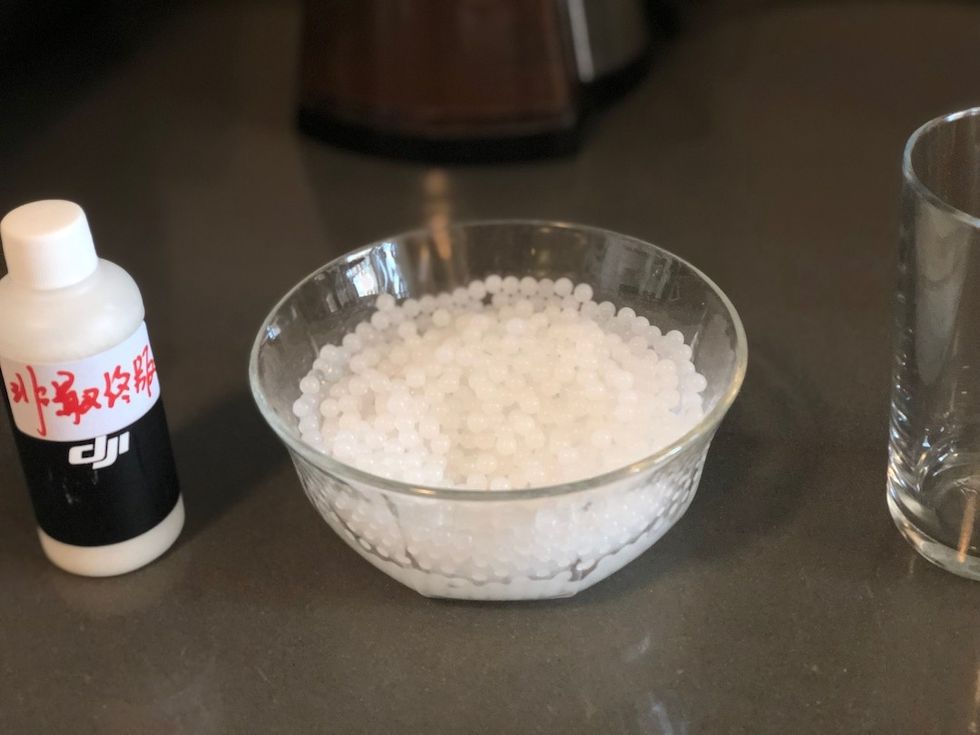 The RoboMaster S1 shoots gel beads that you'll soak yourself, as well as a laser beamGearBrain
Let's talk about the gel beads
The RoboMaster S1 shoots gel beads that you'll prepare on your own. These will come looking like tiny white hard sprinkles, that expand in water to about the size of a tapioca pearl in less than an hour. (DJI notes on its web site that it should take four hours.) Each bead is seeded with a bitterant to hopefully repel animals and children from eating them. DJI says they're not toxic, but eating a handful is not a good idea.
Once soaked, they are extremely bouncy. Filling your shooter is going to be an exercise of focus unless you want dozens of these cascading across your room — and then congratulations if you can find them all. Take your time.
I also felt, if you're using these gel beads, the RoboMaster S1 needs to be taken outside. I have a dog — and an apartment where honestly I didn't want to run into these beads throughout the week. Racing it through my hallway? Fine. Running shooting practice? That's for the street.
YouTube www.youtube.com
Driving the RoboMaster S1

The mecanum wheels, genuinely remarkable for a toy in their turning ability, are limited. While designed for smooth floors, I found the high-gloss of my wood floors limited their traction and their turning — not terribly, but it was notable. Outside, sidewalk was not even close to a problem for the RoboMaster S1 which chewed up the pavement. On a more uneven surface — loose rubble and broken concrete in a lot near my space, the toy still did extremely well, driving like a tank.
In fact, the RoboMaster S1 hits like a tank too. Sitting on a couch as someone else drove the toy, I felt the furniture bounce quite a few times, and not lightly too. My couch is old, but if you have a house with lots of antiques and delicate items, you have another reason for this toy to be sent to a playroom or outdoors.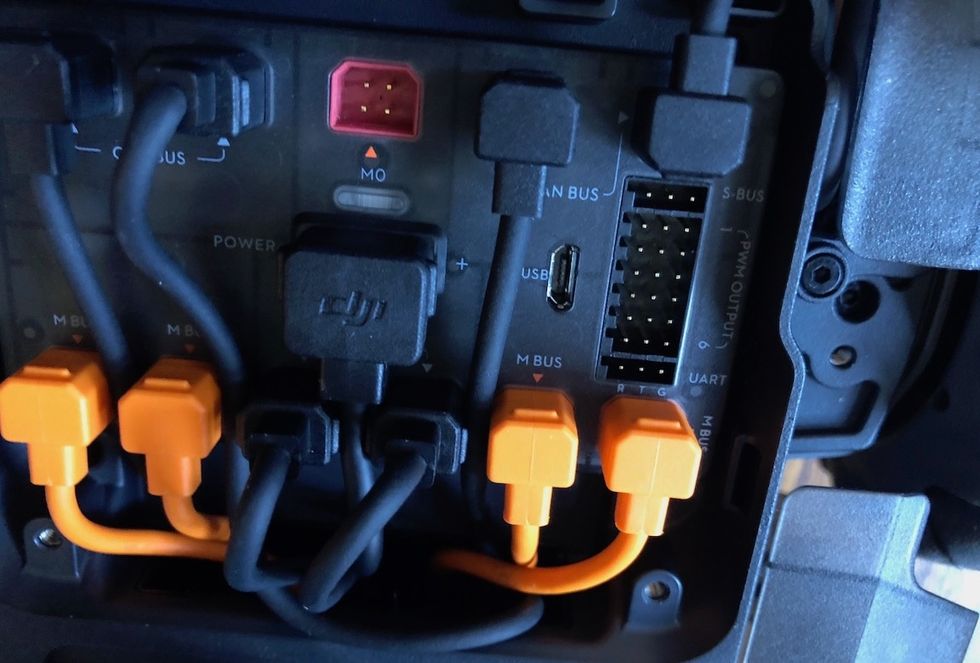 The DJI RoboMaster S1 has a number of ports left open after assembling for more additionsGearBrain
Military elements

The RoboMaster S1 looks like a tank. There's a turret, a sizable gun and rough ready treads on wheels that can basically go sideways. Blow this up 100 times and this thing is taking out any car in its path.
Some parents are also not going to like the gun element — shooting things, people, the air even with a laser beam is still shooting, but core to some of the gameplay, where multiple robots can be put together for a game of freeze tag.
The turret on top of the RoboMaster S1 shoots either laser beams or gel beads. There's only one shoot button, and to change between the laser and bead options you need to go into the settings.
Once you're on bead setting, the gun will not shoot if it's above a certain angle. You need to lower the turret, key so no one aims at eyes, ears, or frankly anywhere near a face. It's still recommended that players use protective eye wear (which is not in the box). When shot at close range against your legs (yes, we did test this) the beads do sting for a moment. In short — you can feel it.
You'll have to decide how you feel about having your child play with a gun. We do hope DJI comes up with add-ons that allow something else on the turret area to swap out for the gun. A bigger camera? Drone propellers? A hook? A telescope? A screen with two way audio? Robotic hands? You get the point.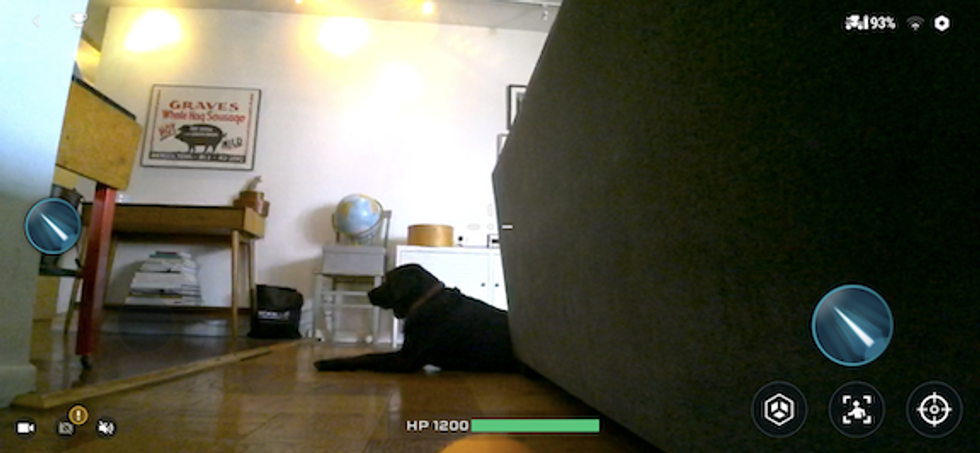 The camera view on the DJI RoboMaster S1 is incredibly clearGearBrain
FPV View

You can see through the DJI camera — and it's crystal clear, better than many. If you insert an SD card you can record video too. While testing the RoboMaster S1 weeks earlier at DJI's office, I didn't use the FPV view. At home, I found the camera view easier when trying to drive accurately and not bash into walls.
You can direct the robot to also follow someone, but I found this worked only some times. For example, the S1 never followed my dog, and only followed me once. Sometimes the S1 would lock on someone, sometimes not. It did better when it wasn't in a busy space.
YouTube www.youtube.com
Other features like Lab Mode

Within the controls, there are multiple settings. You can increase the sensitivity of the gimbal, the controls themselves and even select what device you're using: a mobile phone, gamepad or PC. You can control the speed the robot is going: slow, medium, fast, and also customize the speed of different movements in meters per second, from lateral starting to braking acceleration.
You can calibrate the sight as well for those who wear glasses — both on the right and left side of the eye. There's also a 3D Touch setting and much more.
Lab mode is where you'll learn to code. There are three program built in to the app: Road to Mastery, DIY Programming — basically a drag and drop environment — and Robo Academy which teaches kids how to code.
The DIY Programming is a great stepping stone, place where kids can see already created programs, and click to see the Python code written. You can run these as written in this section, with names like Hunter, Spotter, Dodge, Twister and Counter-Attack — or make variations and save those.
To buy or not to buy
RoboMaster S1 is an expansive, but expensive, toy — one that any coding and robot fan is going to love to get their hands on to try. It's almost hard to call it a toy because it's certainly rugged enough to professional use, and studded with extraordinary features that makes this easily workable for a number of cases.
As a child's toy, RoboMaster S1 is going to wow. At $500, it should. If you're looking at a way to teach a young child to code, this is not the toy — it's really too many features, too complicated and while driving a tank super fast across the floor is never boring, you won't need this for that task.
If you're looking for something that will help a child get into robotics, will challenge their coding skills and almost assuredly expand in its features, the RoboMaster S1 is going to be solid choice.
Pros:
Build it yourself robot with great instructions
Mecanum wheels that make this a powerful robot to drive
Coding in Python and drag and drop block coding
Cons:
Military-style features, which may deter some parents
Gel beads are easily lost if used in a home
Price