Like GearBrain on Facebook
Wonder Workshop is the DJI of coding toys — if you want a robot that will teach your child the basics of programming, they're likely to have an option that fits. We've written about its higher-end robot, Cue. We also spent some time with Dot, aimed at children as young as 6-years-old and the newest of the bunch.

Let's play
Think of Dot like Cue's younger sibling. Dot is smaller, speaks in a child's voice, and when you turn her on for the first time she says, "Woah where am I?" She's clearly not old enough yet to know what snarky teenager behavior sounds like, and for that we're relieved. The device even feels like a young child, with a slow laconic blink of its one eye — there's a Mike from Monsters Inc. feeling here. We bonded immediately.
We had to update Dot after getting her out of the box. This meant downloading the app, and then plugging her in while the app got a refresh. They said this could take 15 minutes, we were done in about two.
You get to personalize Dot when you launch her which means picking a name and the main lighting colors that will shine from her sides. We picked a pretty robin's egg blue and named her Dottie: don't judge.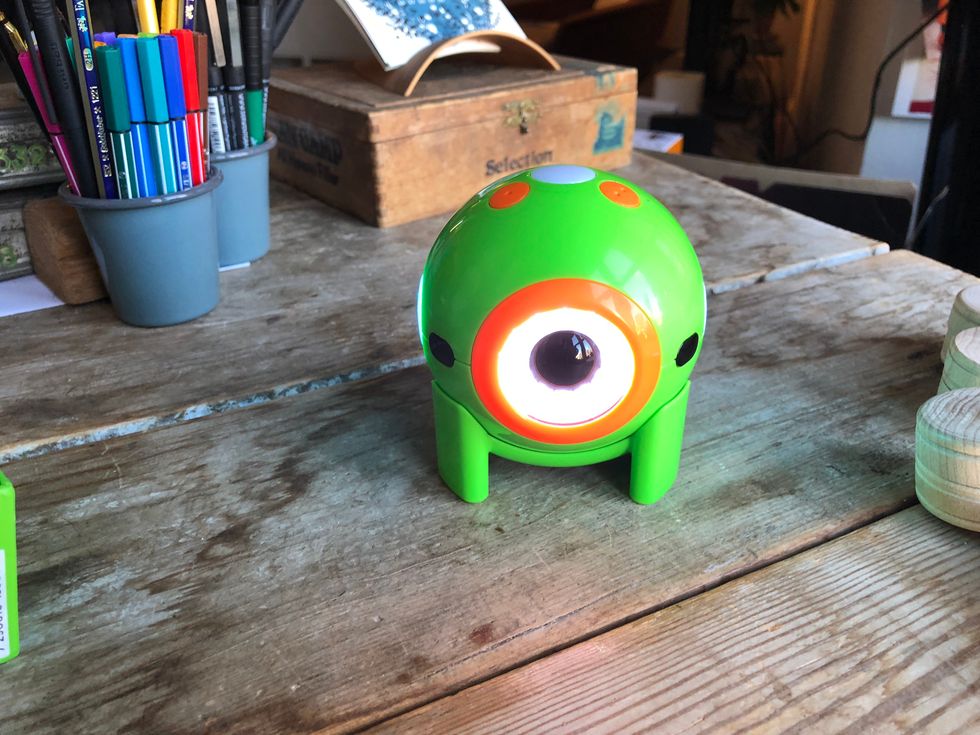 Dot uses Blockly coding language to teach kids the basics of programming.GearBrain
Let's Code
What's great about Dot is the way she teaches you the simplest of block coding with immediate payoffs. Right off the bat you get to make Dot say 'Hi."
The app is the star of the show here, even if Dot is rather cute. There's a Controller Space, Wonder Cloud, Scroll Quest, Inventor's Log and Free Play where you can test simple coding skills.
But before you can head over to Free Play, where you can design your own programs, you have to unlock some areas of Scroll Quest — seven to be exact. This involved doing some mini versions of block coding, using Blockly to basically dragging and dropping actions and linking them together. And when you do it correctly Dot tells you, "Right on the button!"
Some of the programs involve making sounds near Dot: with a microphone embedded, she can hear if you're clapping or even blowing on her (hearing the sound you make as you do.) You can also record your own voice.
Want some more options? Dot comes with project cards — you enter a key into the Free Play and can direct her to do as you wish. One project card suggests you take Dot, record yourself saying 'Boo!' and then hang her from a door. When the door opens, Dot starts yelling 'Boo!' The mind reels when thinking of all the things kids could record, then program Dot to do to terrorize younger siblings.
Our main concern is Dot's heavy dependency on the app —programming her needs to happen through a mobile device. And that's something to consider for parents — and teachers — who may want a toy that can exist on its own.

That said, as a device that can teach kids about coding, we think Dot hits quite a number of points right — the little kid voice feels comforting and playful, and the programming hints are clear and friendly: a child is going to be able to figure this out.
The real standout are the project cards: just simple enough to follow and just silly enough (like a program that makes flatulence noises in your friend's sleeping bag) to have kids clamor to try. Some of these project ideas came right from kids during testing, says Wonder Workshop.
Let's move
For a toy aimed at youngsters, Dot doesn't scrimp on tech: there are four programmable buttons, a microphone as we mentioned above, 12 lights which can also be programmed and a sensor that knows if you're moving Dot.
Dot is not going to tear across the floor like Cue — but that's fine. Wonder calls Dot a Creativity Kit, and we think that's apt. Coding a robot to roll and move is fun, but it's not necessary for teaching programming skills. Lights, sounds and colorful flashes, all controlled by a child, can be just as engaging. The key is teaching kids how to empower their own play: Dot succeeds here.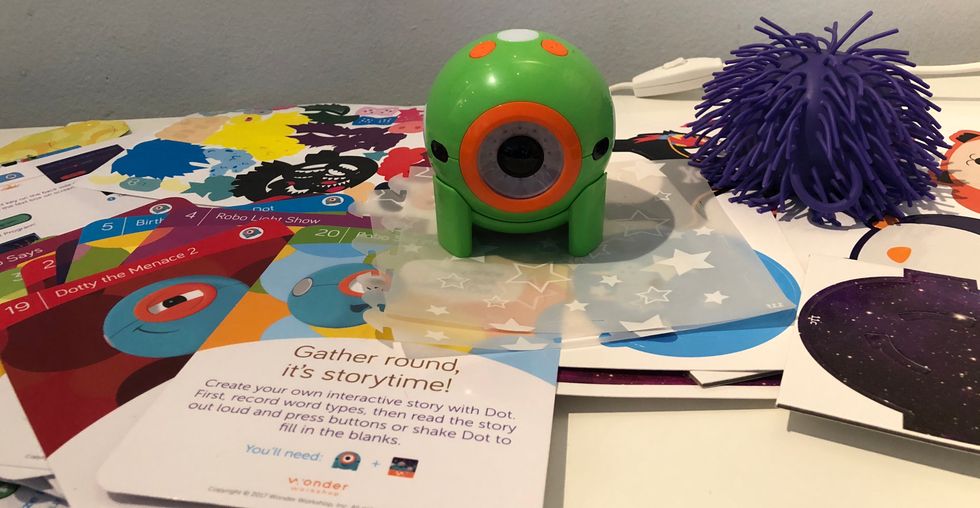 The Dot Creativity Kit comes with stickers, paper costumes, projects along with lessons in coding.GearBrain
Let's dress-up

With Dot aimed at kids 6-years-old and up, dress up options are crucial. Dot comes with lots of add-ons to customize and make her your own: there are ten costumes including an octopus, a bat and a pirate. Plus there are more than 100 stickers, which are reusable. You can construct a lamp for Dot to sit in as well. And quite honestly, we were personally fond of the rubber wig.
These pieces lend a physical way for a child to engage with Dot. We think that's important. Because sometimes devices run short on batteries, and sometimes parents don't want their child playing with a smartphone or tablet.
Finally, Dot's price tag is a plus too. At $79.99 it's a toy you can take a chance on for your child. The app is free, there's nothing extra to buy, and we suspect that even when the stickers run out, and the wig is lost under the bed, and the app has been played a number of times and forgotten, Dot could still be a toy a child leaves by her bedside table, a little light she could return to again.
Pros: Price, coding interface is simple for even youngest kids to follow, hundreds of add-ons including stickers, a rubber wig and paper costumes.
Cons: Heavily dependent on its app and a lot of parts to keep track of in the kit.
From Your Site Articles
Related Articles Around the Web
Like GearBrain on Facebook